Cheap and easy Valentines Day gift ideas and dates dont have to make you LOOK cheap. Let me help you do them right, with this list of 40+ free and cheap valentines ideas.
Youre looking for cheap and easy Valentines Day gift ideas and date activitiesbut you dont want to look cheap, right?
I totally get it.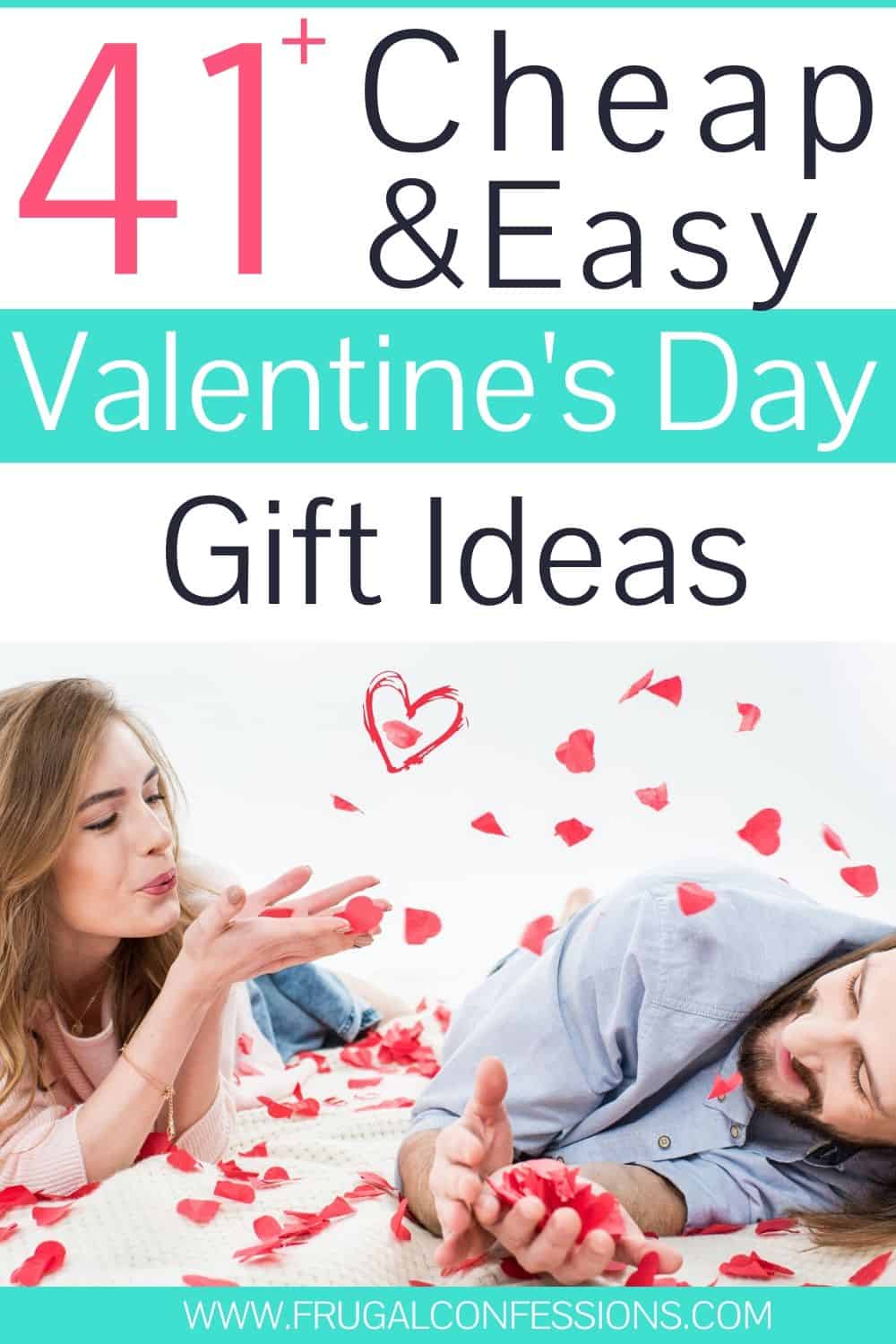 I've often wondered how can I make Valentine's special at home.
That's why I've written the ultimate list of cheap Valentine's Day gift ideas + dates (whether staying in OR going out) to help you pull off this one in style.
Use the gift ideas below to show the one you love how much they mean to you (hint: you dont need a wad of cash to do that).
Romantic Valentines Day Ideas for Free
SO, youre looking for free things to do on Valentines Day.
Fortunately for you, Ive got loads of ideas to keep the romantic spark alive without overwhelming your wallet.
Plaster their Car in Lovey Dovey Post-It Notes: If youve got a mountain of post-it notes, then youre good to go. Just write one reason, per note, of why you love them (or one thing you like about them). Plaster the notes onto their car or their bathroom mirror.
Put Together a FREE Escape Room at Home:I just love these free escape room kits! Find audio files for the missions by downloading the free iPhone apporfree android app, and youll need to get some materials together before your actual date night (like scissors, pens, single-sided printed copies of the free missions, etc.). Solve puzzles, decipher morse codes, and deactivate bombs all while working together.
Create a Mason Jar of Memories: Go back through scrapbooks, albums, your photos on your smartphone, etc. and write little snippets of memories that have meant something to you on small pieces of paper. Fold them up, stick them in a mason jar, and present your love with a jar full of moments youve shared together.
Create a Kiss the Ground You Walk On Night: Use these free printables from The Dating Divas to set up a romantic path your loved one will see as soon as they get home!
Valentine's Day Scavenger Hunt: Here's a really cute, free printable that lets you set up a whole Valentine's Day Scavenger Hunt at home! How romantic.
Surprise Your Loved One with a Clean House: Paul and I have each surprised one another at different times with a completely clean house (typically we clean together every other week after work). Coming home to a clean, organized home is a great feeling. Light some candles for when they get home, and youve got the makings of a beautiful evening.
Leave a Lipstick Message on the Mirror: Grab some lipstick or lip gloss and leave a heart, kiss, or message for your beau.
Pack their Lunch and Add a Love Note: You could print out free Valentines Day lunchbox jokes, or write your own love note. Tuck a love note inside of a lunch you pack for them.
Burn a Mixed CD for their Commute: Mixed tapes used to be big when I was around ten. Today you can gather some MP3s from your library of music and create any type of CD you would like. You could leave it out for them with a pretty bow and note, or surprise them on their next commute by leaving it in their CD player.
Finish Something Youve Been Promising to Get to: We have a cabinet door that would not stay closed for the last two years in our kitchen. Talk about annoying! The other day Paul installed a magnet thingy and now it stays closed. I cannot tell you how happy that little act made me! Is there something that you have been promising to complete around your apartment or house? Working on this (and completing it) will show how much you care.
Send Poetry Texts: Go to your local library and get out a book of romantic poems. Throughout the day, send a line or two of a romantic poem you have chosen. If nothing else, it will leave your partner guessing! This could be over email, through text, over voicemail, etc.
Meet at Home or your Significant Others Office for a Homemade Lunch: Depending on your work situation and location to home/spouses office, wouldnt it be fun to meet up and eat a homemade lunch together? When Paul and I lived in our apartment we were both ten minutes away from home so we would meet up to eat lunch every so often at our own table. It wasnt much time together, but it made the day a bit more special.
Wake Up Early and Cook a Hot Breakfast (During the WEEK): I dont know about your household, but in ours we only cook hot breakfasts on the weekends. Waking up extra early and making a weekday feel more like a Saturday with eggs, bacon, French toast, or whatever you like to eat (*actually* use that waffle maker!) would certainly show your loved one how much you care.
Give a Home Pedicure: Many people love having their feet pampered. You will need a container big enough to fit both feet (filled with hot water), a towel to place around it, and the rest is up to you and your home supplies. You can make an easy homemade sugar scrub to exfoliate with just sugar and oil. Here are some other great tips on how to liven up your home pedicure.
Use Some Homemade Chocolate Body Paint: Try out Chef Curtis Stones recipe, or this recipe for chocolate body paint. Grab a soft brush from the craft storeand have fun.
Pssst: You might want to check out the 5 Languages of Love List, or my list of 31 date night gift ideas for couples for some more ideas!
Cute Homemade Valentines Day Gifts
Do not underestimate the power of a homemade Valentines Day gift if you put your time and energy into something, your loved one will notice.
Best of all? These will hardly cost anything.
Next up what are some good date ideas for Valentine's Day?
What are Good Date Ideas for Valentines Day?
Weve already covered lots of at-home date night ideas for Valentines Day, so now its time to look at out-on-the-town date ideas.
Cheap Date Ideas
Gym Date: Do you have a gym membership where they have free babysitting? Head to the gym with one another, drop off the little one, and get 1 hour (or however long your gym allows) of alone time. (Hint: our gym is in a community center with a caf, so we sometimes do this and hang out at the caf for a 90-minute mini-date).
Date, Bachelor Style: You know how on the show, The Bachelor, they do the hometown dates? You can set one of these up for your love as well. Youll learn so much about each other!
Go Out for Cheesecake: You can skip going out for dinner, and either meet up at The Cheesecake Factory or the Chocolate Bar for a slice of cheesecake (we love doing this!).
Play a Game of Questions at the Coffee Shop: I absolutely love sets of questions for couples to ask each other. They spark conversations, they help you engage with each other (without a television), and you learn something new. Heres TableTopics Couples questions, and a free printable set of couples questions.
Star Gazing: You can either use PBS.org's Your Sky Tonight, or the Night Sky Networkto take a look at the night sky online before heading outside (or snuggling up inside if it is freezing) and gazing into the sky.
Cook Together: Choose a new dish to try out in the kitchen. Turn on some music, divide up the work, and just enjoy being together at a leisurely pace.
Cheap Double Date Ideas
Cheap First Date Ideas
Snag a Groupon Deal for a Real Experience: You can find some awesome, trendy, first date night experiences, such as Escape Rooms, winery tours, ax throwing, cooking classesthe skys the limit. Did I mention youll routinely find these deals at 50% off (so theyre actually affordable)?
Go to a Trivia Night: Lots of local pubs have free trivia nights. These can be really fun, and spark both great conversations + camaraderie!
Drive to the Ocean and Take a Walk at the Beach: Yes wintertime walks along the surf can be invigorating! Bring a kite, and youll have a reason to stay out in the cold a few minutes longer.
Volunteer Together: If you know your date is into this sort of thing, then set up a volunteer date at your local animal shelter, church, or any other organization that needs help.
Check Out a Tea House: This isnt a full-blown dinner or lunch, so youll save money. Plus the atmosphere is usually quite delightful.
Valentines Date Ideas for Teenage Couples
I have an entire article on my site, Money Prodigy, devoted to cheap date ideas for teenage couples you might want to check out.
Pssst: you might want to check out my 27 Valentine's day gift ideas for teenage guys.
In the meantime?
Here's some ideas for you:
Set-Up Smores and an Outdoor Fire: Let your parents help you set up the fire pit in the backyard, with some big outdoor pillows and smores. You can play your favorite songs on your phone.
Compete in a Round of Iron Chef in Your Parents Kitchen (Group Teen Date Night): Have your parents drop you off at the grocery store to pick up all the supplies needed. Get your free printables here, and have them printed out.
Attend a Church Youth Program Event: I dont know about your church, but ours has awesome youth programs that would be perfect for a teen couple to use as date night.
Make Homemade Pizza + Watch a Movie: Gather a few homemade pizza recipes you can make together in someones kitchen, and then declare the family room/basement/play room tv yours for the night.
MakeRoses from Hershey Kisses: This is a neat craft idea that looks pretty simpleand is definitely cheaper than a dozen roses.
Low Key Valentine's Day Date Ideas (Celebrate at Home)
My husband and I often celebrate Valentines Day at home especially now that there are three of us.
Let me share with you some of my favorite, low key Valentine's Day date ideas that will turn your home into a den of romance.
Do a Couples Yoga Video: There are free couples yoga videos all over Youtube heres a beginners one.
Flamingo themwith Love: You know how people put a bunch of pink flamingos in other peoples yards? Do this, but with whatever materials you can find. Check out your dollar store, and see if you can find a bunch of gnomes, or a bunch of hearts, or anything, really, and spread them out in the back or front yard. What a surprise for Valentines Day morning!
Play a Couples Game: Heres the free Heads Up Spouse game you can print out. Youll also want to check out the free Pictionary Game for couples.
Give a Deluxe Home Massage: Offering a massage is always appreciated, but you can also add some glam to it and show your loved one how much thought you have put into them. First off, brush up on your massage skills with some free instruction. Then, find a comfortable and warm part of your home (increase the heat, use a space heater, or light a fire if need be). If you have some smooth pebbles (check out your landscaping), you can give a hot stone massage. Use oils on hand (baby oil, olive oil, sunflower oil, vegetable oil) to make your own massage oil. Warm up the oil/lotion, towels, etc. to create a very relaxing atmosphere. Light a few candles and enjoy!
Do a Chocolate Tasting: When our little guy was an infant, I set up an at-home chocolate tasting date (free printables here). It was so fun for he and I to go to the grocery store luxe chocolate area and pick out 5-7 chocolate bars of all different varieties. Then after he went to sleep that night, my husband and I got to experience something together!
Set-up a Scavenger Hunt: This past Easter Paul and I were supposed to go to PA for a baby shower I was hosting and to visit my family together. Last minute his company nixed our plans, and I ended up going alone. I wanted to show Paul how much I cared about him, so I made an Easter Egg Hunt around the house that began with an envelope he was not allowed to open until Easter morning. He was surprised and excited! You can do the same on Valentines Day, but hide hearts or little messages instead.
Set Up a Fireplace Scene: You can light the fireplace (after the kids go to bed is great), lay down a blanket in front of it, and have some glasses of wine ready for just the two of you.
Bust Out the Fondue Pot: Fondue is such an engaging and unique way to experience dinner that itll feel like a date. You can go traditional swiss fondue, or chocolate fondue for dessert (and anything in between). Anyone who has experienced dessert at a fondue restaurant quickly realizes that you can dip just about anything in chocolate: strawberries, rice krispy treats, marshmallows, bananas, pretzels, cheesecake, pound cake, etc. You dont even need a fondue set; simply make a tray of dippable, cut-up foods, and make a fondue chocolate recipe in a pot over the stove. When you are ready to begin eating, take it off the stove and place it on top of an oven mitt or something that is insulated to help keep it melted (you may need to reheat depending on how long it takes you to gobble down the goodies).
Read to One Another: Reading to one another is a very calming, soothing experience. You can choose a childrens book, the bible, Harry Potter, poetry the sky is the limit.
That's a wrap on all the cheap and easy Valentine's Day gift ideas I could think of for you. If you've got more, please share them below! You never know who you might be helping out.
The post 40+ Cheap and Easy Valentines Day Gift Ideas (You Wont Look Cheap!) appeared first on Frugal Confessions - How to Save Money.