A little prep work on Sunday will set you up to skip the lunch time fast food, and have beautiful, nourishing, ready to go salads to go for the work week!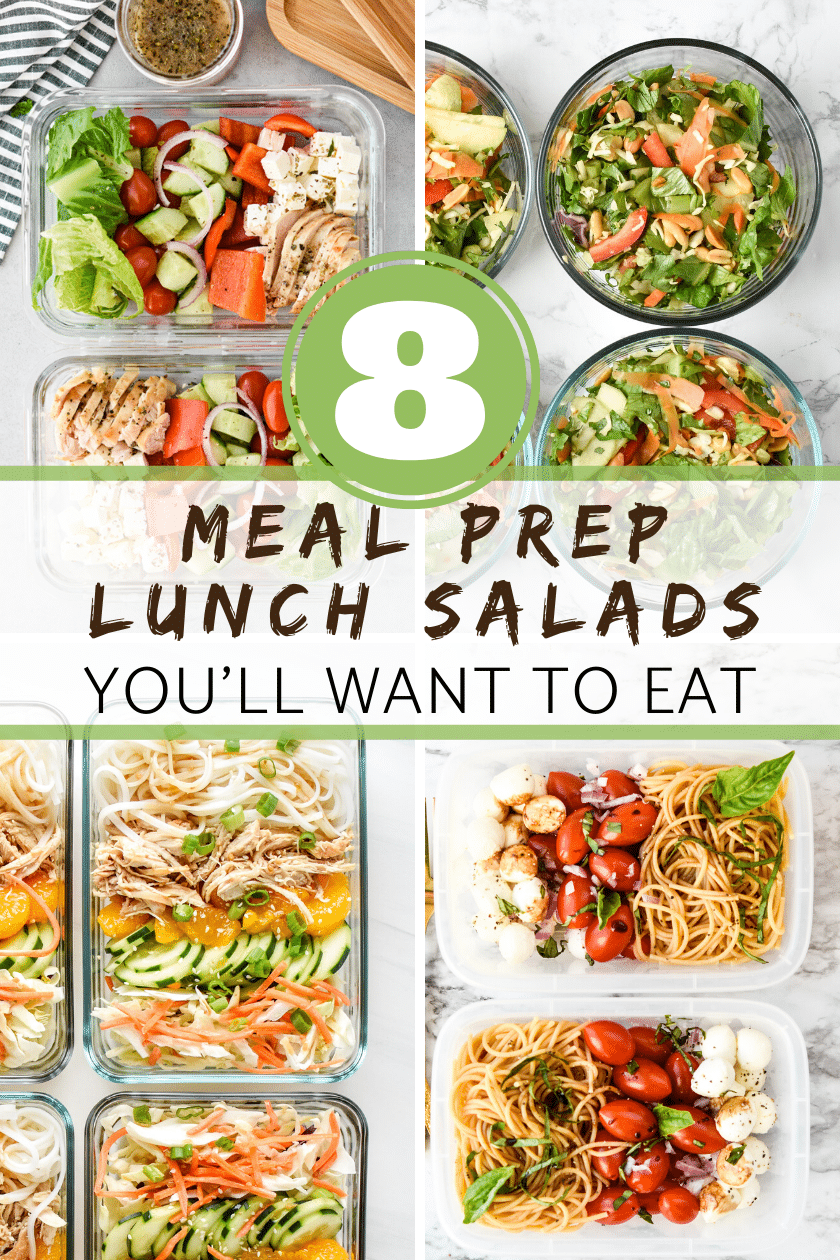 Move over boring bagged salad, and have a look at these meal prep salads that will change the way you think about work week lunches!
It is time to save money, skip the drive through or cafeteria food, and eat yo veggies all week long.
Tips for meal prep work week salads
To keep things crunchy prep your ingredients and get them as dry as you can (salad spinner or lay out on paper towel).
You dont have to assemble all the same salad for the week prep salad bar ingredients and assemble different salads throughout the week
Store the dressing separately & portion it out so it is ready to grab for work (unless it is a mason jar salad designed to store the dressing in the jar). A leak proof salad dressing container is essential!
Choose hearty ingredients salad does not mean lettuce, in fact lettuce is one of the first ingredients to go brown and soggy. Use heartier ingredients like broccoli, carrots, grains, grape tomatoes, cabbage, and kale (to name a few!).
Store your salads or ingredients in glass containers. Simply just so you can see whats in your containers. I promise if a beautiful fridge of prepped salads is staring at you, you will eat them.
How long do meal prep salads last?
Ultimately it is going to depend what you have in your salad. A salad with cut up tomatoes will last one day, but a salad using grape tomatoes will last you 4 days, no problem.
The salads I am showing you here all last at least 3 -4 days.
Products I use for Meal Prep Work Week Salads
affiliate links
3 cup Pyrex glass containers
3 cup Rubbermaid brilliance containers
Condiment size containers
Weck tulip jar
Here are my favorite Meal Prep Work Week Salads!
Mediterranean chopped chicken salad is an easy meal prep with fresh produce, and the most moist and juicy chicken. It is all drizzled with easy home made dressing, too!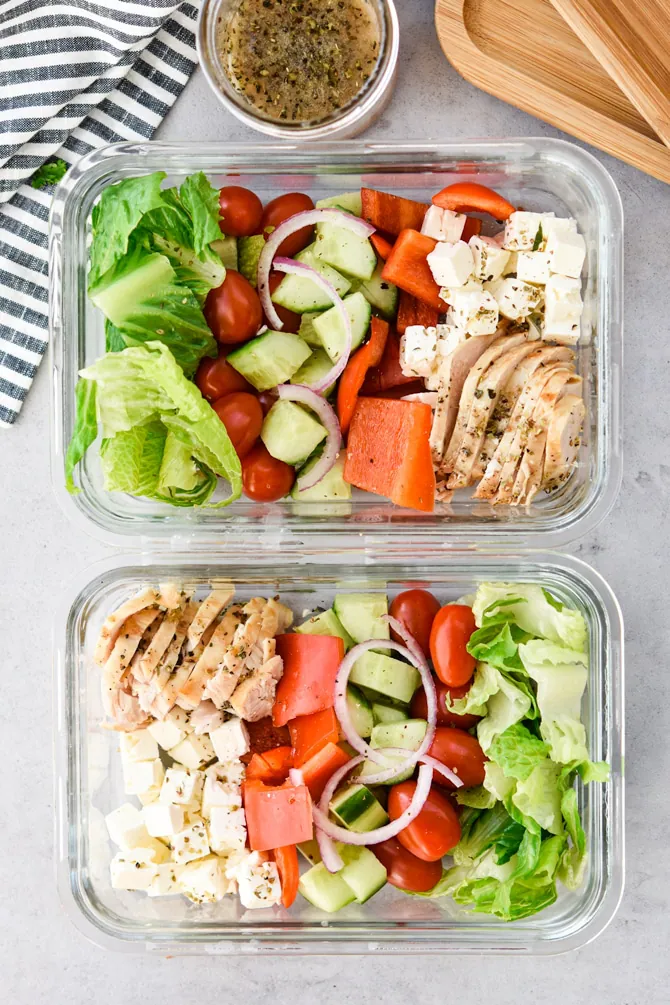 Get the recipe from Meal Plan Addict here
Chicken shawarma salad is a perfect meal prep to break out of routine lunch salads! Drizzled with a bit of sweet garlic sauce makes this meal prep salad on repeat on your meal plans!
Get the recipe from Meal Plan Addict here
Caprese Cold Noodle Meal Prep is here for a fresh, no microwave meal prep to get your noodle twirling, cheese loving, hands all over!
Getthe recipe from Meal Plan Addict here.
This Veggie Loaded Asian Noodle Jar Salad is a perfect way to make your lunches once on Sunday and have them ready to go for up to 3 days in advance! Hello meal prep win!
Get the recipe from Meal Plan Addict here
Why not add this simple cold meal prep lunch to your rotation? These Sesame Chicken Cold Rice Noodle Salad Lunches are full of mandarins, cucumbers, cabbage, carrots, sesame shredded chicken, and cold rice noodles for a total meal prep game changer!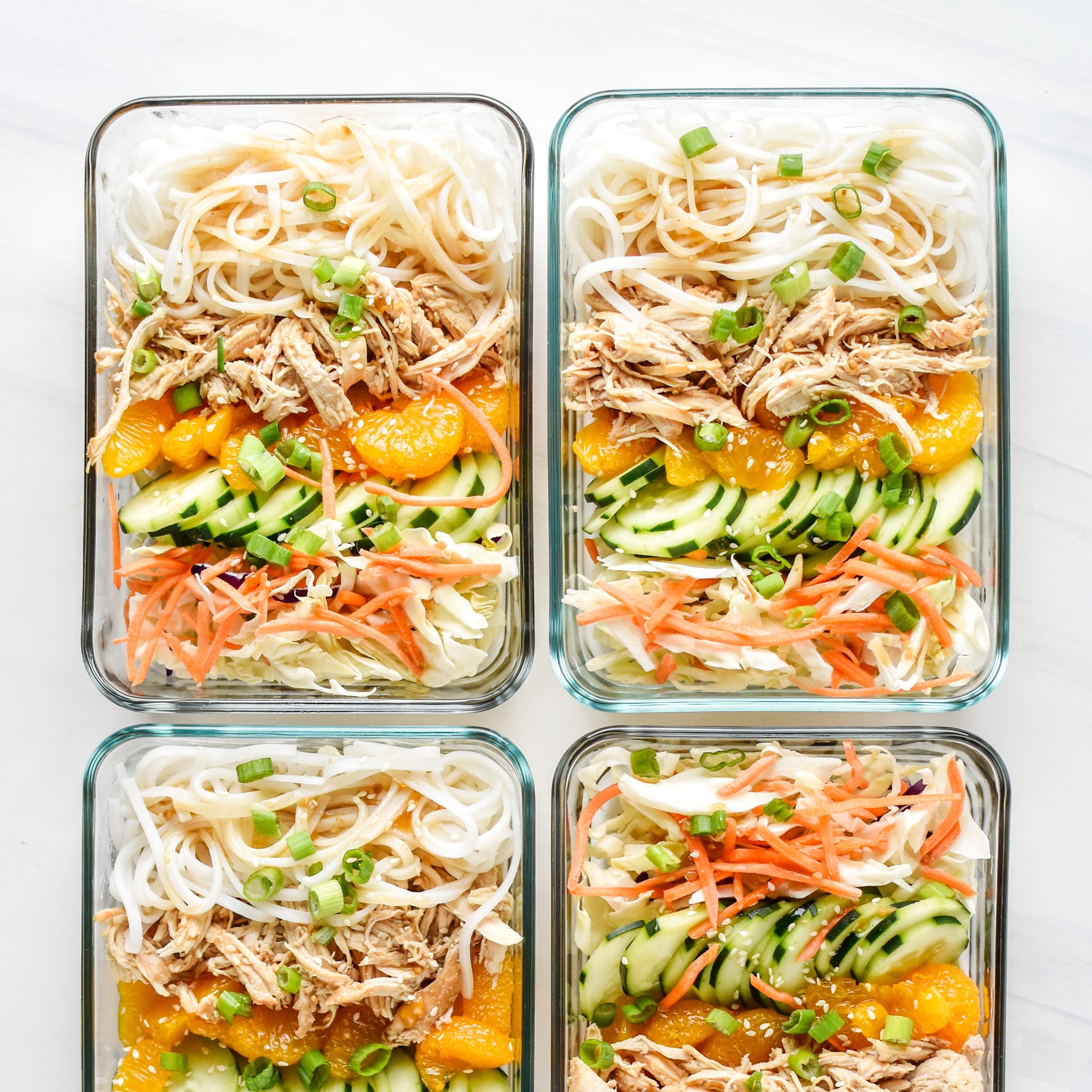 Get the recipe from Project Meal Plan here
This Meal Prep Chopped Thai Salad is complete with tons of veggies and the best peanut sauce to top it off. Completely customizable and perfect for a veggie packed meal prep lunch brought from home!
Get the recipe from Project Meal Plan here
Cold Peanut Noodle Salad is the perfect meal prep for summer! No need to reheat, its light but filling, and the flavors are oh so fresh. Its topped off with a homemade tangy, sweet, and creamy Peanut Lime Dressingto make everything finger-licking good. So have a salad for lunch this week,and enjoy it.
Get the recipe from Budget Bytes here
ThisCold Chicken Spinach Pasta Salad is the perfect easy cold meal prep idea or a dish for a potluck!
Get the recipe from Carmy here
Have I convinced you that you there are in fact Meal Prep Work Week Salads that you will want to eat?!?
Which ones are you going to try?!
Looking for more meal prep inspo? I have you covered here on the blog!
The post 8 Meal Prep Work Week Salads that you will want to eat! appeared first on Meal Plan Addict.