Are you looking for a way to get off the beaten path and reconnect with nature and your family? Do you love camping and want to take your adventures to the next level? Have you ever considered venturing into the woods to get away from it all for a few days with your kids? Well, then today's post on backpacking with kids is going to inspire you! Creative Team member and Washington mom of 4, RyAnn Peverly shares her experience backing with her sons. She's giving us the lowdown on how to choose the right backpacking location, what permits you need to backpack and camp, how to plan your adventure, what (and how) to pack, what to eat, and so much more! This post gives you everything you need to feel confident hitting the trail for your first backpacking adventure with kids.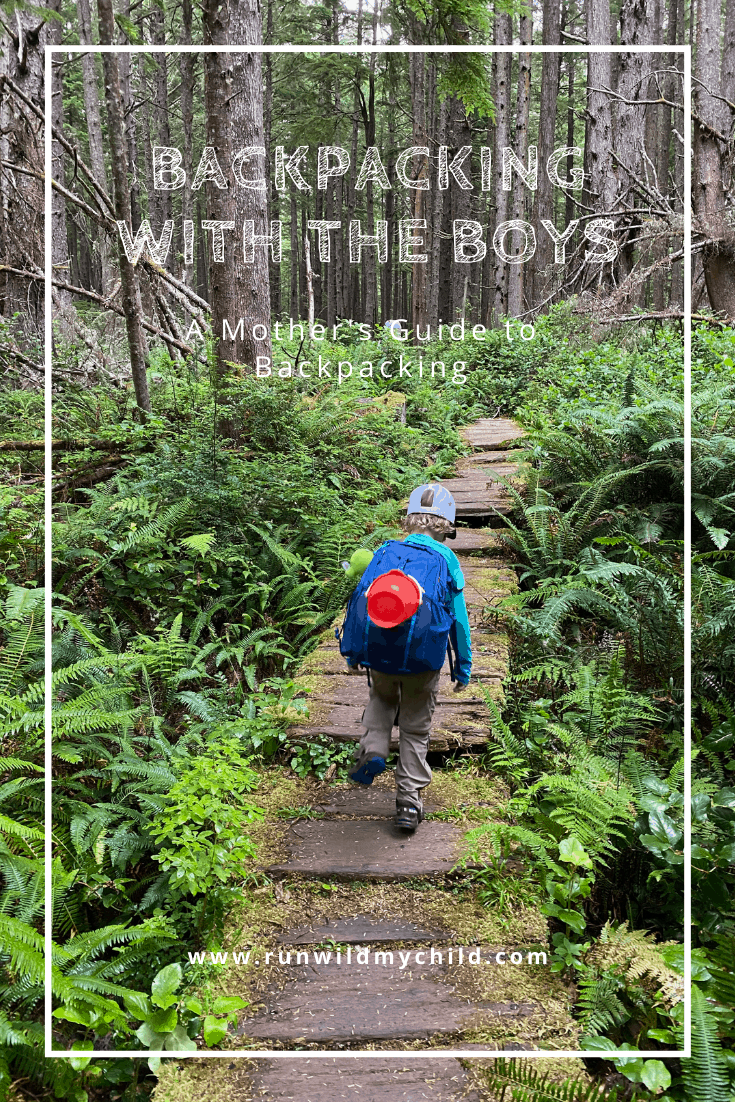 Starting our backpacking adventures early
Camping is one of my family's favorite pastimes. Loading up the car with tents, sleeping bags, a cooler full of our favorite foods. Camping is a blast no matter where you camp, but every so often we yearn to get off the beaten path and find a little solitude away from the busy campgrounds and everyday noises. Backpacking allows us the opportunity to connect with each other and the world around us in an up-close and personal way. 
We started backpacking when the youngest was six months old. Back then it meant shorter trips, with mom and dad carrying heavier packs. Now that the youngest is 6 years old, everyone is carrying their own weight, and our trips are getting more adventurous. 
As my children start to get older, and more comfortable in their own skills, I wanted to teach them about all it takes to put a backpacking trip together.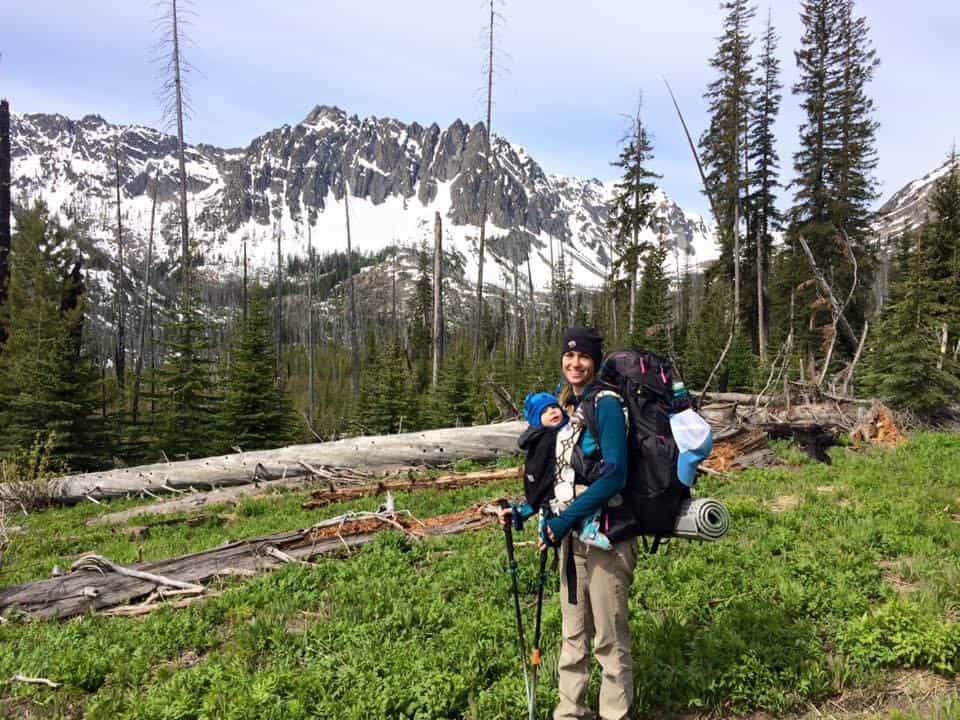 Planning a mother/son backpacking trip
My boys and I decided that we would go on a "mom and me" trip. Just me solo, with them. I was really looking forward to the time we'd spend together bonding and I was excited to show them (and myself), just how capable I could be.
We sat down together and started planning our trip together. Backpacking is the perfect adventure to blend hiking with camping. It allows you to explore the area a little more, and spend a night under the stars. There are no designated campgrounds, no bathrooms, or running water. No one else around. And it's glorious. 
Because you're away from your car and campgrounds, backpacking means that you carry everything you need for a camping trip on your back. All food, water, clothing, and camping gear. There's a lot of packing and thinking ahead that goes into backpacking, so a good plan is key to a successful trip.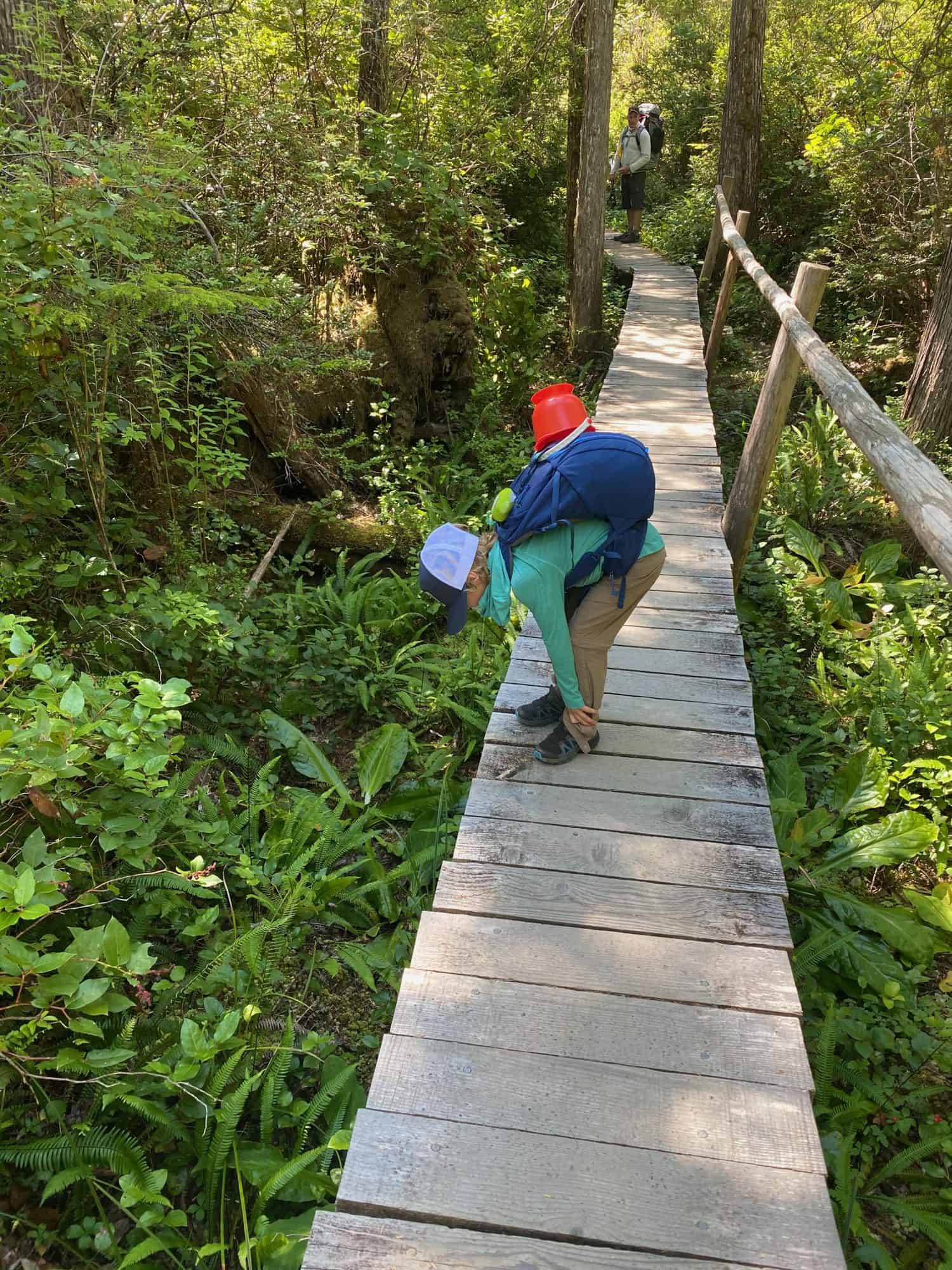 Where to go backpacking?
Our first step was to choose where we wanted to go for our backpacking adventure. Our favorite resource here in Washington is the Washington Trails Association website. Their website, wta.org, has the most comprehensive list of trails in Washington state. This list of kid-friendly backpacking trips is a great resource. Some of our other favorite resources for choosing a location are:
Local guidebooks

National Park websites

National Forest website
Things to consider when planning a backpacking trip with kids
When choosing a location to go backpacking, we take a few important things into consideration.
How many days are we going out?

How far do we want to drive?

What will the weather be like?

How far do we want to hike to a campsite?

What type of permit or reservation do we need?
There are so many questions! For this trip, we decided to return to one of our favorite places, Sand Point out on the Olympic Peninsula. This backcountry camping area lies right on the coast of the Pacific ocean and offers so many opportunities to explore. Since the trip would be just me and the boys, we decided to stick to a shorter, easier trail. At just three miles in, we knew the hike wouldn't be a challenge and would give us plenty of time to spend the day playing at the beach. 
Secure your camping location and get the necessary permits
After choosing our location, we had to make sure we could secure our campground spot. For this particular location, we needed to get a backcountry permit since we would be camping in a National Park. Areas like National Forests and BLM (Bureau of Land Management) do not require permits or reservations. Wherever you decide to go, be sure to check your local rules and regulations and acquire the proper permits before leaving the house.
To secure our permit we visited Reservation.gov, made our date selection, and paid the associated fees. In addition to getting our campsite secured, we checked the weather and downloaded a map of the trail and area we were going. The All Trails app (paid version) allows you to download maps to an app on your phone for easy navigation. You can also download and print maps from the National Park and National Forest websites to bring along.
Backpacking trips are a great way to teach your kids map reading skills.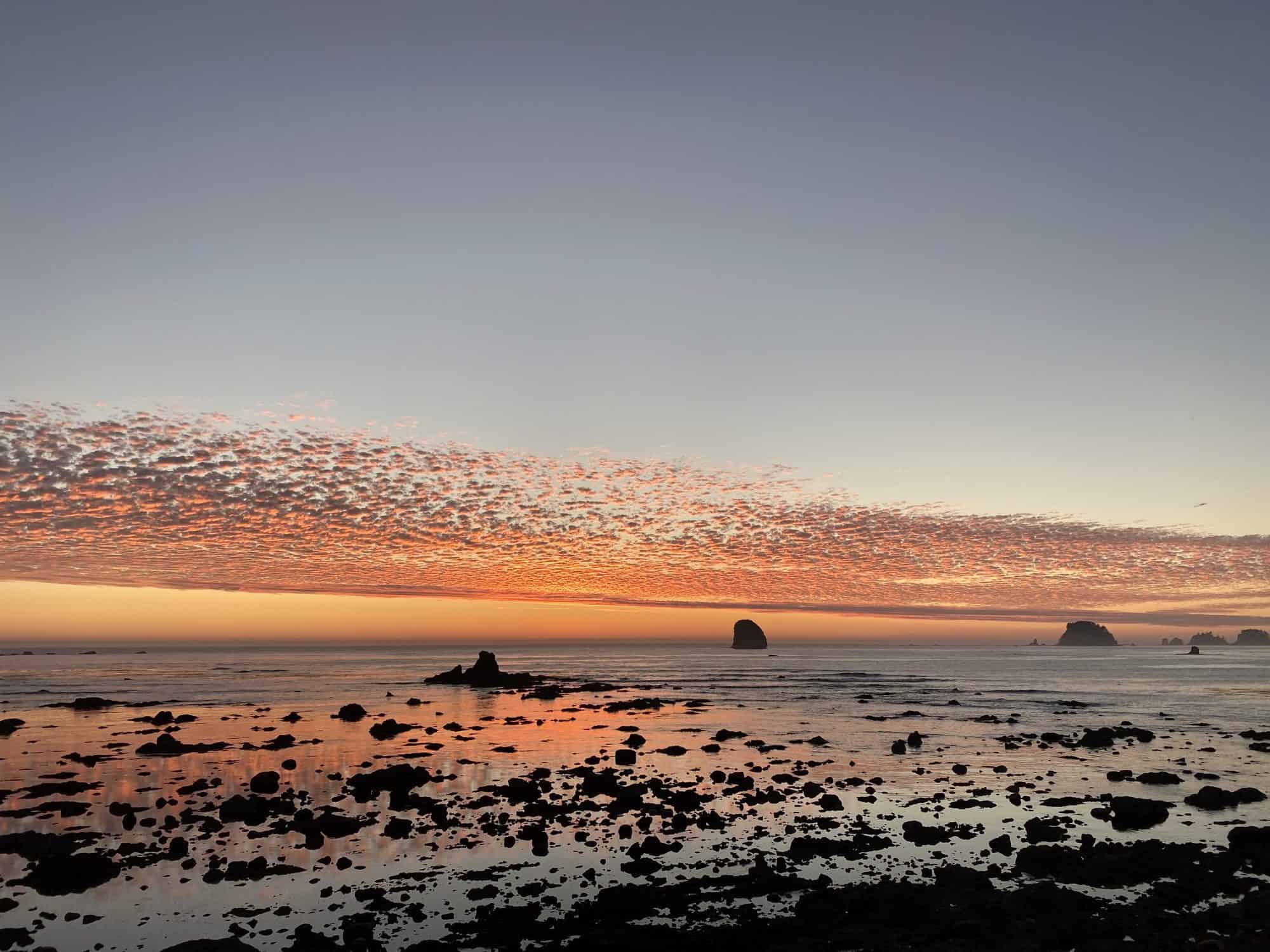 What's in your backpack?
Now that our location was set, we needed to make sure we brought everything for a great trip. Since backpacking requires you to carry everything in your pack with you to your campsite, it requires lighter, more compact items. This may mean that not everything in your car camping kit will work.
5 essential items for backpacking trip
Some other fun items to bring along are a hammock, a blow-up lantern, small toys, a book for family storytime, and binoculars. For a comprehensive list of what to bring, I generally print off this great list from REI.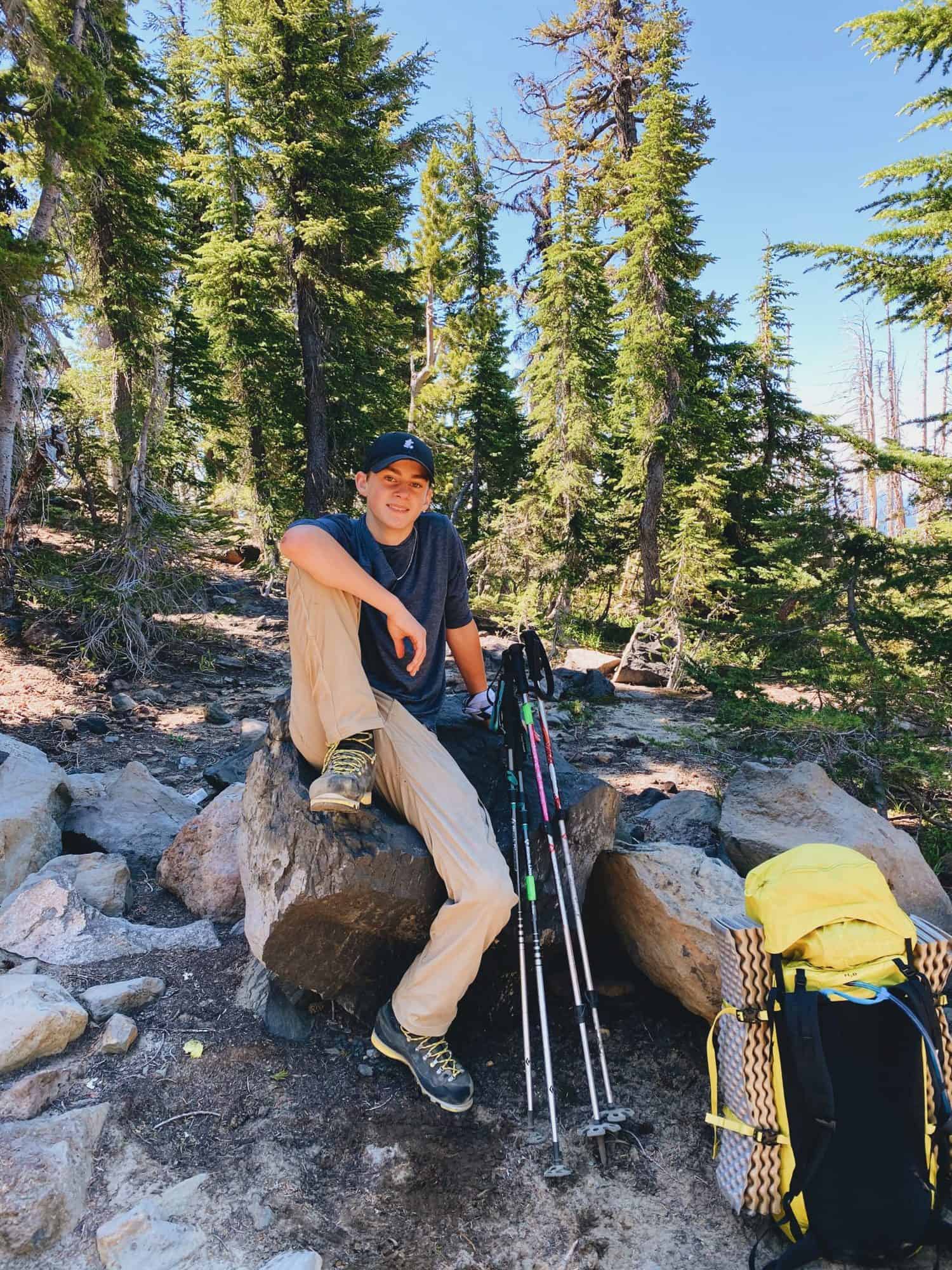 What to eat on a backpacking trip with kids?
Our next step was to plan out what to eat on our backpacking trip. The boys and I sat down and made a meal plan together. Because we can't bring the whole camp kitchen with us, we decided to stick with simple foods. When deciding how much food you need, take into consideration how many days you will be out, and how much energy you will be using. We all know busy and active kids get hungry.
For breakfast and dinners, we stuck with foods that could be cooked with just boiling water. Oatmeal is a great filling breakfast, and adding freeze-dried berries to it is a fun way to add some flavor and nutrition. For dinner, we chose pre-made dehydrated meals that come prepackaged. They are lightweight and generally have 2 servings in each pouch. There are so many great brands out there (Mountain House, Peak Refuel, Alpine Aire) with fun flavors to try. Our family's favorites are chili mac and teriyaki chicken & rice. I suggest getting a variety of them and trying a few out at home to make sure you like them and pack your favorites. 
For lunch and snacks, we stuck with foods we know we love. This is the meal plan we came up with.
2-day backpacking meal plan
Meal
Day 1
Day 2
Breakfast

At home

Oatmeal w/ freeze dried berries & coffee/ hot chocolate

Lunch

Backpackers charcuterie 

(crackers, baby bell, olives, salami, tangerine/ apple)

Tuna wrap

(packaged tuna, mayo packet, mustard, hot sauce, celery chunks)

Snack

Dried mango, cliff bars, meat sticks

Peanut butter M&Ms, banana chips, salmon jerky 

Dinner

Dehydrated meals x2

At home or restaurant

Dessert

Apple Crisp

 

Extra snacks in car for ride home
Backpacking meals grocery shopping list
Instant oatmeal

Crackers

Baby bell cheese

Olive or pickle packet

Salami or summer sausage

Packable fruit (apples, cuties)

Meat sticks

Salmon jerky

M&Ms

Banana chips

Cliff bar (or other granola/energy bars)

Dehydrated meals (Mountain House, Peak Refuel, Alpine Aire)

Freeze-dried fruit

apples
mangos

strawberries

blueberries

raspberries

Granola

Walnuts

Cinnamon

Brown Sugar

Tortillas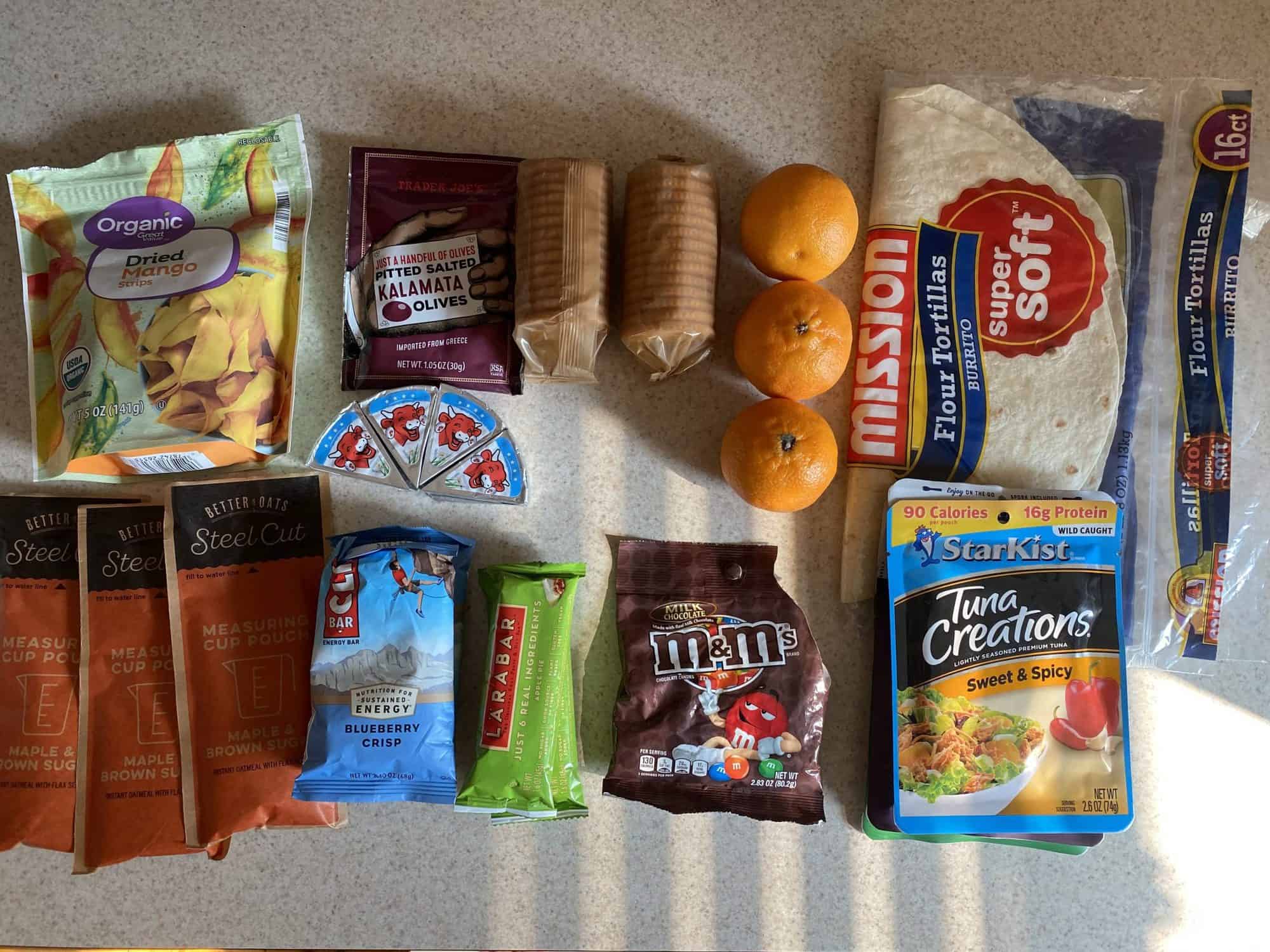 How to store and pack your food for backpacking
The first thing we need to know is if there are any regulations on food storage in the area we are going to. Each land management has its own guidelines on how to safely store food. It's important when researching your location that you find out how you are required to do this.
There are two general ways to safely keep food out of the hands (or paws) of the animals in your area.
Bear canister: A bear canister is a

hard-shell plastic cylinder with a lid that humans can screw on and off, but animals can not get inside of. The plus side of this type of storage is that you can leave it on the ground. The con is that these canisters are bulky and take up quite a bit of room in your pack. For our trip we were required to bring this, so we filled it with all our food and a few other supplies so as not to waste space. 

Hanging your food: The food hanging method is easy to implement, transport, and is made up of a few easy-to-find components. You will need a bag that closes (we use a dry sack), 50 feet of rope or para-cord, and a rock. The idea is to tie one end of the cord to your bag, and the other end to the rock. Then you toss the rock over a tree branch and use the weight to pull your bag off the ground. Then secure the rock end to another nearby tree. When using this method make sure your bag is at least 10 feet from the ground and six feet from the tree trunk. The con of this type of storage is that you have to have larger trees where you are going.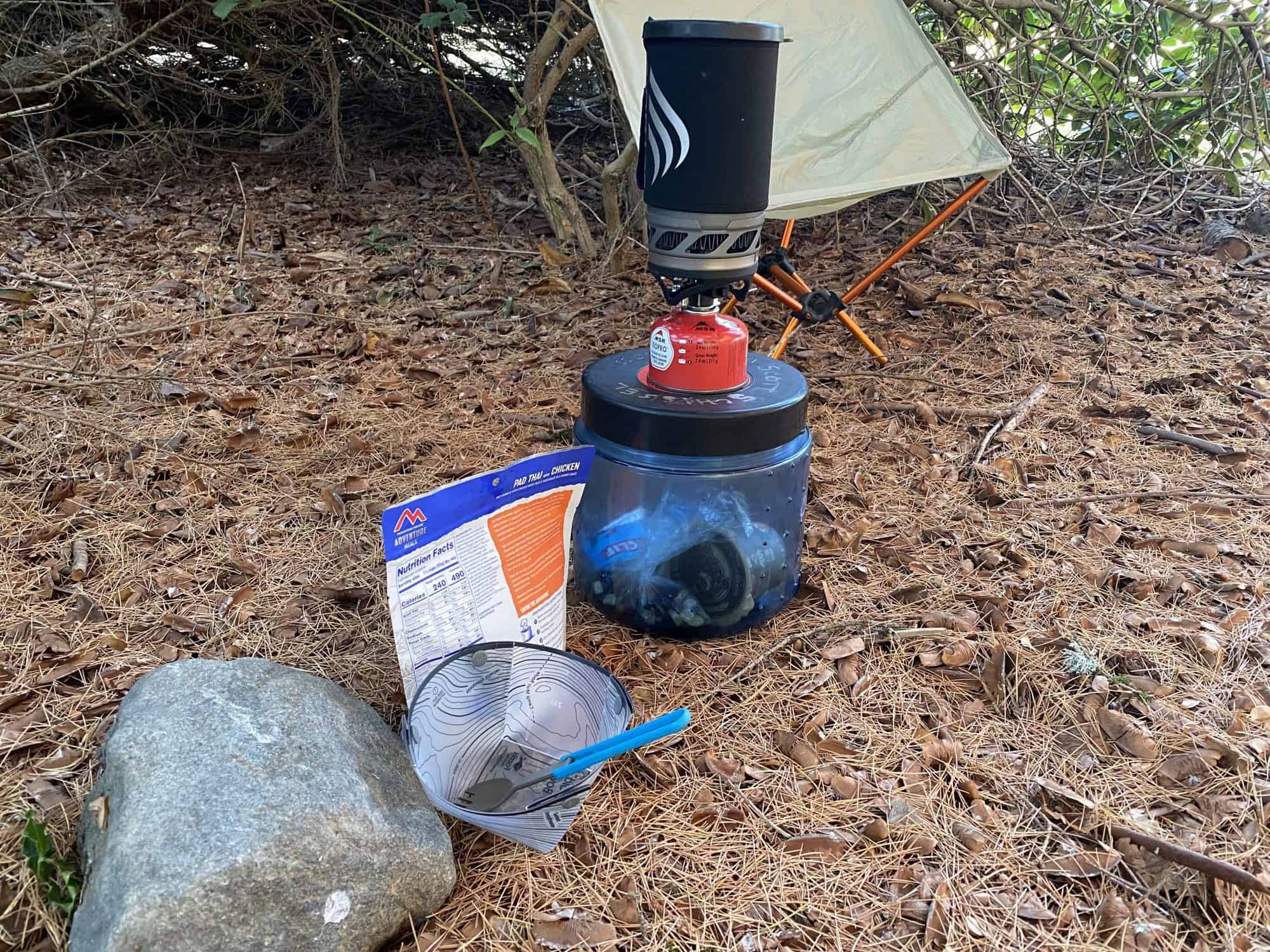 Setting up your backpacking camping kitchen
After food storage had been sorted I asked the boys to help me decide which kitchen items would be helpful for our trip. Since we decided on foods that either didn't need to be cooked or only required hot water, that meant we could pare down our camp kitchen to a few essentials. Besides the stove we were bringing to boil water, our kitchen kit looked like this:
Mug for hot beverages

Folding bowl for breakfast and dinner

Spork

Small pack of wet wipes

Biodegradable soap 

Small microfiber towel

Water filtration system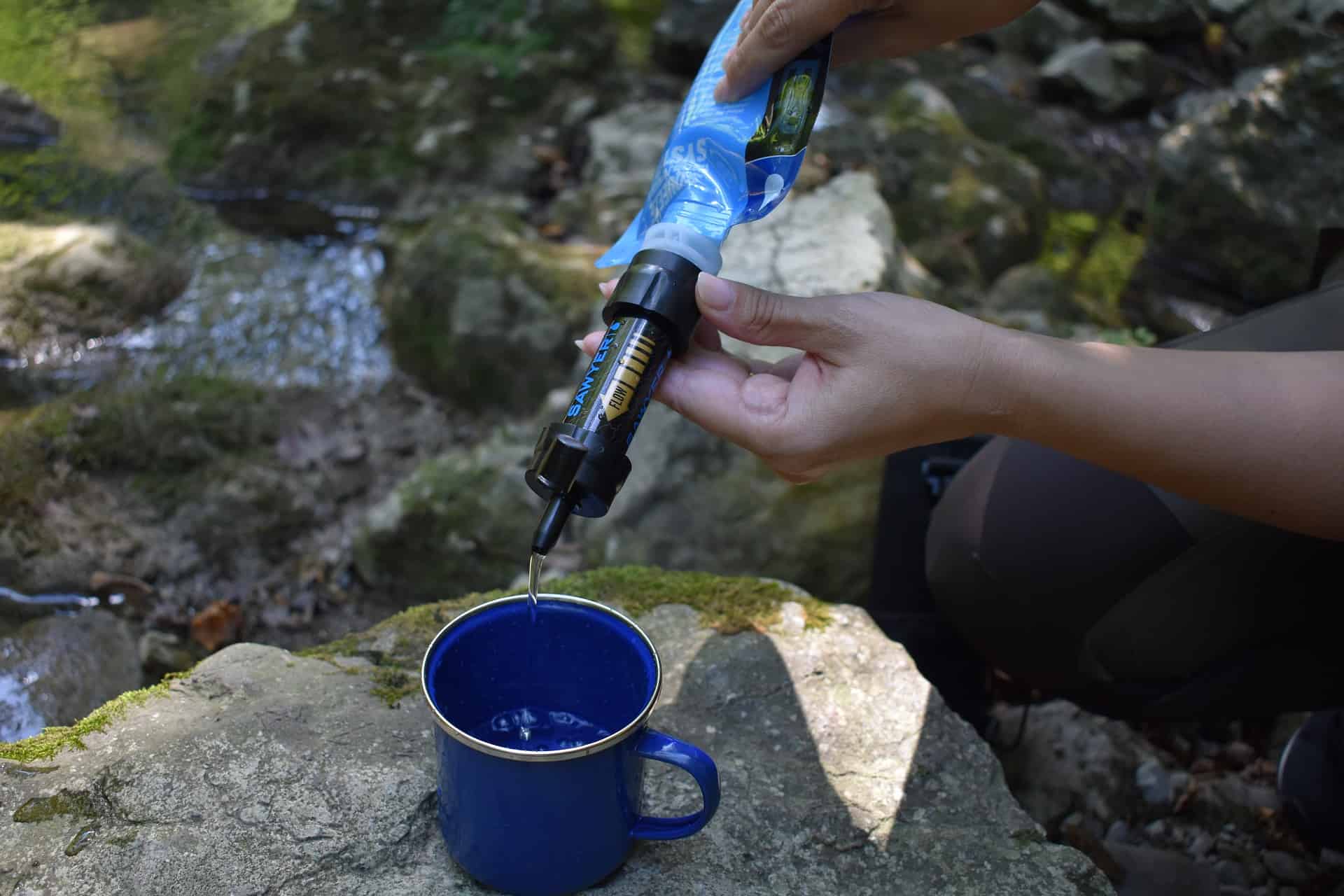 Water filtration system for backpacking
One key factor when you go backpacking is to know where your water sources are. Is there a lake, river, stream nearby? If you are hiking into an area with few (or no) water sources you will need to carry more with you. Our chosen campsite had a freshwater stream that fed into the ocean. This meant we only needed to carry enough water for the hike in, and then would be able to gather and filter more as needed.
It's important to filter your water before drinking because all natural water sources carry microscopic pathogens. Ingesting these tiny critters can cause some serious upset tummies. In order to avoid this, bringing along a water filter is necessary.
There are several types of water filtration systems for camping on the market, but our favorite is a gravity filter. These types of filters allow you to fill a larger "dirty" water bag attached to a filter, which then runs through a hose into your water bottle or "clean" water container.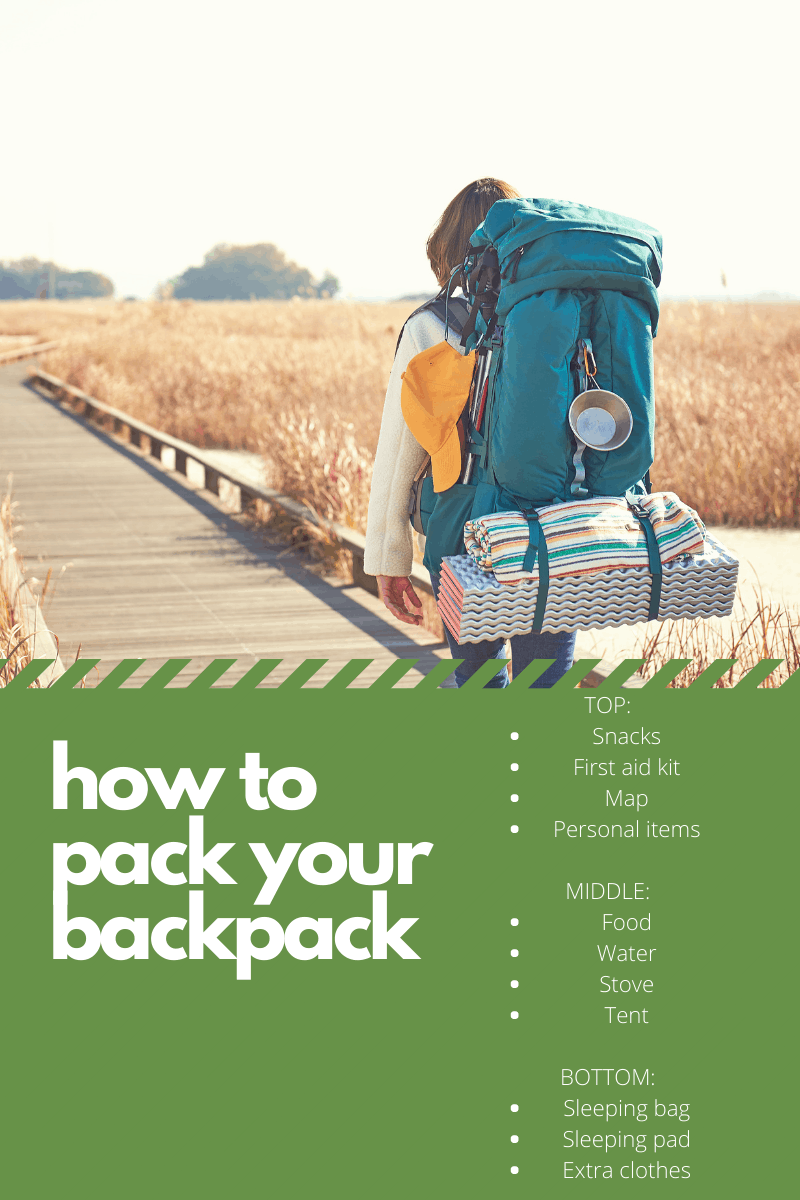 How to fit everything you need in your backpack
There's a lot of gear and supplies that need to go into your backpack. You need a good packing system in place so that you have easy access to the items that you'll need first and most often. This will keep you from having to dig through your pack every time you need something. Plus, a well-packed backpack means equal distribution of weight, which helps tremendously when carrying a full pack. 
You should pack your backpack in layers. The bulkiest items will be on the bottom (the stuff you don't need access to throughout the hike). The most frequently used items at the top. 
Here are the levels for packing a backpack:
Top

snacks
first aid
map
personal items (phone, camera, toiletries, bathroom kit, etc.)

Middle 
Bottom

sleeping bag
sleeping pad
extra clothing
Now that we had our plan in place, our gear sorted out, our meals planned, and our bags packed, it was time to head out for some fun!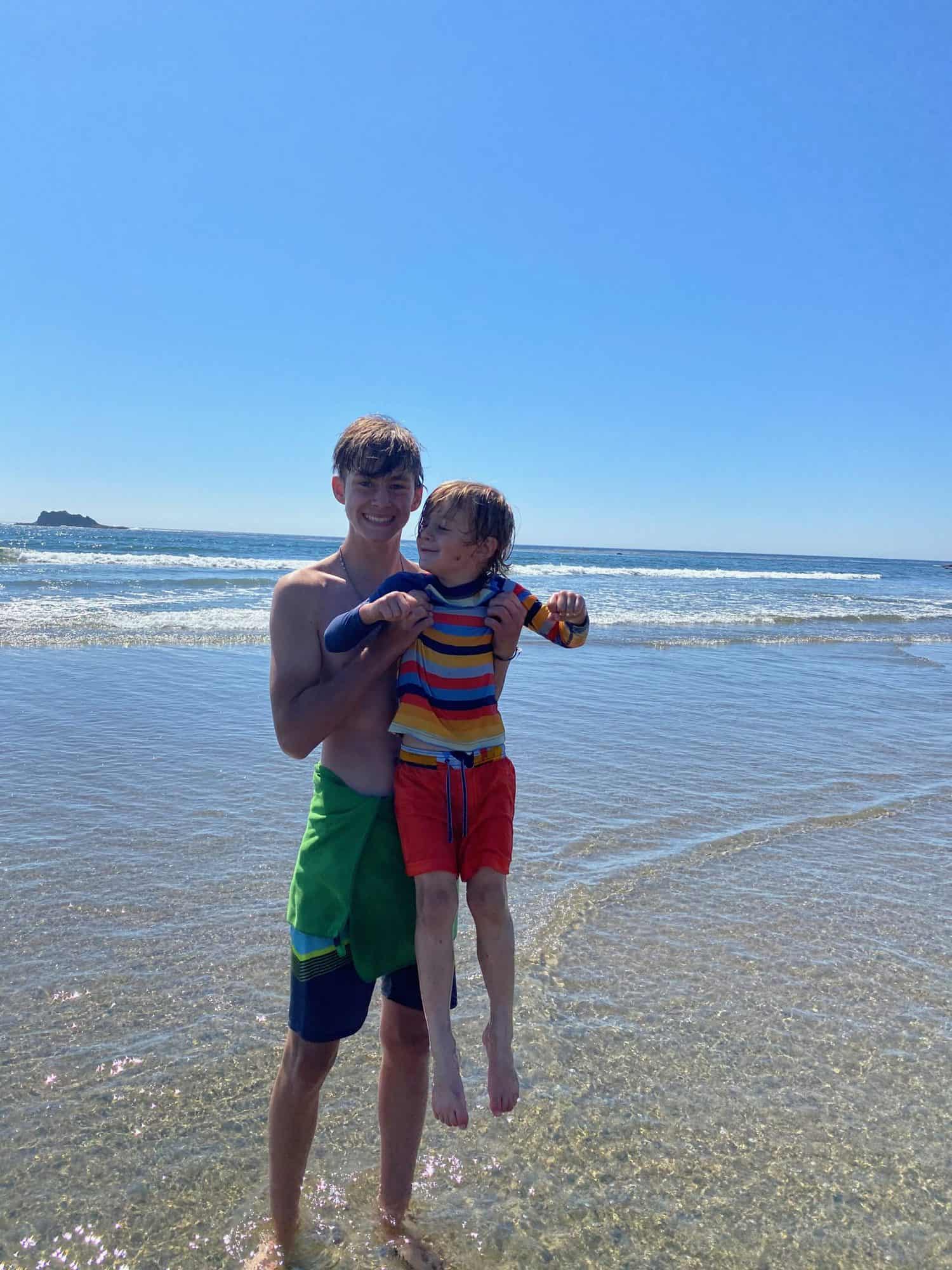 Choosing a campsite when backpacking
My boys and I had such a great backpacking trip. We enjoyed three miles of hiking among old-growth trees that opened onto a classic Pacific Northwest rocky beach. As we continued hiking down the trail we found the perfect campsite right on a point that allowed us to enjoy the beach as the winds changed direction throughout the day. We worked together to set up our tent and lay out our mats and sleeping bags inside. 
When camping in our area, there's a right way to set up your campsite in order to keep everything (and everyone) safe. After setting up our sleeping area, we selected a good spot about 70 steps from our tent to set up a cooking area. It's important to not get food near your sleeping site to ensure you don't get any visitors in the night. As stewards of wild spaces, it's our responsibility to ensure that animals don't eat human food.
We also picked out a spot where we would store our food when not in use. Again, this should be at least 70 big steps from your campsite. My youngest had fun counting out the steps and finding the "perfect spot".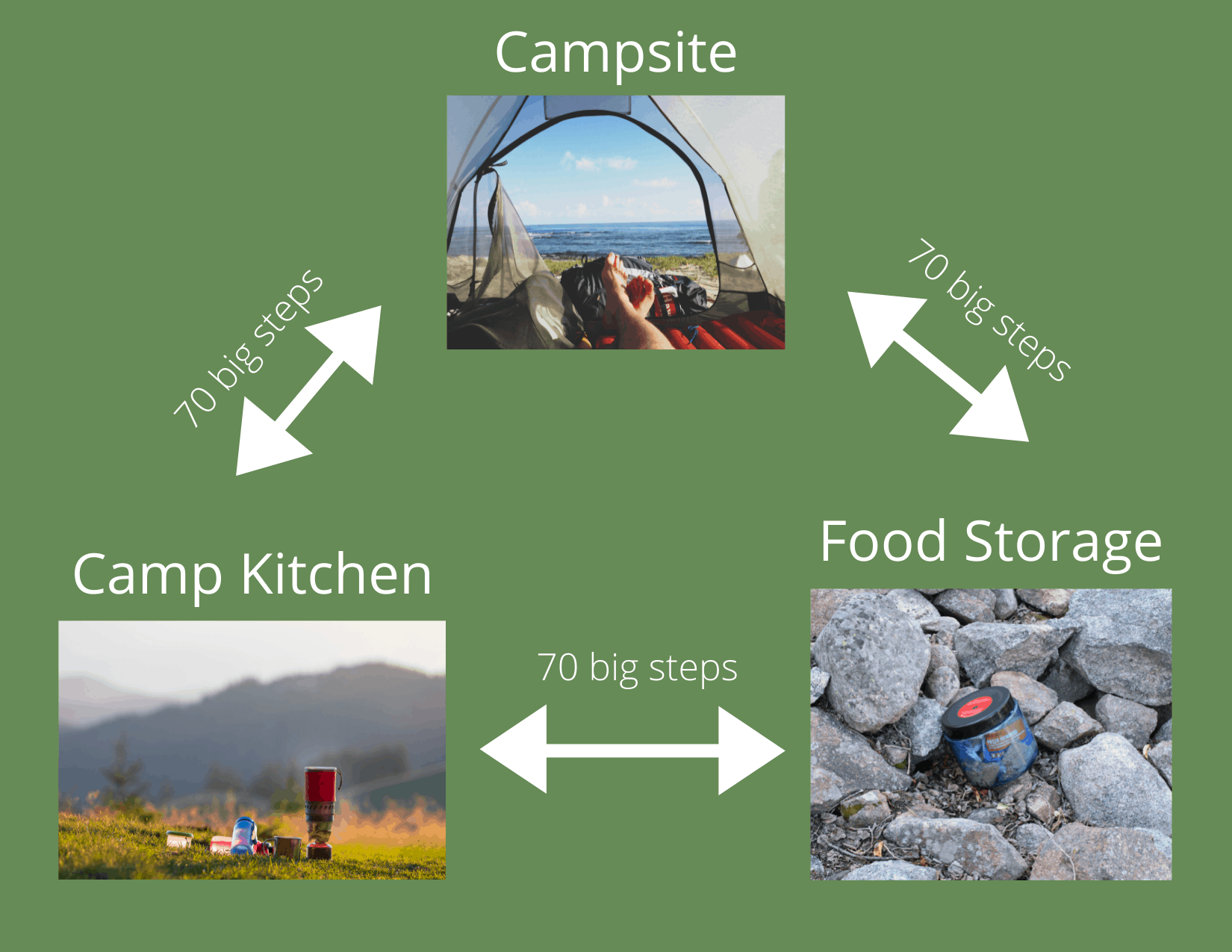 A little potty talk…
Another topic that must be thought about when backpacking is where one will use the restroom. Unlike car campgrounds, there may not be a toilet when backpacking. Fortunately, our site had a shared pit toilet for the area. But, if you find yourself selecting a location that does not have this amenity, you have two options.
Blue bag system: This system is the easiest, but requires you to carry out your poop when you leave. For this style you will collect your poop and toilet paper in a "blue bag" (essentially a dog poop bag), tie it up and put it inside a resealable plastic bag. You take this with you and dispose of it properly after your camping trip.

Dig

a hole: This method is a little more work, but means you carry less out with you. First, dig a hole with a small trowel at least four inches wide and six inches deep. Only put human waste in this hole. When you are done bury the waste and put your paper waste in a resealable plastic bag to dispose of properly after your trip.
Make sure you use the facilities at least 200 yards (or 80 big steps) from your campsite and all water sources. In my pack, I always carry a "bathroom kit" that I keep stocked with a small roll of toilet paper, travel-size wet wipes, small trowel, resealable bag, blue bags and hand sanitizer. This way when one of the kids needs to go I can hand them the kit and they're on their way.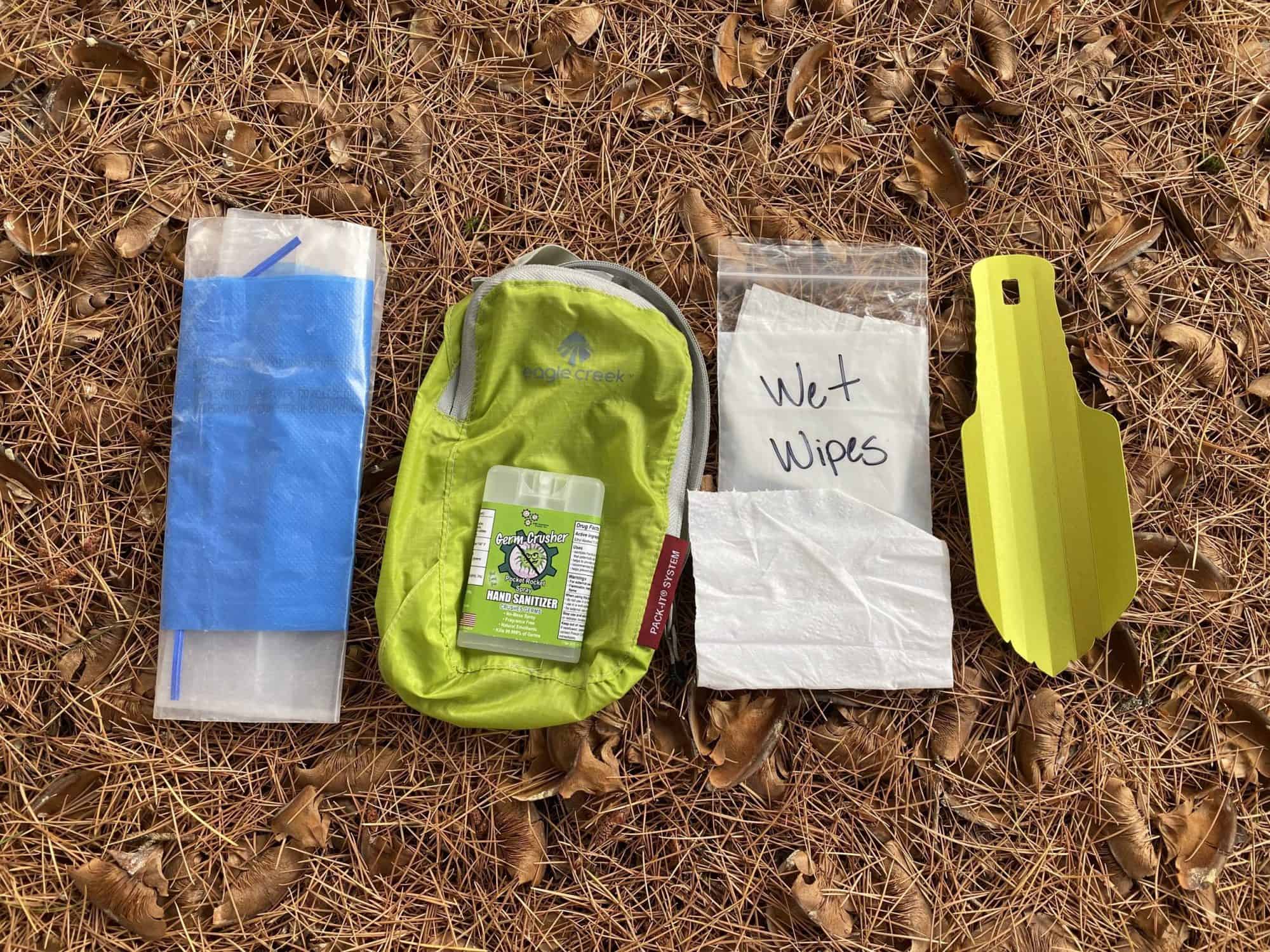 Backpacking is worth it
Backpacking can seem like a daunting task to take on when you are new to the idea. I'll admit, when our family first decided to start this type of camping, I had my reservations. Will we be able to bring everything we need? Can I actually carry all of that on my back? Will the kids complain too much? What if I forget something? 
Yes, there's a lot to consider, but its doable, I promise! With a little planning and forethought, it's easier than you imagine. After our first few trips I realized that backpacking was an amazing way for our family to bond, not only with each other but with the world around us. We have seen some beautiful places because we were willing to get a little uncomfortable, put in the work, and step off the beaten path.
A few years ago I may not have embarked on a trip with just my boys. I would have been too intimidated, too nervous, too scared to try something new. But, I have watched my kids grow and strengthen their own skills. I've seen them become independent and capable, helpful and thoughtful. We work together so it's not all on me. It builds their confidence and independence. And I can joyfully say that I look forward to many more backpacking adventures with my boys.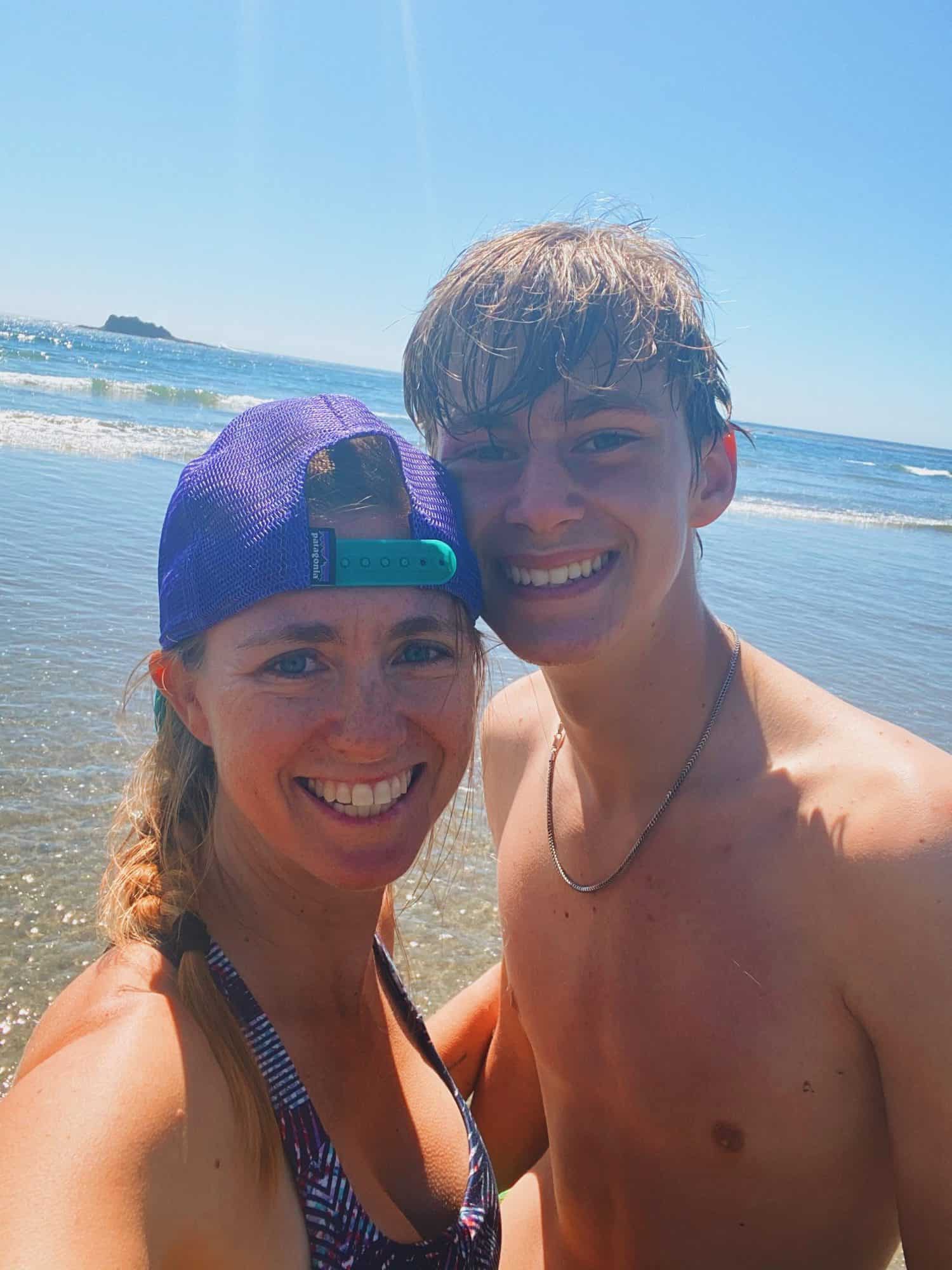 Have you ever been backpacking with kids?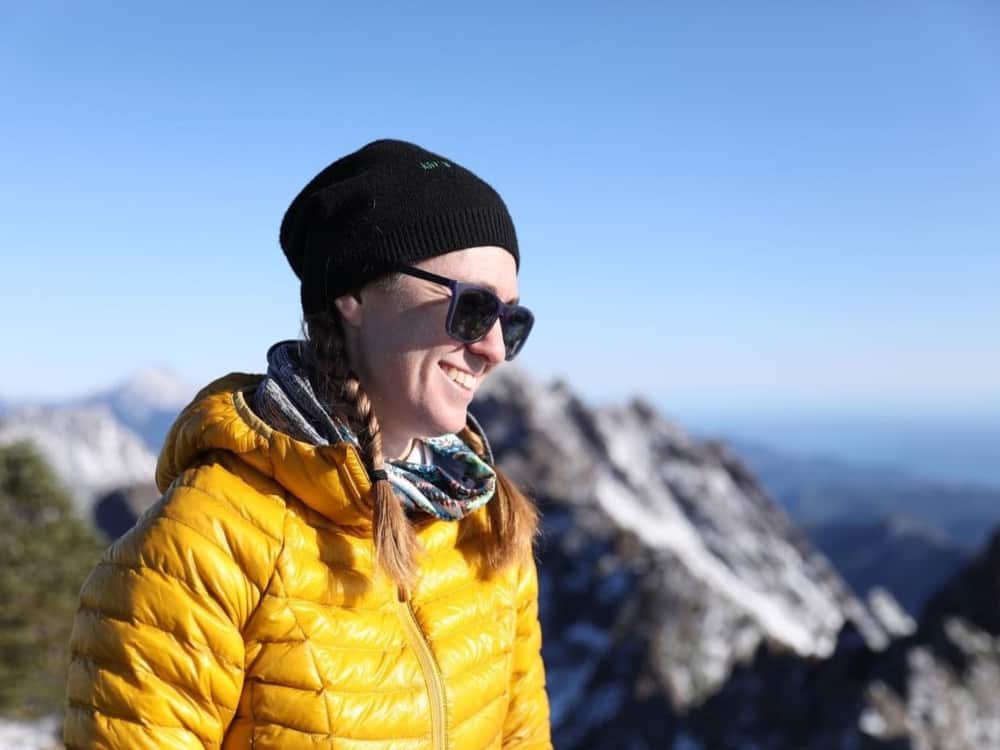 About the author
RyAnn is a mom of four (20, 18, 15, 6) that loves exploring her home in the Pacific Northwest. She works as a youth outdoor program instructor for the Mountaineers Org. in Washington state. RyAnn also loves getting out and adventuring with her family as much as possible. They enjoy traveling around the PNW in their converted Sprinter campervan. On her days off she generally loads up the van and hits the trails for hiking, mountain biking, skiing, or climbing. RyAnn is passionate about instilling love and respect for outdoor spaces in her kids and the youth she is lucky to work with.
You can find more from RyAnn in the following locations:
Instagram: @mountain_mama4
Website: Mountain Mama
The post A Mother's Guide to Backpacking with Kids appeared first on RUN WILD MY CHILD.