ALDI Finds for the week of 5/18/22 include pretzel hamburger buns, vegan dumplings, churros, fire pits, cheap chicken, and more. Check them out below, and let me know what you want to Find this week.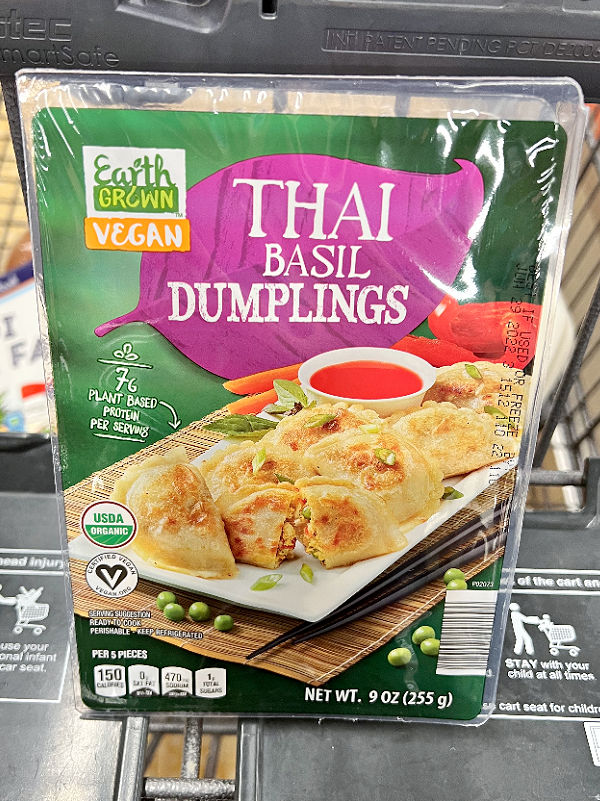 Many more non-food than food Finds again in this week's ad, but fans of ALDI's vegan products can pick up Earth Grown plant based organic dumplings in the refrigerated section. These are available in tofu vegetable or Thai basil varieties, at $3.99 per 9 oz package.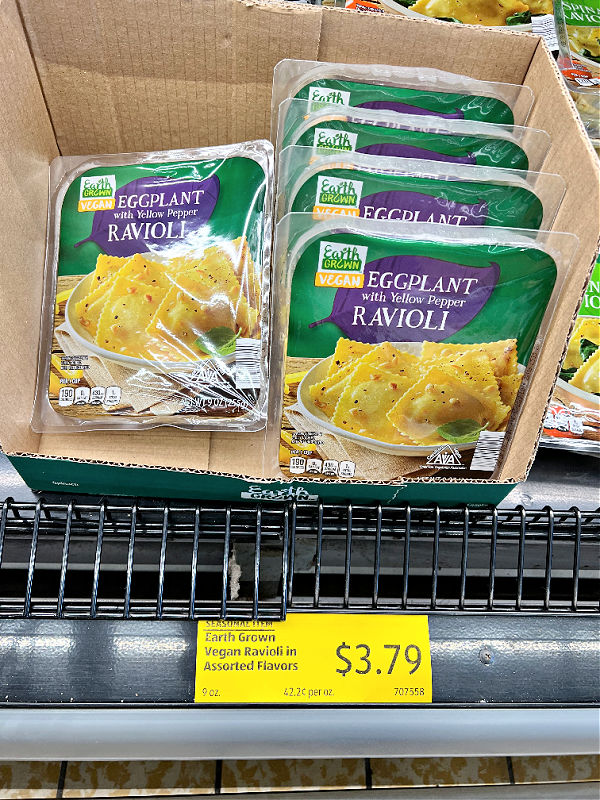 Speaking of vegan Finds, also look for this seasonal Earth Grown vegan ravioli at your store ($3.79 per 9 oz package).
Note that both advertised and unadvertised ALDI prices can vary by store and by region. Now, let's talk about the rest of the top ALDI Finds for the week of 5/18/22, as well as some new seasonal Finds for spring and summer 2022. You'll also Find some on 5/15/22 in Sunday ad markets, or if your store tends to put products out early.
Top ALDI Finds of the week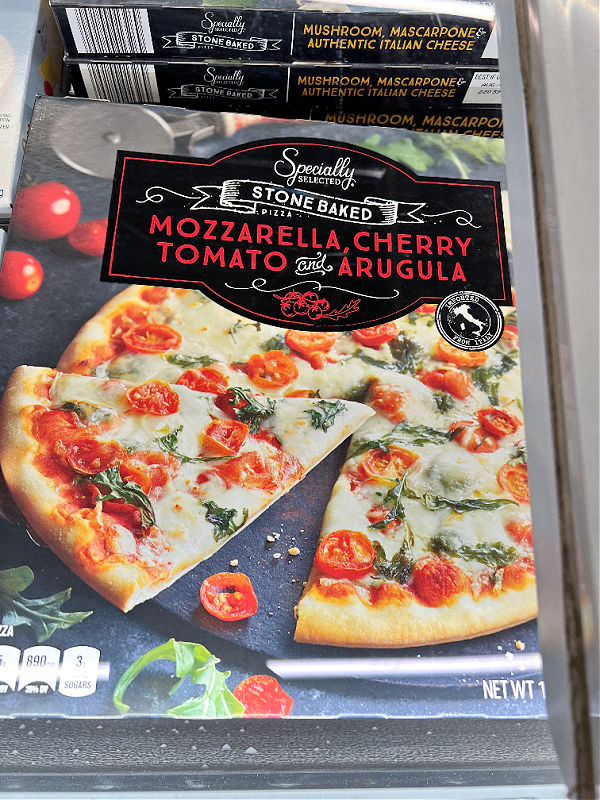 Here are fifteen more top food Finds (plus some chicken-ish Finds), plus thirty more non-Food Finds, all for the week of 5/18/22. Then, a few more seasonal Finds for you!
Top 15 food Finds this week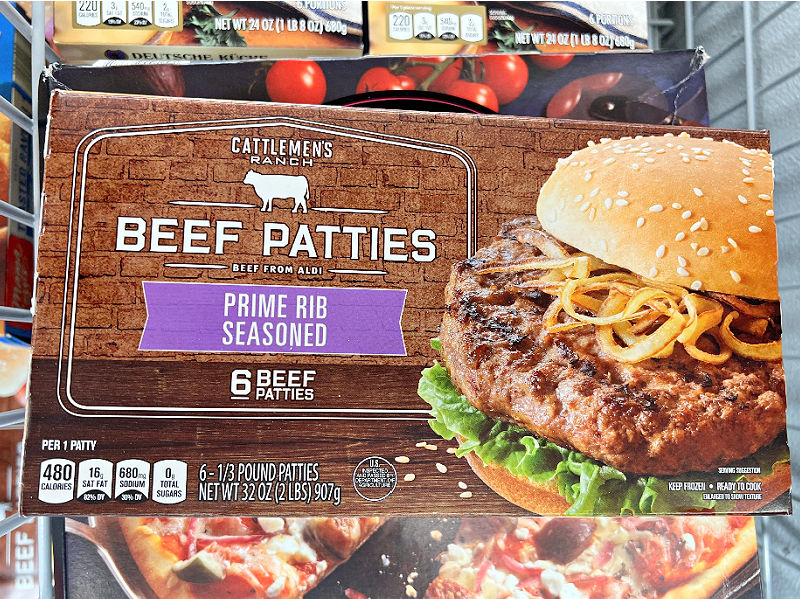 Beyond the vegan picks about, more food Finds include:
Barissimo spring flavors coffee cups 12 ct, $3.68 (wild blueberry crumble, honey lavender, or spring blend)
L'Oven Fresh artisinal buns, $2.29
L'Oven Fresh pretzel hamburger buns, $2.79
Patriotic brownies, $4.29
The Cheesecake Factory creme brulee or cafe mocha mix-in dessert 5 oz, $1.89
32 oz Bradshaw Ranch cheddar garlic butter beef patties or Cattlemen's Ranch prime rib or pub style beef patties, $8.49
Fremont Fish Market 12 oz coldwater salad shrimp, $5.99
Outshine no sugar added fruit bars 18 oz, $5.47
Specially Selected Authentic Italian pizza, $3.99

St. Louis pork spare ribs, $2.99/lb

Clancy's cinnamon churros, $1.29
Lofthouse patriotic sugar cookies, $3.29
Southern Grove Americana trail mix, $1.79
Specially Selected premium mac & cheese, $1.79
Choceur Break Time chunky bar, $.69
That stone baked Italian pizza looks pretty good, doesn't it?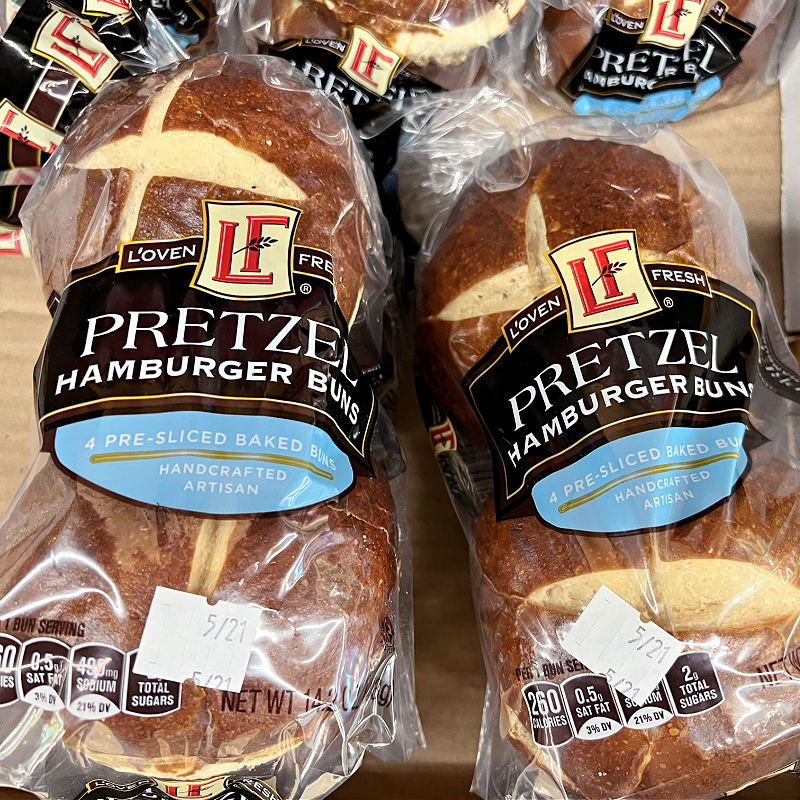 And of course, they're stocking lots of Finds for your Memorial Day BBQ — Cook up the beef patties and enjoy them on these pretzel buns, maybe? (Yes, they're more expensive than last time, but so is everything else…)
While we're on the topic of burgers, you can also invest in a giant 48 oz box of Happy Farms American cheese singles ($7.99). This is a seasonal item, but keep reading — we'll talk about even more fun seasonal food Finds at the end.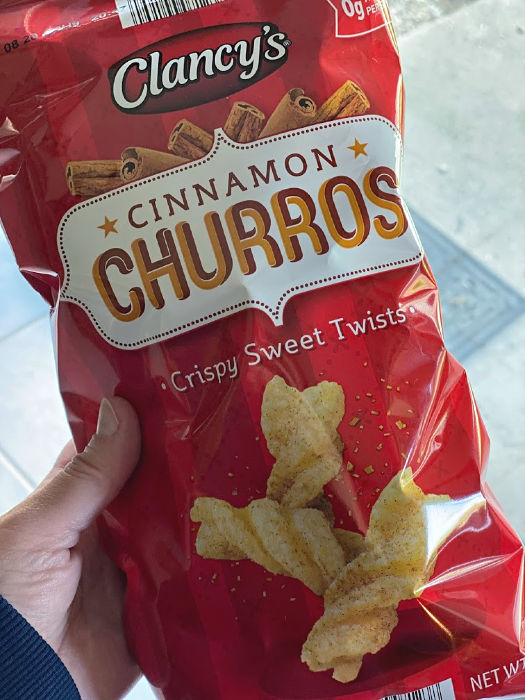 Then on the side: If your kids (or you) like those Taco Bell cinnamon twists, Clancy's churros may be for you. These tend to sell out pretty quickly every time they appear, so grab yours sooner rather than later.
Chicken-ish Finds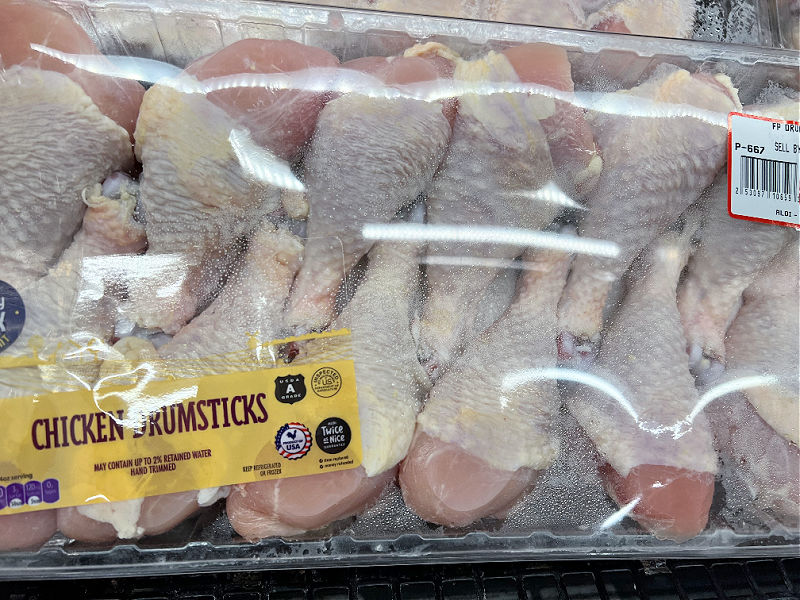 We have a few chicken sales this week, so let's first call out an actual decent sale on meat, given how prices have been going lately. Fresh jumbo packs of chicken drumsticks are listed at $.89/lb, so stock up! In the freezer section, also look for 36 oz bags of Tyson thin-sliced chicken breast at $6.49.
Over in the deli section, you can pick up 12 oz Park Street Deli reduced guilt chicken salad for $4.59, as well as 10 oz tomato basil or Italian Dietz & Watson Blends chicken sausage for $3.99.
Top 30 non-Food Finds this week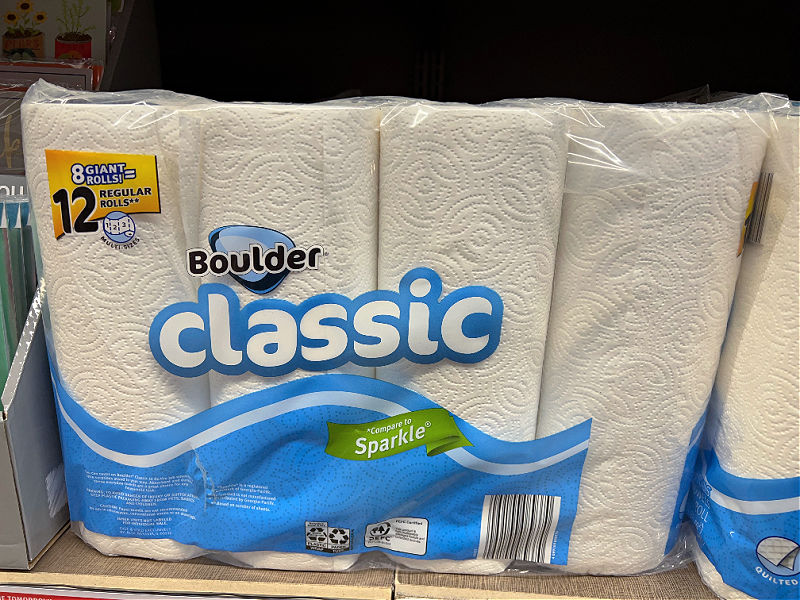 Moving away from food, clean up with 8 giant rolls of Boulder paper towels ( = 12 single rolls). These are up to $7.29 this time, as are 300 ct Boulder paper plates for those BBQs. Lots more Aisle of Shame Finds this week, too, including:
Crofton reusable sandwich or snack bags or Joie reusable produce or market bags, $4.99
Easy Home adjustable height 2-shelf kit, $24.99
Huntington Home bar mop or flour sack towel set, $4.99
Huntington Home jacquard tablecloth or 20″x34″ kitchen accent rug, $7.99
WORKZONE folding hand truck, $29.99
Ambiano retro small appliances: Coffee maker ($34.99), egg cooker ($12.99), citrus juicer or portable blender ($16.99), milk frother, immersion blender, toaster, or electric kettle ($24.99)
Crofton countertop compost bin, $16.99
Crofton silicone baking utensil, $1.99
Crofton reusable straws, $4.99
Crofton party cake pan, $13.99
Crofton reinforced silicone baking, $5.99, or metal bakeware, $4.49
6″ premium annuals, $5.99
Belavi flameless candle lantern, $9.99
Belavi outdoor gas fire pit, $169.99
Gardenline hose accessories or Orbit hose watering time, $9.99, or nozzles, $4.99
Gardenline premium-duty ultra light hose, $24.99
Crofton landscaping fabric, $4.99
Belavi 7.5′ umbrella, $39.99
Belavi propane patio heater, $149.99
Huntington Home faux floral ceramic planter, $9.99
Medion wireless keyboard/mouse set, $16.99
Medion XL desk mat, $12.99
Pembrook pop-up graduation cards, $1.99
Summer Waves 45″ round pool, $8.99
Crane interlocking foam flooring, $12.99
Crane adult lightweight footbed sandals, $7.99
Lily & Dan children's footbed sandals, $9.99
Serra mini pocket umbrella, $6.99
Bee Happy ALDI play shopping set, $14.99
Bee Happy 6-pack bubble wands or 48-piece chalk, $3.69
The pop-up cards are always a great quality for the price, if you have an upcoming grad. (And that fire pit! I know some of you have been waiting for that to return, so this is your week.)
Then, the reusable straws and bags are always a helpful way to help reduce waste and save in the long run.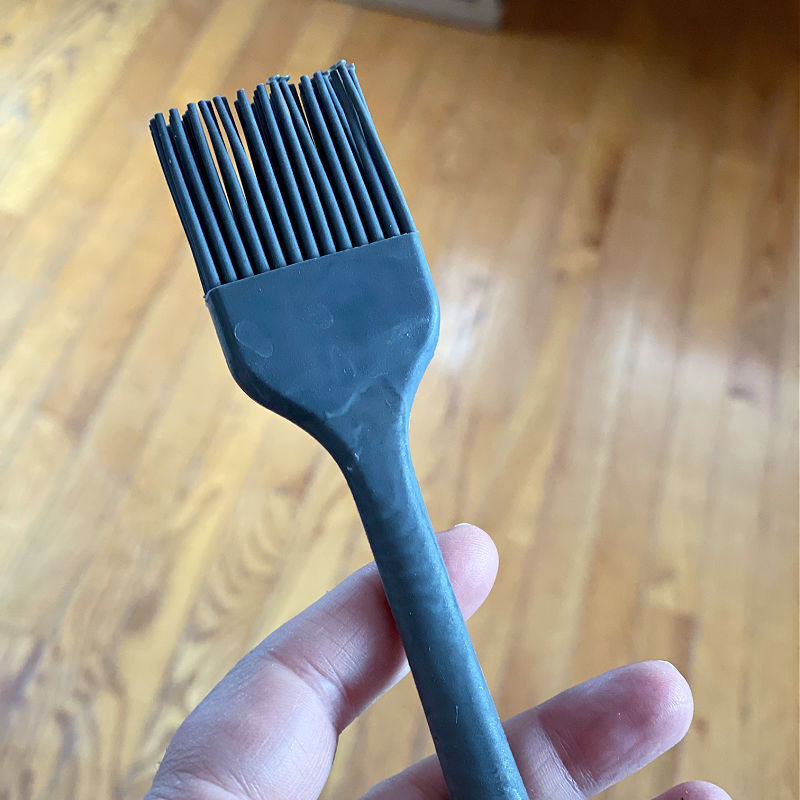 And these little silicone utensils are so handy — I have the brush and a little turner from earlier sales, and use them all the time.
Keep looking for seasonal Finds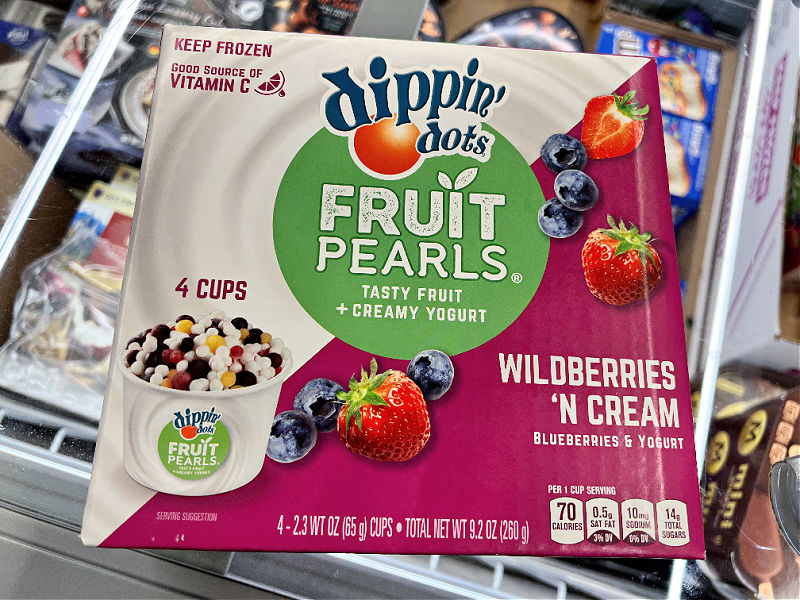 In addition to this week's special buys, keep looking for seasonal spring and summer Finds as they keep moving into stores. This week I spotted:
Dippin' Dots wildberries 'n cream fruit pearls, $4.99
BelGiogioso fresh mozzarella pearls, $2.99
Kingston Creamery blue cheese wedge, $2.99
Happy Farms queso blanco, $2.89
Park Street Deli dessert hummus (vanilla & chocolate), $2.49
Baker's Corner lemon pound cake mix, $2.25
Ben & Jerry's cookie dough chunks, $4.48
Emporium Selection summer gouda, $3.59
Emporium Selection Halloumi grilling cheese, $3.99
Sundae Shoppe summer gelato, $4.19
48 oz Happy Farms American cheese singles, $7.99
Park Street Deli Cajun crab or smoked salmon dip, $3.19
Fremont Fish Market wild Argentine shrimp skewers, $6.99
Fresh Atlantic salmon on a cedar plank, $9.99/lb
Earth Grown vegan ravioli, $3.79
Fresh Gourmet fruit & nut salad toppings, $2.99
Cookie. Dough. Chunks. How dangerous is that?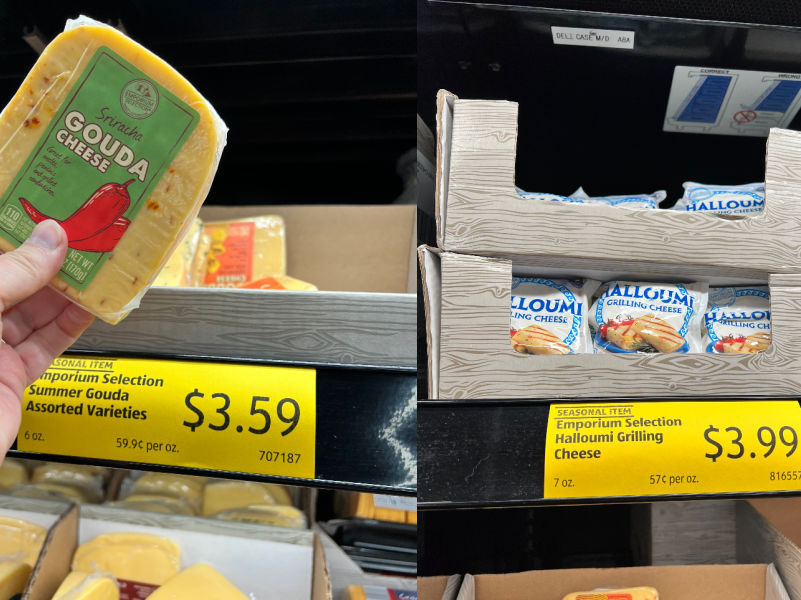 And seasonal ALDI cheeses are always worth exploring, so keep looking for those. I tried the halloumi grilling cheese last year, and you can see my ALDI halloumi review here. (It's actually the same $3.99 price this year, too.)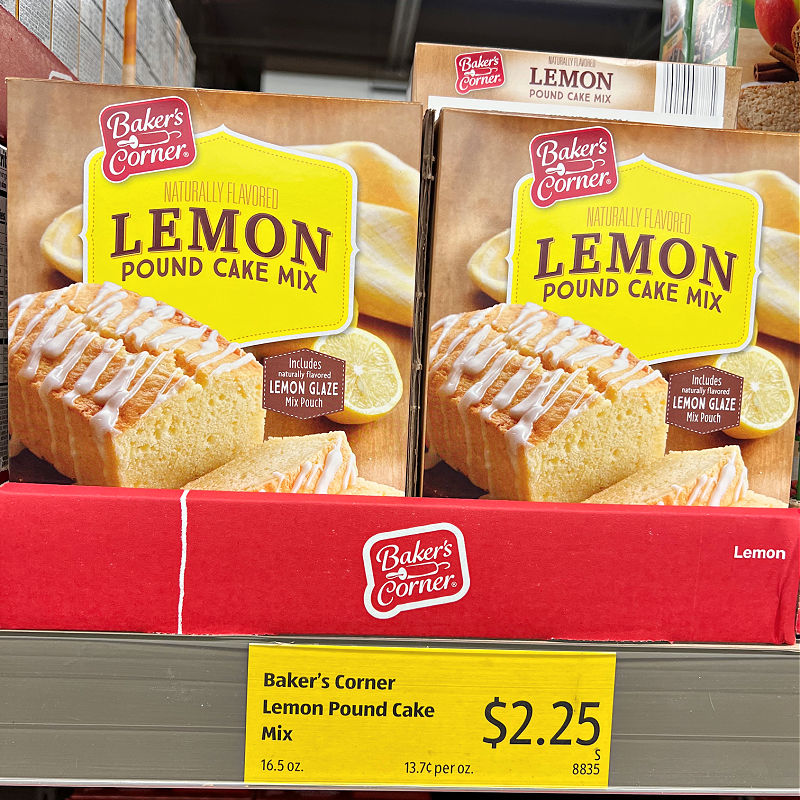 And the lemon pound cake mix is definitely spring-y! See more fun spring ALDI Finds here, and then I'm listing more in each weekly Finds roundup as I run across them. What new fun foods have you found in store lately?
What's Up with ALDI Finds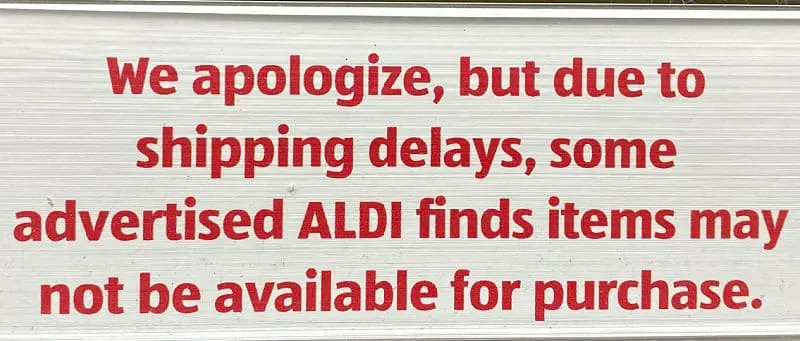 What's up with ALDI Finds? Well, these are limited time special buy items that are available in stores only while supplies last. So if you spot something you like, be sure to pick it up while you can.
Before shopping for new Finds this week, you might wish to visit the ALDI Finds product delays page. Because of ongoing shipping delays and materials shortages affecting ALDI and many other retailers, certain advertised products may not be available in all locations.
Finding the Finds
Where do you Find all of this week's special buys?
Check out the "ALDI Finds" and current weekly ad tabs (or mobile menu choices) on the ALDI site to window shop from home.
If you're planning an in-store shopping trip, use their online ad to help determine what you'll grab and purchase if you do see it in the store.
Products mentioned in this post were either spotted in store or are from the ad starting 5/15/22 in Sunday ad markets, 5/18/22 in Wednesday ad markets. What caught your eye among this week's ALDI Finds?