This Build Your Own Popcorn Bar is the perfect way to entertain! Let guests pick and choose their own toppings at your next party.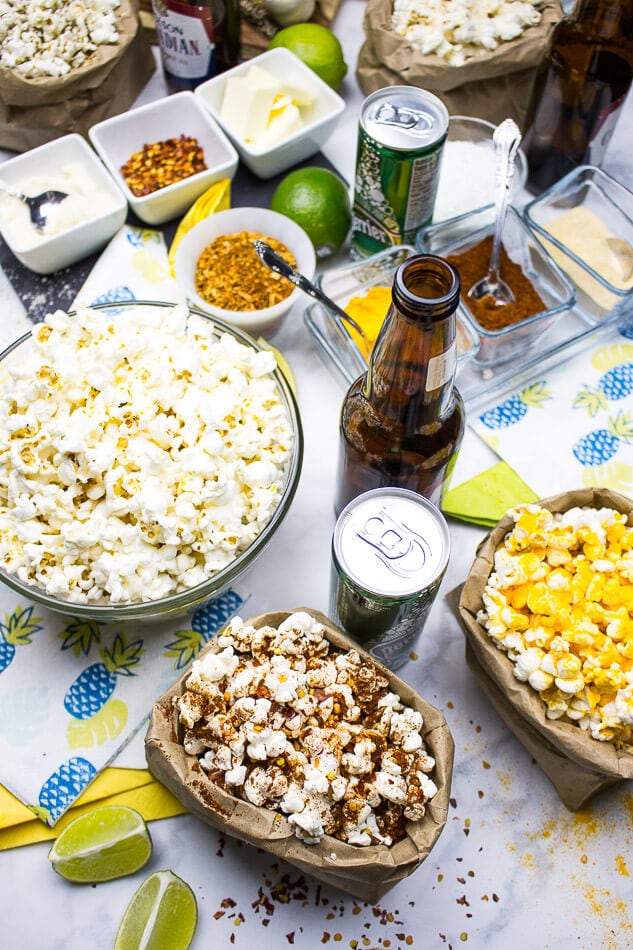 Ingredients and substitutions
Plain popcorn – you can make fresh popcorn with kernels, use microwavable popcorn or buy some pre-made popcorn.
Butter – vegan butter, melted coconut oil or spray oil work as great alternatives.
Citrus zest – dried citrus peels can work well. Using lemon pepper seasoning, a few drops of citrus juice, citrus extracts or even candied peels can offer a similar taste to citrus zests.
Hot sauce – any flavour can work. You can also use spices like chili powder, chili flakes or paprika for a different way of incorporating some heat.
Shredded cheese – nutritional yeast is a great substitute for any type of shredded cheese. You can also use dehydrated or dried cheese to sprinkle on top.
Spice rubs – any flavours or spices can work. You can make your own or used store-bought blends. Using bought seasonings packets like taco or fajita seasoning, BBQ seasoning, ranch seasonings, etc. all work great as well.
Shredded coconut – coconut flakes are great, too. Using ground nuts, like almonds, pecans, walnuts or pistachios, can give a similar texture and a great taste!
Caramel/chocolate sauce – chocolate/caramel syrups can work, as well as melted chocolate, hazelnut spread or peanut butter. You can even drop some chocolate or butterscotch chips into your popcorn, too!
Chili powder – paprika or cayenne powder are both great substitutes.
Red chili flakes – chili powder, cayenne pepper, and chipotle powder can all be used as substitutions.
Garlic powder – you can also use garlic salt to replace both the garlic powder and salt, if desired.
Onion powder – dried onion flakes, onion salt or chopped chives can all work well.
Zaatar spice – mixing ground thyme, oregano, cumin, and coriander can be used to make this spice mix.
Kraft Dinner dried cheese mix – any boxed mac and cheese mix can work. Using white cheddar or sharp cheddar mixes are great options, too.
How to do a popcorn bar
Making a popcorn bar is a simple yet extremely thoughtful way to allow guests and friends to customize their own snack, as well as help themselves to whatever, whenever they want. Once all of your toppings and popcorn has been gathered, setting up this bar requires nothing more than some seasoning serving bowls, some spoons, and your popcorn-serving containers. Put out each seasoning option into a separate bowl and lay a couple of spoons out. You can serve your popcorn in anything you want to! Whether it's in a bag, a bowl or a vintage popcorn bucket, any container will work. For the butter, you can also offer different options to any consumers that may have dietary restrictions and have them prepared in a serving bowl, too.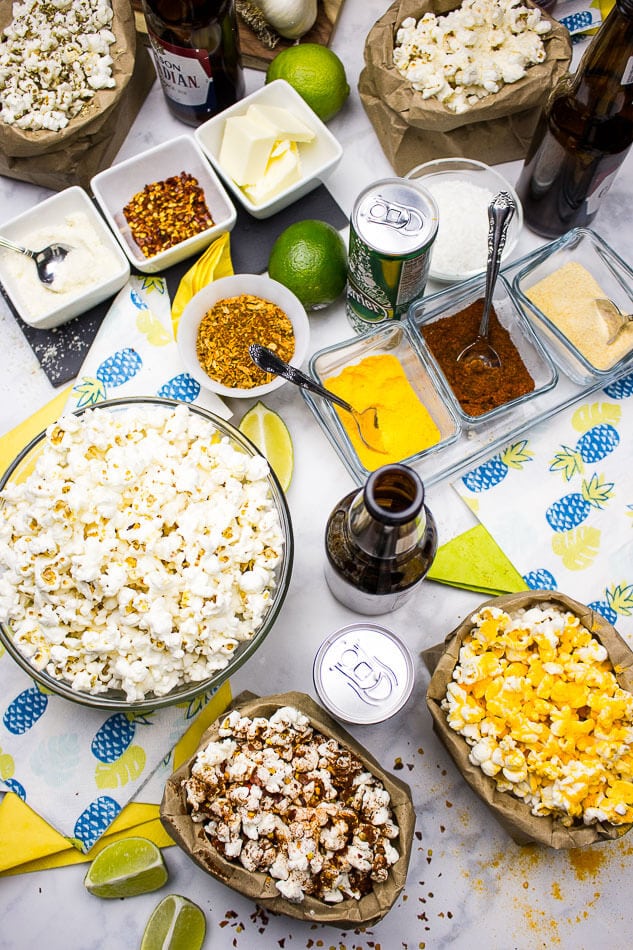 How do you keep popcorn fresh in a popcorn bar?
If you're planning to make your popcorn or put the popcorn out in advance, try to keep it in a container that can be sealed, like a popcorn tin or a regular container with a sealable lid. This can keep your popcorn from becoming stale. When your popcorn is ready to be eaten, you can cover the bowl or container with plastic wrap or a slightly dampened paper towel and microwave it for about 30-40 seconds. This will reheat and bring moisture back into the popcorn and is a great way to revive any leftover popcorn, too. Once your popcorn is warm again, add your toppings then serve! Another option is to freshly pop your kernels just before it is ready to be eaten. This is the best way to keep popcorn as fresh as possible when being served.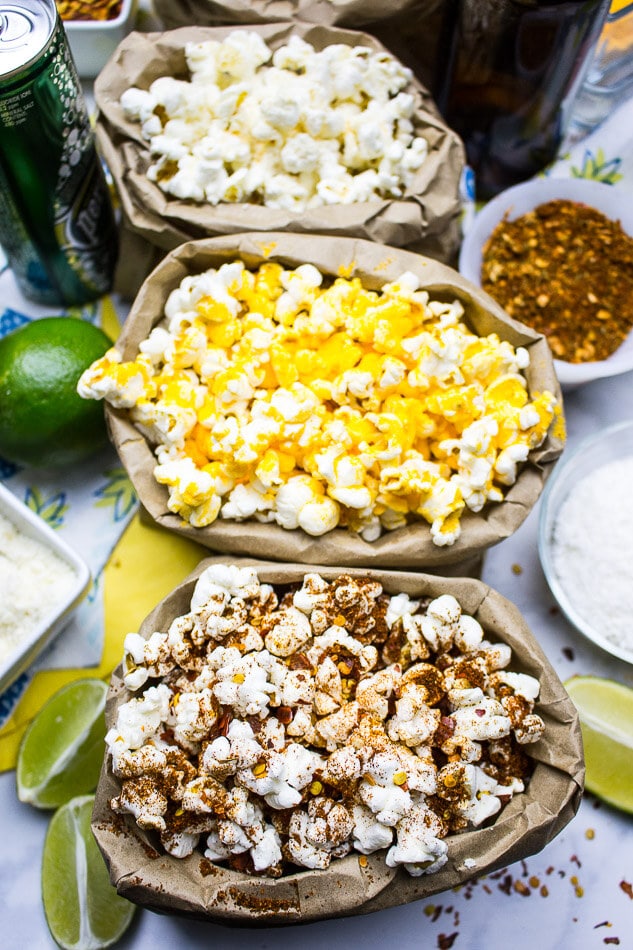 More snack ideas
Will you be trying out this DIY Popcorn Bar idea? There are so many ways you can customize this thing it's insane! As always, if you try any of my recipes or have any questions, be sure to reach out on Instagram, Twitter, Facebook or in the comments – I'd LOVE to hear from you!
Print
Build Your Own Popcorn Bar!
This Build Your Own Popcorn Bar is the perfect way to entertain! Let guests pick and choose their own toppings at your next party.
Ingredients
Extra topping ideas
Butter

Lime wedges/citrus zest

Sriracha or hot sauce

Shredded cheese (parmesan, cheddar, Swiss, etc)

Spice rubs

Shredded coconut

Caramel/chocolate sauce
Chili Lime Popcorn Seasoning
1/2

cup

chili powder

2

tbsp

lime zest

1

tsp

red chili flakes

1/2

tsp

salt
Garlic Parmesan Popcorn Seasoning
1/2

cup

parmesan cheese

1

tbsp

garlic powder

1/2

tsp

salt
Zaatar Spiced Popcorn Seasoning
1/2

cup

zaatar spice

1

tsp

garlic or onion powder

1/2

tsp

salt
Mac n Cheese Popcorn Seasoning
1

package

Kraft Dinner dried cheese mix
Instructions
Pop your popcorn, melt some butter and then mix in your seasonings of choice, tossing well to combine. Serve and enjoy!
Nutrition
Calories:
178
kcal
|
Carbohydrates:
18
g
|
Protein:
6
g
|
Fat:
11
g
|
Saturated Fat:
6
g
|
Polyunsaturated Fat:
2
g
|
Monounsaturated Fat:
3
g
|
Trans Fat:
1
g
|
Cholesterol:
20
mg
|
Sodium:
842
mg
|
Potassium:
360
mg
|
Fiber:
7
g
|
Sugar:
2
g
|
Vitamin A:
4707
IU
|
Vitamin C:
1
mg
|
Calcium:
128
mg
|
Iron:
3
mg
The post Build Your Own Popcorn Bar! appeared first on The Girl on Bloor.