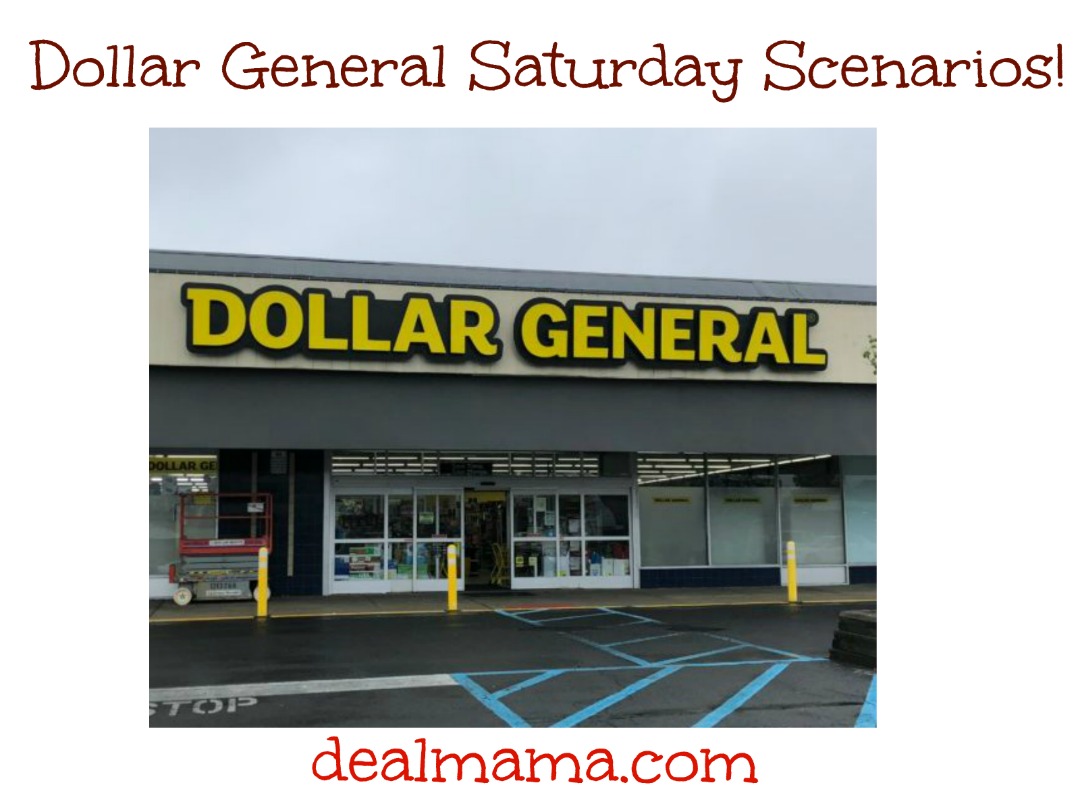 Dollar General Scenario 5/14 ONLY
Buy 1 Playtex Sport Regular or Sports Odor Shield Tampons, 32 – 36 ct, $7.25
Buy 1 Skintimate Disposable Razors, 4 ct, $6.00
Buy 1 Bounty Essentials Print Paper Towels, 6 Large Rolls, $4.95
Buy 1 Charmin Bath Tissue Essentials, 12 Family Rolls or Essentials Strong, 6 Mega Rolls, $4.95
Buy 3 Covergirl Eye Liner 500 Brow & Eye Marker, 2 ct, $4.50
Buy 2 St. Joseph Chewable Aspirin, 36 ct, $2.00
Buy 1 Suave Skin Solutions Body Lotion Cocoa Butter and Shea,10 oz, $2.00
Buy 1 Right Guard Sport Antiperspirant Deodorant Gel, 3 oz, $2.00
Buy 11 Crest + Scope Complete Whitening Toothpaste, Minty Fresh, 2.7 oz, $1.00
Buy 3 Dove Beauty Bar, 2.6 oz, $1.00
Buy 3 Werther's Original Candy, 2.4 – 2.65 oz, $1.00
Total: $61.65
Use (1) $2/1 Playtex Sport Regular or Sport Odor Shield Tampons, 32 – 36 ct DG Digital Coupon
Use (1) $4/1 Schick Disposable or Skintimate Disposable Razor Pack excludes Schick Xxtreme 3 1ct, Schick Xxtreme 2 & Skintimate 2ct & 6t & Schick Classic & Schick Hybrid disposable (LIMIT 2), 4/24 SS #2, exp. 05/14/2022
Use (1) $1/1 Bounty Paper Towel Product 4 ct+ (includes Double Plus Rolls) (LIMIT 2), 5/1 PG, exp. 05/14/2022
Use (1) $1/1 Charmin Toilet Paper Product 4 ct + ets (LIMIT 2), 5/1 PG, exp. 05/14/2022
Use (1) Save $3.00 ONE COVERGIRL® Eye Product (excludes 1-kit shadows, accessories, Lash Blast Clean and travel/trial size), exp. Varies
Use (1) $3/1 Covergirl Eye Product (excl 1 kit shadows, accessories, Lash Blast Clean, ets), 5/8 SS, exp. 05/21/2022
Use (1) $3/1 COVERGIRL® Eye Product (excludes 1-kit shadows, accessories, Lash Blast Clean and travel/trial size) DG Digital Coupon
Use (2) $1/1 St Joseph Low Dos Aspirin, 4/24 SS #2, exp. 06/20/2022
Use (1) $1/1 Suave Lotion Product (excl 3 oz and ets) (LIMIT 2), 5/1 UNILEVER, exp. 05/14/2022
Use (1) $1/1 Right Guard® Sport DG Digital Coupon
Use (1) $6/4 Adult Crest Toothpaste 2.7 oz or more, Crest Mouthwash 473 ml or larger, Oral-B Mouthwash 475 ml or larger, Oral-B Adult Manual Toothbrush, Oral-B Glide Floss, Oral-B Glide Floss Picks, OR Fixodent Adhesive 1.4 oz or larger (excludes Crest Cavity, Baking Soda, Tartar Control/Protection pastes, Kids, Indicator, Healthy Clean, Healthy & Clean, Fresh and Clean, Bright and Clean, and trial/travel size) DG Digital Coupon
Use (1) $5/3 Adult Crest Toothpaste 2.7 oz or more, Crest Mouthwash 473 ml or larger, Oral-B Mouthwash 475 ml or larger, Oral-B Adult Manual Toothbrush, Oral-B Glide Floss, Oral-B Glide Floss Picks, OR Fixodent Adhesive 1.4 oz or larger (excludes Crest Cavity, Baking Soda, Tartar Control/Protection pastes, Kids, Indicator, Healthy Clean, Healthy & Clean, Fresh and Clean, Bright and Clean, and trial/travel size) DG Digital Coupon
Use (1) $3/2 Adult Crest Toothpaste 2.7 oz or more, Crest Mouthwash 473 ml or larger, Oral-B Mouthwash 475 ml or larger, Oral-B Adult Manual Toothbrush, Oral-B Glide Floss, Oral-B Glide Floss Picks, OR Fixodent Adhesive 1.4 oz or larger (excludes Crest Cavity, Baking Soda, Tartar Control/Protection pastes, Kids, Indicator, Healthy Clean, Healthy & Clean, Fresh and Clean, Bright and Clean, and trial/travel size) DG Digital Coupon
Use (1) $1/1 Crest Toothpaste 2.7 oz or more (excludes Crest Cavity, Regular, Base Baking Soda, Tartar Control/Protection, F&W Pep Gleem, Gum Variants, Brilliance, 3D White Therapy, 3D White Professional, Crest Aligner Care Paste, Densify, Kids, More Free packs, and trial/travel size) DG Digital Coupon
Use (1) $1/1 Crest Toothpaste 2.7 oz+ (EXCL Crest Cavity, Regular, Base Baking Soda, Tarter Control/Protection, F&W, Pep Gleem, Crest Aligner Care, Kids, More Free Packs, Multipacks ets) LIMIT 2), 5/1 PG, exp. 05/14/2022
Use (1) $3/3 Dove Products DG Store Coupon
Use (1) Buy TWO (2) Werther's Original® Varieties, Get ONE (1) Free ANY Werther's Original® Varieties DG Digital Coupon
Use (1) $10/$60 of more (pre-tax) at Dollar General DG Coupon
Final Price $10.65 Total or just $0.38 per item
Make sure to check out all of the Dollar General deals and Matchups. Also, don't forget to join our Dollar Stores Facebook page so you are not missing any deals!
Need more coupons? Check out the Coupon Database
The post Dollar General Scenario 5/14 ONLY! just 0.38 per item! appeared first on Extreme Couponing & Deals.