If you were to search for employee recognition card ideas, you'd probably get about 12 pages of various sites and sources. Random guess, but there's definitely a lot.
Where to get personalized employee recognition ecards. How to save money by buying employee recognition cards in bulk. Even how to customize the most effective employee recognition card messages.
That's a lot of websites to filter through!
But that also means:

You have a ton of options to choose from to find the perfect card!

There's gotta be an ideal card with the optimal delivery method in there somewhere.

This could be a great opportunity to assess your employee recognition program and branch out with your staff appreciation ideas in the new year.

Employee recognition cards are popular enough to cover 12 pages? Who knew?
What makes these simple greeting cards so powerful?
Dale Carnegie was a pioneer in effective communication and professional development back in the 1900s. One of his forward-thinking lessons regarding recognition was that "People work for money, but go the extra mile for recognition, praise and rewards."
This statement is still very much true over 100 years later.
An employee recognition card is perfect for all three of Mr. Carnegie's extra mile mentions.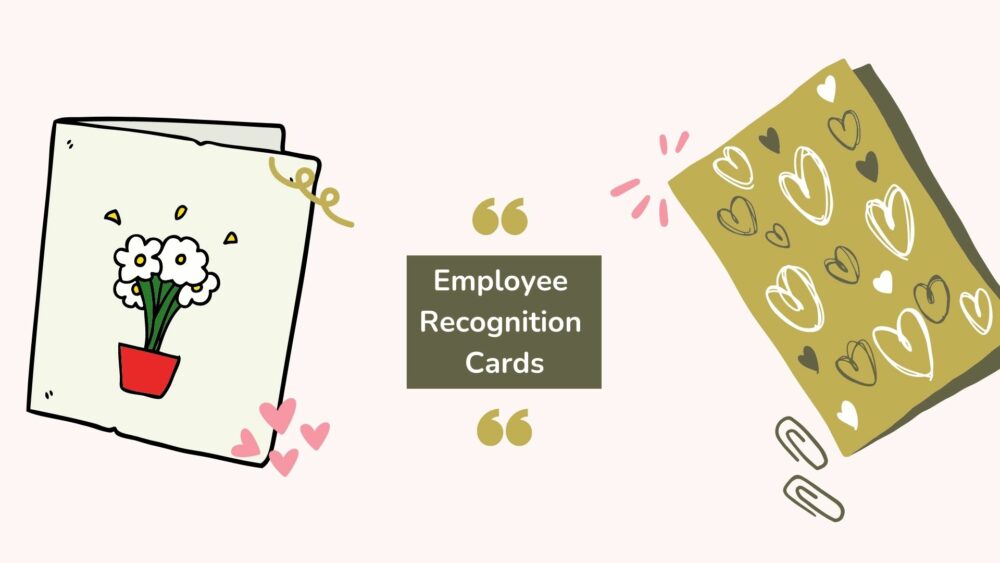 These cards can be picked up from a local card shop, bought online and shipped to you for signing, even in the form of ecards you can customize and send straight to your employee's inbox.
---
"People work for money, but go the extra mile for recognition, praise and rewards." - Dale Carnegie
Click To Tweet

---
Since you're already online, let's take a look at some links to the ones we think are pretty great options. Save yourself some time weeding through 12 search pages and check out our suggestions for the best employee recognition cards.
Best Employee Recognition Cards
When you really want your message to matter, it has to be unique. Make sure your recognition resonates by boosting your words with fully customizable ecards.
Best for: Any and all occasions! Birthdays, work milestones, promotions, babies – you name it.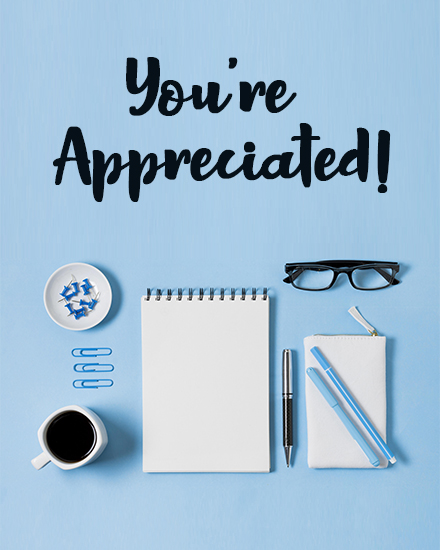 While the stock cover photo certainly gets the message across, why not personalize it with a custom photo? You can get super savvy with this! And the more creative you are, the more customized your appreciation message becomes.
Best for: Work anniversaries.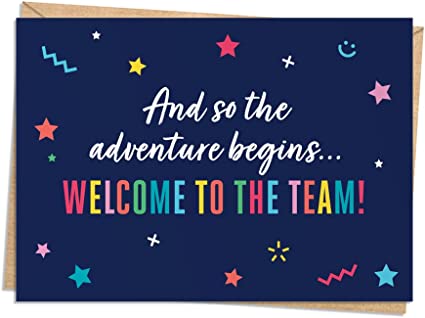 The first few days can be intimidating for new employees. They're in a new environment, complete with new expectations, equipment, and coworkers. Help them feel welcome and included from day one with this personalized card from their new team.
Best for: Onboarding.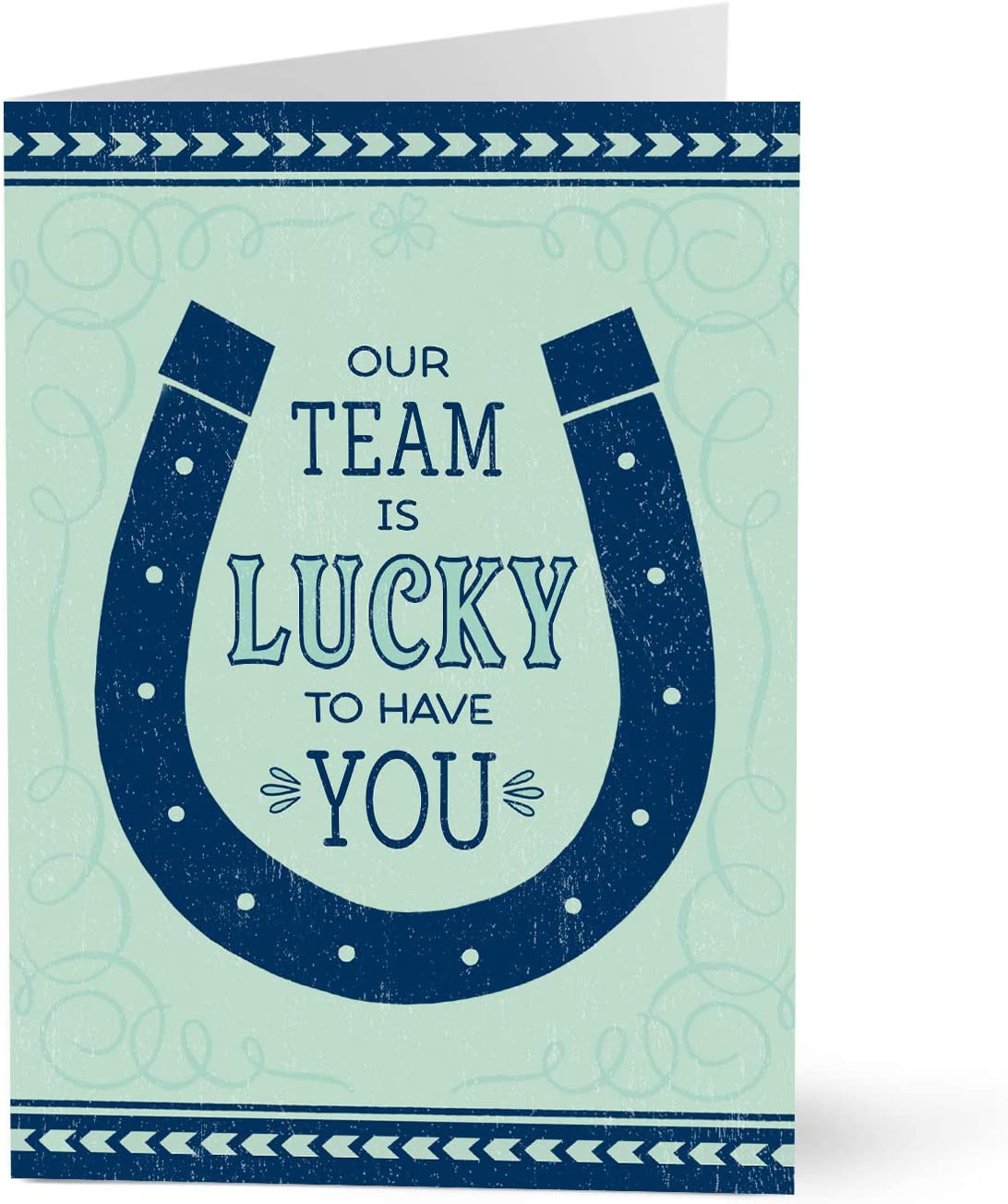 They may not be new to the company, but they're new to your department and that deserves some recognition! Let them know how excited you are to have them in your squad.
Best for: Promotion or new position.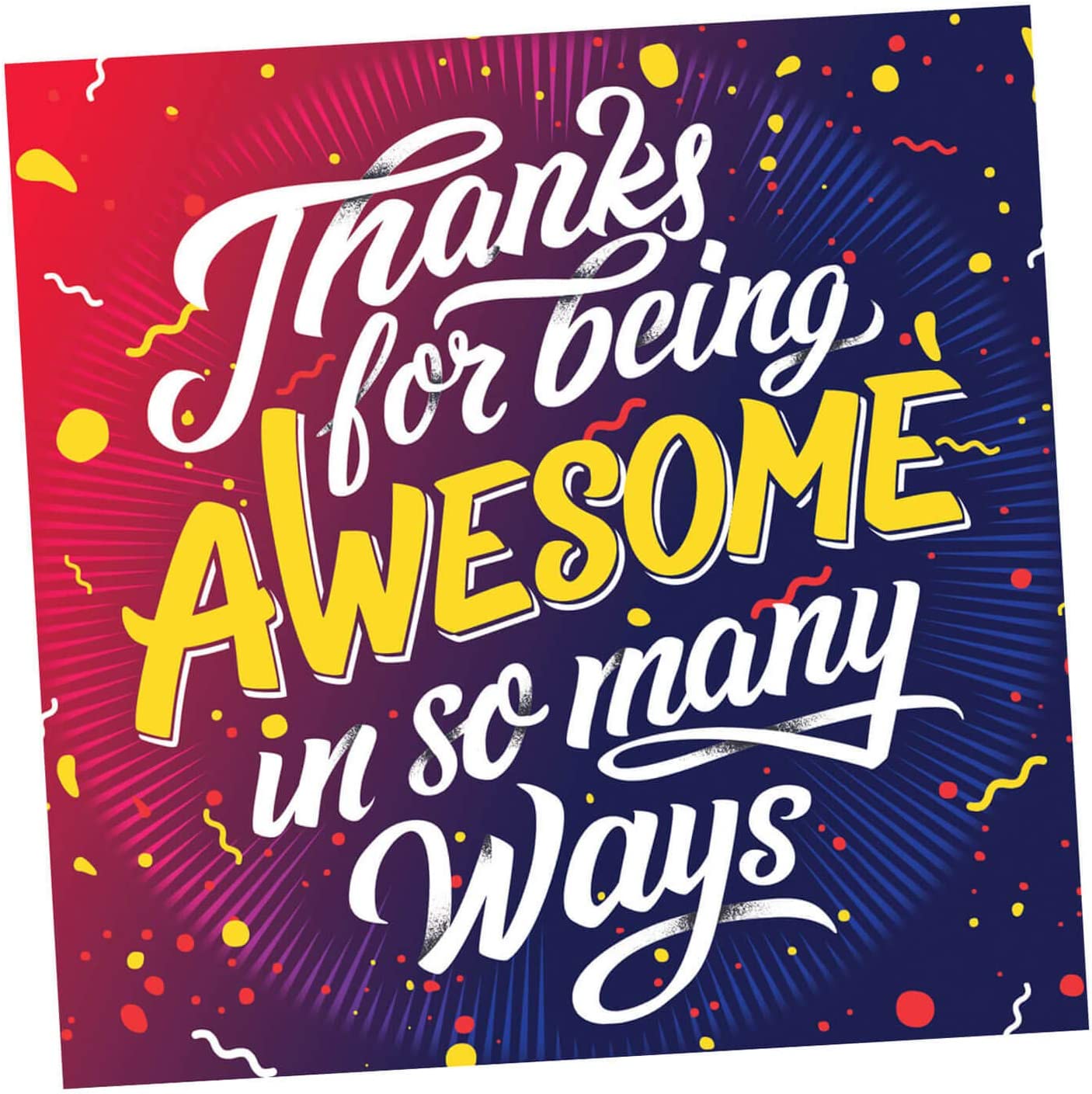 Some people are just awesome all the time. Your employees don't have to do something monumental to let them know how much you appreciate them every day.
Best for: Just because.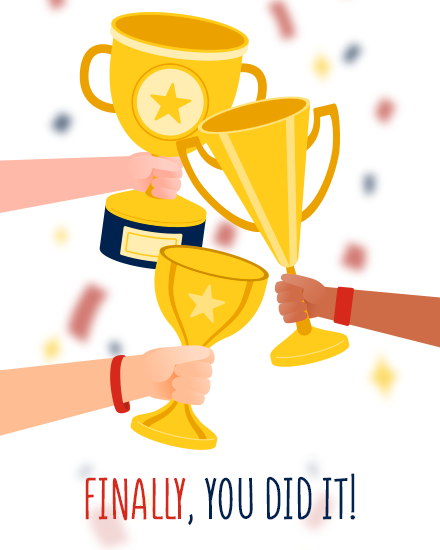 Their accomplishments deserve to be celebrated! This card shows your support for their hard work towards reaching their goals.
Best for: Personal or professional achievements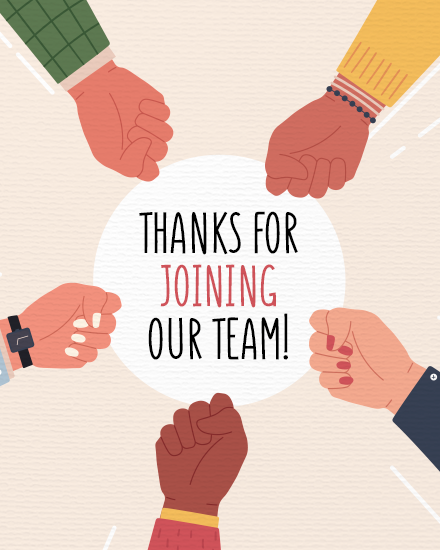 This card is great for your fully green newbies and the newbies to your team. Either way, they made the choice to apply their skills to your group so show some love for their stellar decision.
Best for: Onboarding or new role.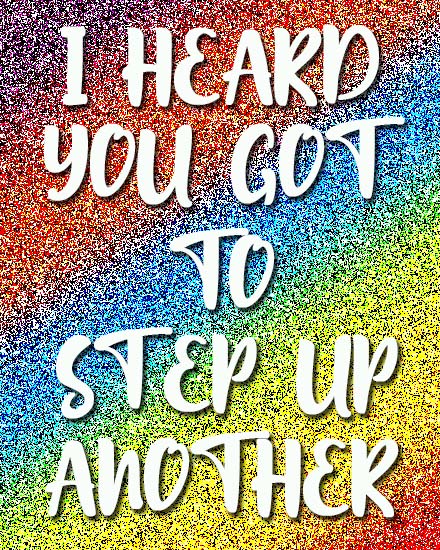 A promotion is a huge milestone for your employees and highlights how much they've contributed to the organization. Congratulate them and all the hard work it took to get here.
Best for: Promotion.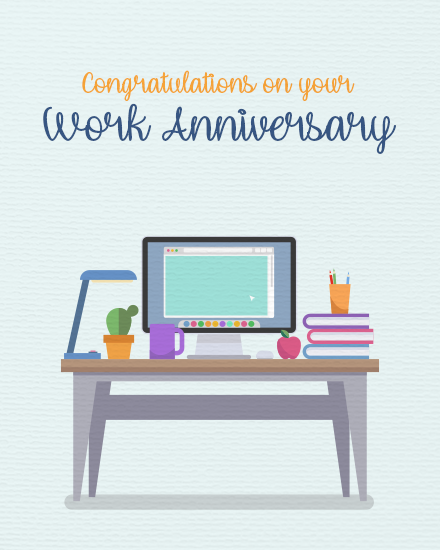 Every work anniversary signifies your employee's loyalty to the company. Each one of them should be recognized and this card celebrates them and their continued commitment.
Best for: Work anniversary.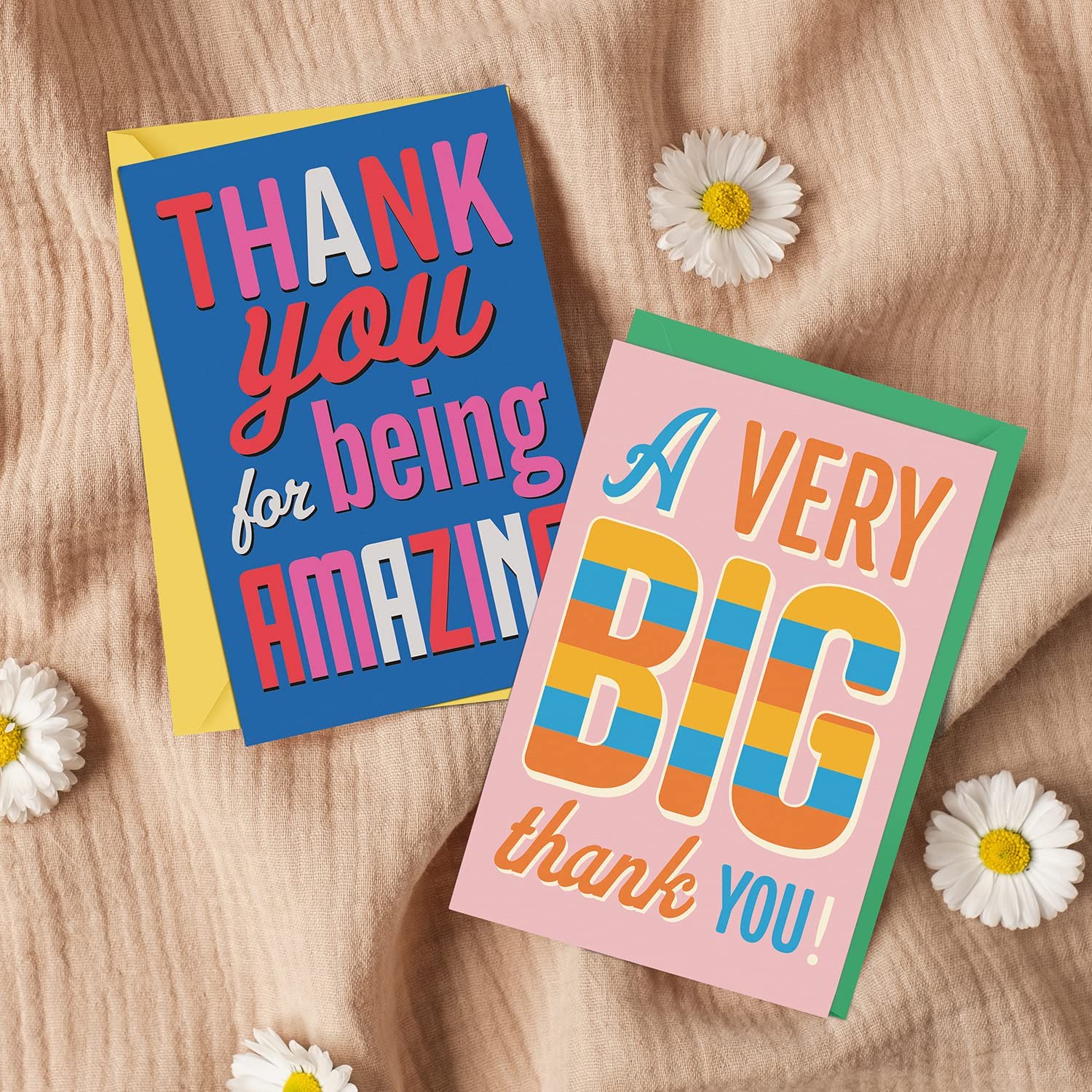 Employee appreciation cards in mini-bulk! With six different designs to choose from, and four of each included, there are two dozen opportunities to show how much you value your employees.
Best for: Employee Appreciation.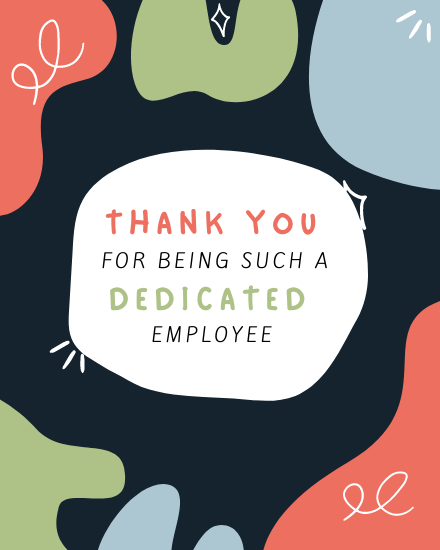 When you see your employee's dedication shining through, let them know their energy is seen and very much appreciated.
Best for: Employees who embody the company values.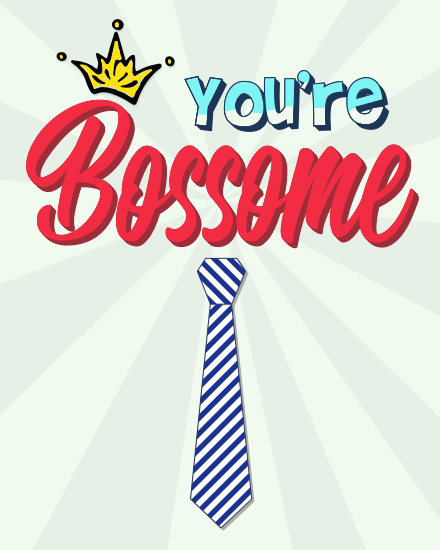 Flip the script and tell the boss why they're the best. After all, bosses are people too!
Best for: Boss' Day (or any day)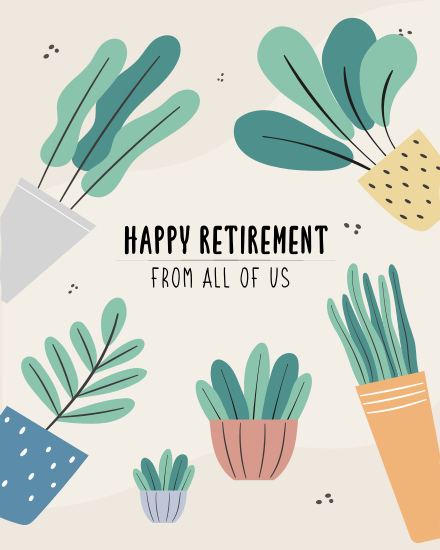 It's an honor and a privilege when an employee closes the book on their career with your company. Send them off with this thoughtful card from their final team.
Best for: Retirement.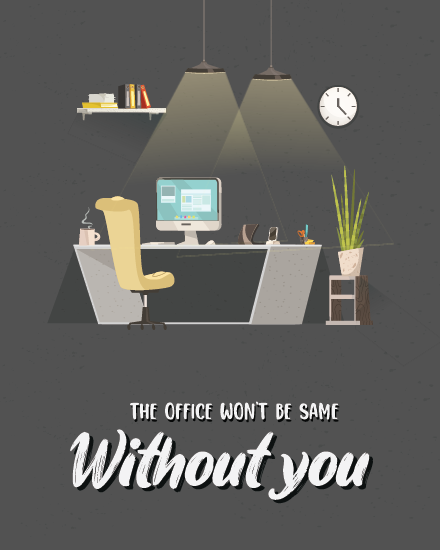 Parting is such sweet sorrow. Let your employee know they'll be missed with this card from their supportive soon-to-be former boss and colleagues.
Best for: Farewell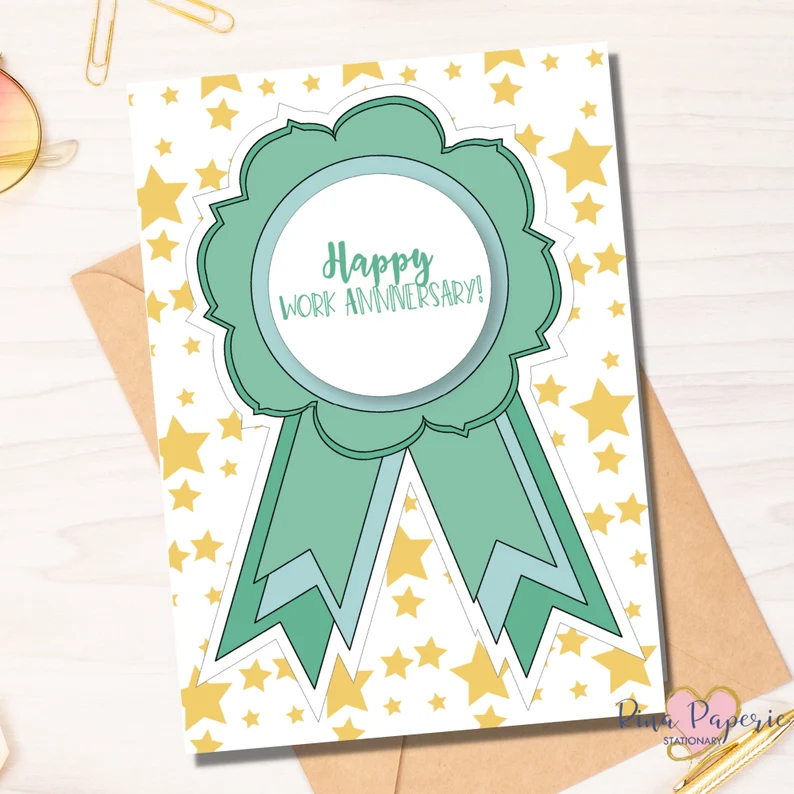 Work anniversaries are the perfect time to spotlight an employee's accomplishments over the past year. This card is prime and ready to be personalized with all their kudos.
Best for: Work anniversary
Gifts to pair with an employee recognition card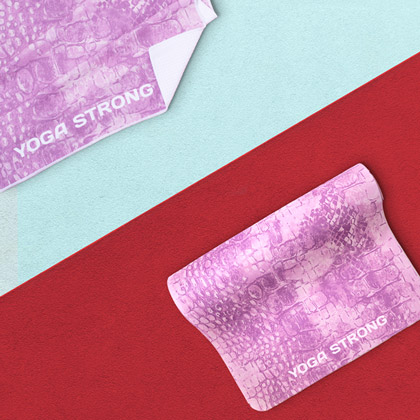 Anyone who's done yoga knows that not just any mat will do. This premier yoga set offers a supportive, stay-put mat, as well as a sweat-soaking towel. From restorative and power to yin and hot yoga, they'll love this cool combo.
Support your employee's career and their inner yogi in one unique and thoughtful bundle.
Price: $130.00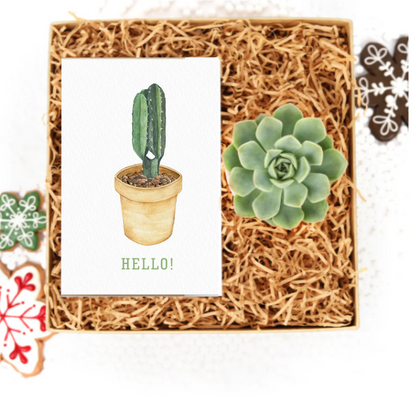 Succulents symbolize strength and tenacity. Possibly some of the qualities you see in your employee. This combo offers a living succulent and warm salutations in one kind and caring box.
This mindful gift offers a longer-term perk in that the succulent serves as a daily reminder of how much they're appreciated by their peers.
Price: $34.00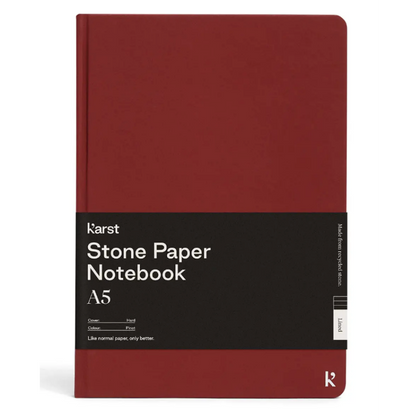 An eco-friendly and high-quality notebook? That's a win/win! Wait… it's waterproof too? What better accessory for the habitual note-taker on your team?
No more note cards everywhere and they definitely won't lose any of those important thoughts and brilliant ideas to tragic coffee spills!
Price: $40.00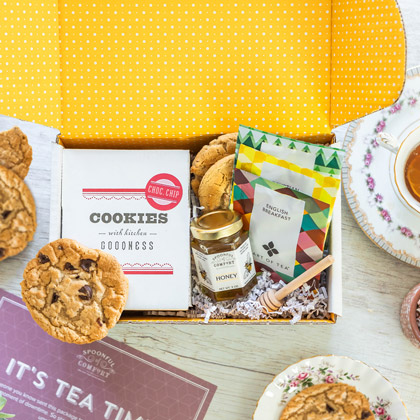 Instantly level up your employee's tea time with this cookie and caffeine combo. To sweeten the gift (and their premium tea selection), there's also a charming little pot-o-honey to warm them up from the inside out.
A hot cup of tea with a sweet accompaniment, paired perfectly with your recognition card is a whole vibe, served up with a chocolate chip bow on top.
Price: $43.00
With up to $100 to spend and 30 gift options to choose from, your employee is sure to find something they love. Offer them the gift of choice inside of a thoughtful recognition card.
When you know you want to give more than just a card but aren't sure exactly what will resonate best with your employee, this digital gift card is the perfect way to give them the appreciation they deserve with the ability to choose the best gift for them.
Price: $25.00 – $100.00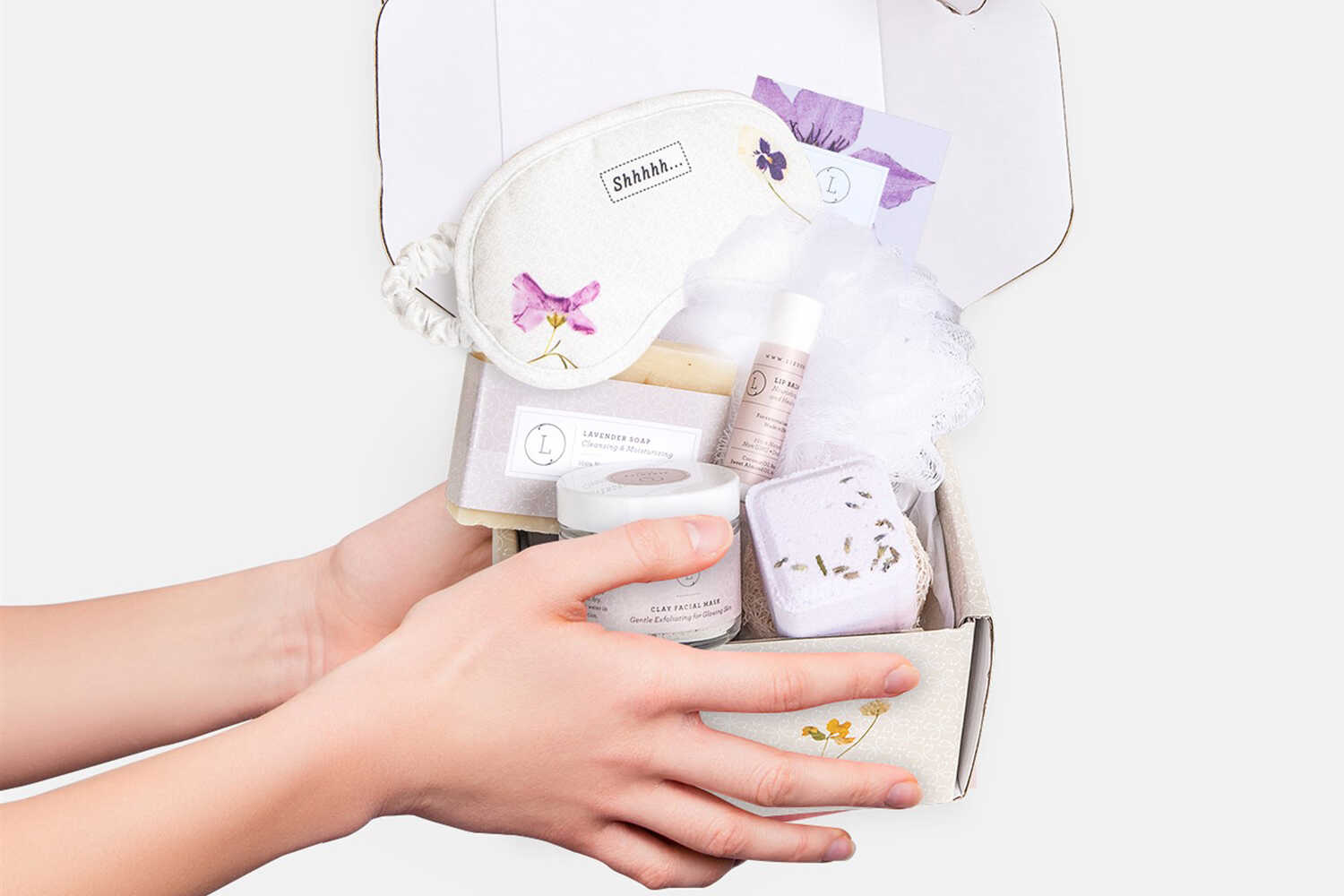 There's something soft, clean, and calming for every inch of their face. From the top of their forehead to the tip of their chin, they'll have an all-natural, lavender-themed mask, bar, or balm to help soothe and relax.
This is the perfect, self-indulgent gift to remind your employee that self-care is not selfish.
Price: $50.00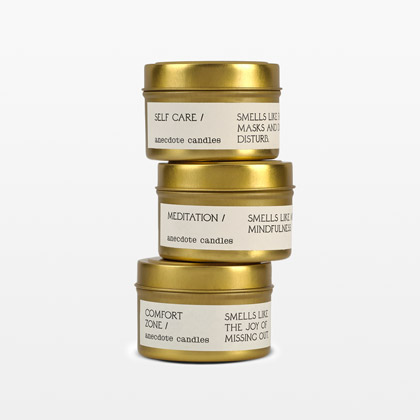 Promote a mindful culture and show appreciation for your employee at the same time. Aromas of coffee, cedar, and eucalyptus can help calm the craziness for hours.
Pairing your recognition card with this trio of candles adds a little boost to their day and their self-care scents.
Price: $54.00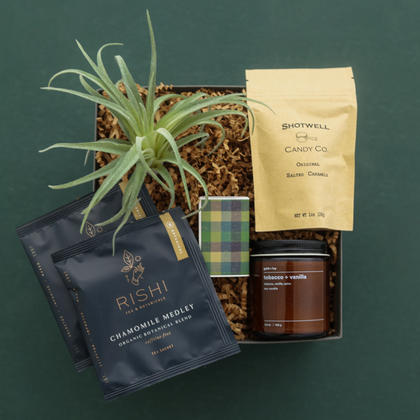 When saying "thank you" deserves more than just a card. Pairing a low-maintenance plant and high-quality teas, caramels, a candle, and more with your recognition card adds an element of depth to your message.
This gift box adds a strong, sweet, and elegant component to your recognition message.
Price: $100.00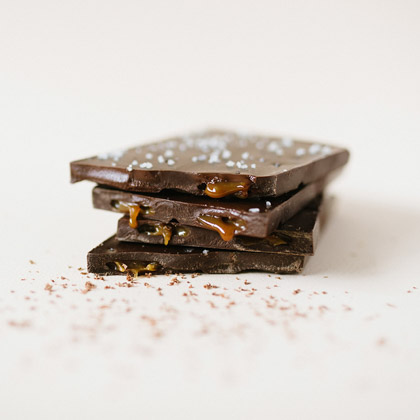 Sometimes you just want something fun and simple to complete your recognition gift. Why not make it sweet, salty, and Fair-Trade Certified too? Dark chocolate and sea-salt caramel to the rescue!
Dark chocolate contains healthy, stress relieving, and mood boosting properties that partner perfectly with your recognition card.
Price: $16.00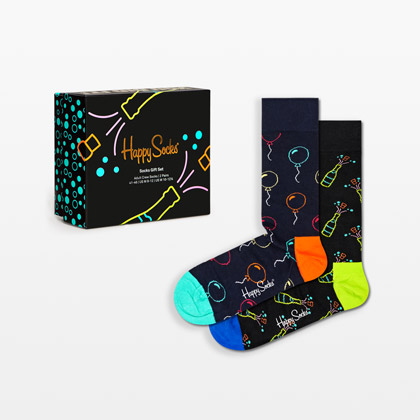 Say it with socks! Celebrations come in all forms and fashions, and socks have formally been invited to the party.
Each time they look down at the balloons and champagne in their shoes, they'll be reminded of where their fun feet came from, and how much they're appreciated by their peers.
Price: $39.00
Reasons to send an employee recognition card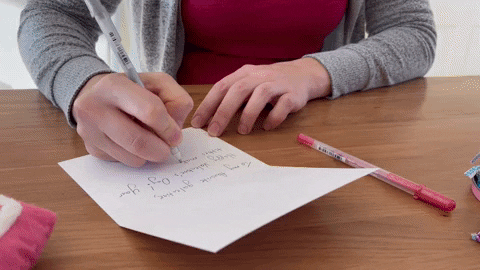 1 – Top performance
Recognizing your high-performers is a subtle yet visible way of leading by example. Ideally, the behaviors and actions of others will start to level-up when they see their peers getting noticed. The results? Improved interactions and performance across the entire organization.
2 – Specific goal attainment or accomplishment
Goal setting for your employees is most effective when they're recognized for actually reaching them. Showing your support for their success ensures they know their hard work is noticed.
3 – Good attitude and teamwork
Some people are always willing to help and they do so with a smile on their face. Honestly, they're kinda rare! These spirited souls deserve to be highlighted for all the sunshine they bring to everyone else's days.
4 – Work anniversaries and milestones
Work anniversaries signify another year of perseverance, hard work, and success. Each one is symbolic of your employee's commitment to the organization. Likewise, each is also monumental and should be celebrated as such.
5 – Promotion
Your employee has shown they're ready for the next rung of the ladder. A promotion is the result of their hard work and significant contributions to the organization. Recognizing their efforts to get there is great motivation to keep them shooting for the stars.
6 – Retirement
Whether they've spent their entire career with your company, or yours was the final bookend, retirement is a remarkable milestone. Recognizing how beneficial their skills and knowledge have been over the years is a beautiful sentiment to send them off with. This may be the end of an era but it's also the beginning of their brand new adventure.
7 – The embodiment of company values and work ethics
Obviously, all of your employees have impressive work ethics or you wouldn't have hired them. But every now and then, one of them steps up and really shows their allegiance to the company's mission and core values. That kind of loyalty shouldn't be taken lightly.
8 – Professional development milestones
Personal development efforts by your employees certainly benefit them as far as career advancement, education, mentorship, etc. But ultimately, their achievements create stronger, more deeply developed team members in your corner. Their wins are your wins! Celebrate together!
9 – Personal accomplishments 
Employees are people first. Their personal accomplishments bring them joy and motivate them to keep doing what makes them happy. When your employees are fulfilled in their personal lives, that joy and motivation tend to spread out to the other aspects of their life.
10 – Just because
For all the reasons mentioned above, and for no reason at all. Even if there's been no monumental action or occasion, your employees show up every day and give your company their best efforts. Show that you appreciate them for just being them.
How to send an employee recognition card
1⃣ Decide on the type of recognition card you would like to send. 
When it comes to choosing the right card, the good news is, your options are endless. The most important thing to remember when sorting through these options is that you land on one that's meaningful to your employee. These messages can be sent in physical cards or ecards, and both options can be customized to ensure optimal personal impact.
2⃣ Choose what message you would like to include. 
Being specific in your message is one of the main pillars of effective recognition. Tell them what they did that was so awesome, you just had to give them a card. They do a lot of things each day so generic messages like "Thanks for the great work" fall short of plucking the right heartstrings. Trying something more like "Thank you for going above and beyond to ensure the XYZ project launched on time" tells them exactly where their hard work was most valued.
3⃣ Include a gift with the recognition card. 
Your sincere and specific message can easily be coupled with a gift-wrapped reward. And pairing a gift idea with a recognition card is the perfect way to magnify your gratitude. Your employee appreciation gift could be a basket of sweet treats, tickets to a local cultural event, a self-care bundle, or a gift card to choose their own "thank you" perk.
4⃣ Address the recognition card to the employee. 
In keeping consistent with being specific, be sure to address the card (and gift, if applicable) to your honoree. It may sound trivial, but having their name, title, and maybe even department on the card, makes a big difference in the impact you have on your employee.
5⃣ Send the recognition card in the mail or deliver it in person. 
This depends largely on the relationship you have with your employee. Dropping their card in the mail or sending a virtual gift is perfectly fine. But even in the case that popping up at their door would be totally acceptable, you still want to be respectful of their time and work schedule. Check their calendar if possible and find an open window so you can really engage with them and not be a distraction.
No matter how you choose to curate your employee recognition cards, the key is making sure it's personal. Telling them "great job" in a preprinted greeting card with an impersonal message and laser-etched signature of the company name isn't the answer.
---
People Also Ask These Questions About Employee Recognition Cards
Q: What are the benefits of employee recognition cards?
A: Some benefits of employee recognition cards are they can be totally personalized for your employee and the occasion, plus they're super thoughtful. Employee thank you notes boost morale and strengthen employee engagement. Bonus! They're so easy to send, whether you choose paper cards or ecards.
Q: How do I choose a suitable employee recognition card?
A: Choose a suitable recognition card based on the employee, the event or occasion you're recognizing, and the message you want to send. Be sure the card is specific to the receiver so you're delivering the most authentic message you can.
Q: What should you write in an employee recognition ecard?
A: You can write all kinds of messages in an employee recognition card! Customize the message to specify what you're recognizing them for, then add a personal note for the final touch to their thank you card.
Q: Are there free employee recognition card services?
A: There are free employee recognition card services! All you have to do is go online and research wich kinds of appreciation cards can be purchased for free. You can also look into creating your own custom card and printing it out for the entire team to sign!
Q: How do I choose a gift to pair with an employee recognition card?
A: You can choose a great costar gift for your employee recognition card by first knowing your employee. You don't want to give someone chocolate covered almonds if they have a nut allergy, right? Know your employee, know your budget, and know that your personalized recognition matters.
The post Employee Recognition Cards To Show Appreciation In 2023  appeared first on SnackNation.