These Gluten Free Bran Muffins are hearty and delicious. Made with flaxseed instead of wheat bran, they're great for a daily dose of fiber and nutrients. This post is in partnership with The Kitchn and Sunsweet.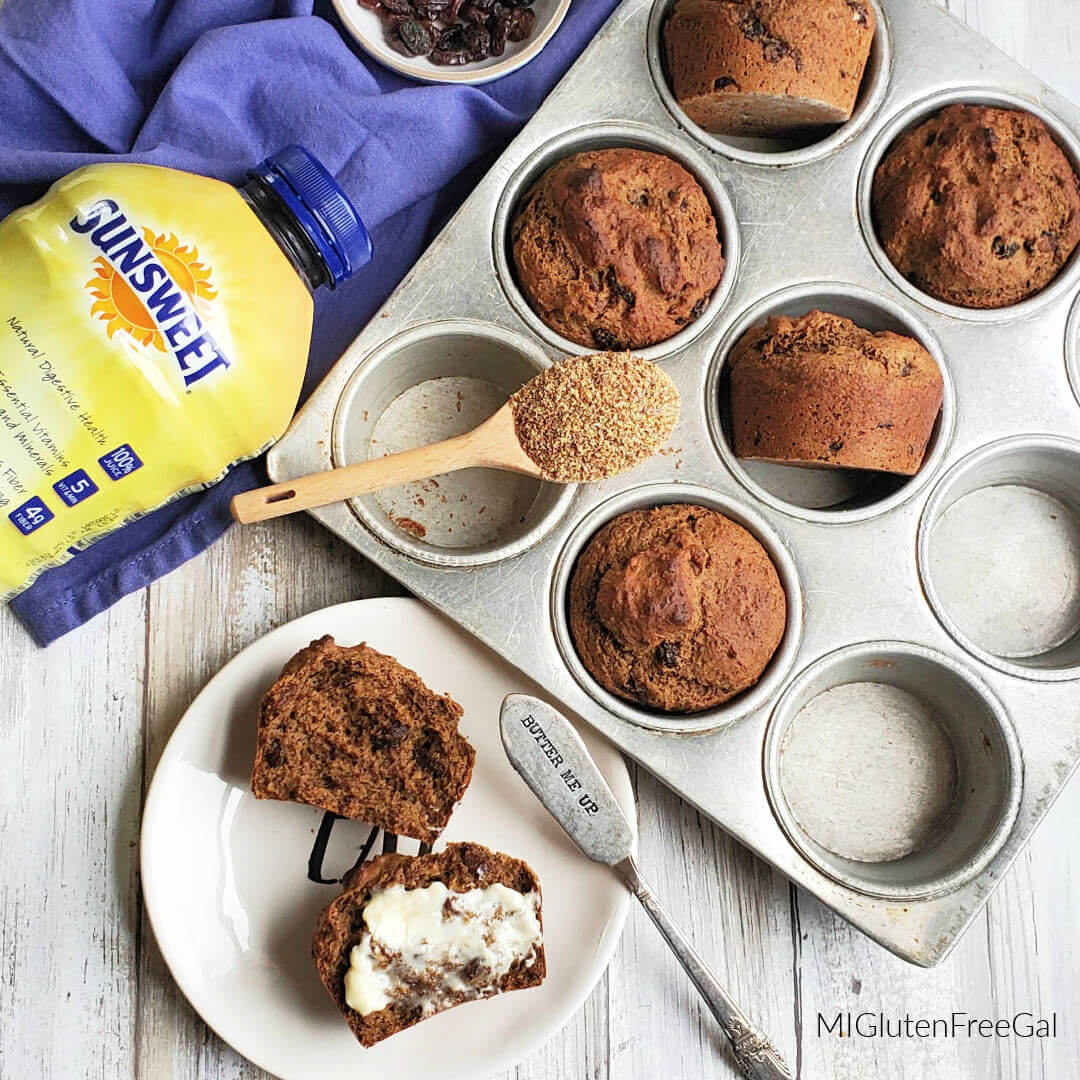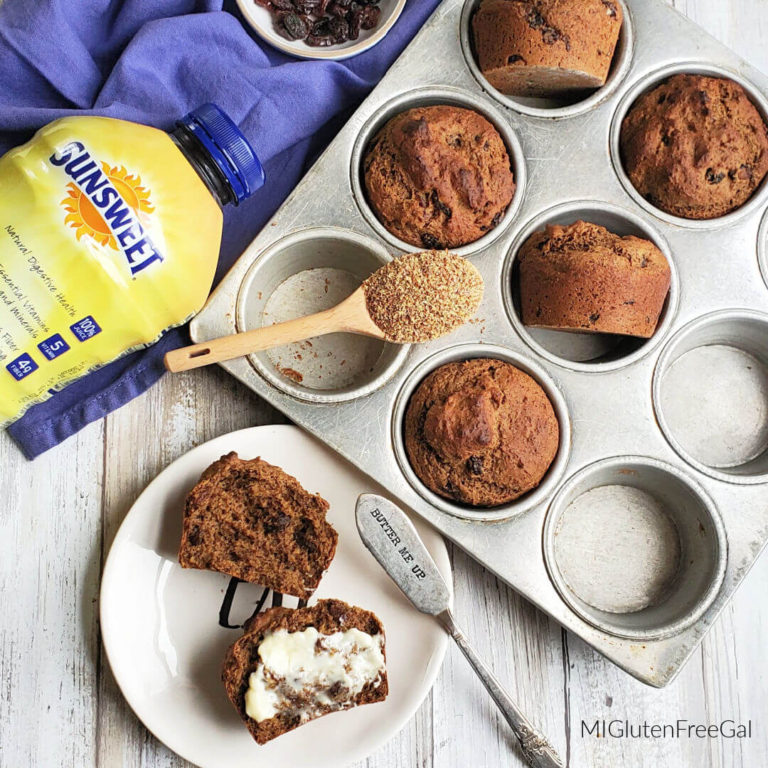 What is Wheat Bran? Is It Gluten Free? 
Wheat bran is definitely not gluten free. The bran is the hard outside layer of a wheat kernel. It's where the primary source of fiber is located. Since wheat contains gluten, wheat bran (and wheat germ) are off limits to those with Celiac Disease. Therefore, we need an ingredient substitute to make "bran" muffins.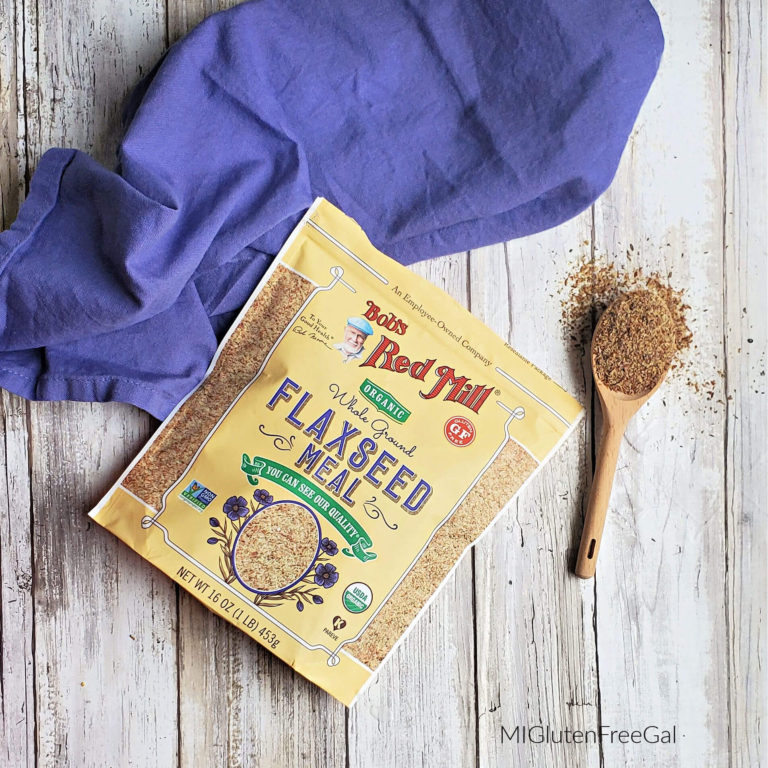 What Gluten Free Substiute Can I Use for Wheat Bran? 
I admit I've never used bran in any recipes I've made, even before my Celiac Disease diagnosis. Rice bran could be substituted for wheat bran. However, I don't see myself using it in other recipes, and am not a fan of "one hit wonders" in my kitchen. Plus, it can be hard to find in stores.
Of the items listed in Substitute Cooking's 6 Best Subsitutes for Wheat Bran, I chose to use flax seed. It mentions that oatmeal can also be used as as substitute for wheat bran. However, I (and many other people with Celiac Disease) are sensitive to oats. If you choose to try oats in this recipe, make sure to choose purity protocol oats. 

Can I Use Greek Yogurt Instead of Plain Yogurt? 
This gluten free bran muffin recipe is based on Martha Stewart's Recipe for Giant Bran and Raisin Muffins. She uses plain yogurt in her recipe, not Greek yogurt. Personally, I only keep Greek yogurt in our house. Greek yogurt can be thinned down with water for this recipe. However, I recommend simply substituting Plain Kefir for the yogurt. Kefir has a thinner consistency than Greek yogurt. (And it's a great substitute for buttermilk, as well.)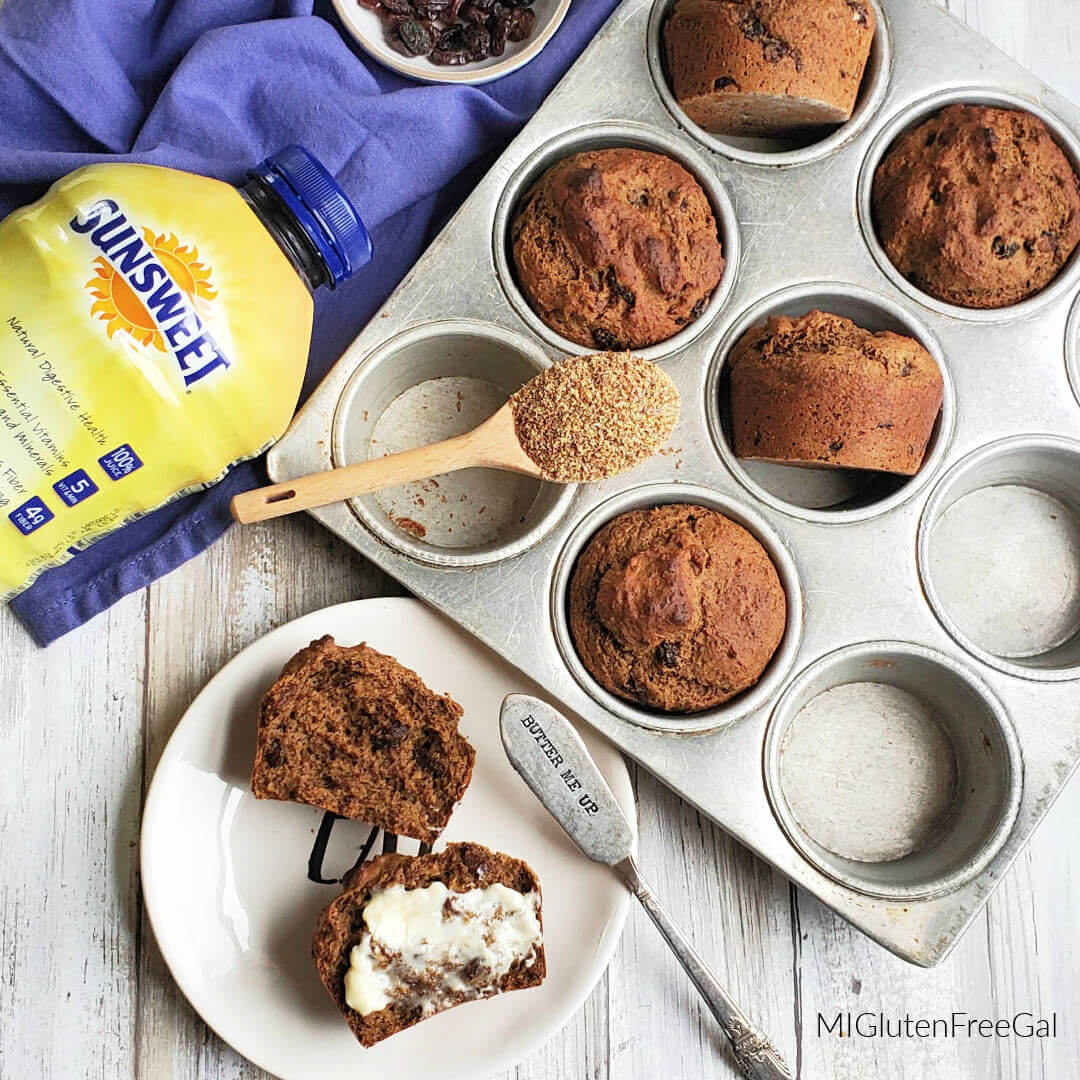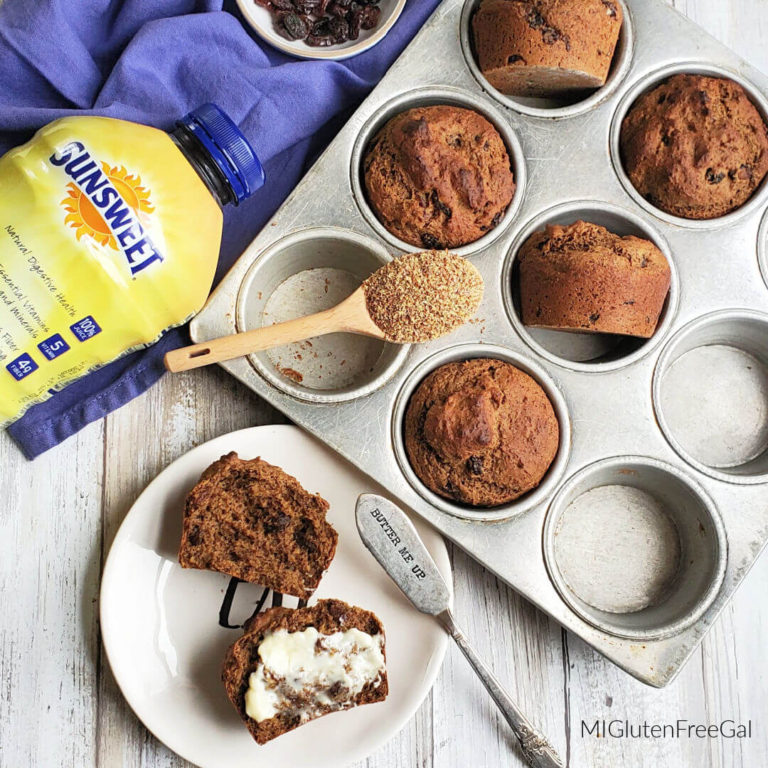 How Should I Eat These Gluten Free Bran Muffins? 
These gluten free bran muffins are best served warm, practically fresh from the oven. (Let them cool at least 10 minutes so you don't burn your mouth!) With a smear of softened butter, they are amazing! I will say that the day after I baked them, the spices seemed to fade.  For best flavor, I recommend warming the muffins up in the microwave for 10 seconds. 
This recipe is adapted from one by Martha Stewart. When I made my first test batch, my husband and I agreed it tasted a bit bland. Since this recipe contains molasses, it vaguely reminded me of gingerbread. Therefore, I added the same amount of spices I used in my Gingerbread Cake, in this batch. My husband said they're delicious!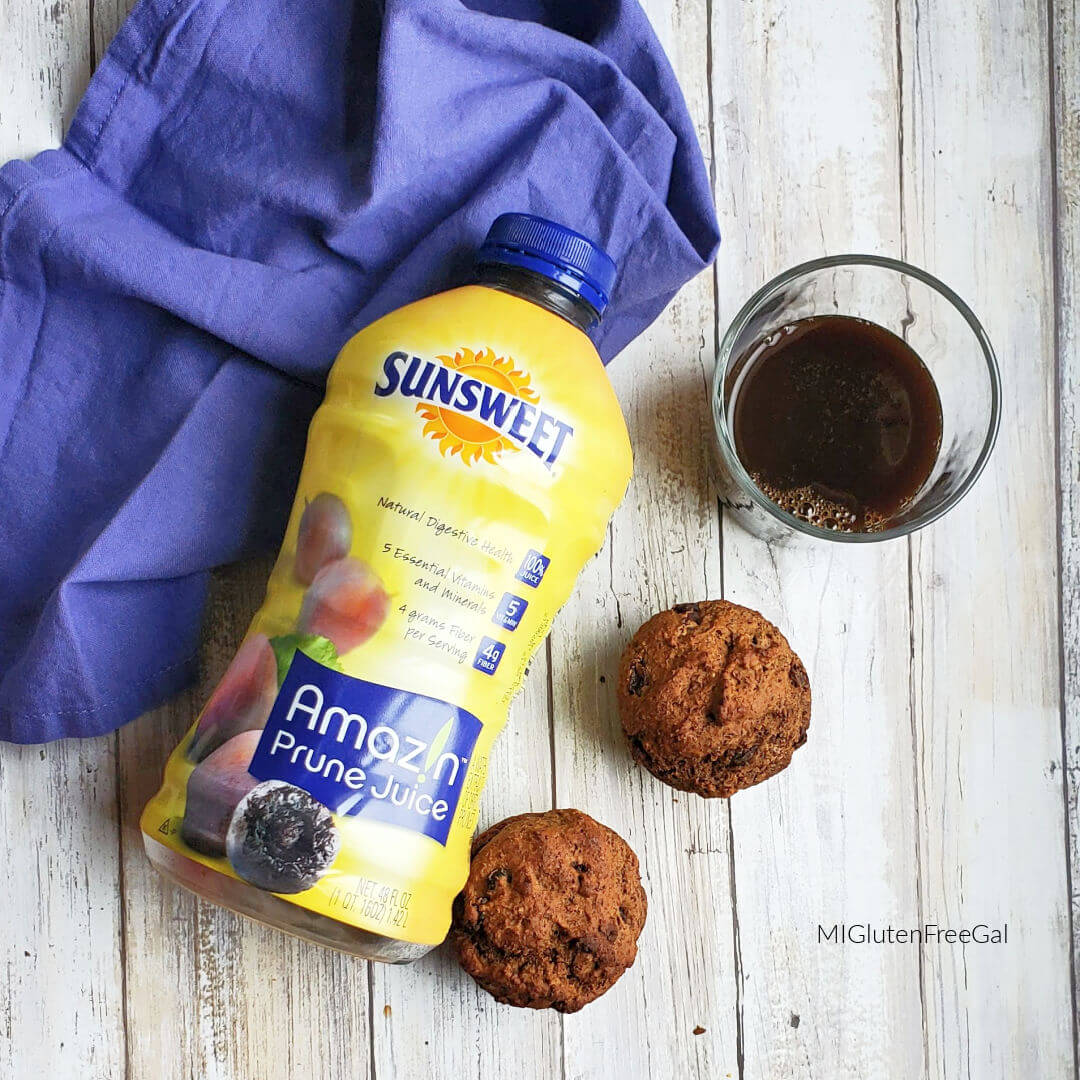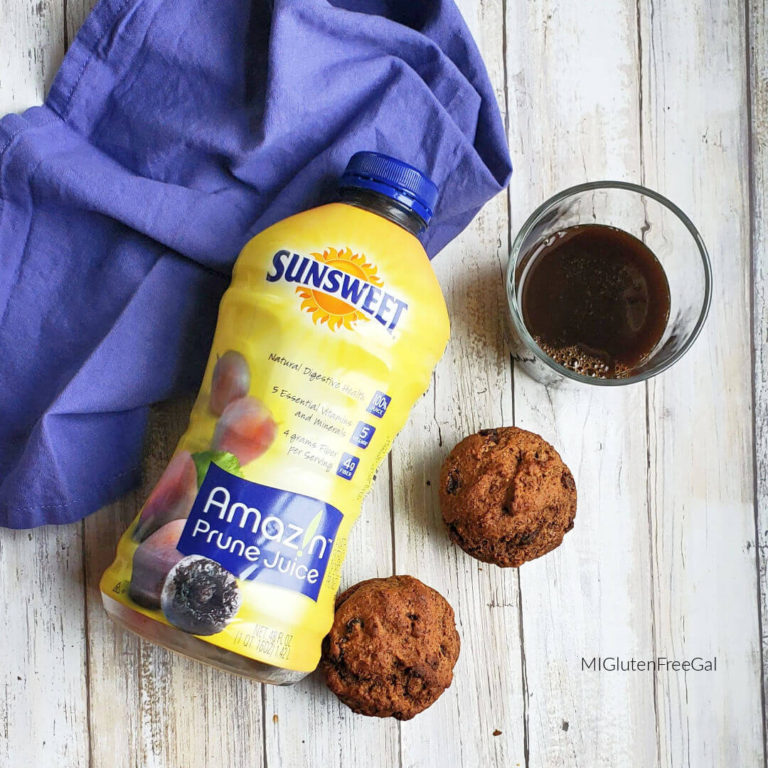 Other Uses for Prune Juice
This recipe uses prune juice, which I don't usually keep in my house. I baked this recipe after The Kitchn sent me a free product coupon for Sunsweet Prune Juice. After making these Gluten Free Bran Muffins, I was on a search for other creative uses for prune juice. After scouring the internet, I found some recipes I might try. 

Other Gluten Free Jumbo Muffin Recipes
Now that I have a jumbo muffin pan, I want to make more! If you're not already, follow Sisters Sans Gluten. They have a whole series of jumbo gluten free muffin recipes. I've made their Giant Apple Streusel Muffins, and they're delicious. Don't have a jumbo muffin pan? I have one linked below. (Note – the jumbo muffin tins are one inch smaller than what Amelia uses, so you'll likely end up with more than 6 muffins.)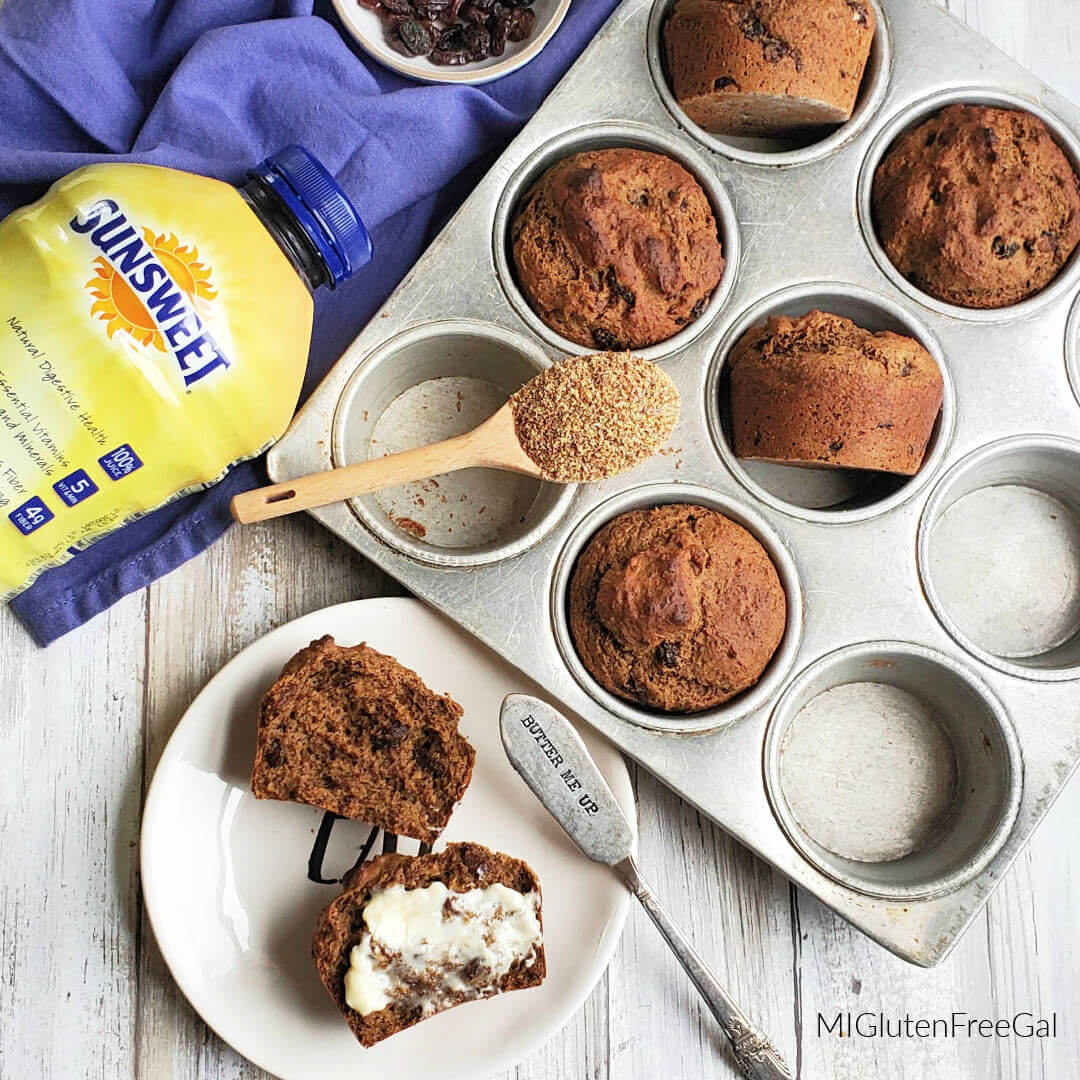 Gluten Free "Bran" Muffins
Additional Time:
5 minutes
Ingredients
Wet Ingredients (large bowl)
3 tbsp melted butter
1/2 c Sunsweet prune juice
1/2 c Lifeway Organic Plain Whole Milk Kefir (room temp)
3 tbsp molasses
1 tsp vanillla
1 egg (room temperature)
Scant 1 cup flax seed meal
3/4 c raisins (soaked in 1 1/2 c warm water, in separate bowl)
Flour, leavening, and spices (small bowl)
1 C King Arthur Gluten Free Meausure for Measure Flour Blend
1 tsp baking powder
1/2 tsp baking soda
1/2 tsp salt
1 tsp ginger
1 tsp cinnamon
1/4 tsp clove
1/4 tsp nutmeg
Instructions
In a small bowl, melt 3 tbsp butter. Set aside to cool slightly.
In a medium sized bowl, place raisins and 1 1/2 cups warm water. Let soak for 10 minutes while combining the rest of the "wet" ingredients. (when they are done soaking, you will strain the water from the raisins)
In a large bowl, combine prune juice, Kefir, molasses, vanilla and egg. Whisk to combine. (Note- spray the tbsp with cooking spray first, so the molasses comes free from the spoon, more easily)
Add milled flax seed to the wet ingredients, and allow to rest for 10 minutes.
While wet ingredients are soaking, combine flour, baking powder and soda, salt and spices in a small bowl. Mix thoroughly.
When ten minutes are up, add soaked and drained raisins to the wet ingredients, and stir.
Next, add dry ingredients to the wet mixture, and stir until all flour is absorbed.
Preheat oven to 400 degrees.
Grease muffin pan or line with paper liners.
Fill your greased (or lined) wells with batter). When I made this, i baked them in a larger (1/2 c per well) muffin tin. It made 6 muffins. If you choose to use a standard size muffin pan, it will make 12 muffins. I use a 3 tbsp scoop to fill the muffin tin wells. If using a standard size muffin tin, that will be one scoop. If using a large muffin size pan, it will use 2 scoops.
Place filled muffin tin into 400 degree oven and bake for 5 minutes. We are starting with a higher temperature to create that beautiful domed appearance we love in bakery style muffins.
After 5 minutes, turn heat down to 350 and bake for 20 more minutes. If using a standard size muffin pan, you may not have to bake them as long. Check muffins (regardless of size) after 15 minutes of baking at 350 degrees.
When muffins are finished baking, remove from oven. Turn muffns over onto a clean towel, or place on a cooling rack to cool. At least 10 minutes.
Muffins are best served warm. For some reason, the spices seem to fade with the muffins are cold. Reheating them in the microwave for 10 seconds seems to bring back their strength. I recommend serving them with a smear of softened butter.
Did you make this recipe?
Please leave a comment on the blog or share a photo on Instagram
Do you keep prune juice in stock at home? Do you drink it straight, or do you use it in other ways? Please give me some recommendations in the comments below! 
**The Kitchn & Sunsweet provided me with a free product coupon. I was not otherwise paid or compensated for my time. This post does contain affiliate links. Purchases made through those links, or the Amazon search bar above, help support this blog with no extra expense to you. Thank you for your continued support!**
The post Gluten Free "Bran" Muffins appeared first on MI Gluten Free Gal.