NEW!
Making this homemade coconut milk is easy and only needs two ingredients, simple kitchen tools, and about 20 minutes of your time. As a result, you'll find the end result to be a creamy, rich plant-based milk with no gums, artificial flavors or sweeteners. Therefore, it's absolutely the best to use in all your fav coconut milk recipes! Knowing how to make your own will also help you be a pro at spotting the best store-bought milk when needed. However, once you see how easy this homemade coconut milk is, you'll never buy it in the store again!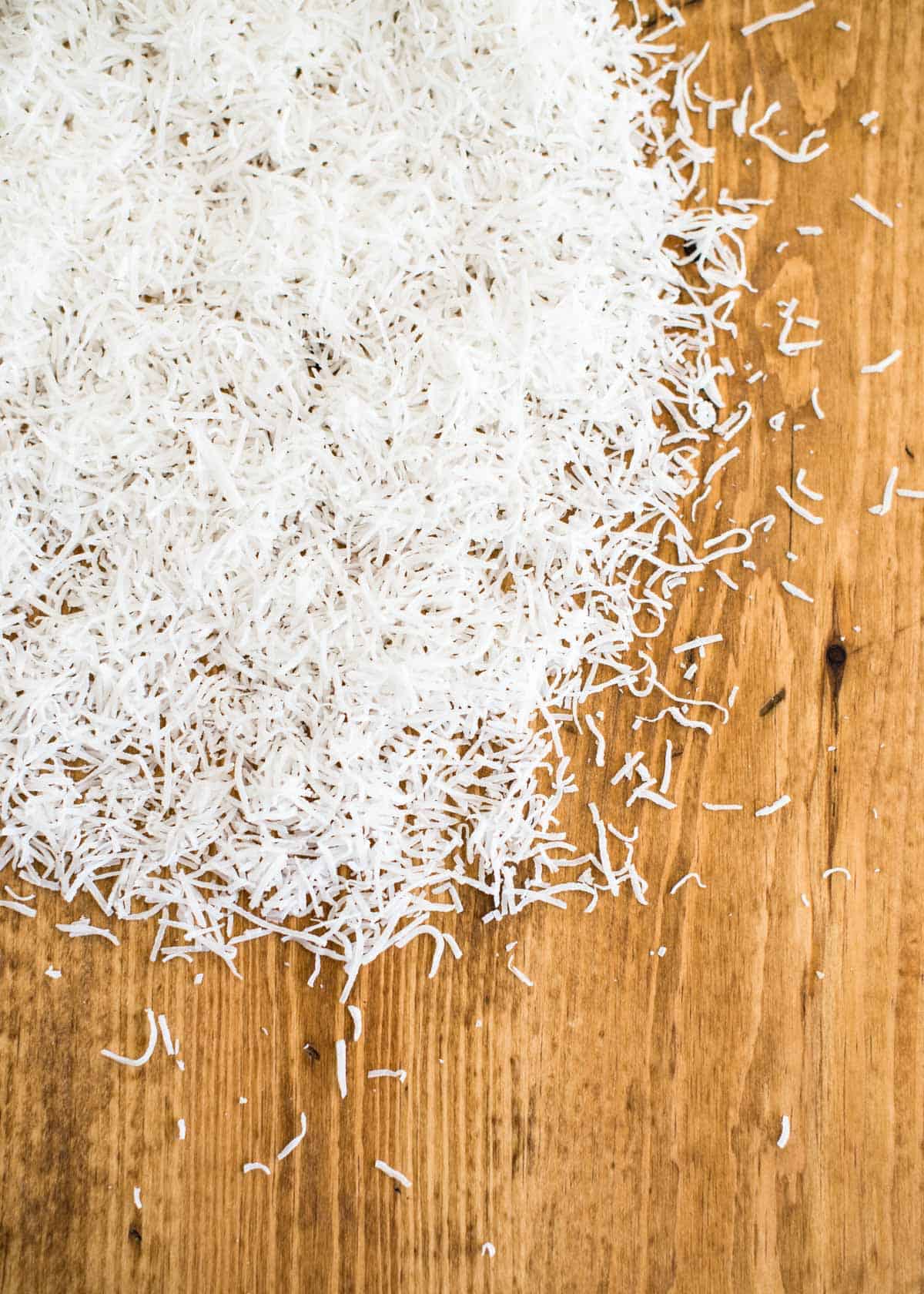 Where did coconut milk come from?
After all, FDA commissioner Scott Gottleib said, "almonds don't lactate". Of course we're talking about homemade coconut milk here, yet the same confusion applies. Actually, according to the Smithsonian Magazine, the word lactate actually comes from the Latin root word of lettuce – meaning the milky white juice that comes out of certain plants. In addition, various types of non-dairy milk, like coconut milk, have been staples in Southeast Asian, African and Indian cuisines for ages.
Homemade nut beverages vs. store bought
Meanwhile which is better? Recently we tested many store bought almond milk and oat milk brands to see which were best. To clarify, while we haven't done the same for coconut beverages just yet – many of the same criteria apply. When it comes to buying from the store, we'd def avoid brands that contain additional sugar, gums, fillers or those always mysterious 'natural flavors'.
While there are always decently healthy options out there, if you want to know for sure what's in your milk and going into your body – we'd opt for homemade coconut milk when possible.
Making homemade milk from plants
Once again, it can be difficult to find milk that's free of additives, stabilizers, and gums (I'm looking at you carrageenan!) to use in your coconut milk recipes. Yet, never fear! Your blender's here! All you need to make this homemade version is:
1 cup dried unsweetened coconut
3 cups boiling filtered water
Pinch of sea salt
High speed blender
Cheesecloth, tea towel, or nut milk bag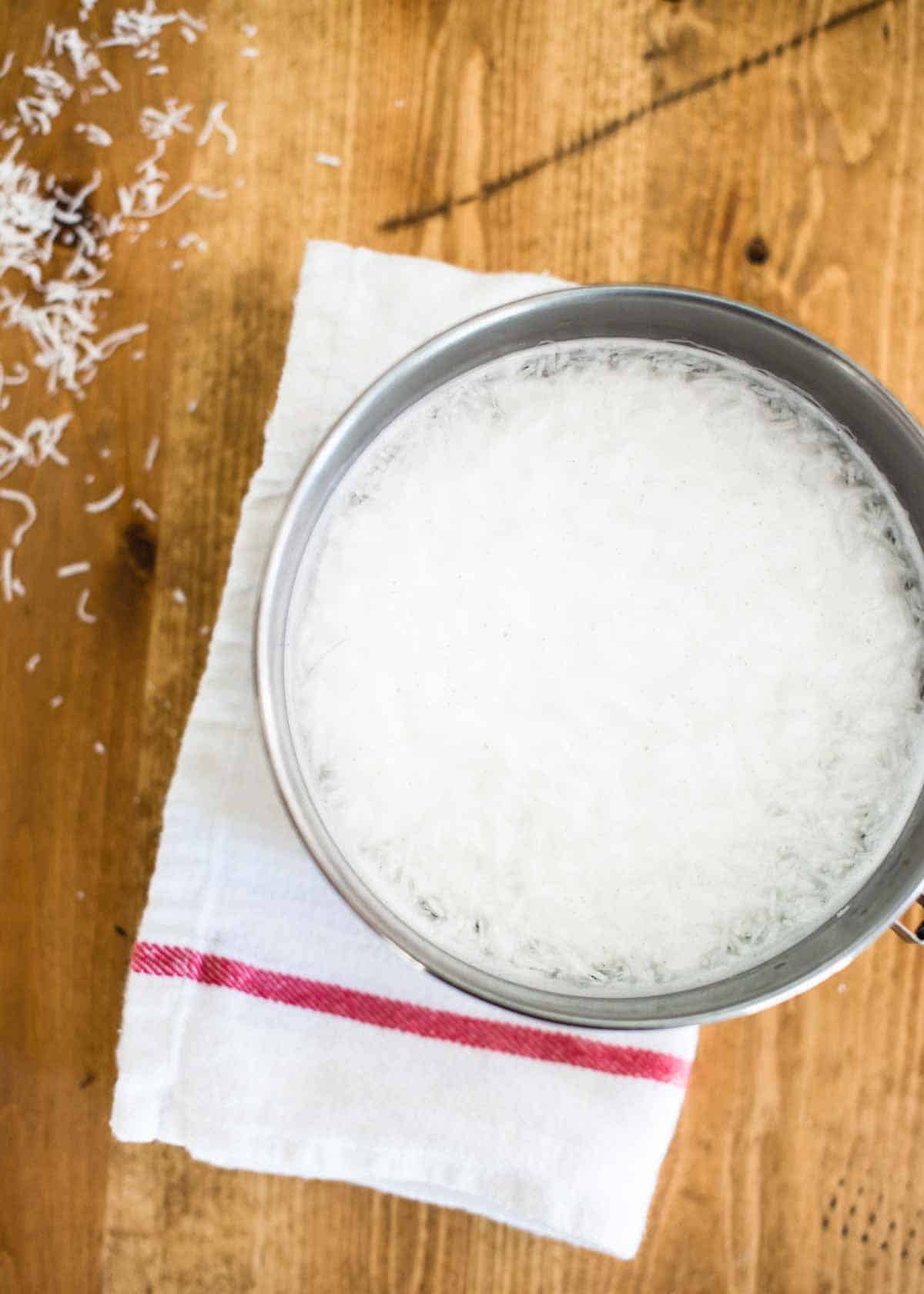 Let's get milking! Place the shredded coconut in a bowl of water. After that, stir and encourage the flakes to be submerged. They will naturally absorb some of the hot water during soaking, which will break down the flakes to a creamy goodness.
Creamy is of course the best sort of homemade coconut milk, don't you agree?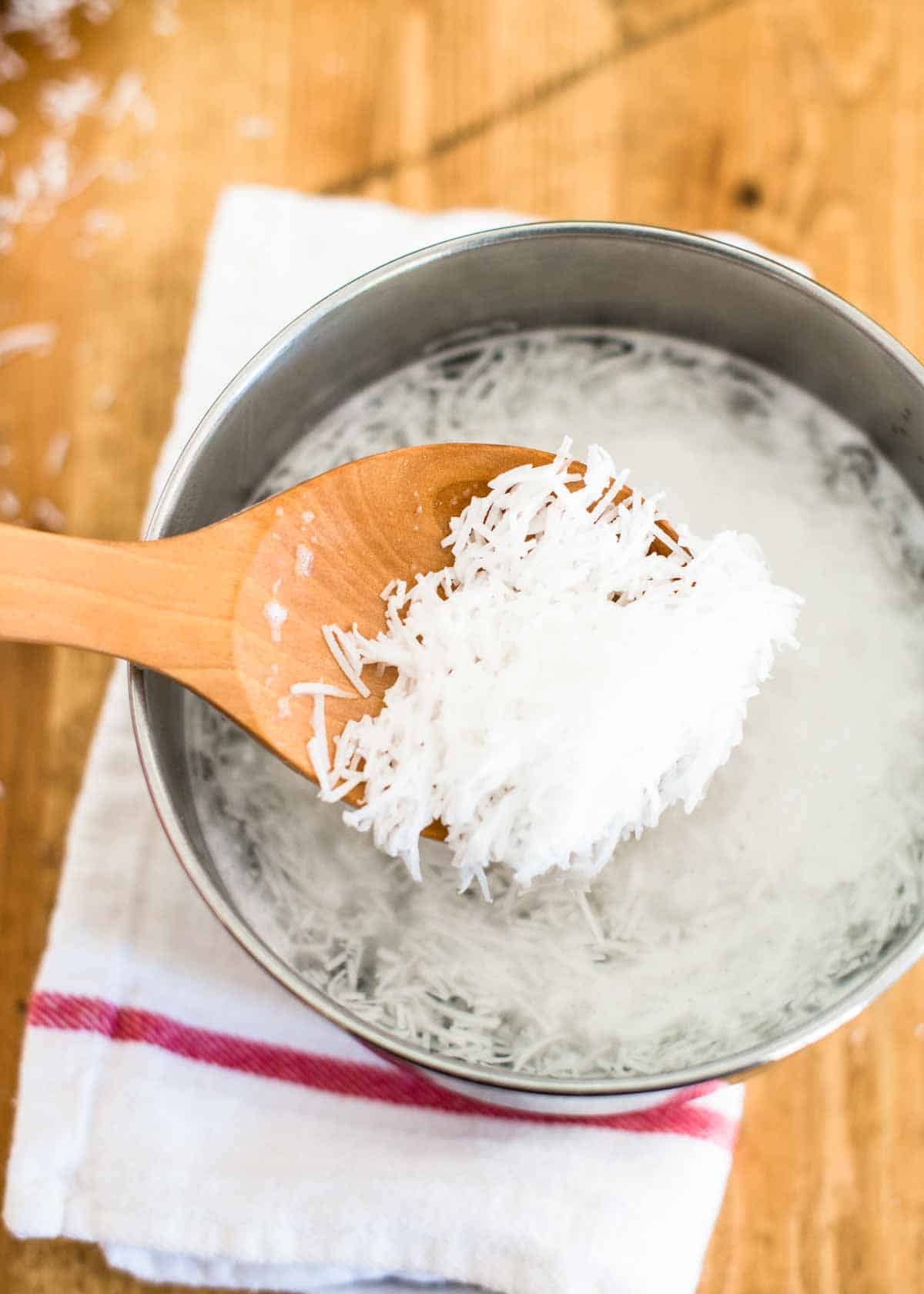 Next we blend. The #1 appliance in my kitchen is my blender. In addition to using it for my daily green smoothie, I'm blending up homemade hummus, pancakes and yep, even milk from plants.
A high speed blender will break apart coconut flakes the best, and gets you as many nutrients possible. I recommend checking out our blender guide if your blender isn't up to the challenge.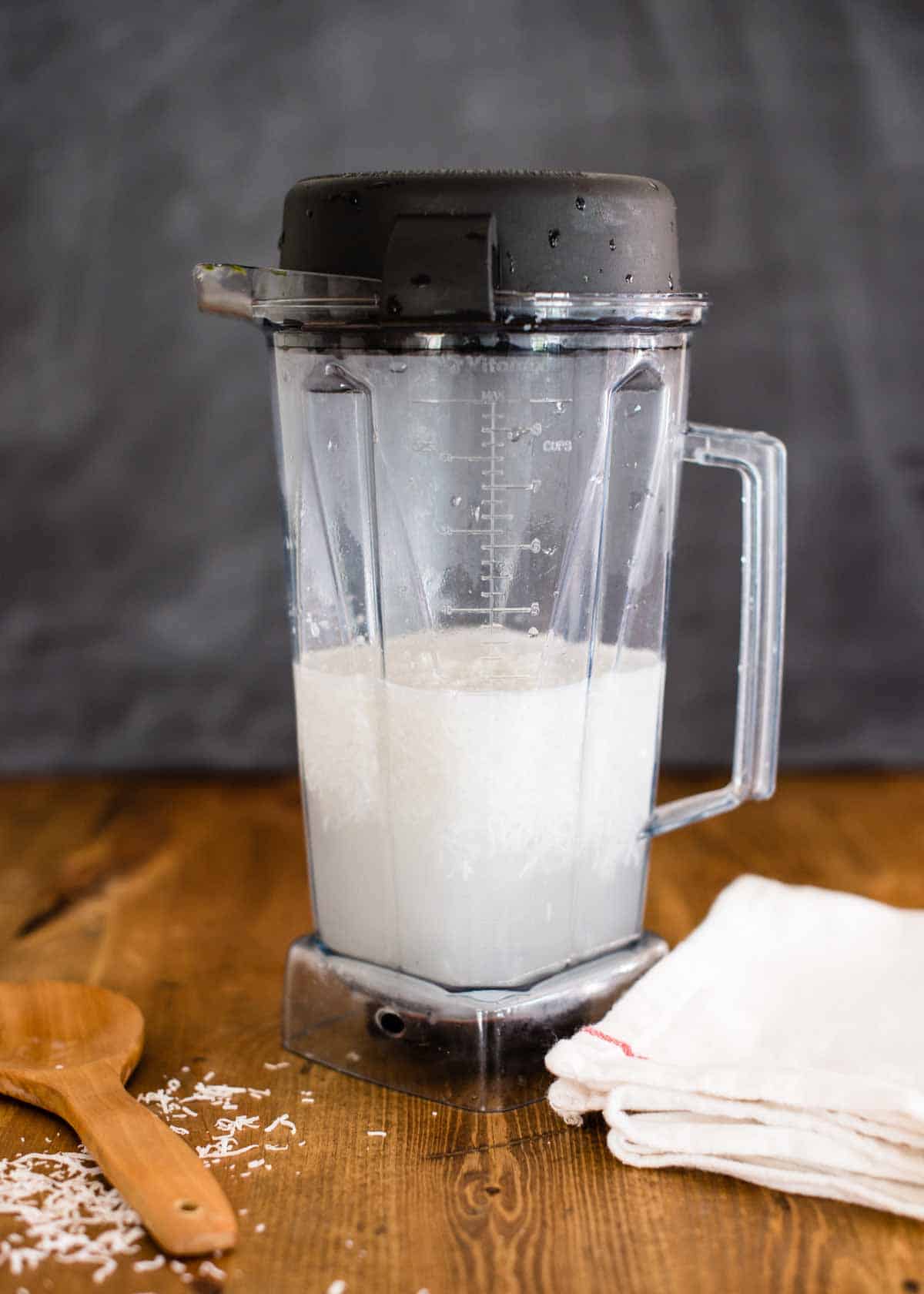 The DIY Homestretch
We're almost done! Here's how to strain your homemade coconut milk like a pro…Having a two-layered strainer will get you the creamiest results. To do this, I use a mesh strainer and a nut milk bag. Just place a strainer over a bowl and line with cheesecloth or a nut milk bag.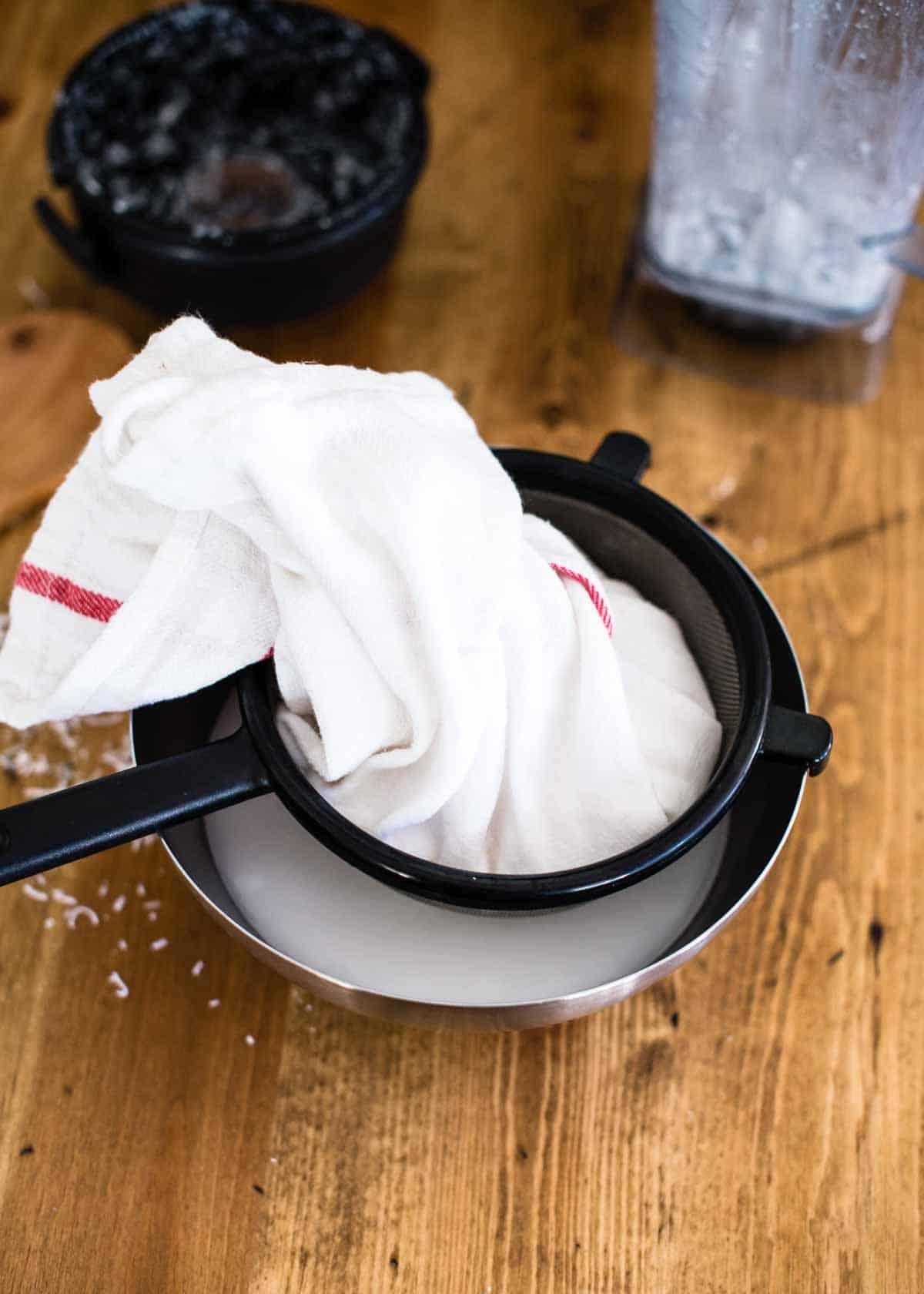 After that, gather the cloth at the top, twist and gently squeeze as much milk from the solids as possible. The remaining coconut pulp should be fairly dry. (The pulp can be added to baked goods and smoothies for extra fiber.)
Squeezing out all of your coconut milk can take a bit of effort. Yet, look at the bright side! Now you can skip arm day at the gym.
How to store your fresh plant based beverage
Lastly, transfer your freshly homemade coconut milk to an airtight jar or bottle and refrigerate until ready to use. The milk will keep 3-4 days, maybe a little longer. As a result of the (healthy!) fat content, the milk will separate into layers, so be sure to shake before using.
The top most layer is the coconut cream. In addition to other uses, it can be spooned off for recipes calling for full-fat coconut milk.
Coconut Milk Recipes
And speaking of recipes that use coconut milk, can we share a few? This particular kind of plant based milk is one of my favs to use, especially in dessert leaning recipes because it has a natural touch of sweetness. Now that you've made some coconut milk of your own, give these a try:
Veggie bowl with coconut sriracha sauce – the secret's in the sauce here
Turmeric golden milk – a warm + comforting bedtime drink
Coconut joy vegan smoothie bowl – a plant based option to your candy bar addiction
Blackberry coconut sorbet – refreshing on a warm spring or summer day
Healthy peach smoothie – quick, easy and oh so delicious
Coconut milk smoothie cubes – boosting your smoothie with healthy fat + a touch of protein
Rawkstar Tip!

Less water can be used for a thicker, creamier milk.
Print
Let's hear it for healthy fat!
I not only love homemade coconut milk for it's taste, but also for the lovely dose of healthy fat I get when consuming it! Healthy fats mean I stay fuller longer, feel replenished after working out and also help my body absorb nutrients better. Total win! If you're looking for ways to know how to add those helpful fats to your diet, then give one of our cleanse kits a try. Each recipe is carefully curated to make sure you get just the right amount of carbs, protein + fat in every meal – sometimes using plant base milk like you've just learned how to make!
If you're using a recipe (from our cleanse, a cookbook, or elsewhere) and aren't sure which coconut milk is best, then def drop a comment below and we'll weigh in to help you choose!
The post Homemade Coconut Milk appeared first on Simple Green Smoothies.