Snoozing to the sound of waves gently lapping all around you, climbing down the ladder from your private patio into a calm, crystal blue lagoon, catching sight of the Milky Way against a dark sky through your retractable bedroom roof: for beach lovers, staying in an overwater bungalow in a tropical locale is the pinnacle of a perfect vacation. But those one-with-the-sea vibes come with a steep price tag.
For more TPG news delivered each morning to your inbox, sign up for our daily newsletter.
Before you plunk down a grand or more a night to stay in one of these incredibly unique accommodations, keep in mind that not all villas-on-stilts are created equally. Here are six things to consider before moving ahead with booking that dream trip to Fiji, Bora Bora or the Maldives.
Resort location
If the resort is on a main island, not only will you get from the airport to your overwater bungalow much quicker, you'll have access to shopping and restaurants when and if you are able to tear yourself away from your plunge pool or lounge chair.
Resorts situated on a smaller islet or motu (the French Polynesian term) may provide a quieter and more secluded sojourn, but you will either spend the entire time on your tiny island (not necessarily a bad thing), or relying on boat transfer to explore.
Related: 10 incredible overwater bungalows you can book with points
Getting to the all-inclusive Emerald Maldives Resort requires a 40-minute seaplane from the Malé airport, or a 30-minute domestic flight to the Ifuru Domestic Airport followed by a 30-minute speedboat ride. But guests will be rewarded with a stay on a luxuriously private oasis on a 20 hectare island on the Raa Atoll with niceties like an "under the stars" shower and spacious tub for two; rates for one of the 60 overwater bungalows start at $700/night.
Cayo Espanto is a private island resort located three miles off the coast of Belize; among its seven villas is a one-bedroom overwater bungalow called Casa Ventanas, with a private dock, butler, concierge and personalized meals. Getting there requires a local flight from Belize City to San Pedro and then a 7-minute boat ride, or a helicopter transport directly to the resort; rates start at $1,795/night.
Recently, a smattering of properties in the Caribbean have added the enviable accommodations once found only in the South Pacific that can offer the best of both worlds: an unparalleled place to stay and a chance to easily venture off-property to take in the local flair, culture and cuisine.
Six one-bedroom Chairman Overwater Bungalows at the adults-only all-inclusive Royalton Antigua are the first and only overwater bungalows on Antigua. Located on Deep Bay, a 30-minute drive from the V.C. Bird International Airport and a 30-minute drive from Antigua's capital St. John, they have swim-out infinity plunge pools, overwater hammocks, butler service and Jacuzzi soaking tubs; rates start at $2,960/night, based on double occupancy.
At the all-inclusive Sandals Grande St. Lucian in Gros-Islet, St. Lucia, Over-the-Water Honeymoon Butler Bungalows are a 20-minute drive from George F.L. Charles Airport and include outdoor Tranquility Soaking Tubs for two or an overwater hammock along with private airport transfer; rates start at $1,354 per person per night.
Related: The Best Bucket List Points Trips to Overwater Bungalows
Bungalow location
If you are a beach person, you may prefer a bungalow closer to where you can put your toes in the sand and grab poisson cru and a Mai Tai from the beach bar.
Each of the 12 Lagoon Villas at Coco Palm Dhuni Kolhu is just a short stroll down a wooden walkway to the beach, where you'll find the Maldivian- and Asian-inspired Cowrie and Cornus restaurants as well as several bars, the dive center and the spa; bungalows tout four-poster king-sized beds, sundecks and sunken freshwater plunge pools, and rates start at $548/night.
At the all-inclusive adults-only El Dorado Maroma in Mexico's Riviera Maya, 30 Palafitos Elite Overwater Bungalows are a short walk to the wide sandy beach and restaurant concepts including Peruvian and Mexican. But you don't even have to head that far, as the Overwater Grill & Wine Bar right next to your villa has two glass-floor dining rooms, and the overwater Náay Spa lets you find your bliss while breathing in the salt air; rates start at $1,600/night, based on double occupancy.
Related: Hotel Review: An Overwater Villa at the El Dorado Maroma in Mexico
But if you really want to be left to your own devices and summon room service when you are feeling peckish, then request one of the bungalows that requires a longer stroll down a meandering walkway away from the main buildings — which are generally among the most expensive.
Bungalow size
Considering the accommodation itself is definitely a big part of the draw and you will most likely be spending a fair amount of time enjoying its creature comforts, it all comes down to whether you prefer an abode that's sprawling and spacious, or more romantic and cozy.
At 6,297-square feet, the one-bedroom Water Retreats overwater bungalows at Soneva Fushi in the Maldives are among the largest in the world, with butler service, dining rooms, private full-length pools, outdoor bathrooms with showers and soaking tubs and even waterslides that swoosh guests down from the villa roof into the lagoon below; rates start at $3,560/night.
If that's still not big enough, there is the 16,577-square-foot dual-level John Jacob Astor Estate at the St. Regis Maldives Vommuli Resort, the largest three-bedroom overwater villa in the Maldives. It features a private gym and yoga studio, cinema room, spa suites with steam room, three staff quarters, a 1,000-square-foot infinity pool, Jacuzzi whirlpool, two plunge pools, sundeck, palatial living room and loft-ceilings; rates start at $23,000/night.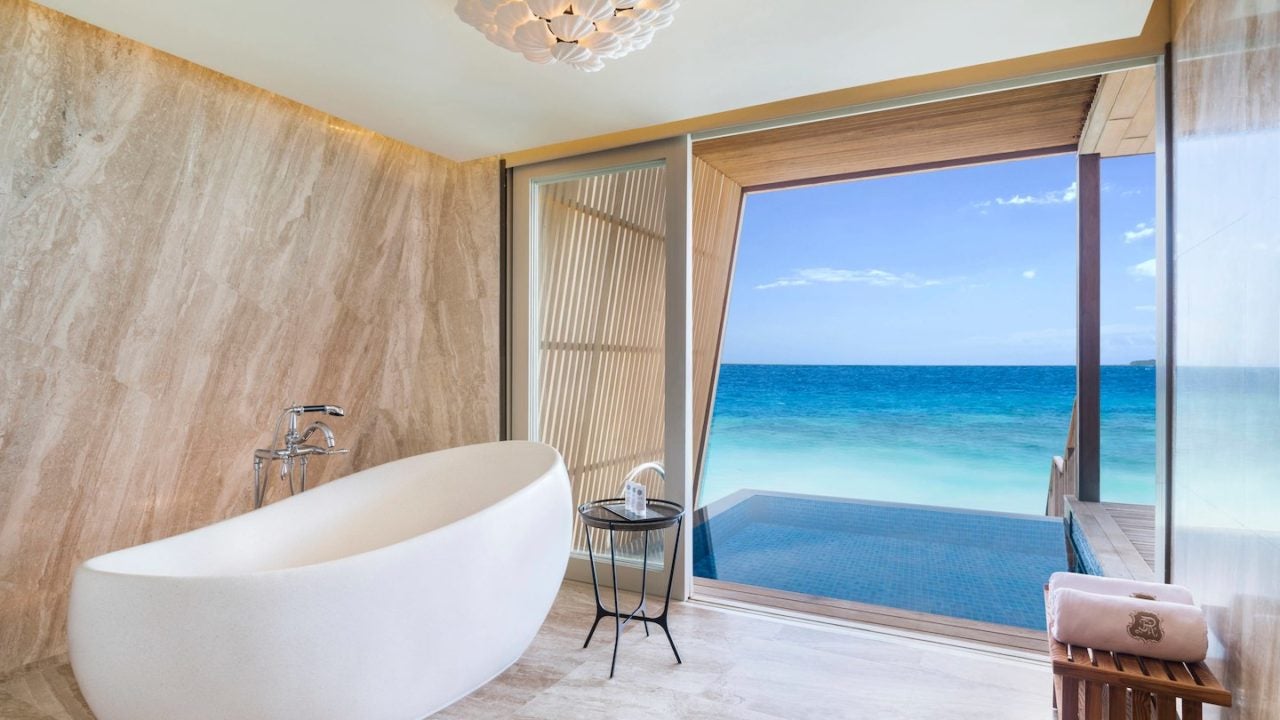 Related: The ultimate Marriott Bonvoy redemption: A review of The St. Regis Maldives Vommuli Resort
Yet bigger isn't always better. What the Edgewater Floating Bures at the adults-only Koro Sun Resort in Fiji lack in square footage, they make up for in charm. Each one is 380-square-feet and floats within the protected marina and includes a king-sized built-in bed, lounge area, front deck and two-person kayak; rates start at $655/night.
Privacy
Resorts looking to maximize the number of villas on the water may cram them in so closely that they feel more like row homes, with barely a few feet of space in-between; that's not so ideal if you plan on sunbathing au naturel or getting amorous with your partner. Likewise, if your deck has a private plunge pool, jacuzzi or waterslide, you might feel a tad self-conscious enjoying said water amenities if you feel like you are on display.
The 51 overwater villas at Soneva Jani in the Maldives are spread out to offer maximum privacy, including thoughtful installation of a curvy, winding walkway that keeps you yards away from your neighbors' front doors; rates start at $3,560/night.
However, resorts that are well-designed will still be able to offer privacy no matter how villas are placed. Overwater bungalows at Four Seasons Resort Maldives at Landaa Giraavaru are lined up along the walkway and at first glance seem to be a little too close for comfort. Yet thanks to clever placement of natural wood and bamboo panels and an infinity lap pool that's oriented towards the sea, other guests seem a world away; rates start at $1,700/night.
Related: Maldives vs. Bora Bora: Which remote island chain should you visit?
Water access
You won't always want to be over the water – -you'll often want to be in it. Generally speaking, bungalows located closer to shore in shallow water are suited for those who prefer wading — and looking for marine life, which can be easier to spot here.
The Emerald Overwater Villas at the InterContinental Bora Bora Resort & Thalasso Spa are located in just a few feet of water – -perfect for non-strong swimmers or anyone who just wants to get their feet wet and frolic a tad. They also have a deck with sunny and shady zones and lagoon access; rates start at $1,020/night.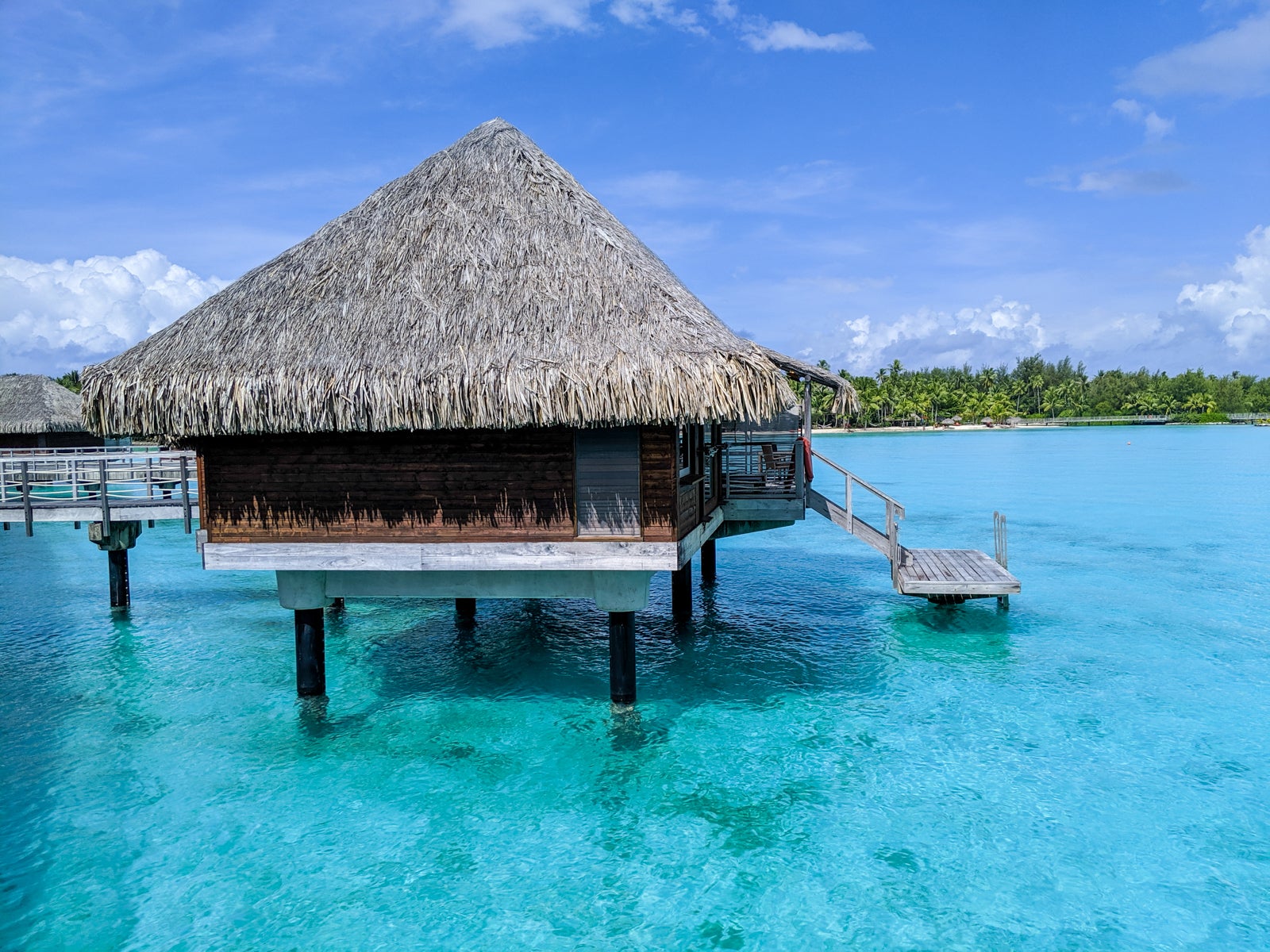 Related: Worthy of Its Setting: Overwater Bungalow at the InterContinental Bora Bora Thalasso
The "regular" overwater bungalows at Le Bora Bora by Pearl Resorts on Motu Tevairoa, fifteen minutes across the lagoon from the village of Vaitape, are located closer to the shore than the Lagoon Overwater Bungalows. Water depth is no more than three to five feet deep for a span of at least a hundred yards, with a sandy bottom and calm seas; rates start at $1,500/night.
Often, the more desirable (read: most expensive) villas are categorized as "deep overwater bungalows"; these are generally the ones farthest out at the end of the walkways and are made for those who want to dive or snorkel right off the deck. However, the current is often stronger here, meaning you'll be expending more energy swimming and treading rather than lounging on a float with a cocktail.
The island's first and only truly authentic overwater bures, the 10 villas at Likuliku Lagoon Resort Fiji are set at the edge of a vibrant coral reef, so you can snorkel right from your deck, before luxuriating in your grand bathtub; rates start at $1,450/night.
Getting thrashed around a bit by the waves in the water by one of the deep overwater bungalows at Le Méridien Bora Bora is worth it once you catch an unobstructed glimpse of the towering, iconic Mount Otemanu; rates start at $1,200/night.
Other amenities
Most overwater bungalows have some kind of see-through feature so you can peek at the colorful fish, rays and other creatures submerged literally beneath your feet. A glass coffee table is funky but doesn't always afford as good a view as a glass floor (and the latter makes for fun Instagrammable moments with your bare feet).
If the see-through floor is located in your bedroom though, make sure you cover it with a rug or towel if housekeeping doesn't do it for you during turndown service or you'll be awakened at dawn by the sunlight shimmering on the deep blue sea. At Casa Ventanas, the glass floor panels can even be lit in different colors to provide different filters to the sea creatures.
One of the most memorable moments of a stay at an overwater bungalow is having breakfast delivered by outrigger canoe. The InterContinental Bora Bora Resort & Thalasso Spa has one of the best; while the table is being set with flowers, juice, coffee and your morning repas, guests are invited to take a little tour around the lagoon.
If this is one of your can't-miss, must-have experiences (and it should be), check to see if your resort offers a canoe breakfast –or one dropped off to float in your plunge pool, like at the Emerald Maldives Resort & Spa. It's one of the details you will remember long after your tan has faded.
Photo courtesy of Paul Gauguin Cruises