Editor's note: TPG's Gene Sloan is sailing on Crystal Cruises' Crystal Endeavor as a guest of the line. The opinions expressed below are entirely his and weren't subject to review by Crystal.
---
It didn't take long for me to be wowed.
Within minutes of stepping aboard Crystal Endeavor, the new expedition ship from luxury line Crystal Cruises, I knew that it was going to be a special ship.
I knew it before I even explored most of the vessel.
All I had to do was look around my cabin, which is the first place that my butler (yes, I have a butler on this ship, as does everybody on board) took me when I first arrived.
For more cruise news, reviews and tips, sign up for TPG's cruise newsletter.
It was clear from the little details that he began to show me.
There were the lights in the perfectly arranged walk-in closet that slowly turned on as I stepped into the space — no flipping a switch required. There was the special cabinet near the door to place my wet outdoor clothing, with its own air system to dry them while I slept.
There was the stunning, fold-out bar fully stocked with complimentary wines, Champagne, beer and sodas (some of it chilled in a hidden, pull-out refrigerator drawer).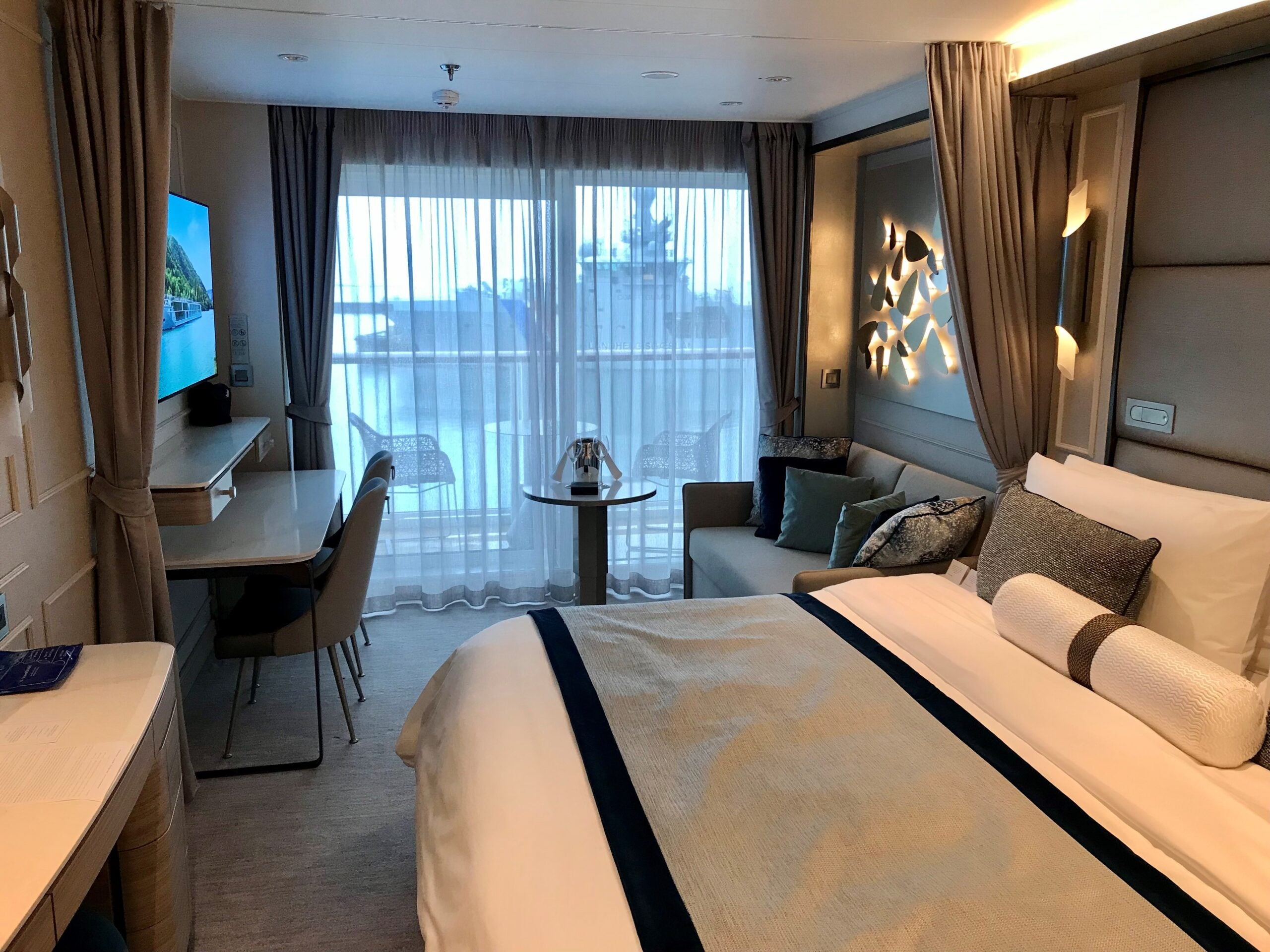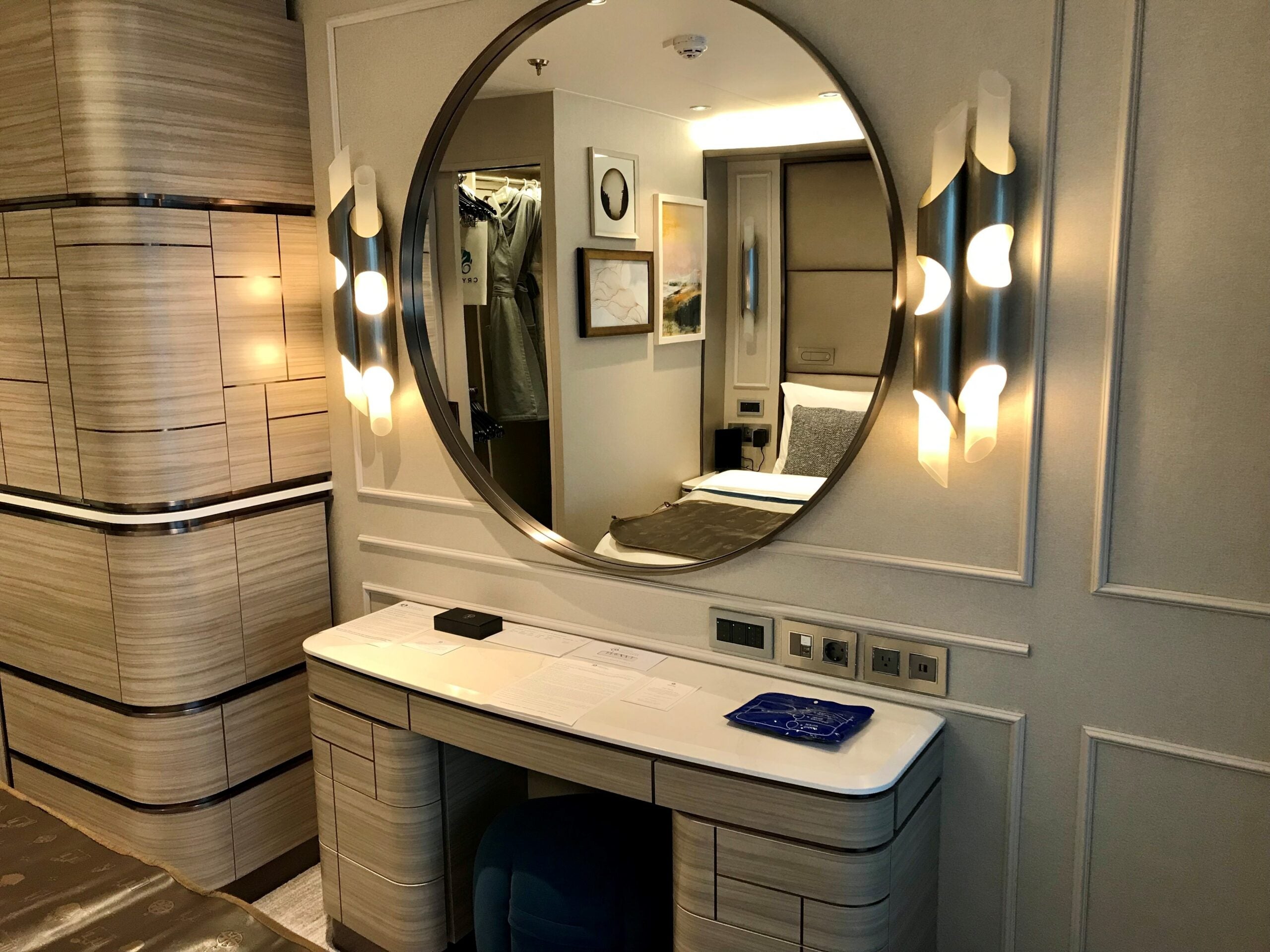 There also were all those tucked-away USB outlets in every spot where you could conceivably want one, including — this is a first for me — next to the toilet!
In short, what I found when I was led to my room was about as perfectly designed an expedition cruise ship cabin as I've ever seen — and over more than 20 years writing about expedition cruising, I've seen a lot of them.
For those who aren't up to speed on all the different types of cruise vessels, expedition ships are the small subset of cruise ships that are specifically designed for adventurous travel to remote, hard-to-reach places such as Antarctica and the Arctic. Small and hardy, they typically have strengthened hulls to allow them to bump through ice in such polar regions, and they carry their own landing craft for bringing passengers ashore. They operate trips that are more like an "expedition" than a cruise, hence the name.
For much of the two-plus decades that I have been writing about cruise ships, expedition vessels have been relatively spartan affairs. They have been tough and versatile and have gotten adventure-minded travelers to some of the world's most remote places. But, with a few exceptions, they haven't necessarily been built for high-end comfort.
Crystal Cruises, along with Seabourn, Viking and several other upscale lines, are in the midst of changing all that as they roll out a new generation of far more elegant, luxury-focused expedition ships.
Crystal is one of the first of the lines to unveil its first entrant into the space — and, as I'm seeing this week, it's a head-turner.
I boarded Crystal Endeavor on Monday in Reykjavik, Iceland, for one of its very first sailings with paying passengers — a 10-night circumnavigation of Iceland that will include a foray above the Arctic Circle — and I'll be posting an exclusive "first look" at the vessel in the coming days, along with other dispatches from the ship. But, for now, here's a look at what had me so excited about my room in the moment after I boarded.
The allure of Crystal Endeavor's cabins
Officially, my room on Crystal Endeavor isn't a cabin. As far as Crystal is concerned, it's a suite. All of the cabins on the ship are suites, according to the line.
I'll quibble with that designation just a tad, as technically, a suite is an accommodation with more than one room (a bedroom and a separate living room, for instance). I'm a bit a purist when it comes to such designations. But the bottom line is that every passenger room on Crystal Endeavor, including my room, measures a generous 304 square feet or more, not including balcony space — and they all have balcony space.
That's a lot bigger than the typical expedition cruise ship cabin and closer to the size of the typical suite that you'll find on many cruise vessels.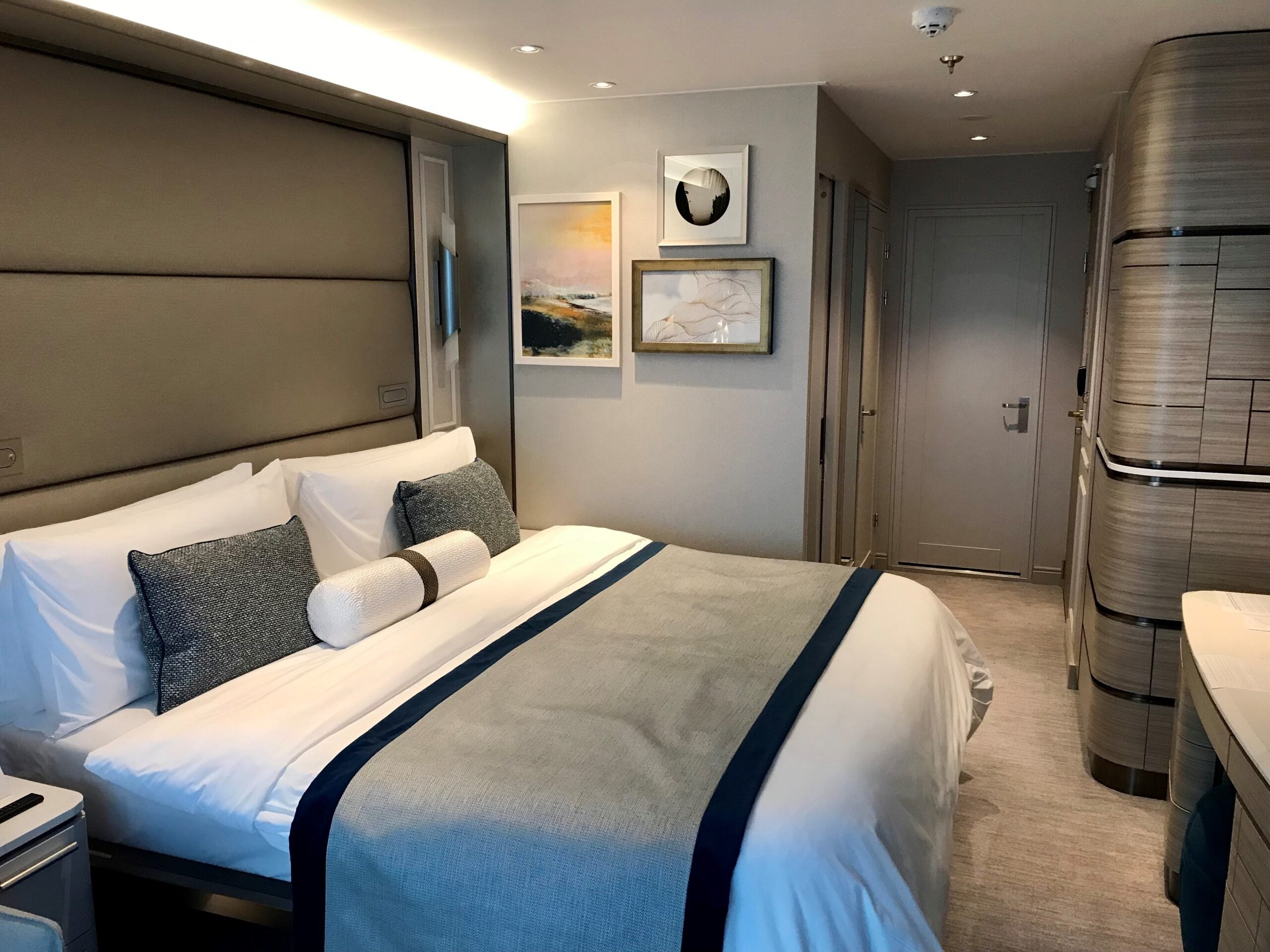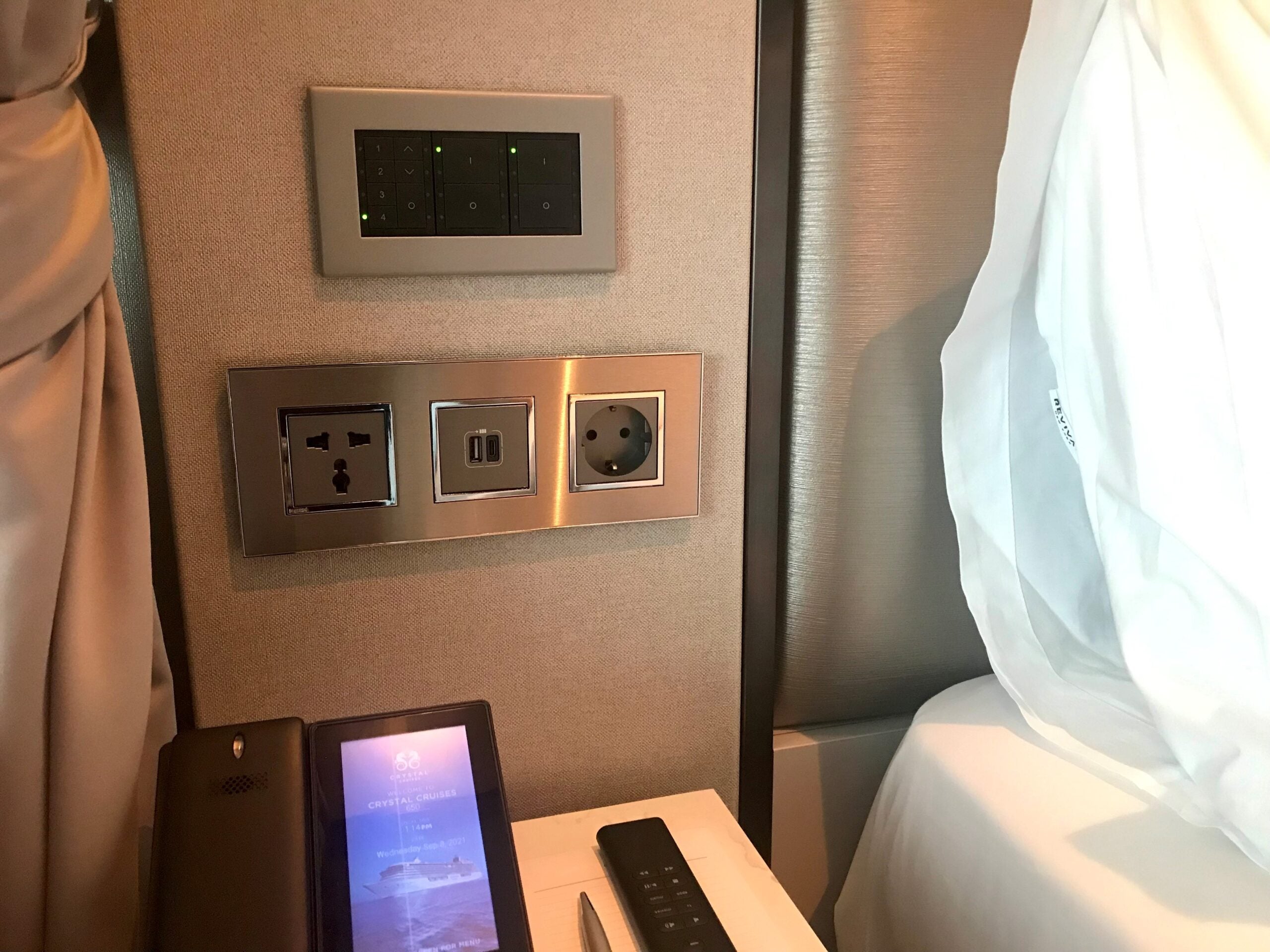 What isn't in dispute is that my cabin is loaded with elegant appointments. The bed is about as sumptuous as can be, with high-thread-count sheets and a warm duvet that enveloped me in a cocoon of coziness while I sleep.
Next to the bed, on both sides, are smart-looking side tables with drawers and (above the side tables) one of the most comprehensive bedside banks of charging outlets that I've ever seen on a ship (it'll take U.S., European and British-style plugs as well as two types of USB cords).
I'm also smitten with the banks of light switches on each side of the bed, each of which includes buttons for four different pre-programmed light settings for the entire room. With the touch of one of these buttons, I can instantly change the ambiance of my surroundings from time-to-work stark to put-on-the-Marvin-Gaye romance.
Among wonderful little touches, the light switches next to the bed also include a "middle-of-the-night bathroom run" button that triggers ever-so-subtle floor lighting next to the bed. It's just bright enough to help me find my way to the loo in the dark of night without shocking me fully awake.
The same switch also turns on floor lights in the bathroom, so they're already on when I arrive.
My cabin — a "deluxe suite," the most common and smallest, type of cabin on the ship — also has a narrow vanity area across from the bed with a large round mirror (and yet more outlets of all kinds). There's also a separate seating area with a sofa, table, two chairs and a desk. The table, notably, is height-adjustable. Along with the two chairs, it can be configured for in-room dining for two — something that your butler will happily arrange.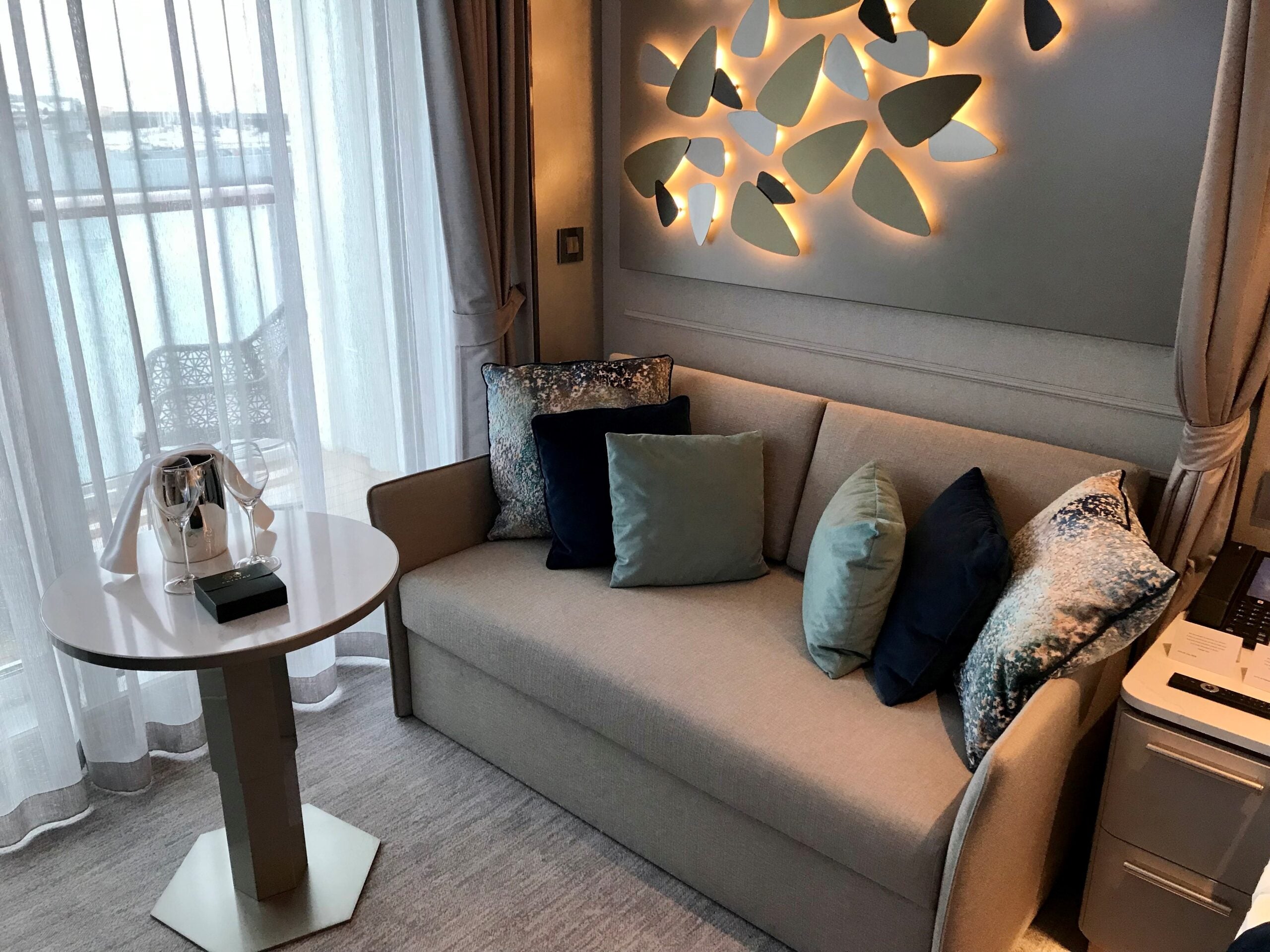 As noted above, each cabin on Crystal Endeavor also comes with its own fold-out bar area, with pre-stocked bottles of complimentary wine and Champagne, beer and sodas. If you want some other type of drink, just let your butler know. It'll magically appear. The bar area also has its own Julius Meinl pod-type coffee maker, with pods that your butler will replenish daily.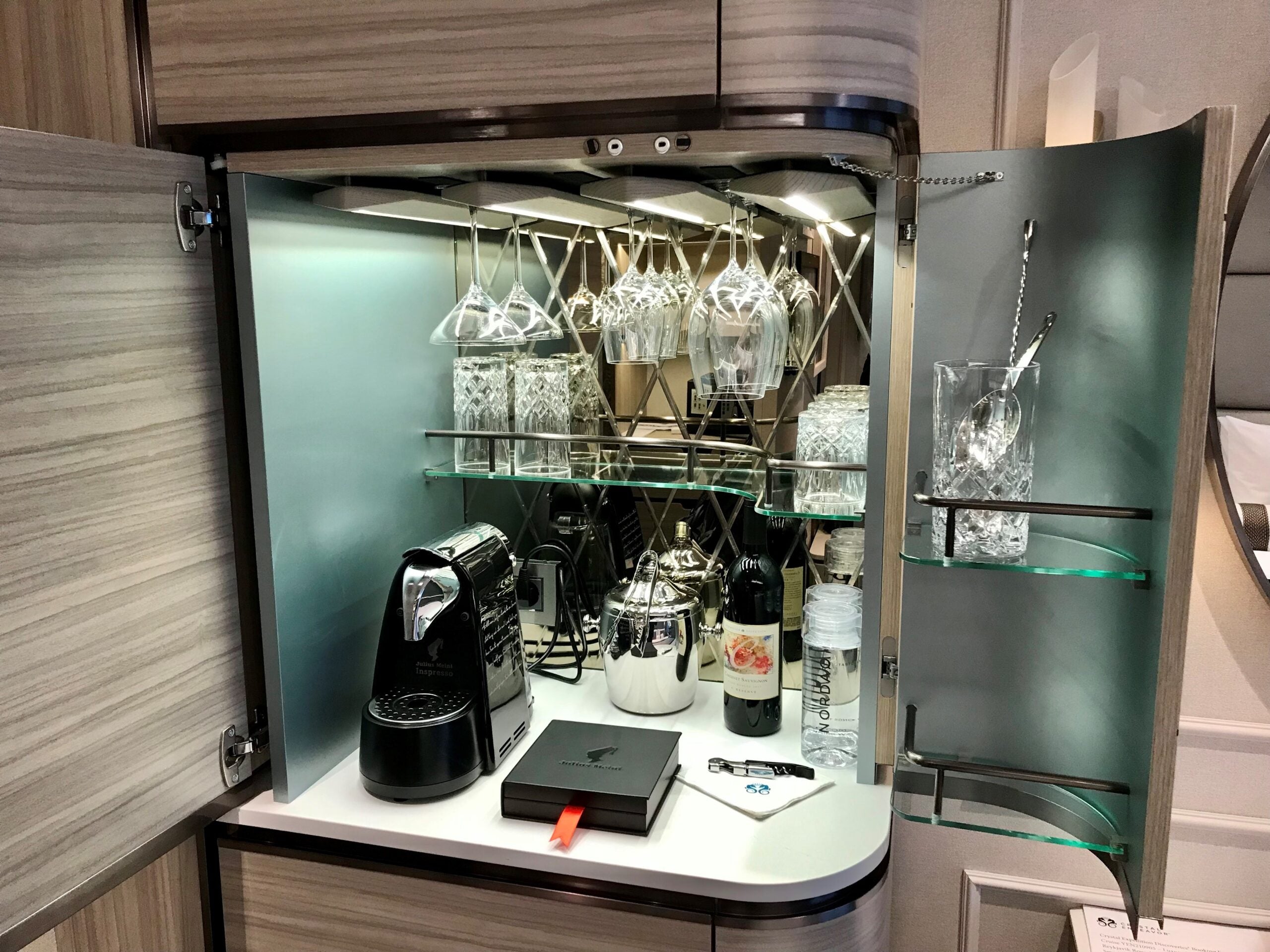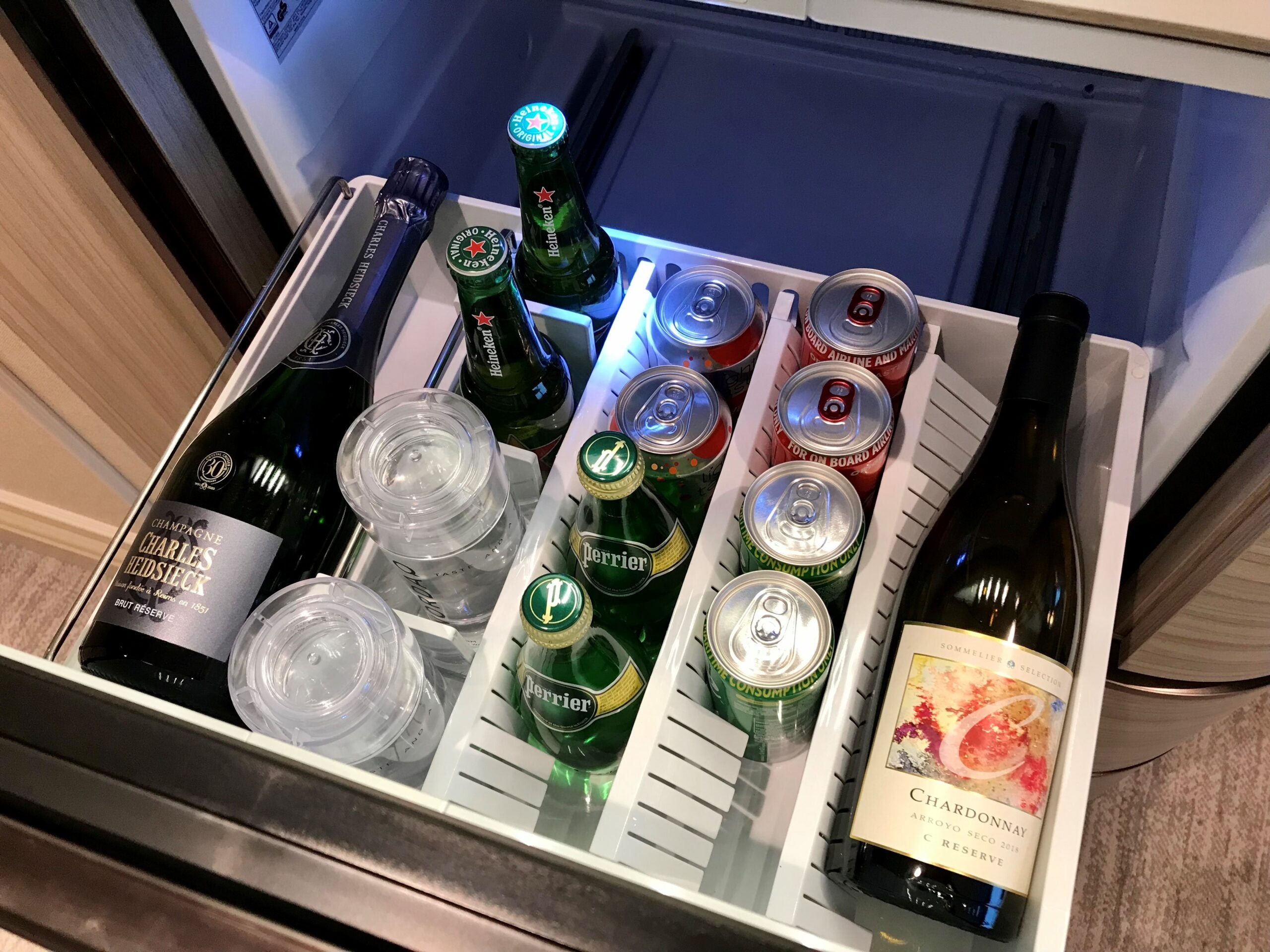 Rounding out the main part of the cabin is the walk-in closet, which has just the right mix of storage space, including lots of room for hanging clothes and drawers (I particularly love the low-rise, pull-out drawer for shoes). There's also a safe and all sorts of accessories for dressing, including a lint brush (cat lovers, take note) and one of those fabulously long shoehorns that lets you pop on your shoes without even leaning over by an inch.
The perfect bathroom
As much as I love the main part of my room, I'm even more excited about the cabin's bathroom, which is sleek and modern with lovely marbled tile walls.
In an unusual twist for an expedition ship, it's actually two bathrooms-in-one. There is a main part of the bathroom with a large sink area and a large walk-in shower, and then there is a separate, attached bathroom area with a toilet and a second sink.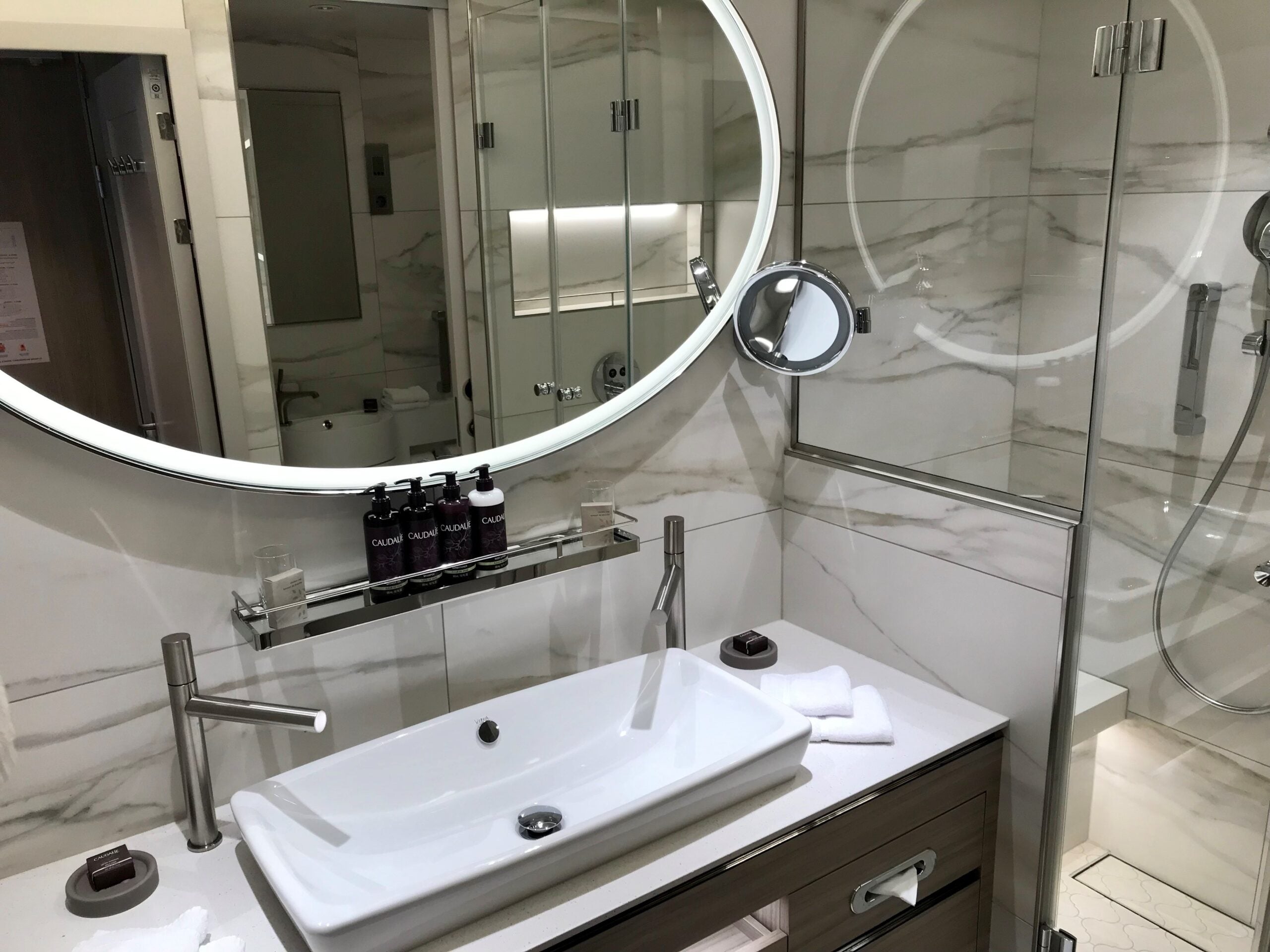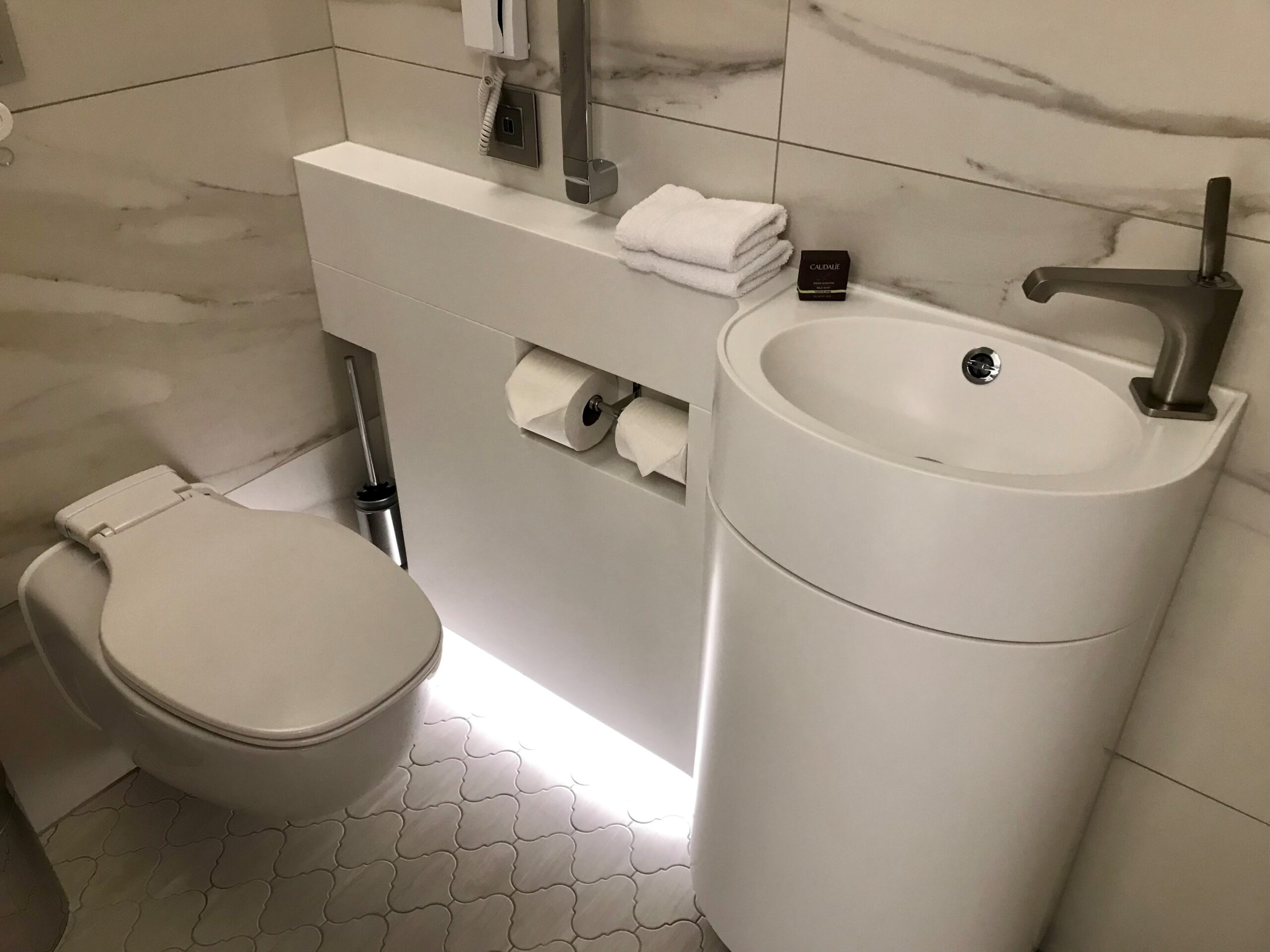 In a bit of clever design, these two parts of the bathroom can be set up to function as one single bathroom or be separated by a sliding (and lockable) wall to create two standalone bathrooms. There are separate doors into each of the two bathroom areas.
Other notable features of the bathroom complex include heated towel racks, lots of under-sink storage spaces and upscale Caudalie bath amenities.
Cabin bathrooms at this level can be found on traditional luxury ships operated by several luxury lines. But for an expedition ship, this sort of high-end design is rare.
Bottom line
Crystal Cruises has long been a leader in luxury cruising on traditional ocean ships, but it's now getting into small expedition ships for the first time. Its first foray into the space, the just-unveiled Crystal Endeavor, features what may be the most elegant and well-designed cabins yet for an expedition vessel.
TPG's Gene Sloan is reporting live this week from Crystal Endeavor as it sails on one of its first voyages, a circumnavigation of Iceland. You can find all of his dispatches on his author's page.
Planning a cruise? Start with these stories:
Featured image by Gene Sloan/The Points Guy.