Even though I've called the Bay Area home for years, I often take living so close to San Francisco for granted. So when I got the opportunity to explore the city for more than a few hours, I decided to plan a staycation at a hotel with a central, yet quiet location: The Clancy.
For more TPG news delivered each morning to your inbox, sign up for our daily newsletter.
Quick take
While the City by the Bay has hotels on every corner, The Clancy sets itself apart with its colorful decor and ideal location in downtown San Francisco's restaurant-packed South Beach neighborhood.
From the surprisingly subtle neon light fixture in the lobby to its velvet furnishings in soft pink, yellow and teal hues in the on-site lounge and eatery, The Clancy provides a cool yet comfortable atmosphere made for unwinding in style — though it lacks traveler favorites like room service and a spa.
If you don't mind a hotel missing a few key amenities that's a bit removed from San Francisco's main tourist attractions, odds are you'll enjoy staying here.
Getting there
San Francisco's location in Northern California makes it easy to reach from several airports. The main airport, San Francisco International Airport (SFO), is approximately 30 minutes south of the city center. Oakland International Airport (OAK) is roughly 30 minutes southeast, and Norman Y. Mineta San Jose International Airport (SJC) is about an hour southeast.
There is no convenient public transportation option from SJC to San Francisco, but you can take Bay Area Rapid Transit (BART) from SFO and OAK to the downtown area. The closest BART stop to The Clancy is the Montgomery Street station, which is about a half-mile away. If driving from Oakland or the East Bay, take the Bay Bridge and use the Harrison Street exit.
Booking details
While room rates in San Francisco can get expensive depending on when you visit and where you stay, The Clancy is reasonably priced for the area thanks, in part, to its lack of a resort fee. At the time of booking, the 410-room Autograph Collection hotel cost anywhere from $307 per night (including taxes and fees) for a standard room with two queen beds to $358 per night (with taxes and fees) for a one-bedroom suite.
You can also use Marriott Bonvoy points to pay for a room here, though I opted to pay cash. When I looked, a standard room at this Category 6 hotel cost 50,000 Bonvoy points per night, while a suite could be redeemed for just a few thousand points more. Remember, redemption rates may change once Marriott starts using a dynamic award chart in March 2022.
Related: 10 Marriott properties to book now before the award chart disappears
Standout features
The hotel's first floor features several excellent places to lounge, including multiple spots by the bar and an uncovered patio.
The South Beach location is close to several museums, and there are plenty of restaurants within walking distance.
The decor is cool without trying too hard. Muted jewel-toned furnishings offset the property's bright neon lights.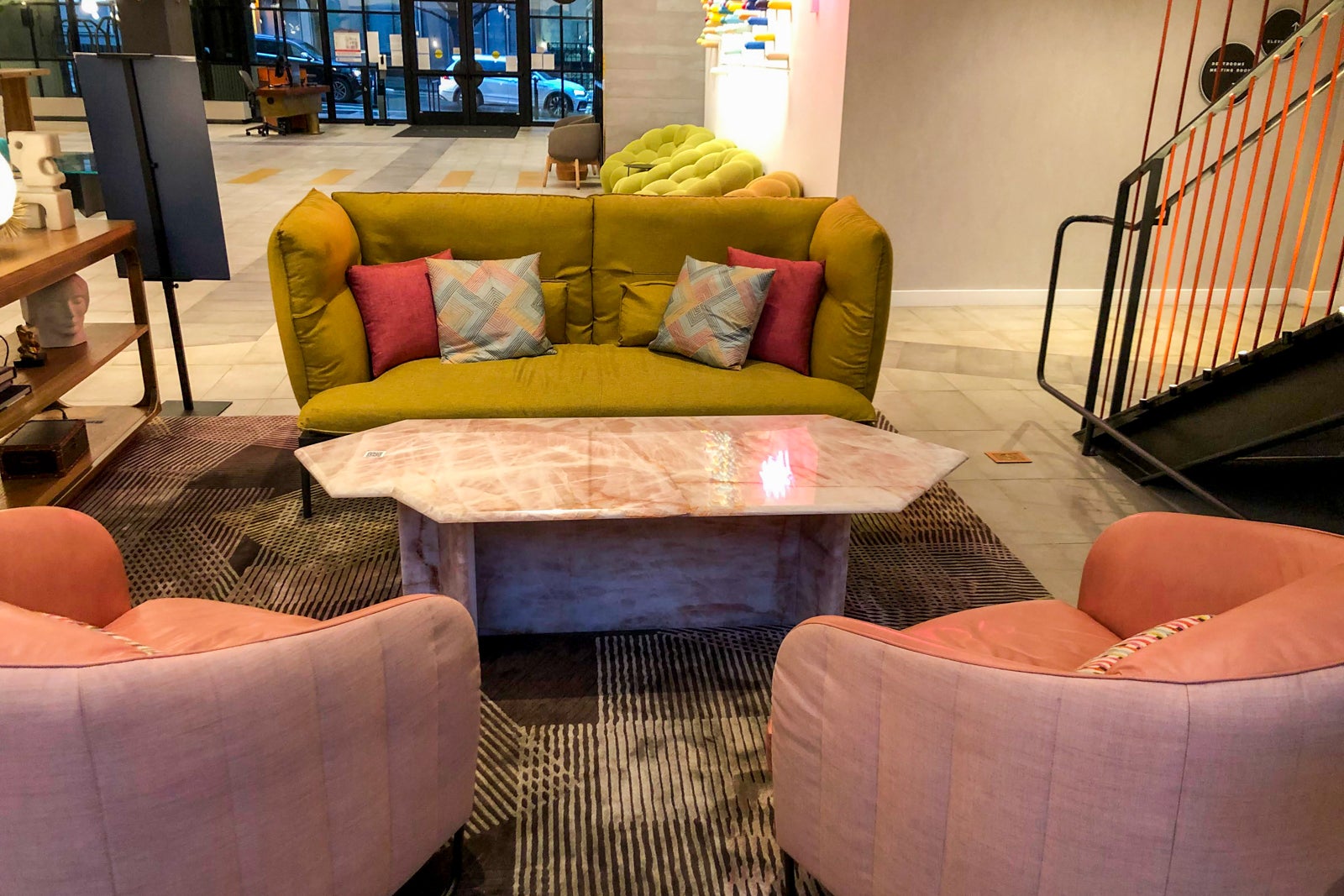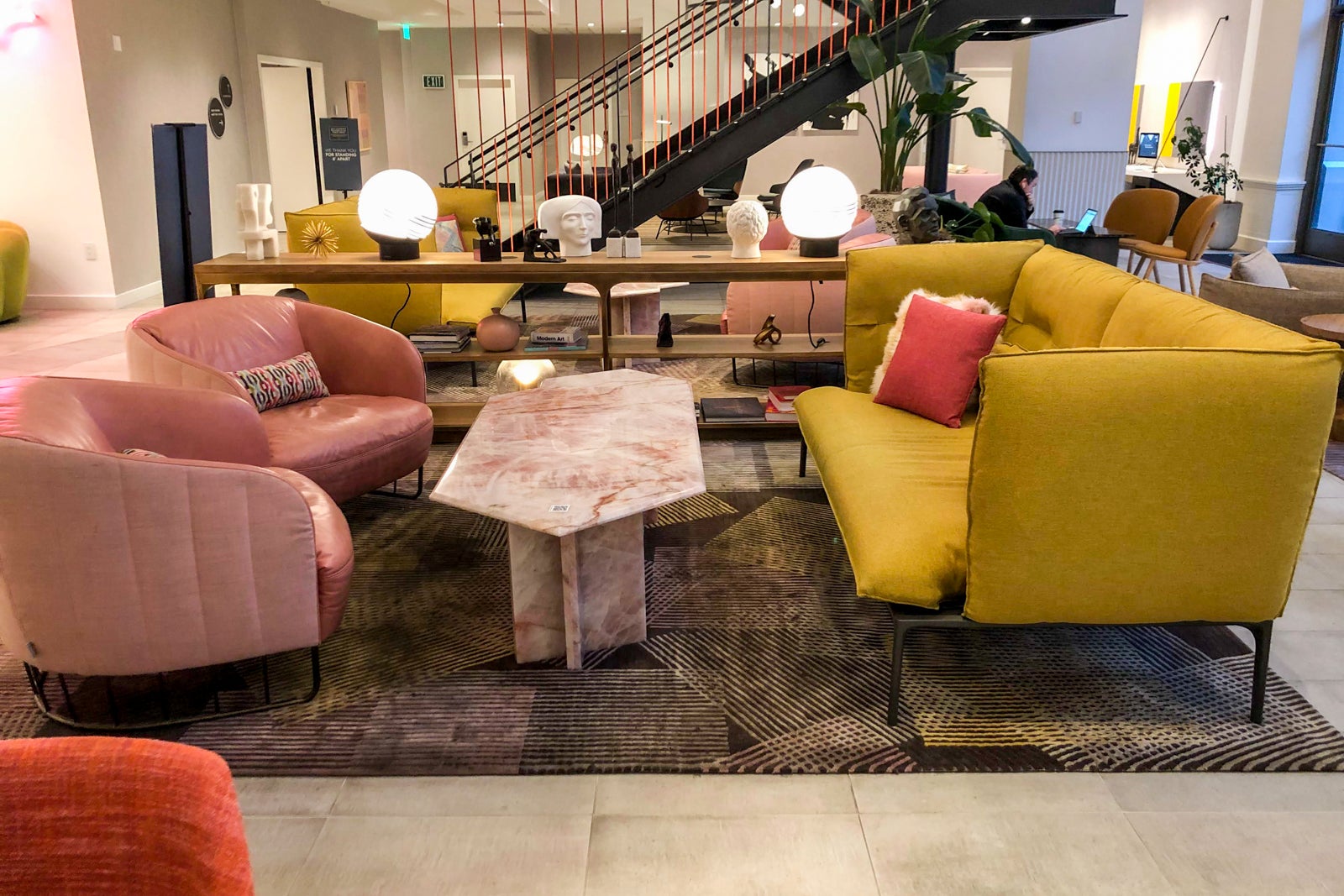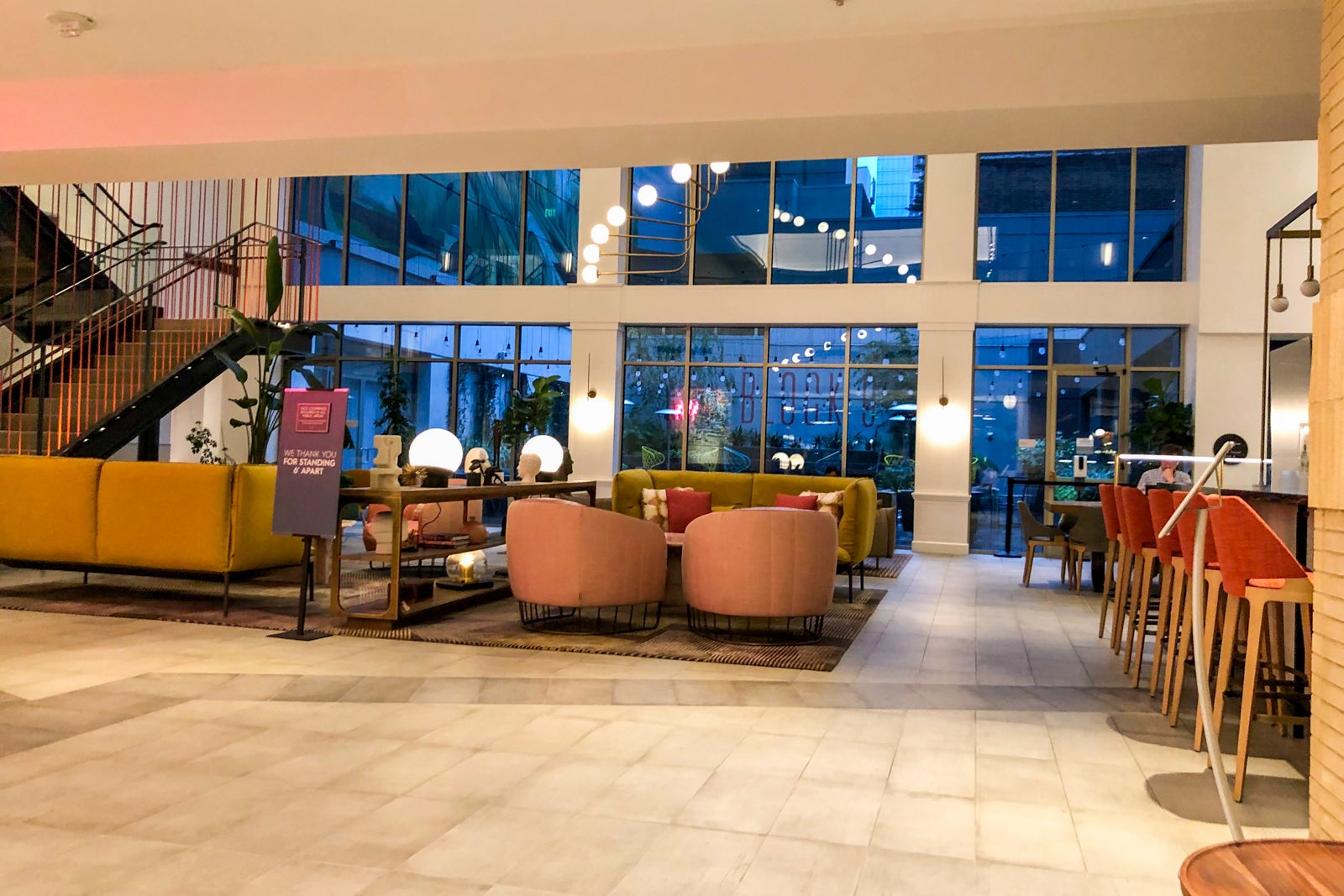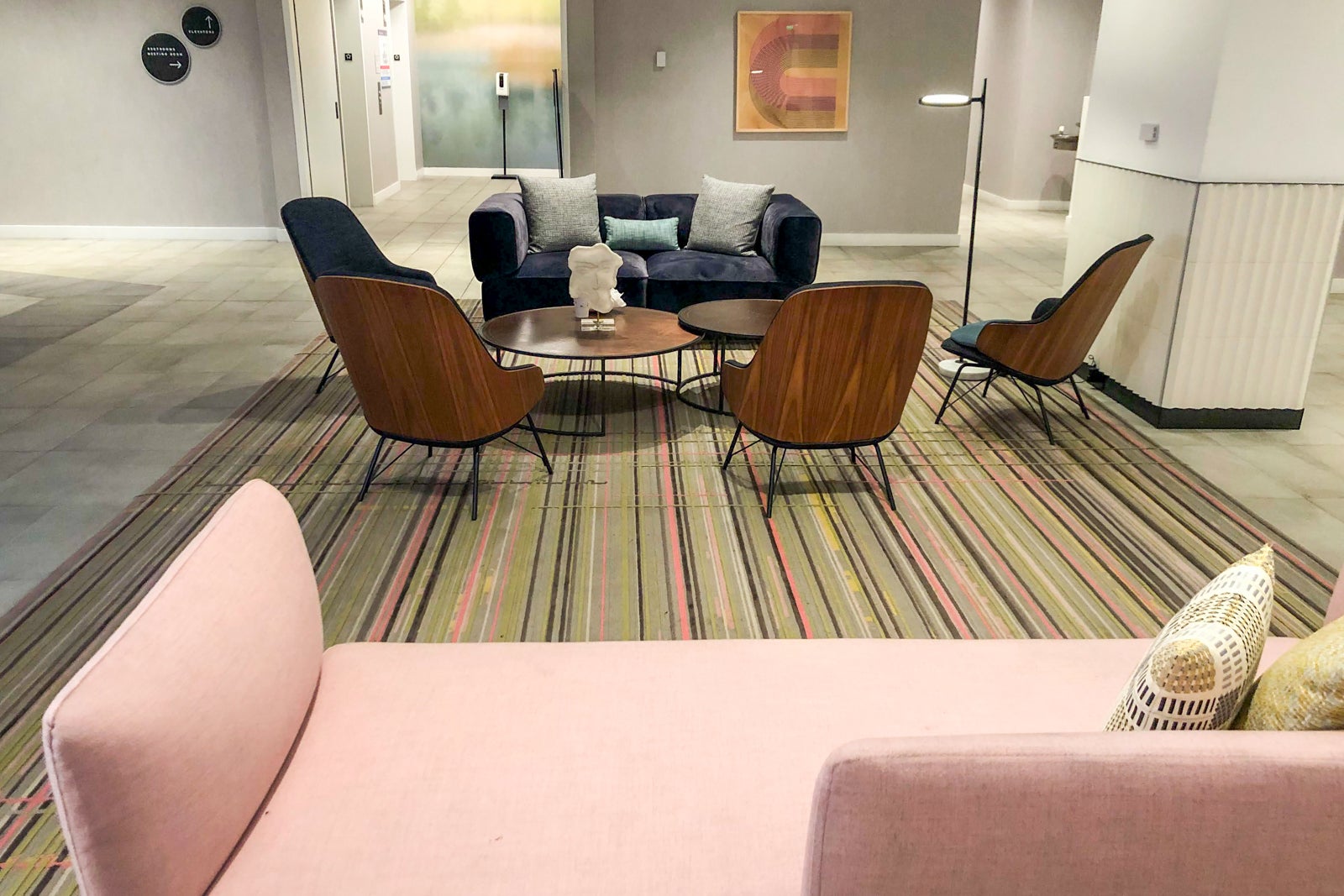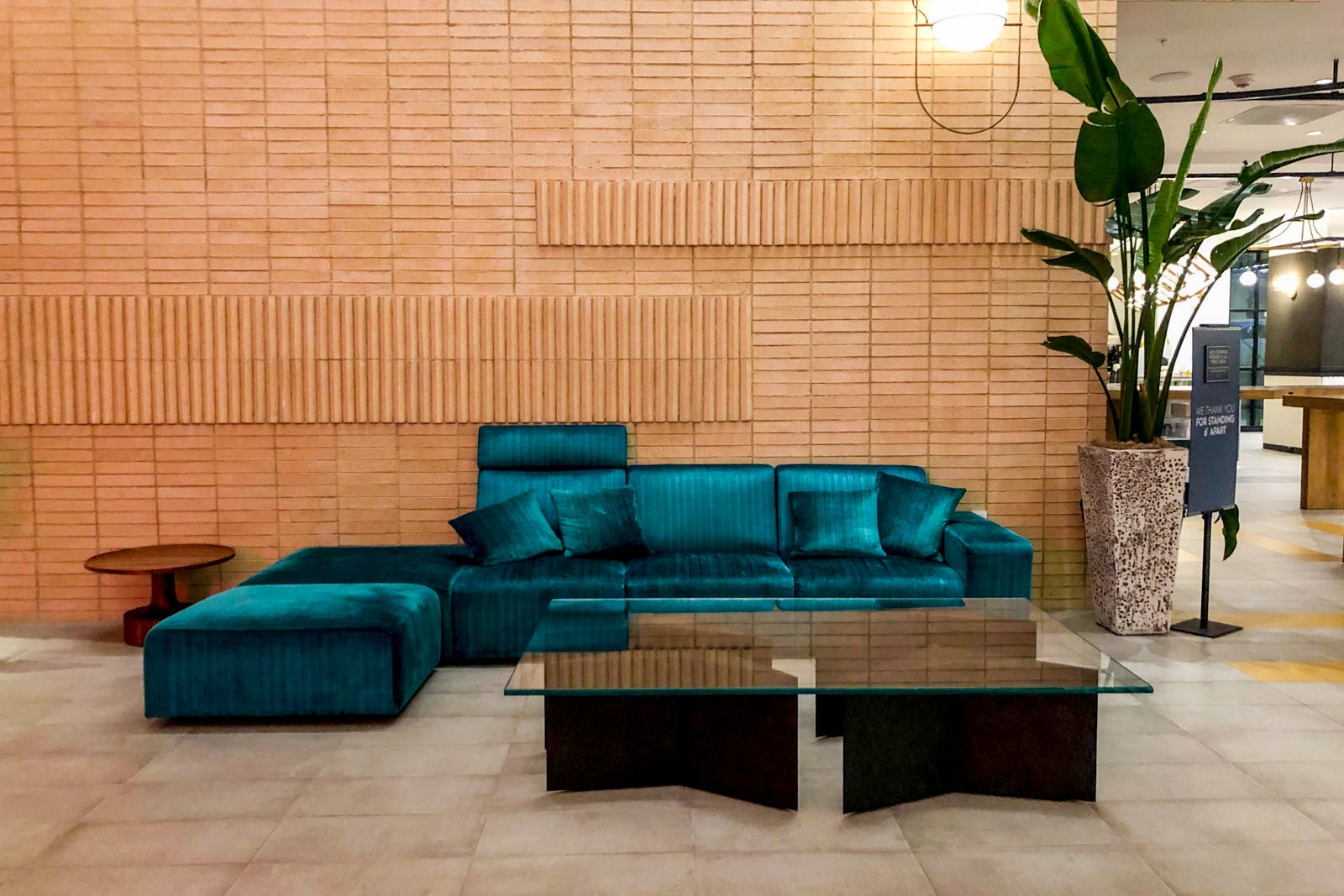 Drawbacks
Both the valet and self-parking fees here are $75 per night, which are high, even by San Francisco standards.
Housekeeping was limited and mediocre at best. My beds were made, but the bathroom wasn't properly cleaned.
Despite local guidance requiring masks indoors, some guests didn't have them on and I didn't see hotel employees provide reminders.
The restaurant, Seven Square Taproom, wasn't open for sit-down dining during my stay, so I had to order food to go.
The vibe
The Clancy offers a bold design reminiscent of Las Vegas. A neon art installation and a turquoise sectional couch greet guests as they walk into the lobby. Farther in, you'll discover several well-positioned seating areas where you can enjoy a drink or talk with friends.
Despite the hotel's party-like vibe, it's probably best suited for business travelers. The coffee shop offers breakfast to go, and the bar is welcoming and busiest during happy hour. There's even an outdoor patio that looks like a great place to relax when the weather is more cooperative, which wasn't the case when I visited.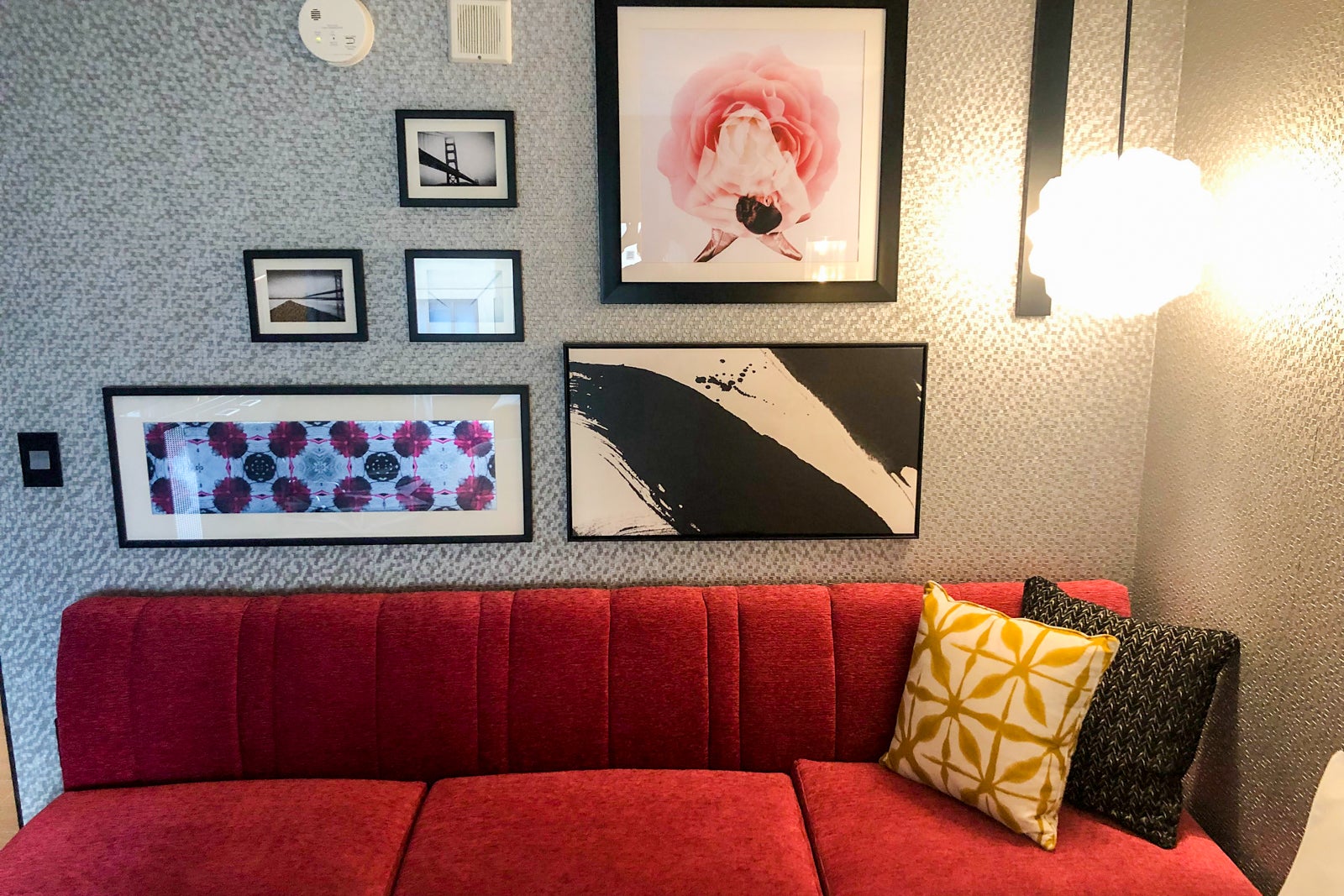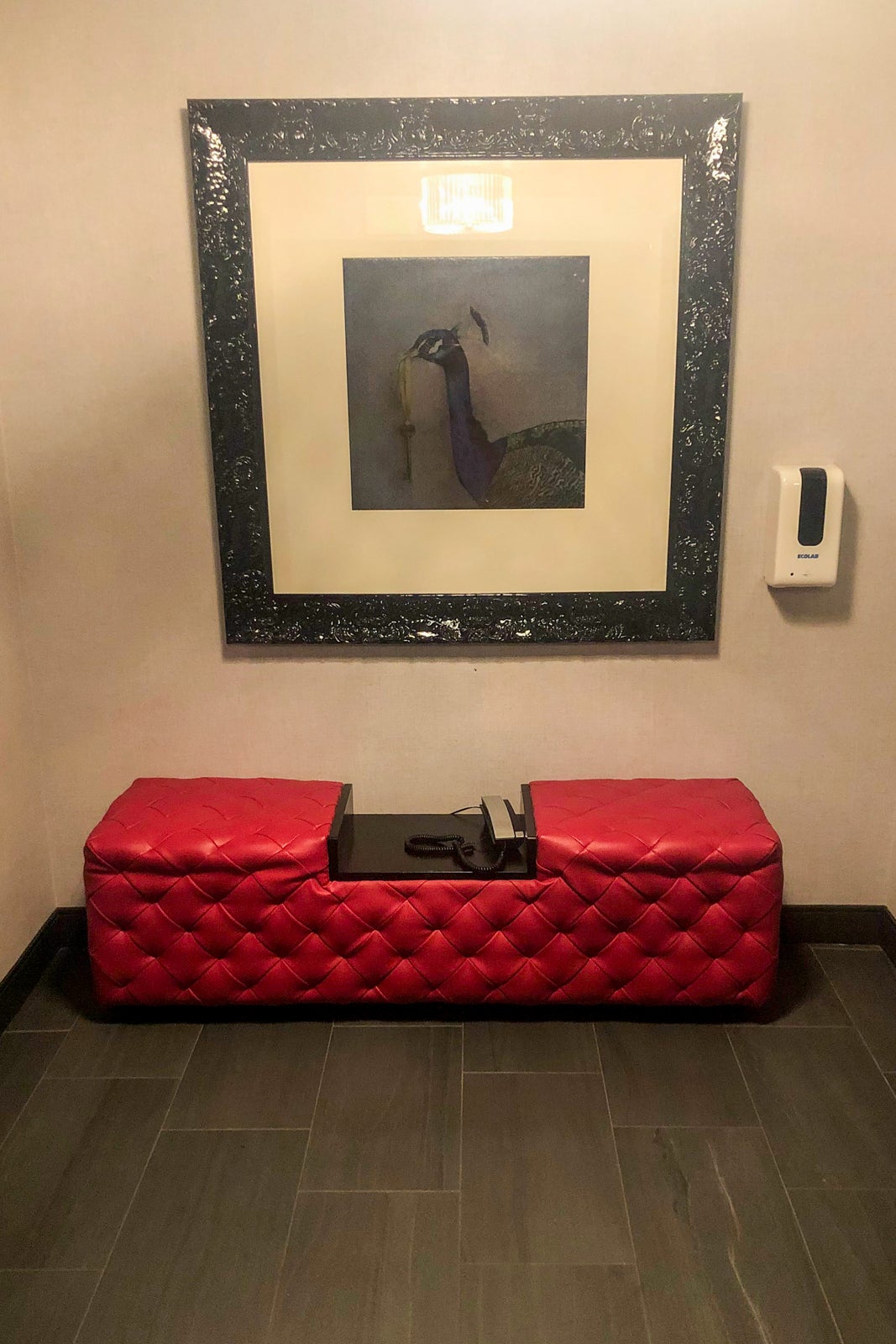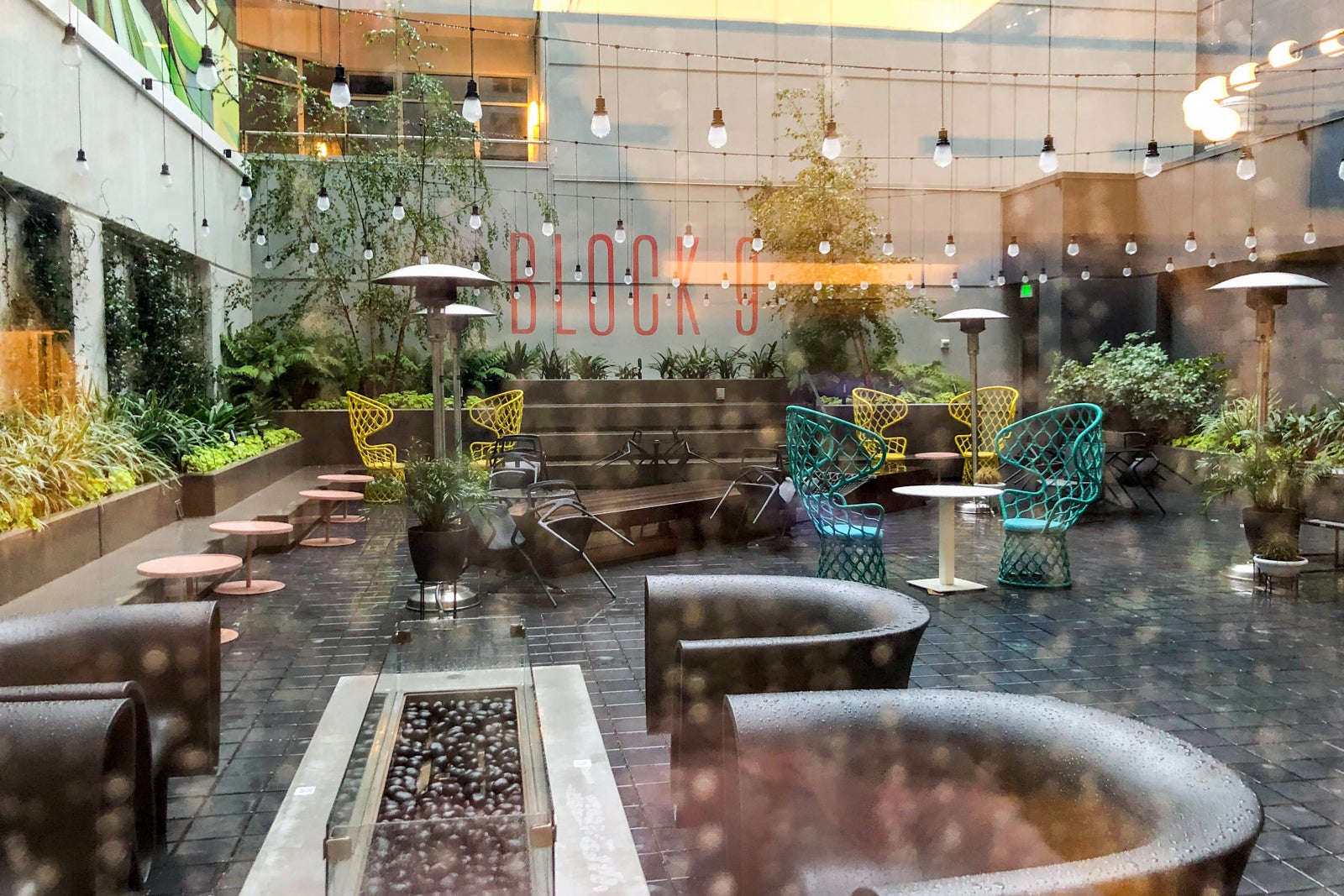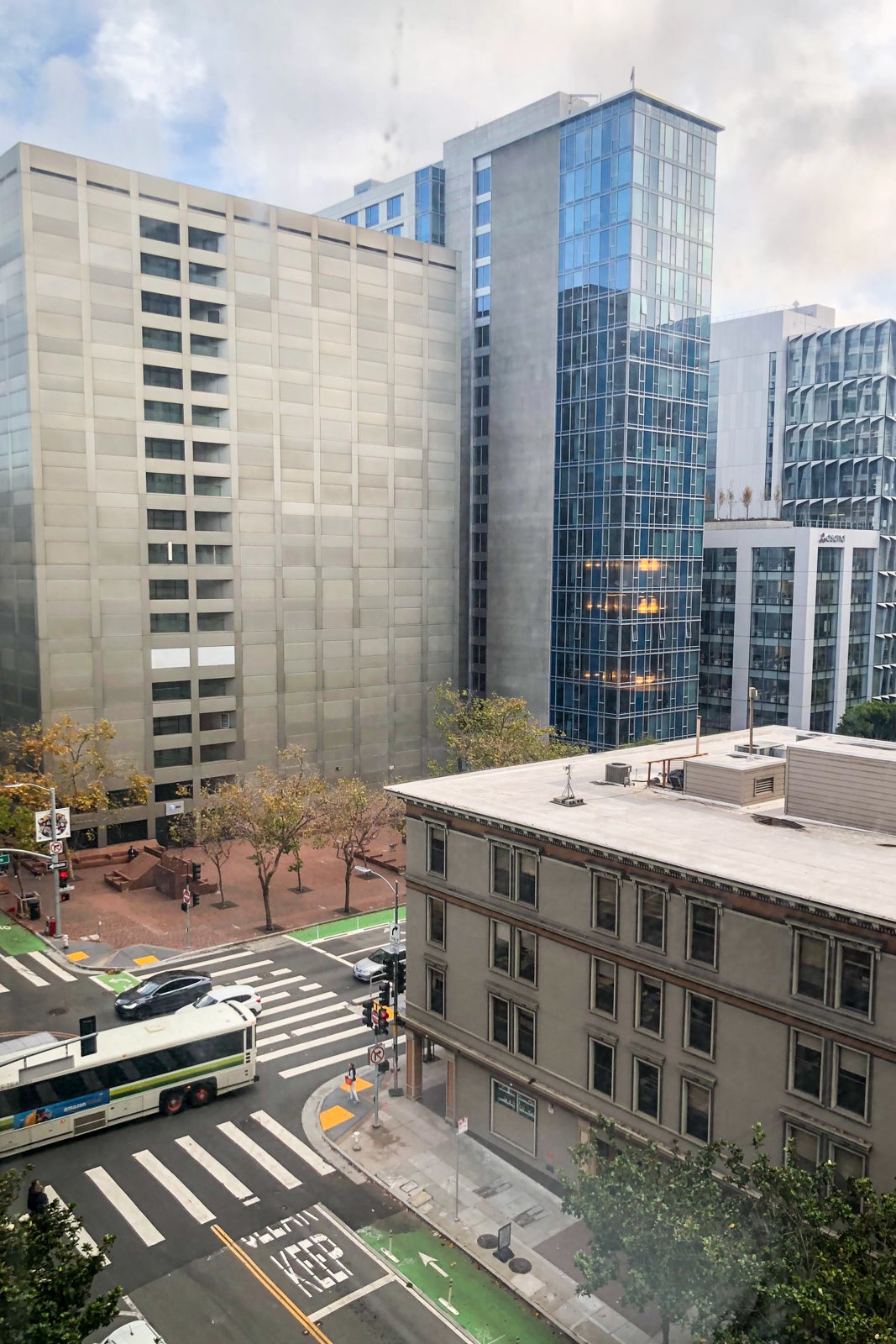 The room
Each of the property's 410 rooms and suites offers the same trendy vibe as the public spaces.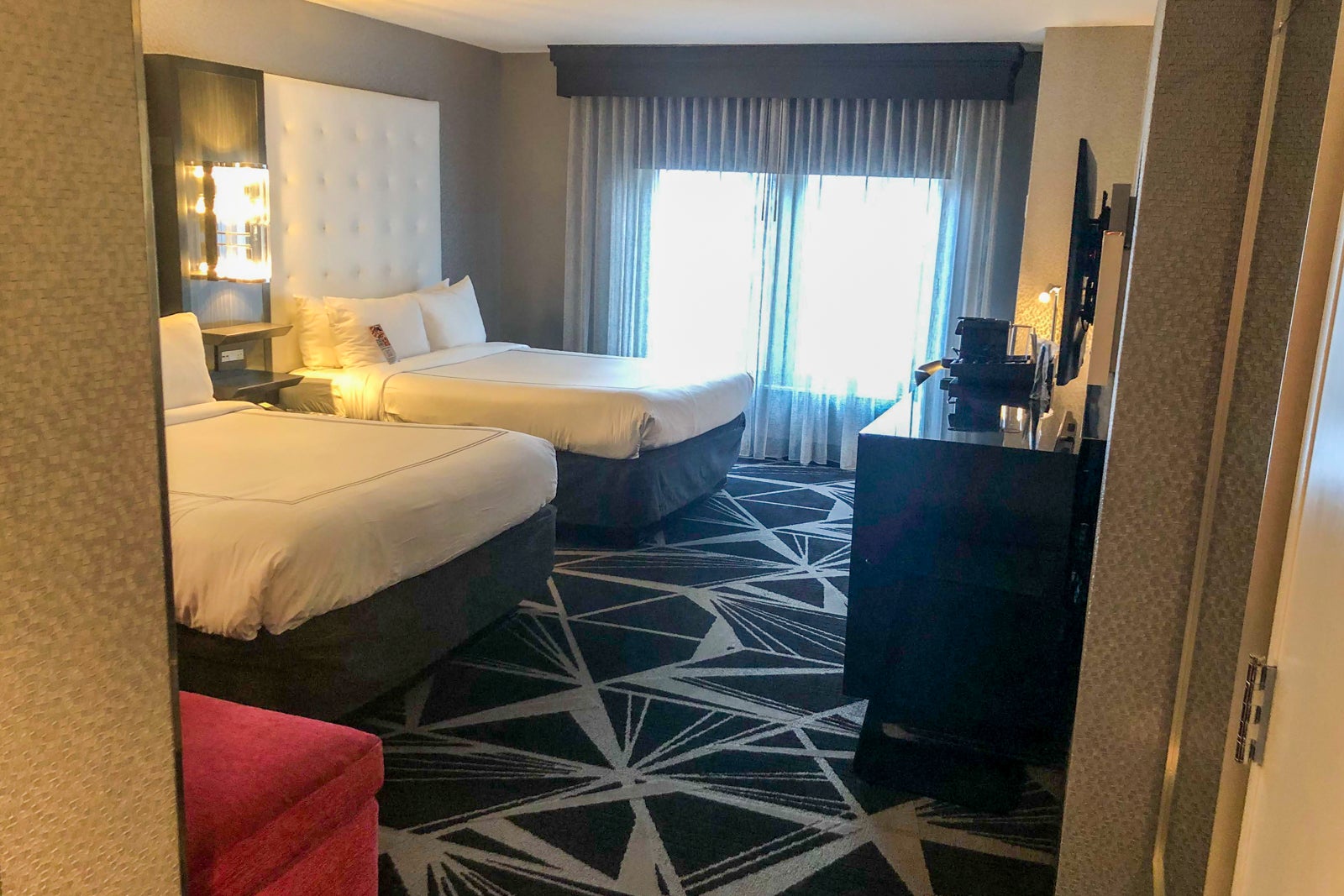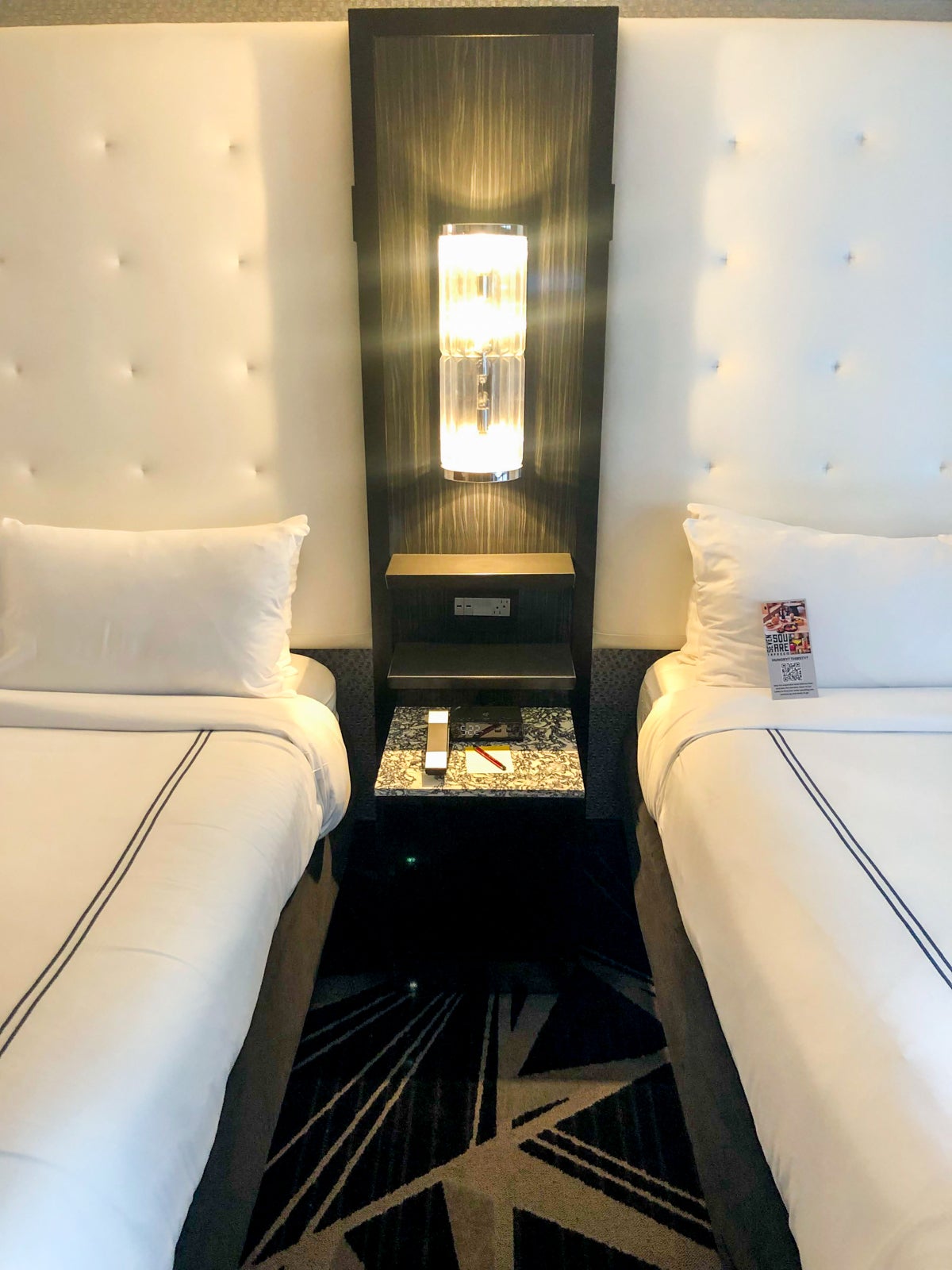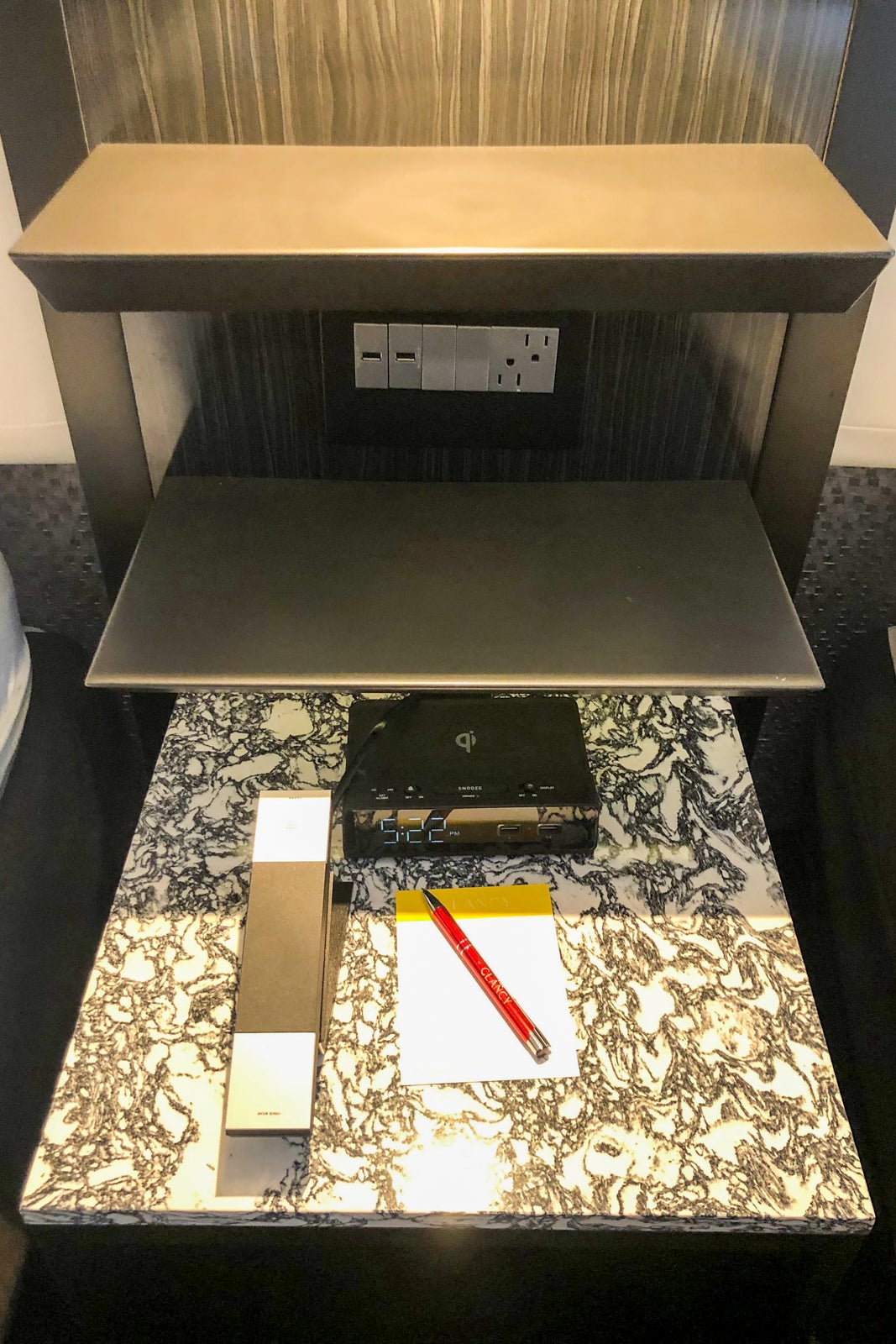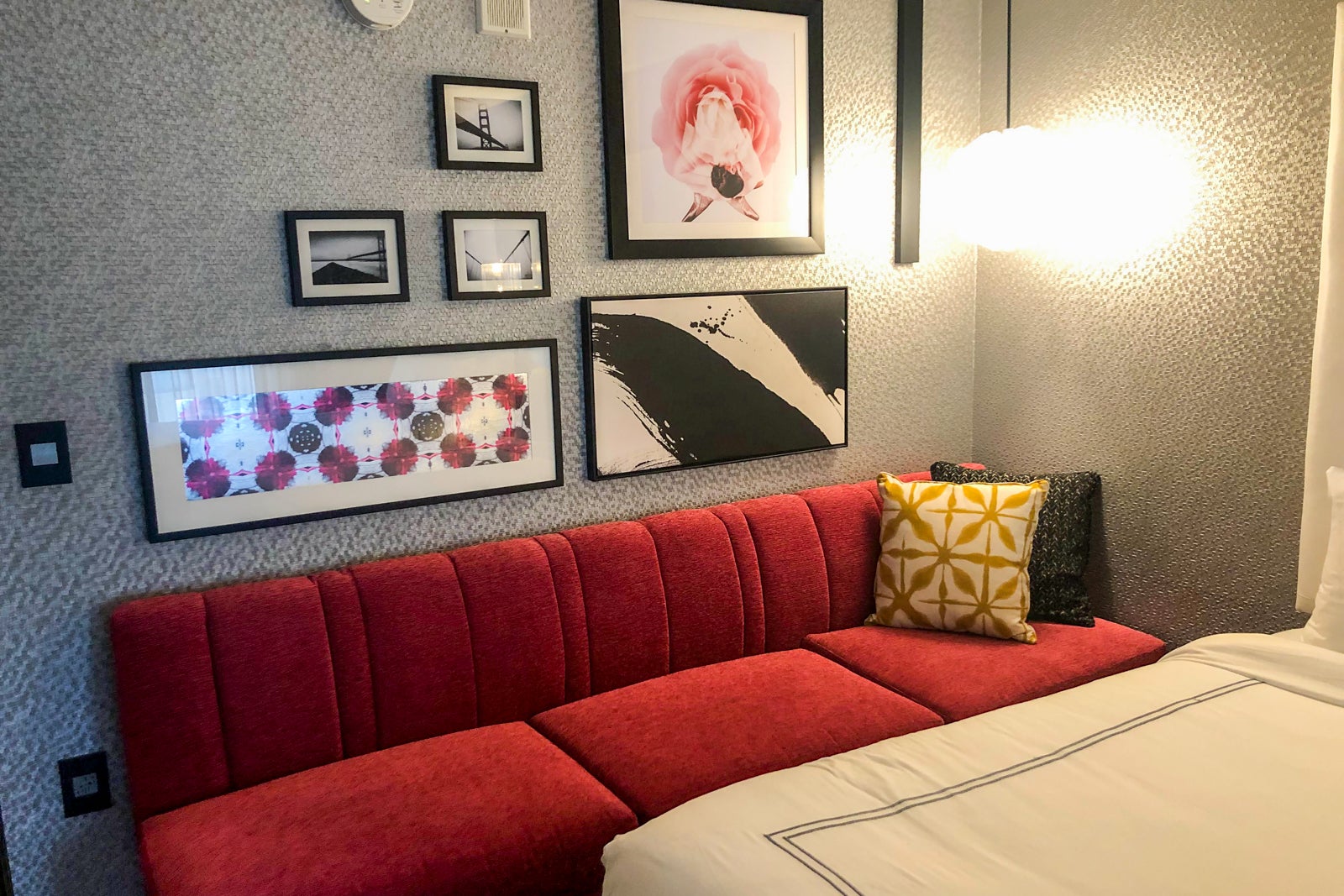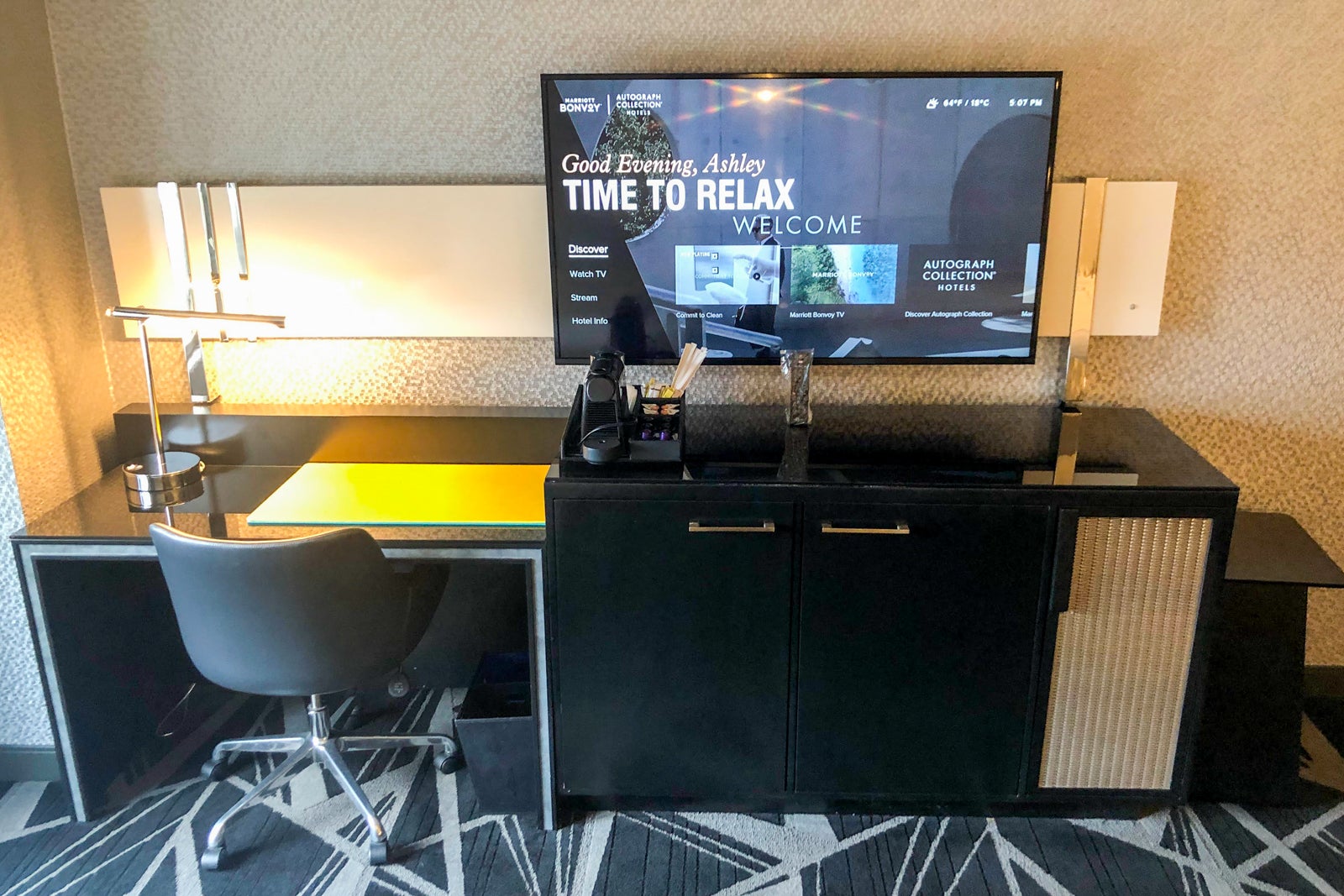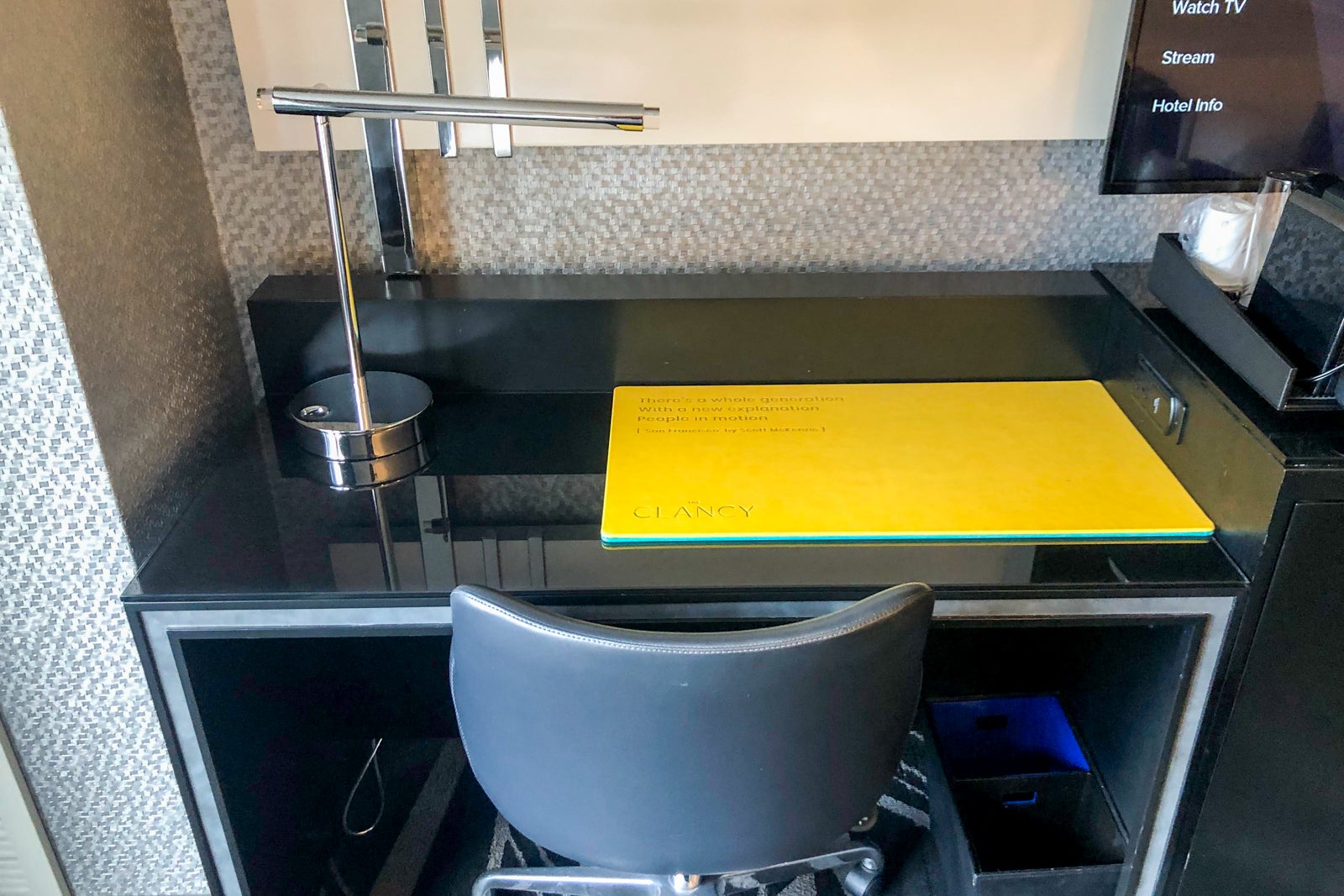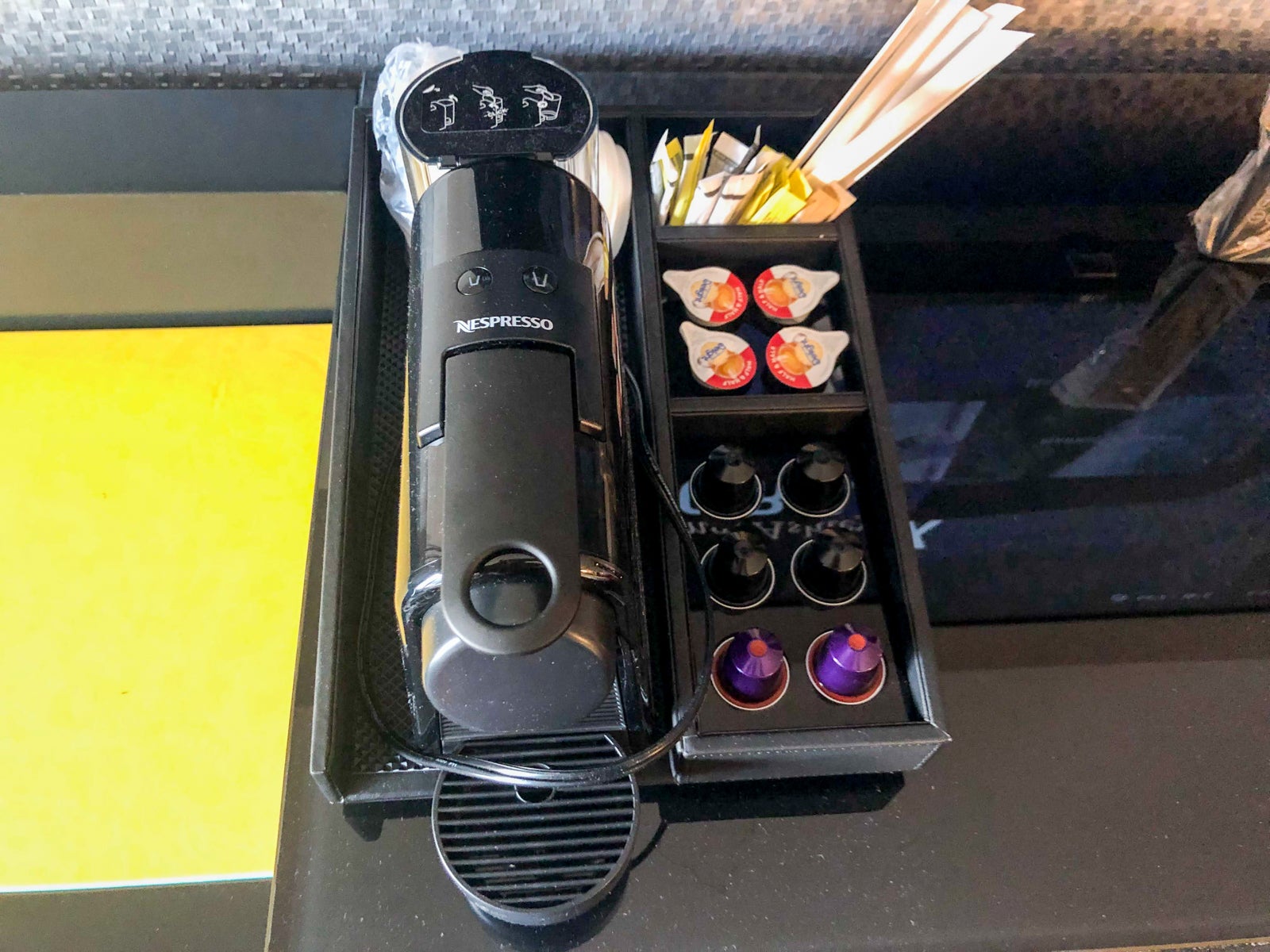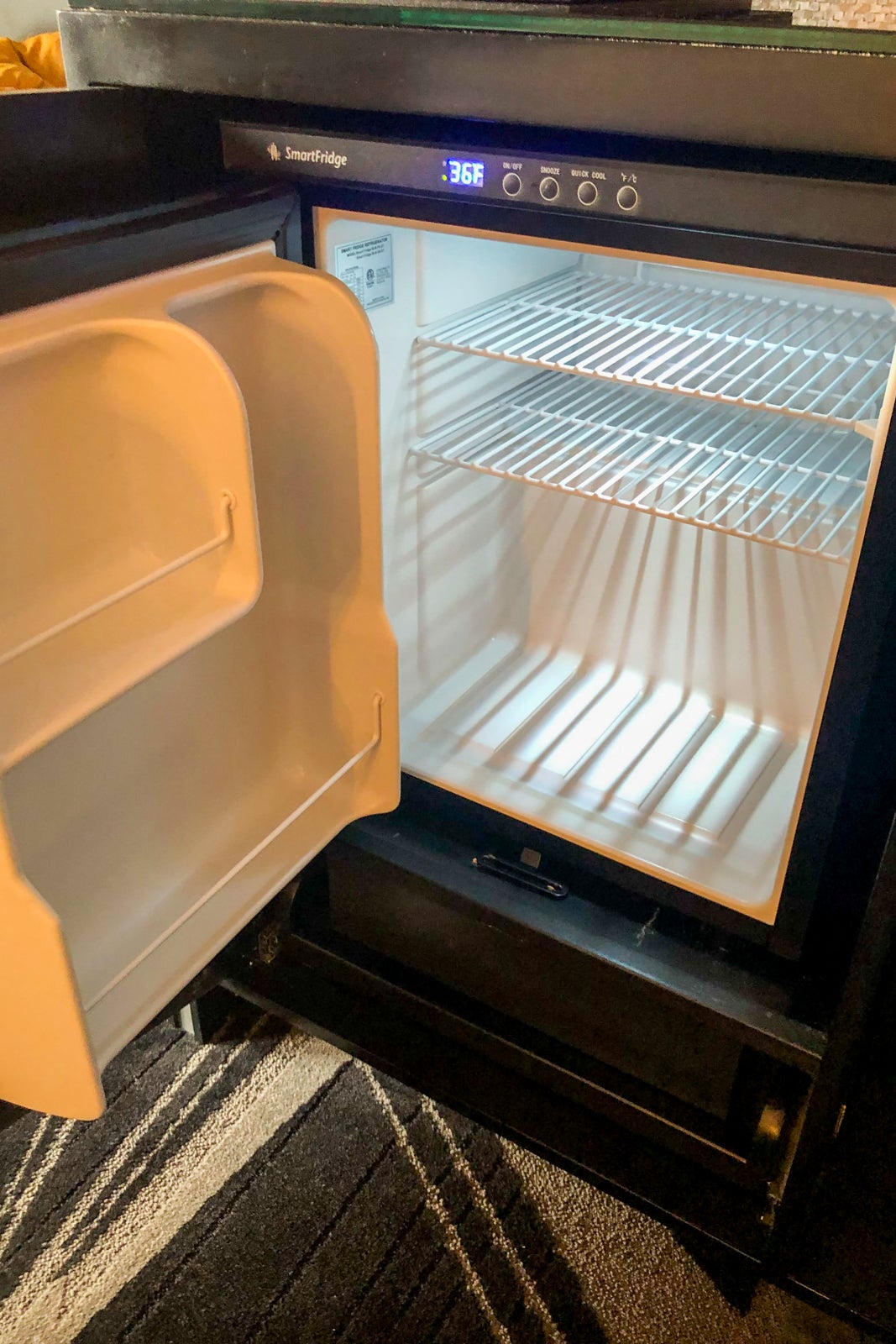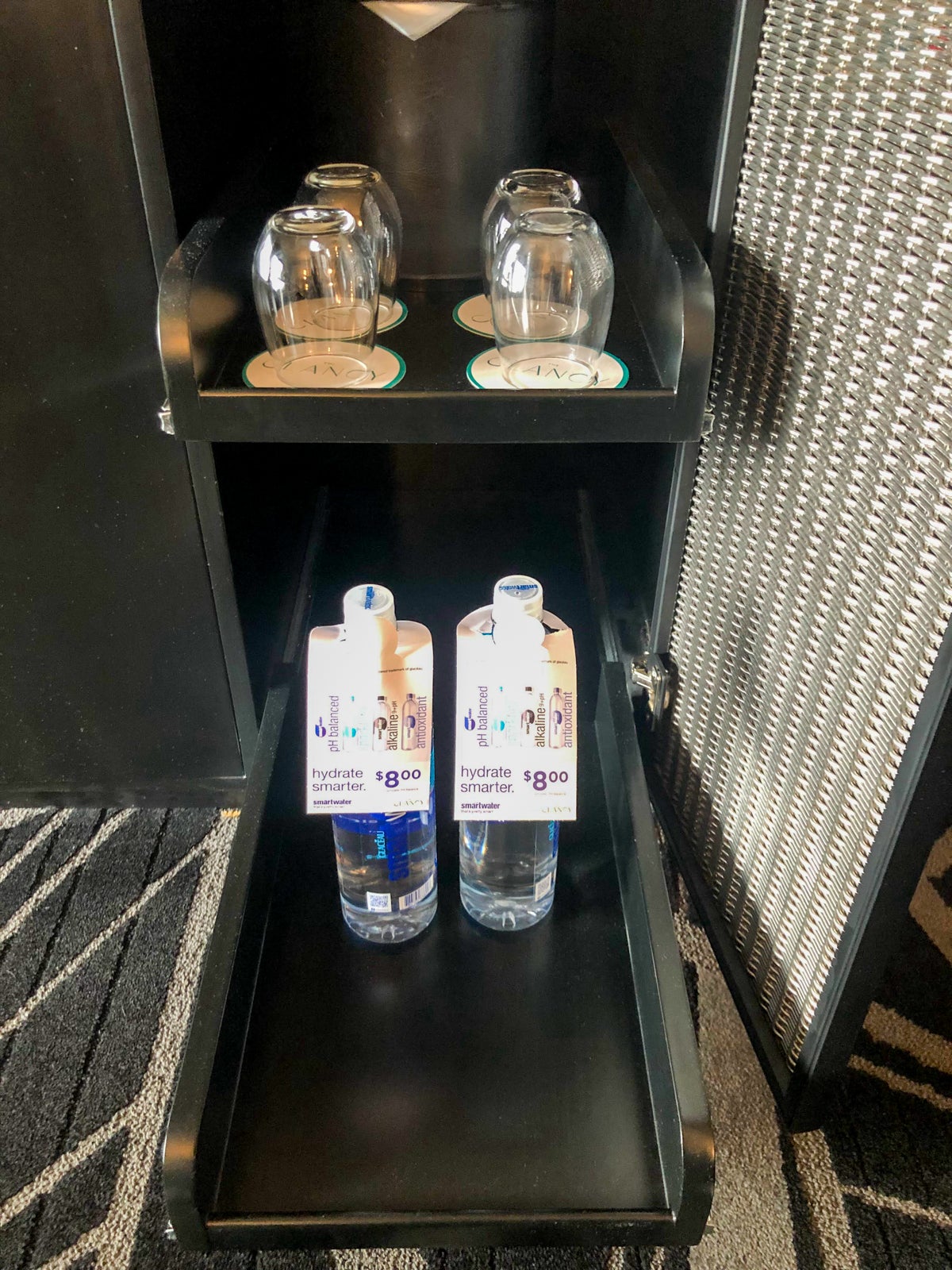 In my standard 350-square-foot room, which was on the eighth floor, there was an art wall showcasing black-and-white photographs of San Francisco landmarks along with more abstract, colorful pieces. The bold red couch provided a cool contrast to the dark geometric-patterned carpet and the white tufted headboards and linens. There were large windows featuring city views and modern amenities like a Nespresso machine, a wall-mounted TV, a minifridge and a desk. Bottled water was available, too, but the $8 price tag seemed excessive, especially given the hotel's proximity to a CVS.
Although the bathroom didn't have a bathtub, it was a good size and offered all the essentials. The shower had enough space to move around and was stocked with Bodyography toiletries. The closet was also in the bathroom, which freed up more space in the bedroom.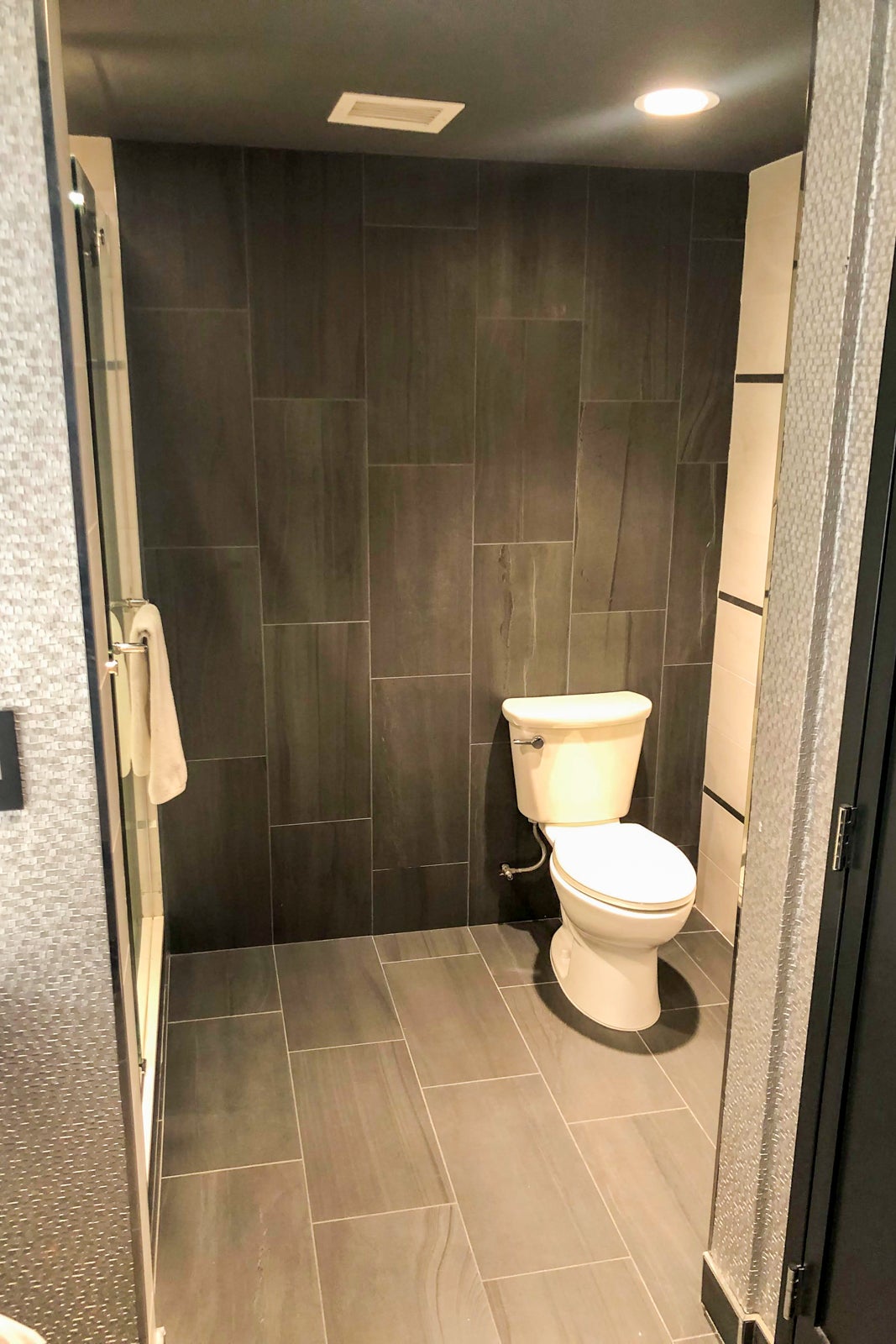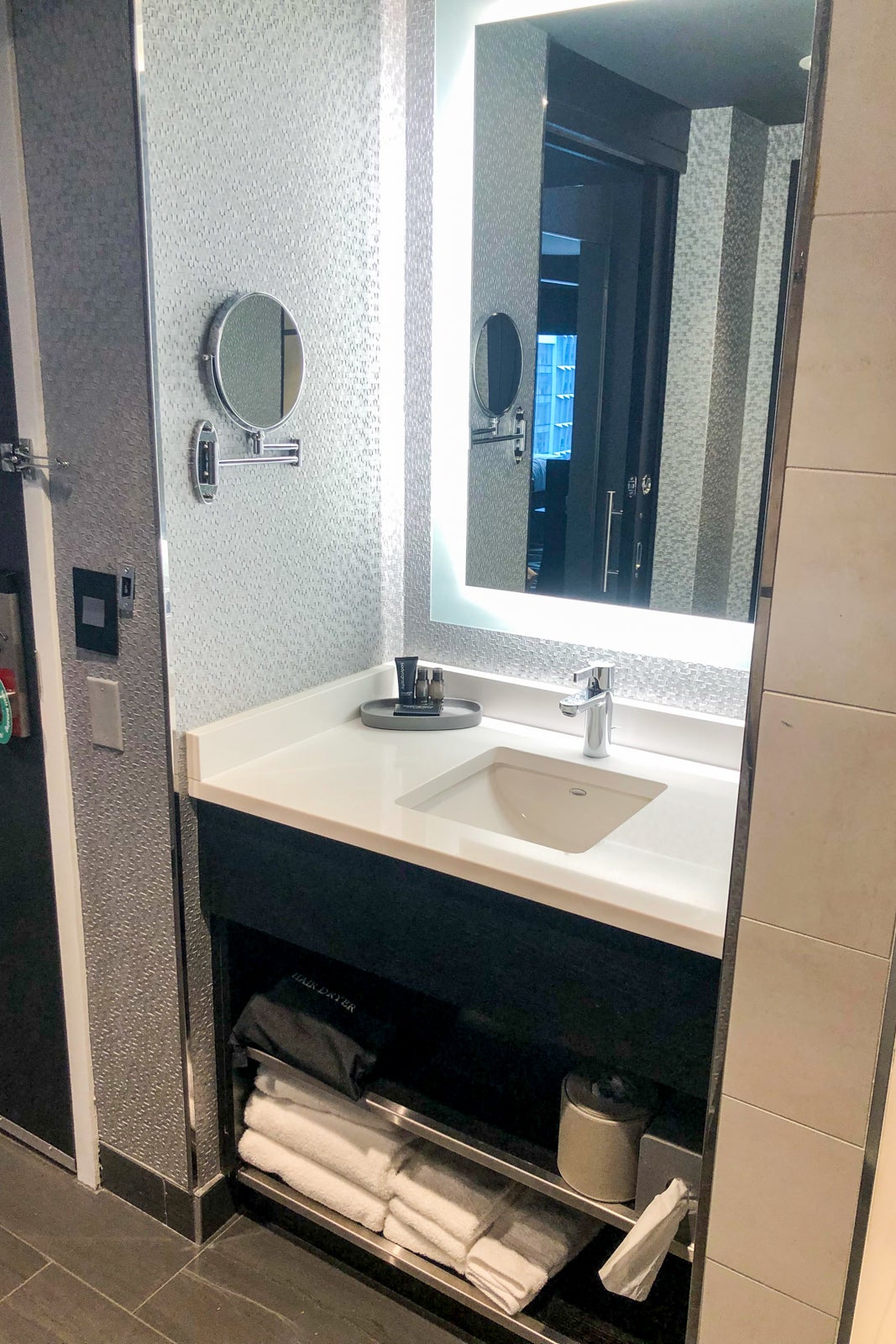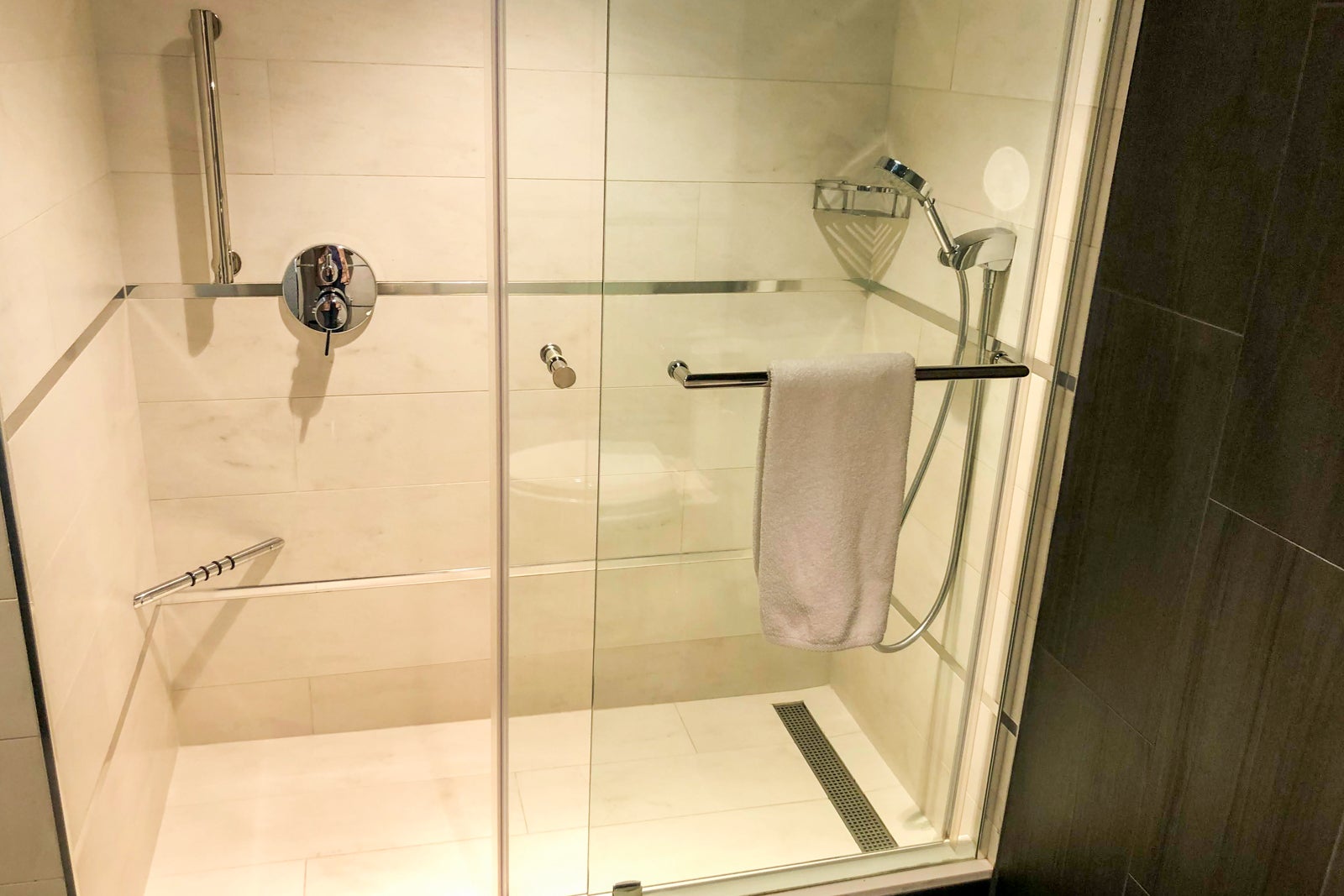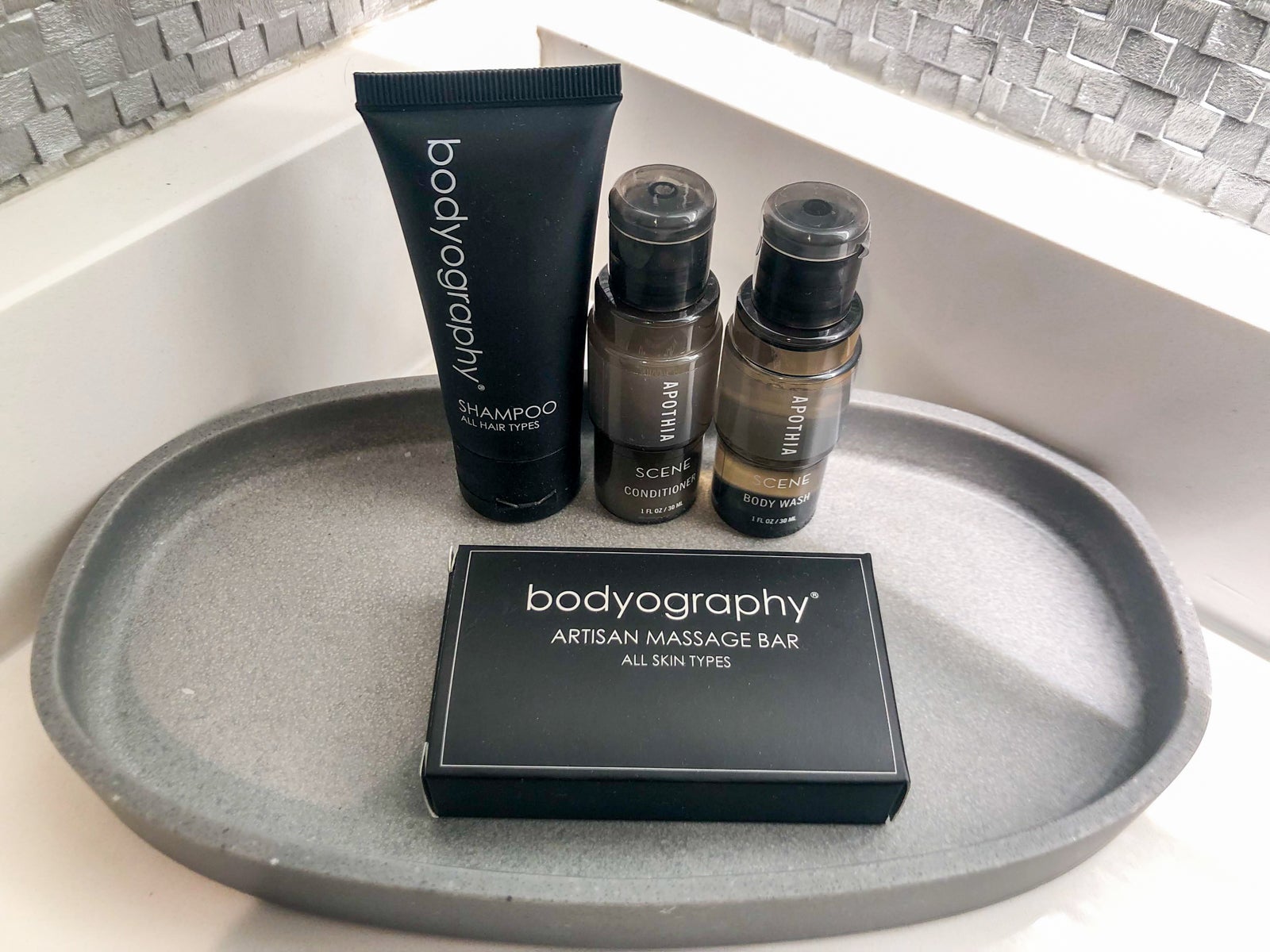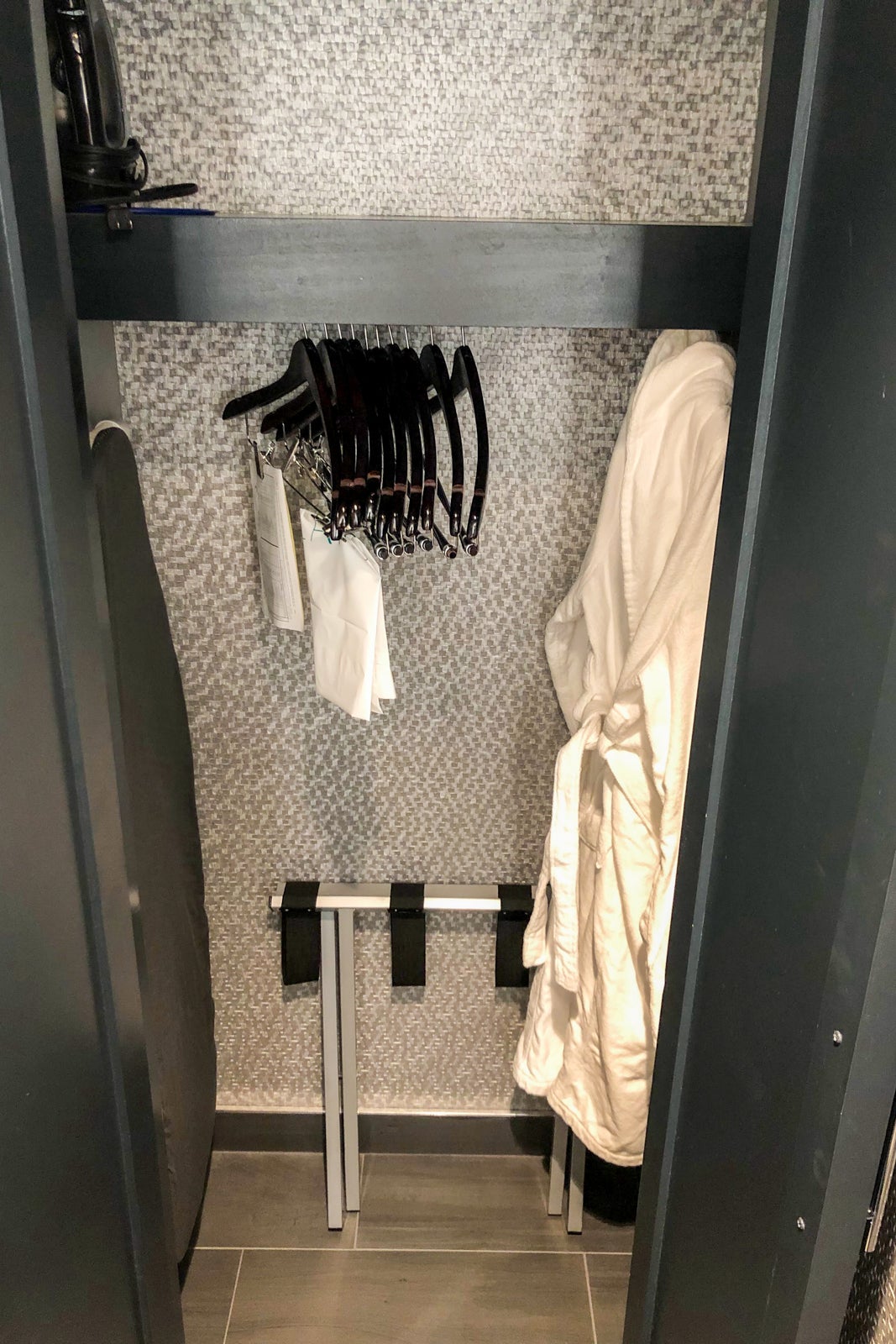 Food and drink
The hotel lacks room service and its restaurant, Seven Square Taproom, was not offering sit-down service during my stay. However, guests could dine at the bar or call down and place a dinner order to pick up at the lounge. The former seemed like the preferred option for most guests, as the seating areas were filled with people enjoying each other's company.
Seven Square Taproom's menu, which you can view via a QR code on a brochure in each room, features standard items aimed at serving the masses, such as burgers, sandwiches, salads and a selection of wines. The Impossible cheeseburger and fries ($30) was a satisfying vegan option, while the chicken strips meal ($15) earned rave reviews from both my kids and the bartender.
For a quick bite to eat in the morning, you can check out Radiator Coffee Salon, a coffee shop located next to the lobby. It serves a variety of pastries that cost between $4 and $8, plus a delicious coffee blend from female-owned Equator Coffees.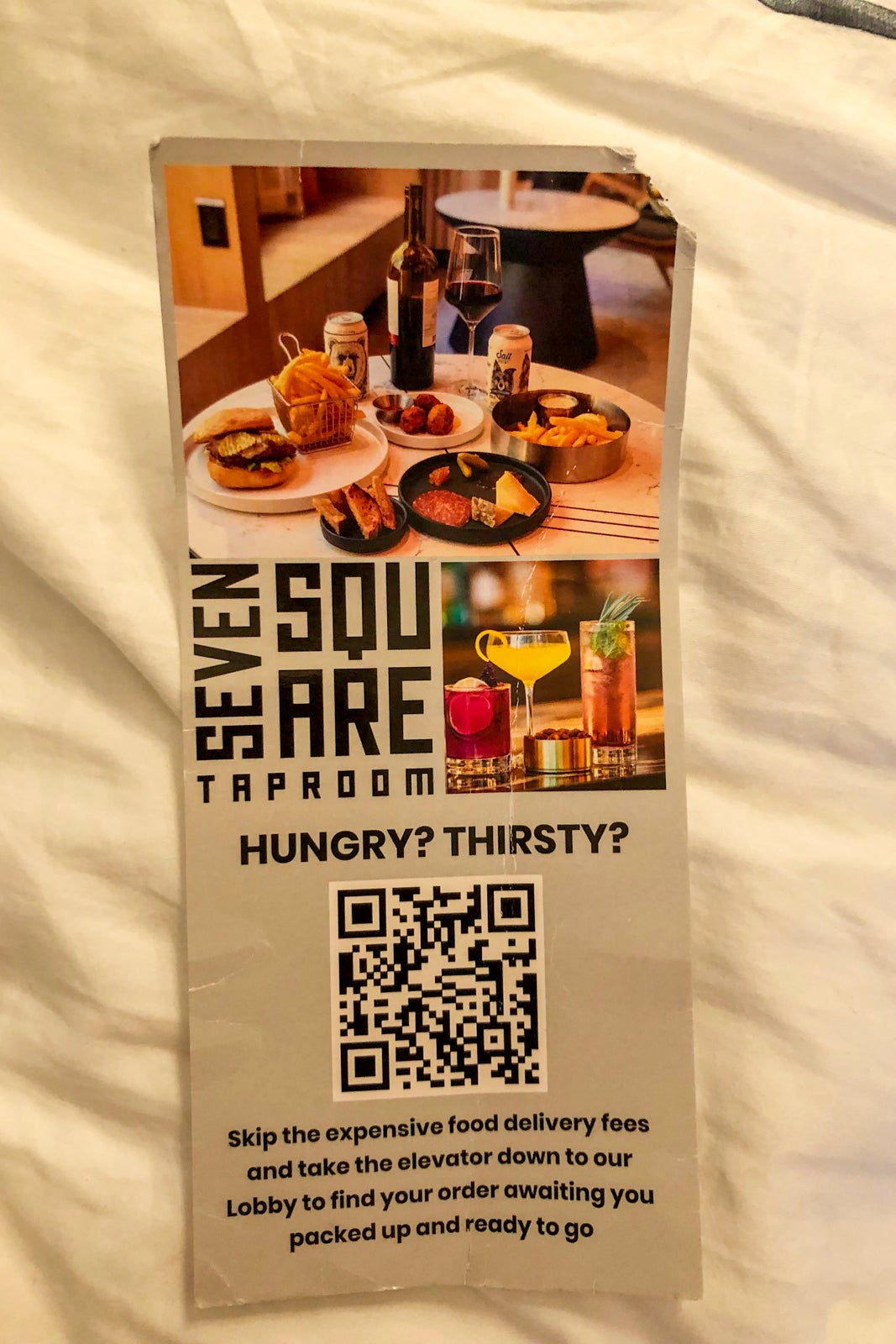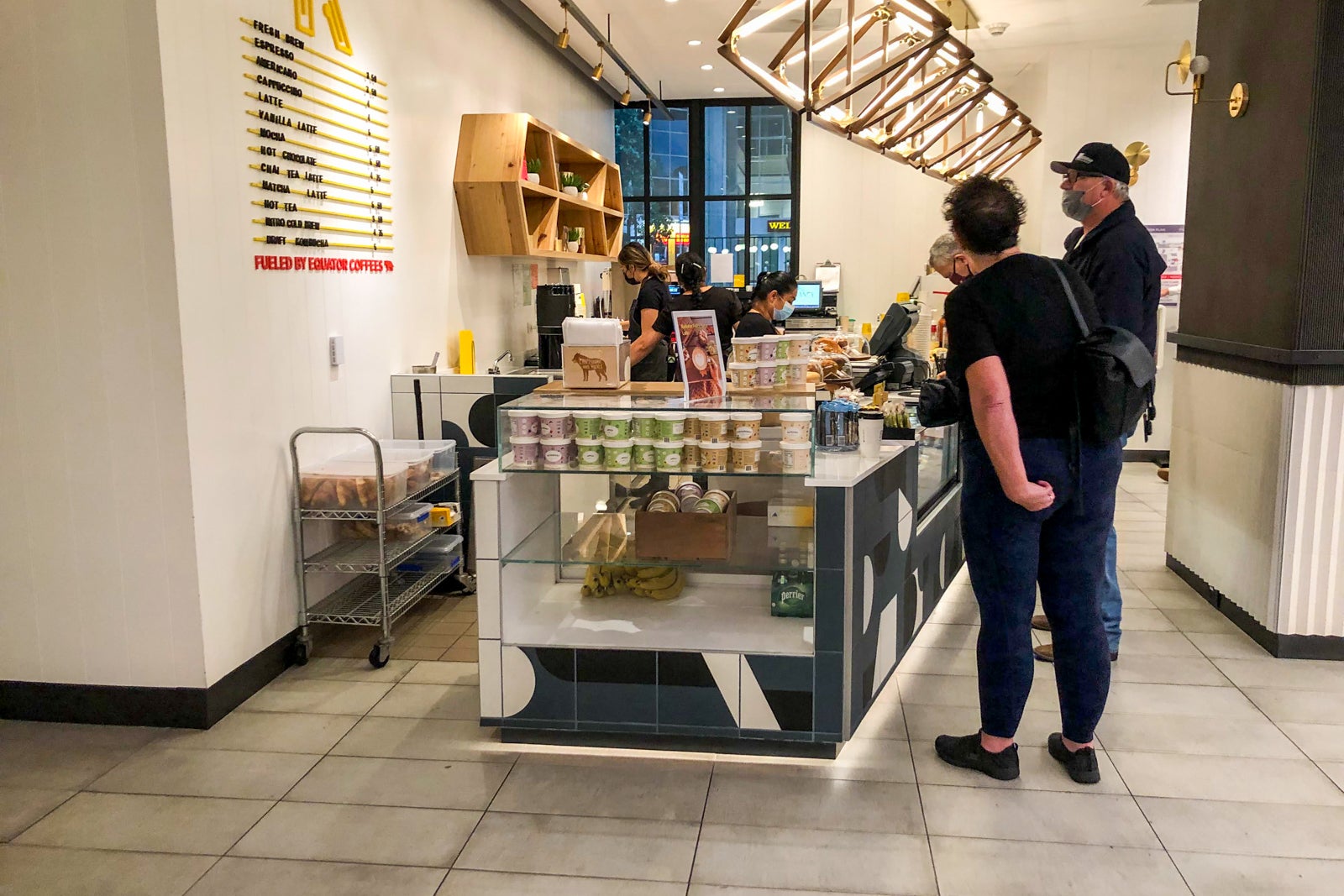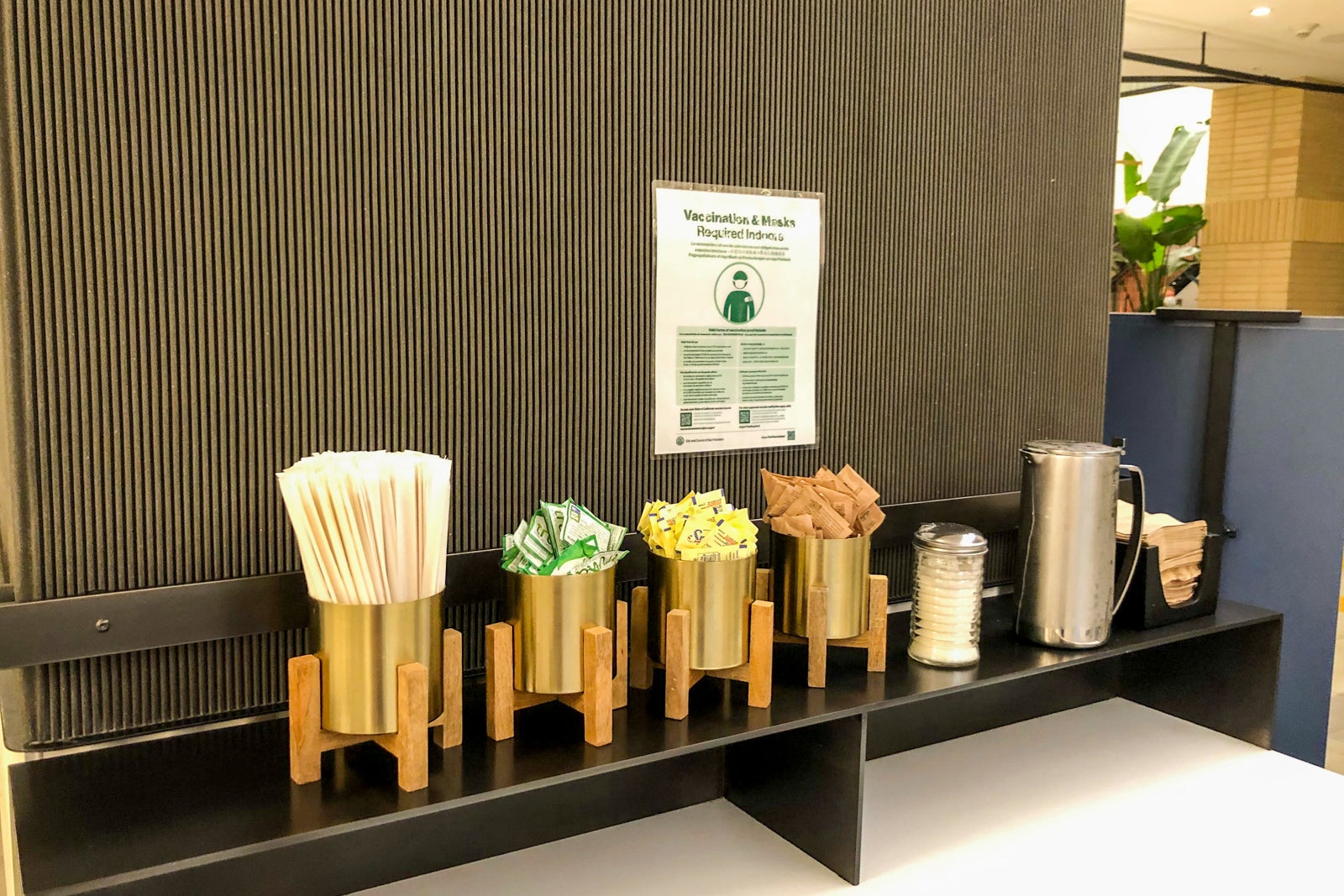 Amenities and service
If you want to work out during your stay, the hotel offers a fitness center with cardio machines and free weights. It's on the second floor of the hotel and is open from 6 a.m. to 11 p.m. daily. Since the City of San Francisco currently requires proof of vaccination to enter gyms, the hotel will provide a separate key card to access the fitness center.
Other amenities like a spa and pool are not available.
The property is offering the option of housekeeping services, which I accepted but found disappointing.
When I returned to my room on my second day, I noticed that the beds were made and tidy, but not much else had been touched. The bathroom countertop had a stray hair and there was dirty towel on the floor. Additionally, the iron, which I had left upright on the ironing board, was now face down on the board, causing all the water to spill out and soak the floor.
Out and about
San Francisco's South Beach neighborhood offers a mix of everything, making it a great area to base yourself at for a staycation. From the hotel, you can walk to Yerba Buena Gardens, the San Francisco Museum of Modern Art, Oracle Park and the Children's Creativity Museum, among other attractions. A short drive north will bring you to Fisherman's Wharf, where you'll find the Aquarium of the Bay and Pier 39.
There are plenty of restaurants in the immediate area, including chain favorites like Mel's Drive-In and eateries that specialize in international cuisines like Thai, Italian, French and Brazilian. I especially enjoyed my meal at Osha Thai, which has two locations close to the hotel — one that was within walking distance but was closed during my stay, and another less than 10 minutes away by car from the hotel in the Embarcadero.
Accessibility
The hotel felt more accommodating than other properties I've stayed at in the past thanks, in part, to its accessible room amenities. ADA rooms offer toilet seats at wheelchair height, adjustable shower wands, lowered deadbolt locks and even flashing door knockers, a feature I'd never seen before my stay. Other parts of the hotel, including the entrance, lobby and parking garage, also appeared wheelchair accessible.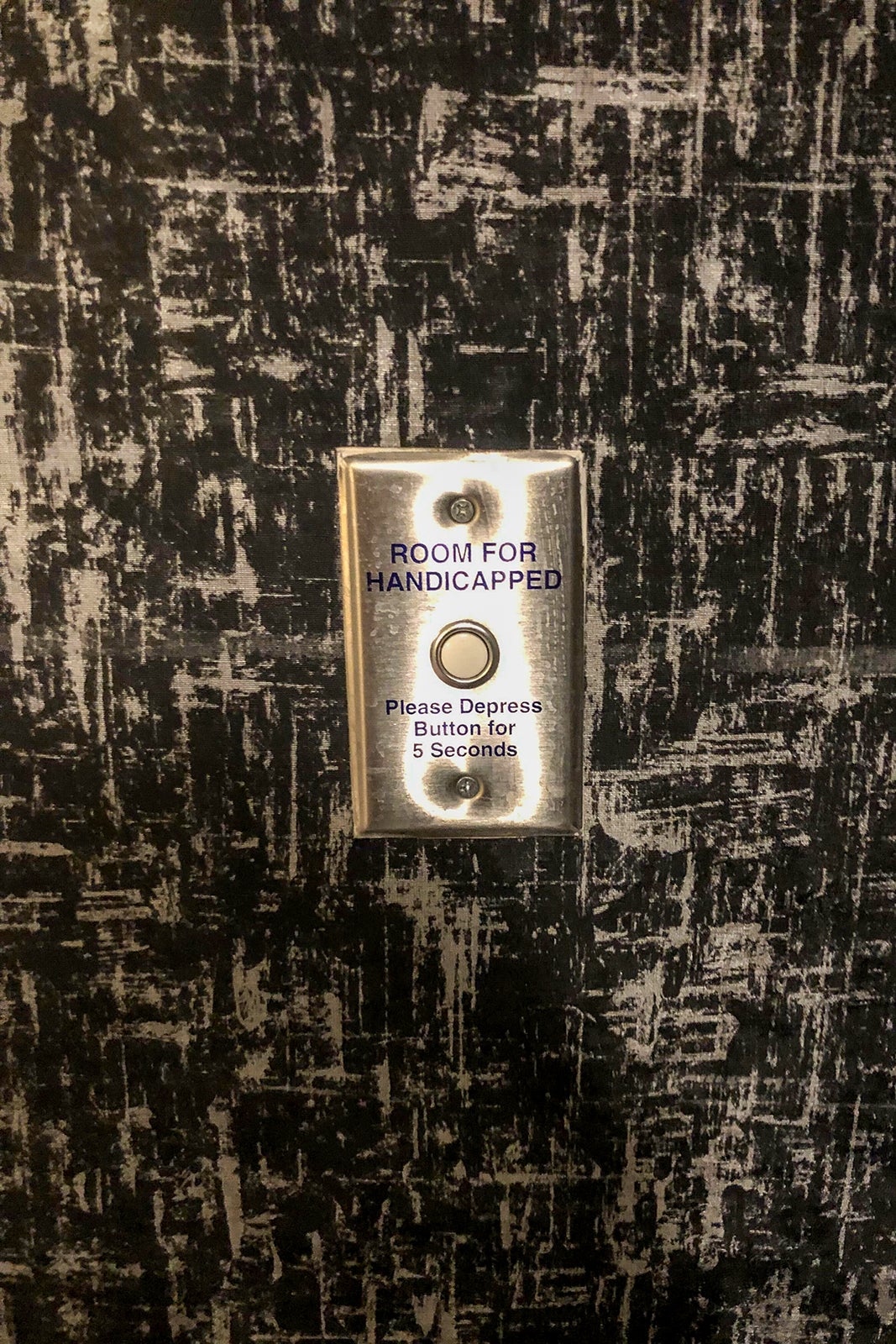 Checking out
Overall, The Clancy offers everything I look for in a hotel but lacks the extra touches that would entice me to stay again. While I enjoyed the trendy design and fantastic location, the property's distance from San Francisco's main tourist attractions, underwhelming housekeeping and lack of amenities like room service and a spa make it a less-than-ideal option for sightseers and R&R-seekers.
Featured photo courtesy of The Clancy