Many people travel to St. Maarten / St. Martin for its Caribbean white sand beaches. While they are beautiful and all that you would expect, there's so much more to explore and experience on the island as you'll see in this Saint Maarten / Saint Martin travel guide with 18 unusual things to do. It is drawn from ten days traveling all around the island with the goal of finding some of its more off-the-beaten path experiences and places. Whether you're traveling to St. Maarten / St. Martin as a standalone Caribbean island vacation or as an excursion from a cruise, you'll be sure to find something from our travel guide below with favorite outdoor activities, hikes, beaches, and day trips to make your visit memorable.
At the end of the year as winter days grew shorter and the Christmas holidays approached, we set our sights on checking in with each other before we found ourselves immersed in the uptake of a new year. Taking off to the Caribbean to spend some time together away from our laptops, reflect on the past year and take a deep breath before a busy year ahead was just what we needed.
It was with this frame of mind that we left our home base in Berlin mid-December for St. Maarten, the Dutch side of an island in the Caribbean divided in two with its French counterpart St. Martin.
While we weren't fully disconnected from the internet and the world during our time on St. Maarten, we found that removing ourselves from all that was familiar and routine — and giving ourselves a dose of sunshine and warmth — helped us to relax, gain some perspective, and enjoy time together as an ordinary married couple (i.e., not as business partners). Not to mention, a sort of decompression seems to occur naturally when staring out over water to the horizon for long periods of time.
In this way, pressing the pause button from time to time in one's life creates space to disconnect, reconnect and to clarify what matters most.
Update January 2022: We have updated this article to take into consideration any St. Maarten / St. Martin Covid travel requirements and to try to ensure that all activities and recommendations below are still available with the most updated information. This also includes updates after St. Maarten/St. Martin was badly impacted by Hurricane Irma. This post was originally published on February 2, 2016 and updated on January 16, 2022.
St. Maarten Covid Travel Requirements
The island is open to travelers, but be sure to check the official Sint Marten Covid Travel Requirements website for the latest information and updates. Most of the international entry points to the island are on the Dutch side so it's mostly likely that you will arrive on the island in St. Maarten and will need to follow these Covid entry requirements.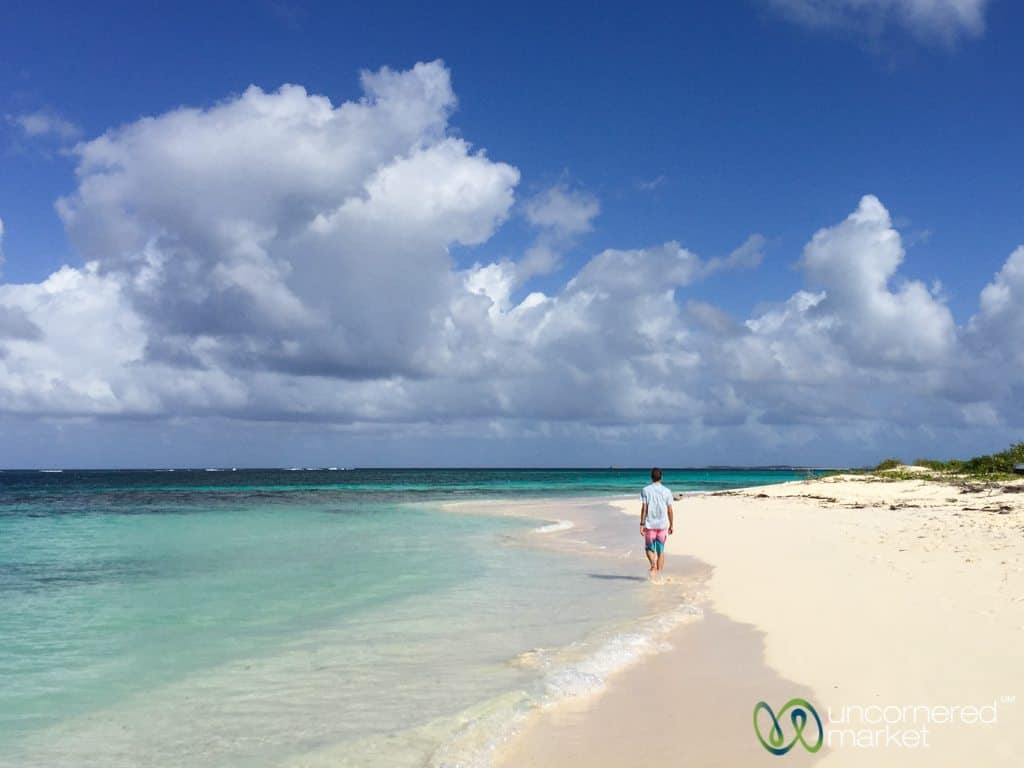 You'll notice that our recommendations for tours and things to do in St. Maarten are outdoor activities. This is our preference to begin with, but in the current situation it also makes them more "Covid-friendly" as doing things outside has a lower risk of transmission than with indoor activities or in closed spaces.
You can also find more Covid-19 travel resources and recommendations on how to travel responsibly during Covid with care towards your own health, as well as that of local people and businesses.
Covid Entry Requirements for Saint Maarten
This includes all international arrivals on the Dutch side of the island (Sint Maarten), including Juliana Airport SXM, St. Maarten cruise port, ferry ports and marinas. Current St. Maarten Covid travel requirements include (January 2022):
Complete in advance the St. Maarten Electronic Health Authorization System (EHAS) online form. This will ask you to provide proof of your negative Covid test (if required) and vaccination status. You will receive your pre-approved authorization via an email with a printable PDF. Don't wait until the last minute as it can sometimes take up to 12 hours to process and you not be able to board your flight or ferry if you don't show this authorization.
Proof of negative Covid test depending upon your vaccination status:

fully vaccinated with booster shot at least 2 weeks old and not more than 9 months: no test required
fully vaccinated without booster shot: negative PCR test (within 48 hours) or Antigen test (within 24 hours)
non-vaccinated: negative PCR test (within 48 hours)

Mandatory Covid-19 insurance. Travelers who will be there less than 12 hours (i.e., cruise visitors) are exempt from this requirement.
Self Monitoring for Symptoms (5 days): You will be expected to self-monitor and take your daily temperature for five days after you arrive to report any symptoms. You will receive daily email alerts with a link to submit the requested information.
Masks are required in all indoor public places like shops, airports, etc.
St. Martin Covid Travel Requirements
As Saint Martin is technically part of France, it has some similar Covid travel requirements. Although most international arrivals will be on the Dutch side (see above for St. Maarten), if you happen to arrive on the French side at St. Martin's small airport (Grand Case Esperance SFG Airport) or a ferry port, you will need to complete in advance the European Digital Passenger Form Locator online form and may need to prove a negative Covid test (PCR or antigen) depending upon your vaccination status and country of origin. Check out the official St. Martin Covid travel requirements website for specifics and the most updated details.
Travel to St. Maarten / St. Martin: Going Off the Beaten Path
The idea of this trip, as with most of our travels, was to go beyond the obvious — in this case, the beaches. This involved exploring both sides of the island — Dutch St. Maarten in the south and French St. Martin to the north – and following suggestions, on and off the tourist trail, to experiences that would move us.
The cliché of white sand Caribbean beaches stretching along dazzling, turquoise water is far too accurate. We were tempted to park ourselves on one of the several we sampled, and never leave. But we also knew there was more to discover and things to do in St. Maarten than appears on the surface.
Next, we would be fibbing if we told you that St. Maarten / St. Martin is not heavily touristy. It would be very easy to visit and only see the developed and trafficked areas of the island and draw your experience and conclusions from there, but dig a bit deeper and you'll find a dimension to the island that few others see. On several occasions we found ourselves surrounded by rugged natural beauty, without a soul around.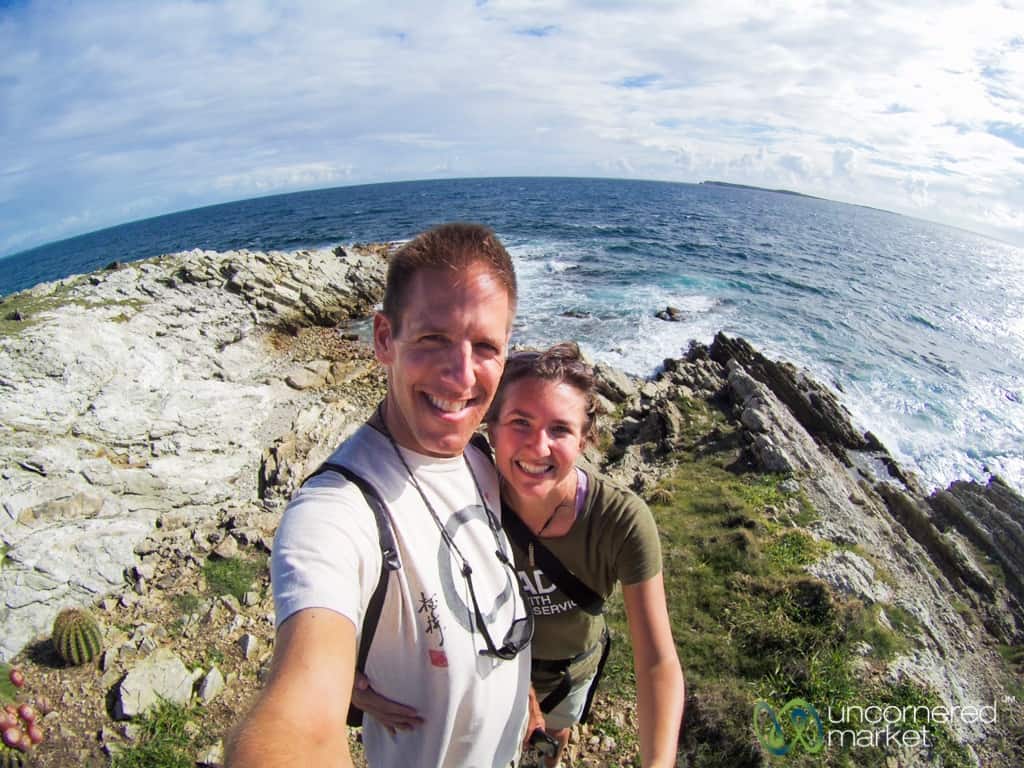 We enabled our experience of St. Maarten in full by talking with as many people as we could. Our goal: to connect with and better understand this island of 80,000 inhabitants that welcomes an astonishing 3.7 million travelers a year, and to uncover a diversity of experiences that speak to both adventure and relaxation.
That's where this travel guide comes in. Pick and choose from the experiences below to piece together a St. Maarten travel itinerary that best suits your travel goals and interests, from beaches to hiking to adventure activities.
18 Unusual Things to Do, See and Experience in St. Maarten / St. Martin
As you go through our recommended beaches, hikes, tours, and things to do in Saint Maarten / Saint Martin below you'll notice that they are mostly activities that take place outdoors, in nature and away from crowds. This reflects what we did and our personal recommendations. However, this also makes these more "Covid-friendly activities" as doing things outside has a lower risk than indoors or with large groups of people.
Some of the following experiences and activities we paid for ourselves and some were provided free to us (as indicated below). Some we learned about by talking with locals or long-time residents, and others we discovered on our own. In other words, we tried to learn as much as we could about St. Maarten/St. Martin and experience it to the fullest in the ten days we had.
A note on costs: Prices for experiences vary slightly depending upon season (high or low), number of people in the group, and other factors. Legend: $ = up to $50, $$ = $50-$100, $$$ = $100-$150, $$$$ = $150+
1. Race at sea and take the controls of a real America's Cup boat with the 12-Metre Challenge.
Yes, this experience can take you on THE winning boat from the 1987 America's Cup, the Stars & Stripes. This alone is kind of exciting. Board the boat, and each of your group is assigned a crew position. From there, you get a quick lesson, you practice a bit, the helmsman issues the commands and with a traditional 6-minute start, it's off to the races.
You witness and participate firsthand in the teamwork required to make a craft like this take flight on the water. This became even more evident – and dramatic — as we sailed right into a brief tropical storm with the wind whipping the sails and our boat carving slightly terrifying angles.
What really set this experience apart, however, was the competition. We raced against another America's Cup boat (True North, from Canada) under standard regatta regulations, giving us a wee taste of the adrenaline of an actual race.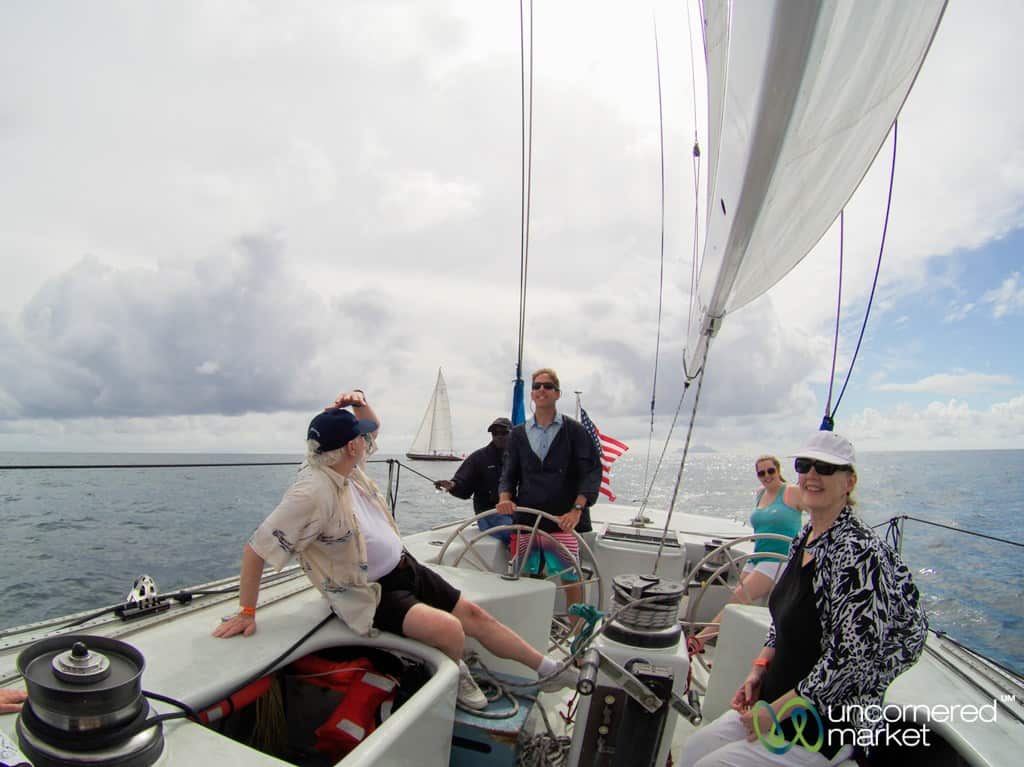 The only danger with this experience is that it may make you want to take sailing lessons and rent your own sailboat to go around the Caribbean. Not that we speak from experience or anything…
If you only have one day in St. Maarten as an excursion from your cruise, consider this activity. It has the right mix of adrenaline, being out on the open waters and fun.
How to do it: The 12 Metre Challenge is located at Dock Maarten, Philipsburg. Note: Cruise ship passengers must book through their cruise line. Cost: $$ Disclosure: This experience was provided to us as media.
2. Wake up early and go for a run (or stroll) at Cupecoy Bay and enjoy a Caribbean beach all to yourself.
If running isn't your thing, then swap it with walking or cycling. Whatever you do, get up early and head to the cliffs. You'll be rewarded not only with the soft glow of early morning light, but also with a Caribbean beach to yourself.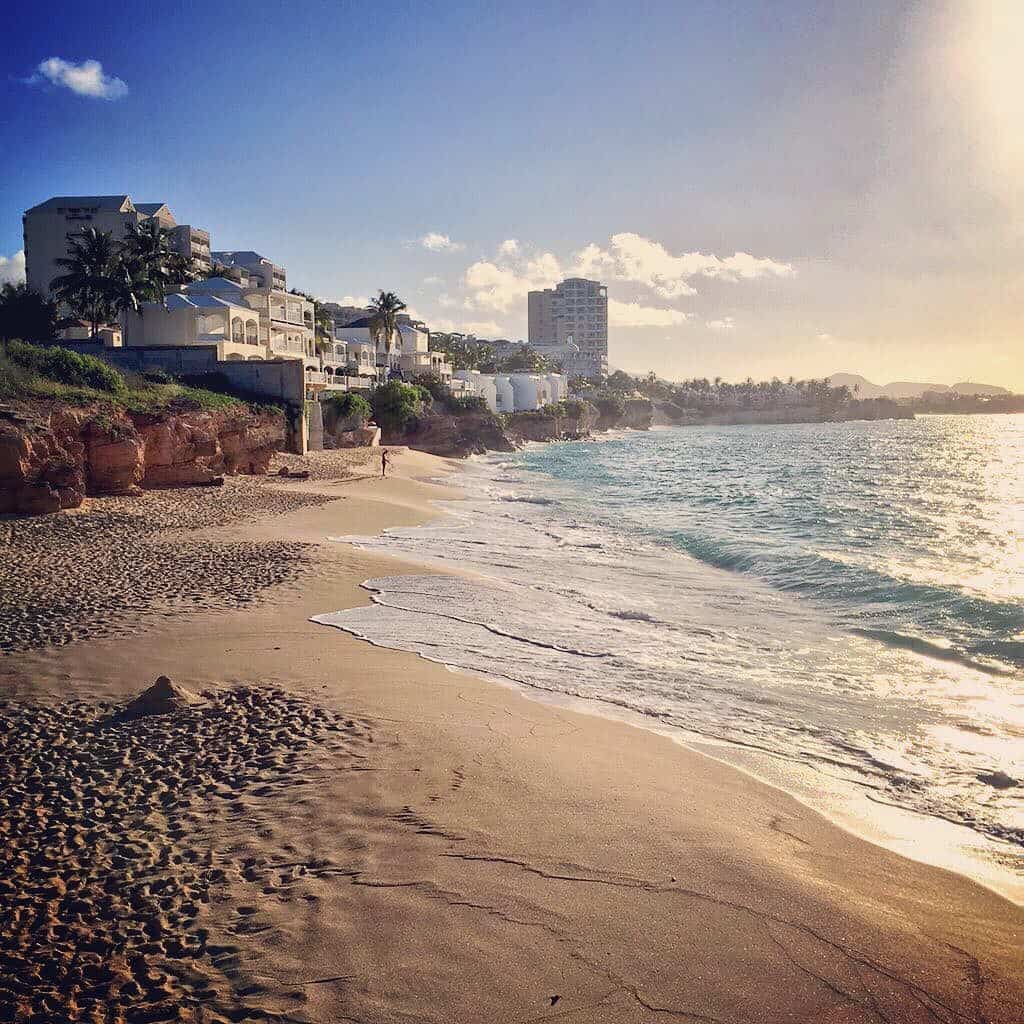 3. Get away from it all with a hike in Guana Bay.
It's easy to get caught up in St. Maarten tourist trail areas and question, "Is this all there is to the island?" However, a short drive over the hill to the southeastern corner of the island and Guana Bay served as our first glance at a different sort of St. Maarten / St. Martin.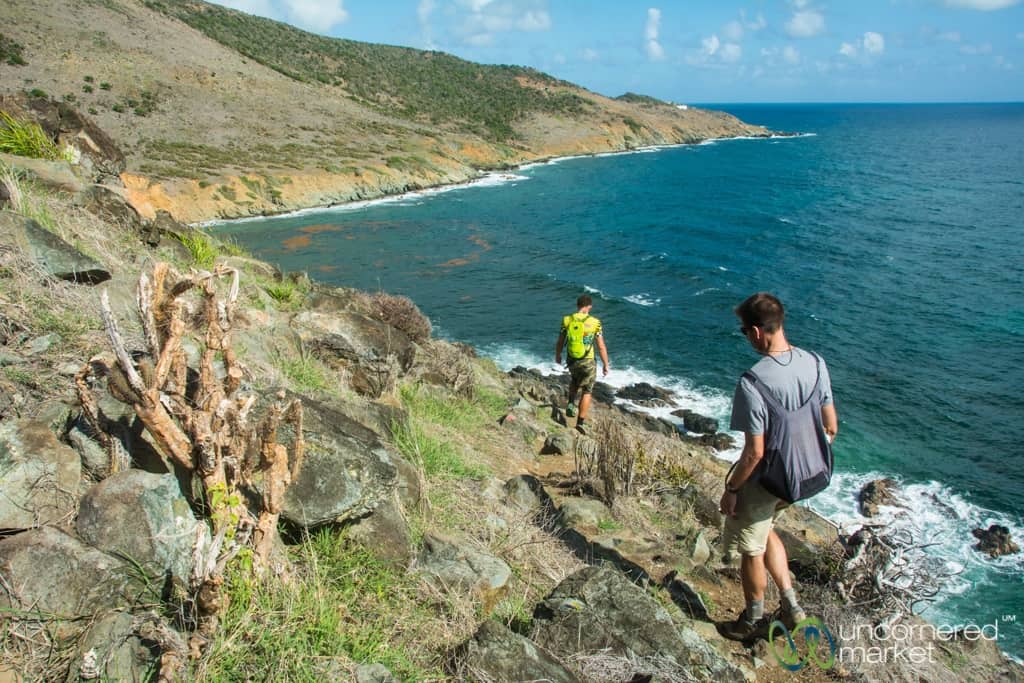 The trek from Guana Bay to Pointe Blanche is one of the areas on the island where you'll find yourself surrounded by rugged natural beauty without a soul around, save perhaps for a few goats.
How to do it: This trek is organized by Tri Sport. They offer a couple of departures each day during high season. We recommend choosing the morning departure (9AM) as you'll avoid the strong heat and sunshine. Joost, our guide, provided terrific historical and environmental context. Not to mention, he's a font of useful information and recommendations for other treks in St. Maarten. Cost: $ Disclosure: This experience was provided to us as media.
4. Marvel at the planes landing over Maho Bay beach.
Never have we been to a destination where the airport is such a tourist attraction. But sit on or near the beach at Maho Bay and you'll quickly understand why. The photo below pretty much says it all. It looks Photoshopped, but it's not.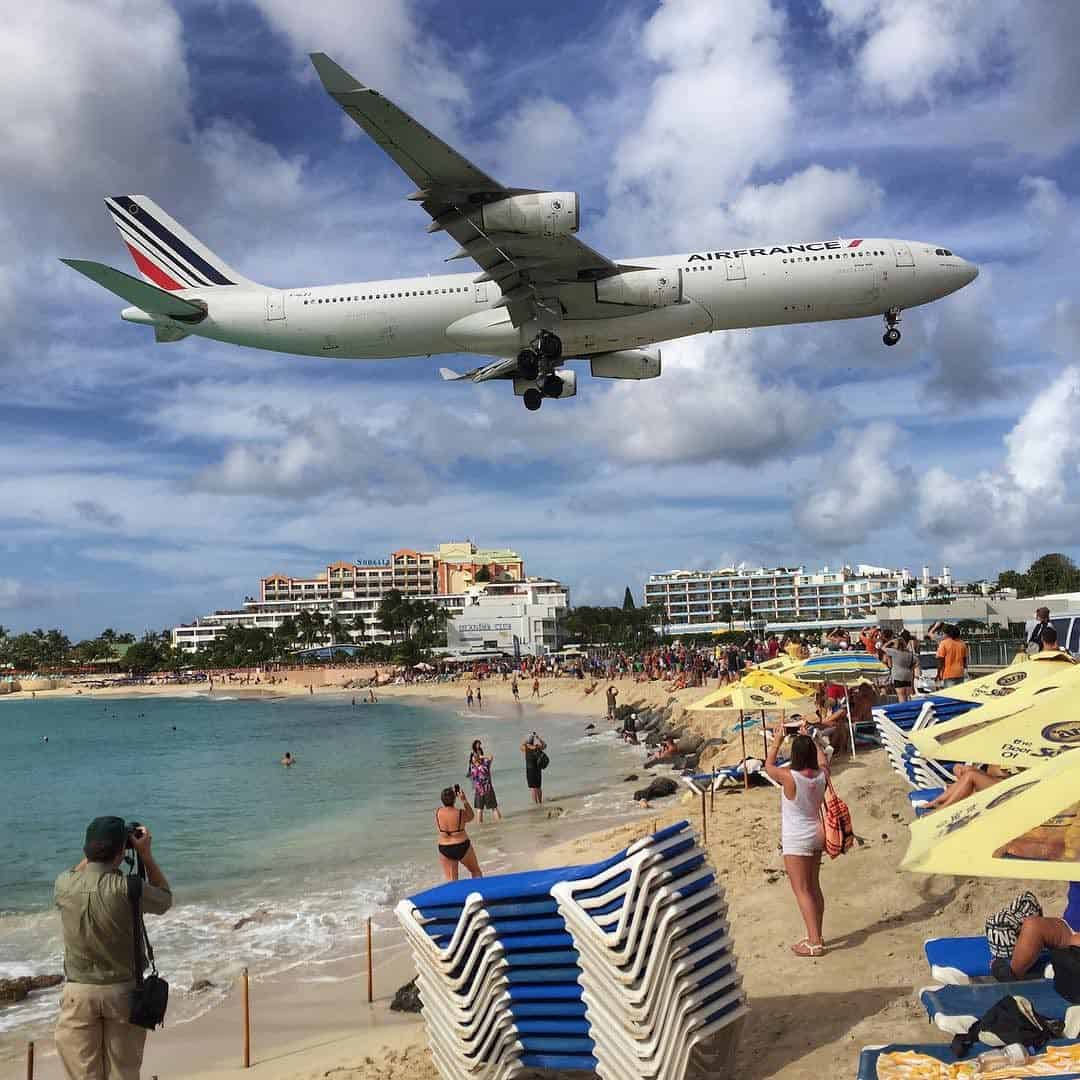 How to do it: While you can stand on the beach to watch the planes land overhead, we recommend Sunset Bar as an ideal spot to capture a photo without the jet blast. The surfboard outside the bar is updated daily with the flight schedule. Or you can check out the arrival schedule at SXM airport and try to figure out which flights will have the biggest planes.
Good looks can also be had from Driftwood Bar on the other side of the beach. Air France flies the largest jets (i.e., most dramatic landings and photos).
Book a tour to watch the planes land over Maho Bay: If you have limited time in St. Maarten, consider booking a plane viewing day trip that will transfer you from the port in Philipsburg to Maho Bay so you can enjoy some time on the beach and see the planes landing.
5. Day trip to Shoal Bay, Anguilla to relax on the #1 ranked beach in the Caribbean.
On our first day in St. Maarten we heard Shoal Bay beach described to us as "heaven on earth." That the recommendation came from a long-time resident with experience throughout the Caribbean told us we must go. But we've been to plenty of "best beaches," so we managed our expectations.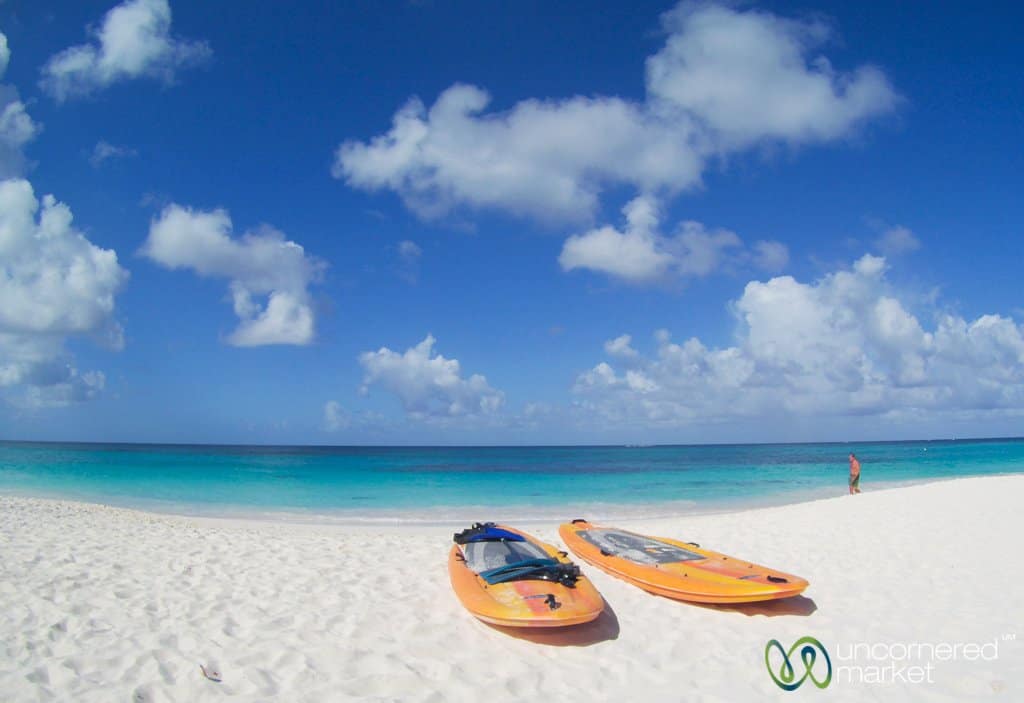 Shoal Bay Beach over-delivered. Not only was the beach a carpet of soft, pristine white sand, but the light and water played a range of blue shades of the likes we'd never before seen, except for glaciers in Antarctica. The blue glow can appear almost artificial and HDR'd, but it's not. It's simply the way Mother Nature worked out in this part of the world. Now we understand why this beach is ranked #1 in the Caribbean and #5 worldwide.
The other notable feature of this beach during our visit: it was almost empty. The restaurant where our tour went was a simple, local family-run establishment, which lent a fitting and traditional laid-back Caribbean feel.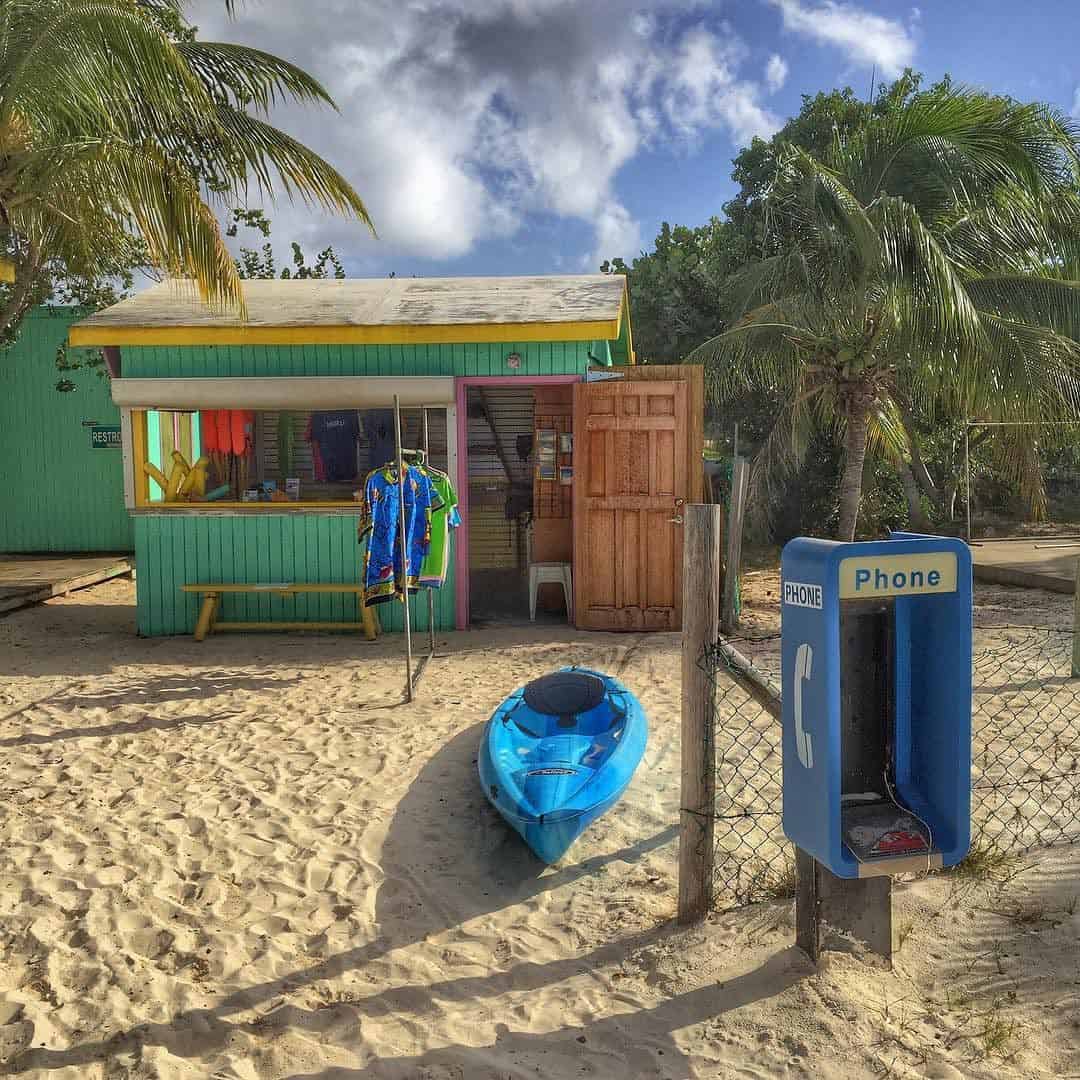 How to do it: We took a day trip package that included a speedboat from St. Maarten (dock near the airport) to Anguilla + bus transfer to/from Shoal Bay + lunch + free use of beach equipment such as snorkel gear and paddle boards. Cost: $$$ Disclosure: This experience was provided to us as media.
Other day trip options to Anguilla from St. Maarten include:
Remember that Anguilla is a different country so be sure to bring your passport and $20 for the clearance and customs fees.
6. Get above it all at Pic Paradis.
There is something about making your way to the highest point to get some perspective. Having an aerial view of St. Maarten (and St. Martin) from the lookout at Pic Paradis, the highest point on the island at 1,391ft / 424m, helps you see the contours of the land and how all of the places you've visited fit together.

How to do it: In our rental car we followed the Pic Paradis signs from the main road between Marigot and Grand Case and parked on the side of the road up the hill from Loterie Farm (it was closed the day we visited, Monday). From there it was a relatively short, but steep, walk to the top. Alternatively, if you have a 4-wheel-drive car you can drive virtually the entire way to the peak and lookout.
7. Drive a Rhino along the western coast of St. Martin.
"I designed this myself and it's impossible to tip. That's why we call it a Rhino," Oliver, the owner of Rhino Safaris explained when we first arrived. He did this so that everyone – from children to 90+ year olds – could enjoy the experience.
I had memories of tipping a jet ski on a college break many years ago, so I was of relieved to find out this hybrid Jet Ski/zodiac could not be flipped. It took a few minutes to get used to the Rhino and what it could do in terms of speed, turns, and tricks, but once we did, it was fun and addictive.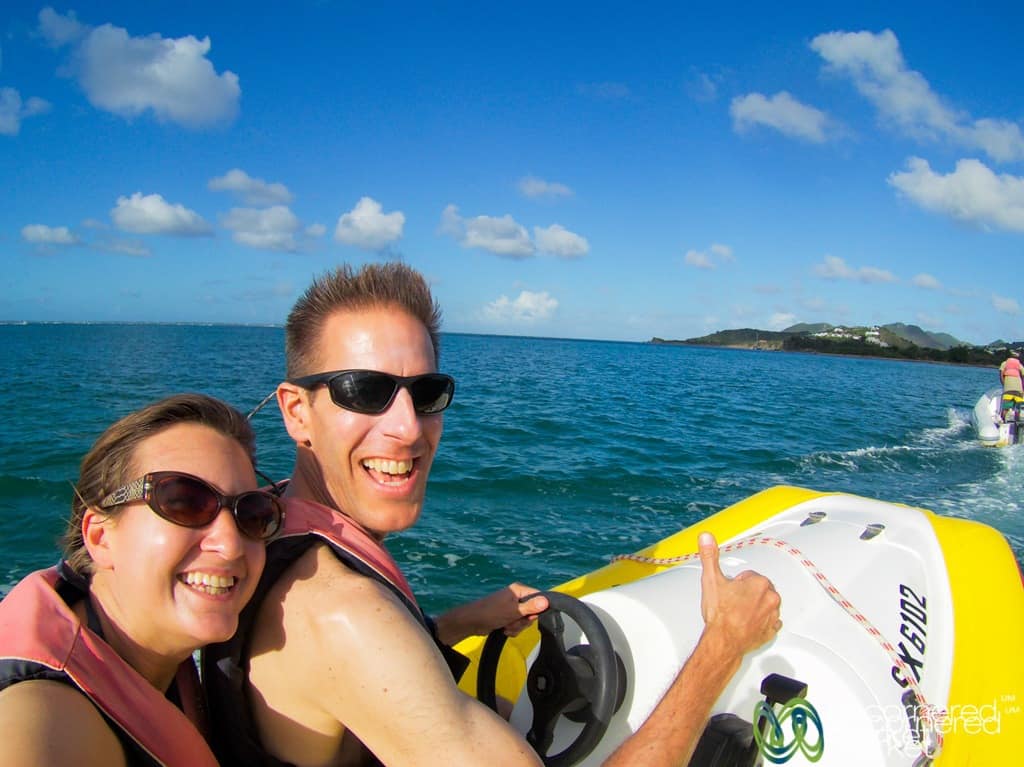 Additionally, having spent time sitting in traffic driving the western part of the island, it was a pleasant change to enjoy the same areas from the freedom of the water.
How to do it: Our "Rhino Safari" departs from Simpson Bay just behind Pineapple Pete's restaurant. The tour includes not only driving your own Rhino up the western coast, but also snorkeling at Creole Rock at the northern end of the island. Cost: $$ Disclosure: This experience was provided to us as media.
8. Cross the border and practice your French.
One of the things that attracted us to St. Maarten/St. Martin was that the island has been divided between the French and the Dutch for over 350 years. Today, the Dutch side is an independent country, while the French side remains a territory of France. We wondered what that would look and feel like.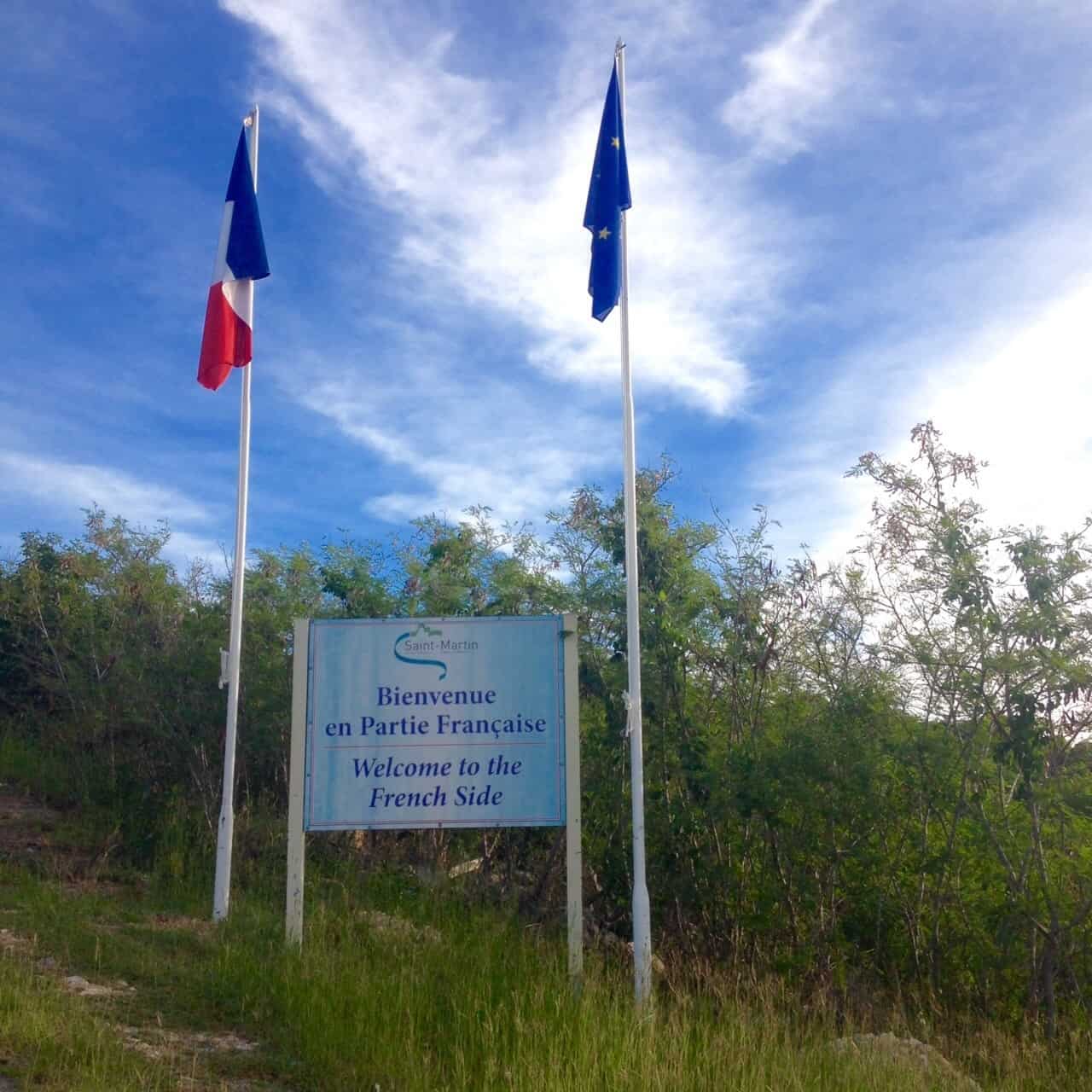 While there are no border controls between the sides and countries, you'll still see signs posted across the island welcoming you each time you cross. Cross from the Dutch side north and you'll have a chance to practice your French. You'll also see a different style of architecture and town planning. Not to mention, the bread and pastries are unsurprisingly better on the French side of the border.
9. Chill out at Mullet Bay beach.
There is no shortage of postcard-like beaches to choose from on the island. One of our favorites for relaxing, swimming and sunning was Mullet Bay. Since there's a golf course on one side of the beach, it is somewhat protected from development and the shadow of any large buildings.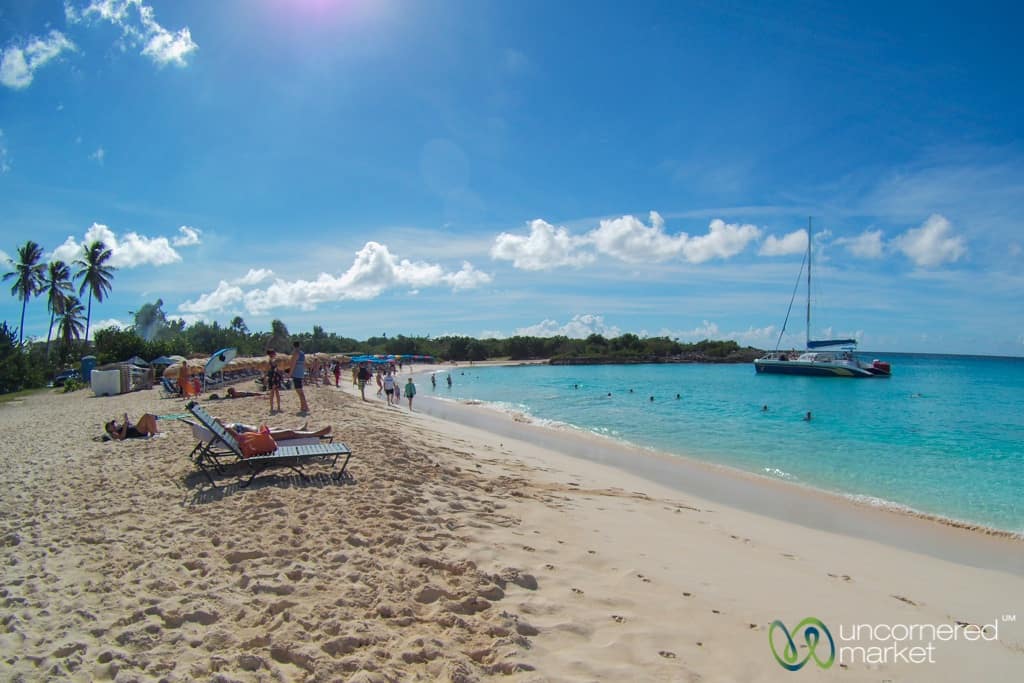 Of course, we aren't the only ones to have discovered this beach. But, we noticed that if we went before noon or after 3PM it emptied as day passengers returned to the cruise ships. Ideal for a morning read or late afternoon nap.
A note on St. Maarten / St. Martin beaches: All beaches on the island are public, meaning that you have access to try any one you'd like. Some beaches have sun chairs and umbrellas for hire, usually organized by restaurants or bars, but you have the right to plunk your beach towel at random and enjoy the beach for free.
10. Bicycle to Fort Amsterdam.
With so much of St. Maarten covered in new buildings and developments (something like 90% of the island was destroyed by Hurricane Luis in 1995), we were curious to learn more about its history and the strategic role the island played in the colonial wrangling between the Spanish, Dutch and French empires over the centuries. This is where the historical bicycle tour of Philipsburg with Barend, our guide, helped fill in the gaps.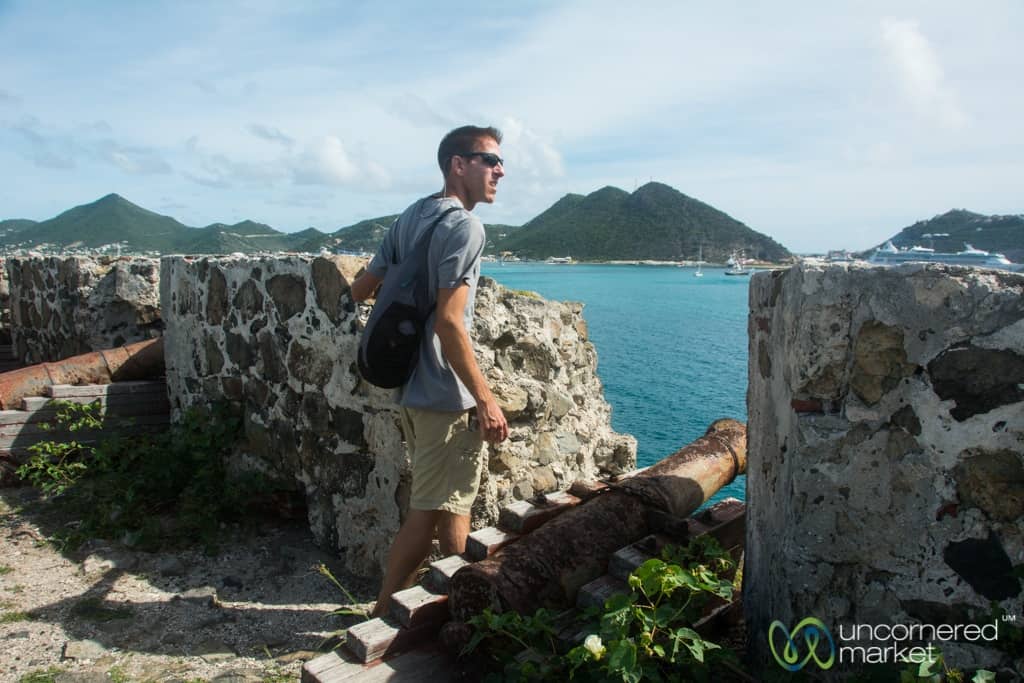 One of the focal points of the bicycle tour is 17th century Fort Amsterdam, originally built by the Dutch, then lost to the Spanish and successfully defended to ward off a return Dutch invasion. The Dutch leader from that lost the fight (and his right leg), Peter Stuyvesant, went on to become mayor of New Amsterdam. Eventually he traded New Amsterdam (now, New York) to the British for the wee island of Curacao, in perhaps the very first of the worst of Wall Street deals. This story reinforces how the islands are historically more connected to our present day circumstances than we realize.
Additionally, the bicycle tour takes you through Back Street, Philipsburg. While the souvenir shops and tourist restaurants in Philipsburg harbor and Front Street may feel overwhelming, this residential area just a few blocks away will give you a sense of what the island might have looked like before the rebuilding and tourism boom. Many traditional homes have remained in the hands of the same family for multiple generations.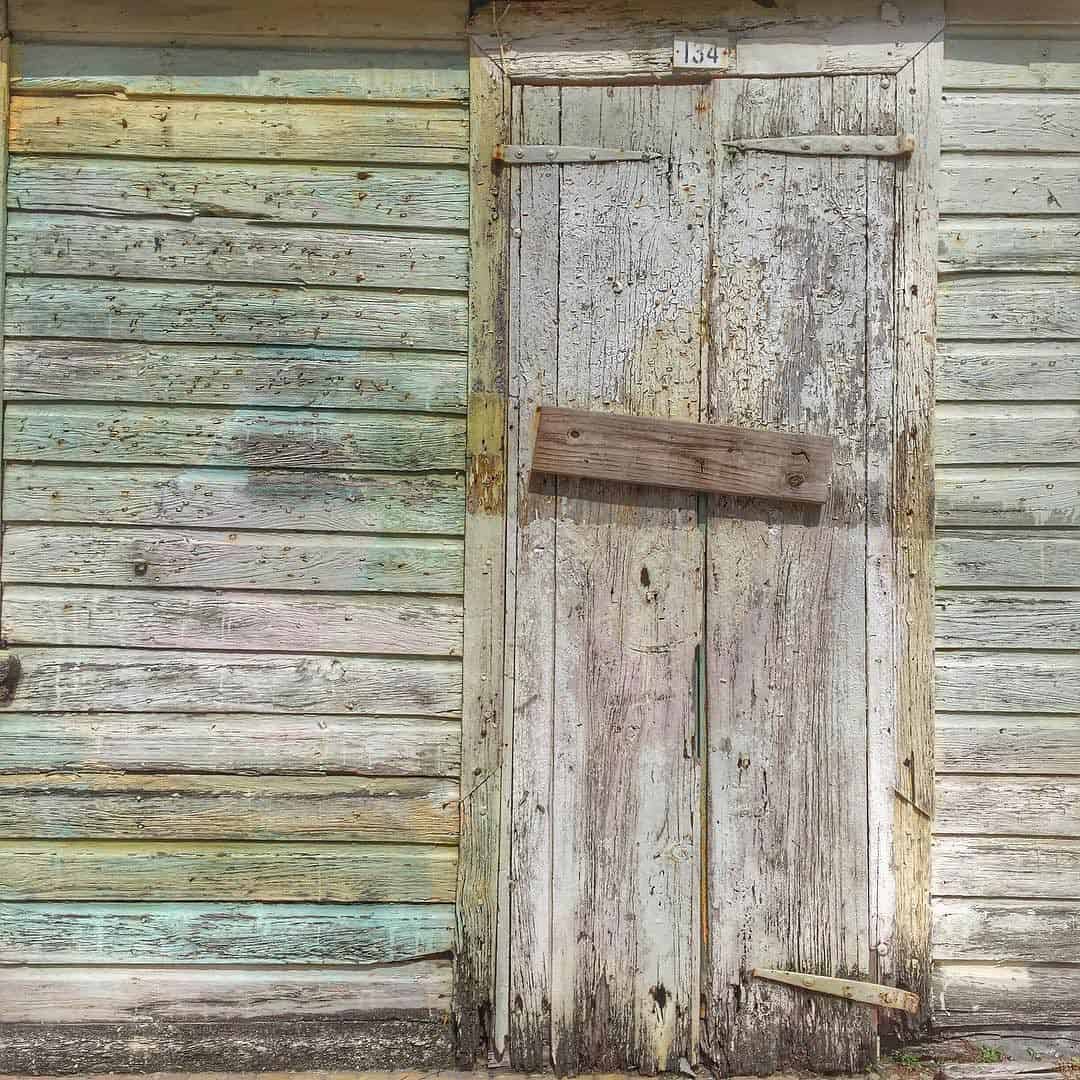 How to do it: The historical bicycle tour with TriSport leaves from the cruise ship harbor in Philipsburg. There's a choice of several departures, but we recommend taking the early one (8:30 AM) to beat the heat and the crowds. If you would like a more challenging ride, check out the other bicycle tours offered. Cost: $-$$ Disclosure: This experience was provided to us as media.
11. Scuba dive at Saba island and swim with sea turtles in coral gardens.
"I'm sorry. It looks like visibility isn't as great as it usually is," Bob, our dive master, apologized to us before we descended to the dive site known as Tent Reef.
A few minutes later we swam over coral gardens bursting with colorful coral and fish. We encountered sea turtles noshing on jelly fish, and saw puffer, parrot and lion fish dart in and around the reef. I thought: "Hmm, if this is considered 'bad' visibility, I can't imagine what 'good' must look like."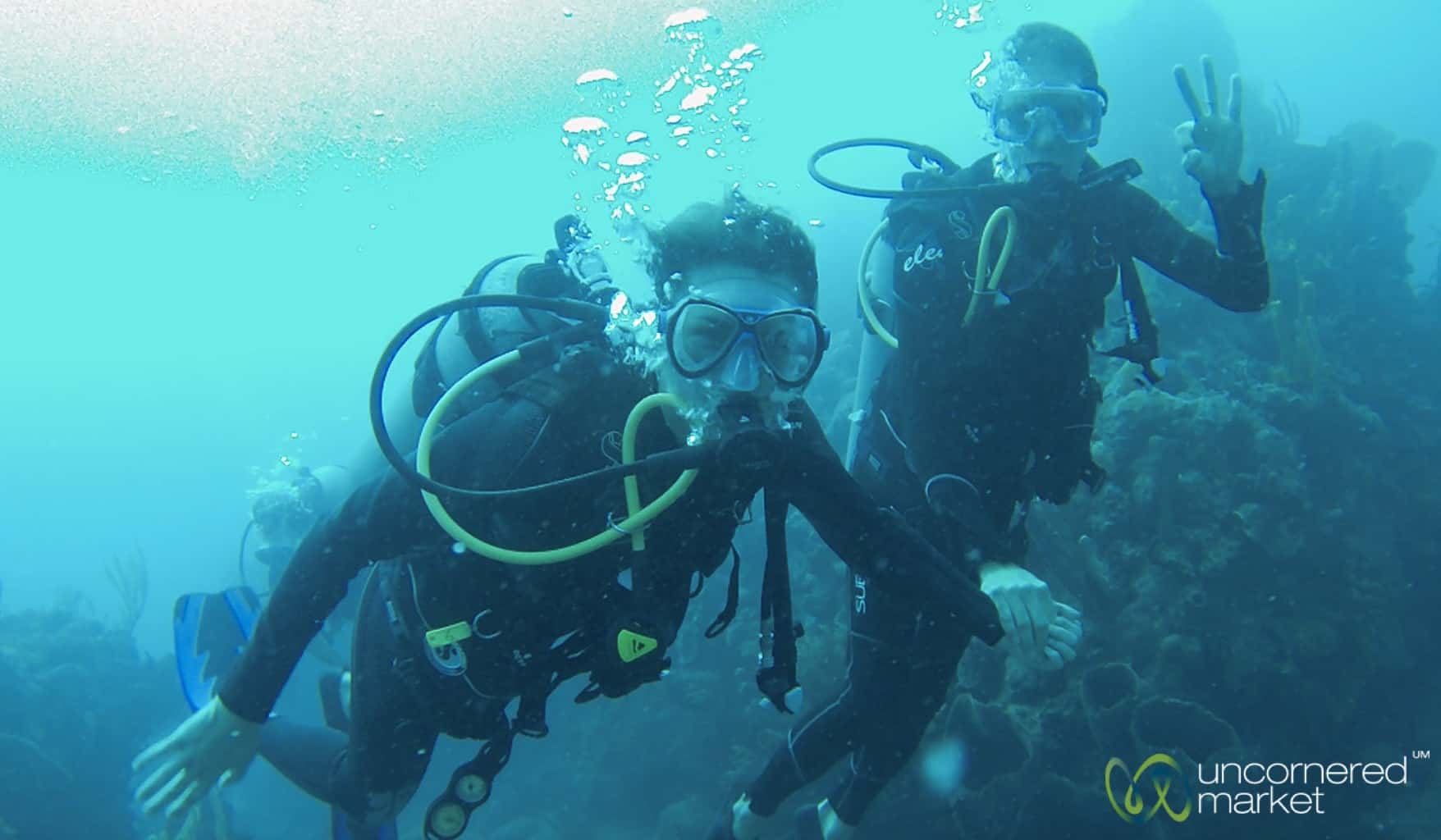 Diving in Saba was a top priority for us as we'd heard that the dive sites there are considered some of the best in the Caribbean. It took a little logistical juggling, but we did find a way to combine two dives there within a day trip from St. Maarten. The only downside of this plan is that you don't have time to explore the island itself. There are supposed to be some gorgeous coastal treks, so consider extending your Saba trip to several days.
How to go scuba diving in Saba: There are ferries that offer day trips from St. Maarten to Saba that run most days in high season. Edge offers a day trip package to Saba with round-trip ferry service, hiking and the option for scuba diving. Makana Ferry goes to Saba in the late afternoon/early evening in case you want to spend a couple of nights there. The ride takes 1.5 hours and can get rough. If you get seasick easily, consider taking some motion sickness medicine or carry Sea Bands.
We arranged our dive in advance with Saba Divers. They meet you at the ferry, check your Padi certification, gear you up, manage two dives, and get you back to the ferry for the late afternoon return to St. Maarten. Fun and experienced dive masters. Cost: $$$$
Saba Covid Travel Requirements (January 2022): All visitors to Saba, including day trippers, need to present proof of a negative PCR test (72-hours) and completion of an online entry (EHAS) form.
How to go scuba diving in St. Maarten: If you want to go diving, but don't have the time to go all the way to Saba for the day consider doing a half-day double tank drive in St. Maarten instead. The dive staff will choose the dive site based on weather and visibility that morning so that you're diving in optimum conditions. If you haven't been diving within the last year, it's recommended to start with a shallow dive as a refresher.
12. Taste rum at a local distillery.
"I used to experiment with flavored rums in my kitchen to make gifts for friends or for guests at my husband's restaurant. After I decided to do this professionally, I taught myself enough Mandarin to navigate the factories in China to get the bottle design exactly as I wanted it. I've always been hands-on," Melanie, co-founder of Topper's Rhum, laughed as she explained the genesis of her rum business.
Teaching yourself "enough" Mandarin is no easy feat, but this focus on detail fit with what we saw and tasted during our visit to the distillery.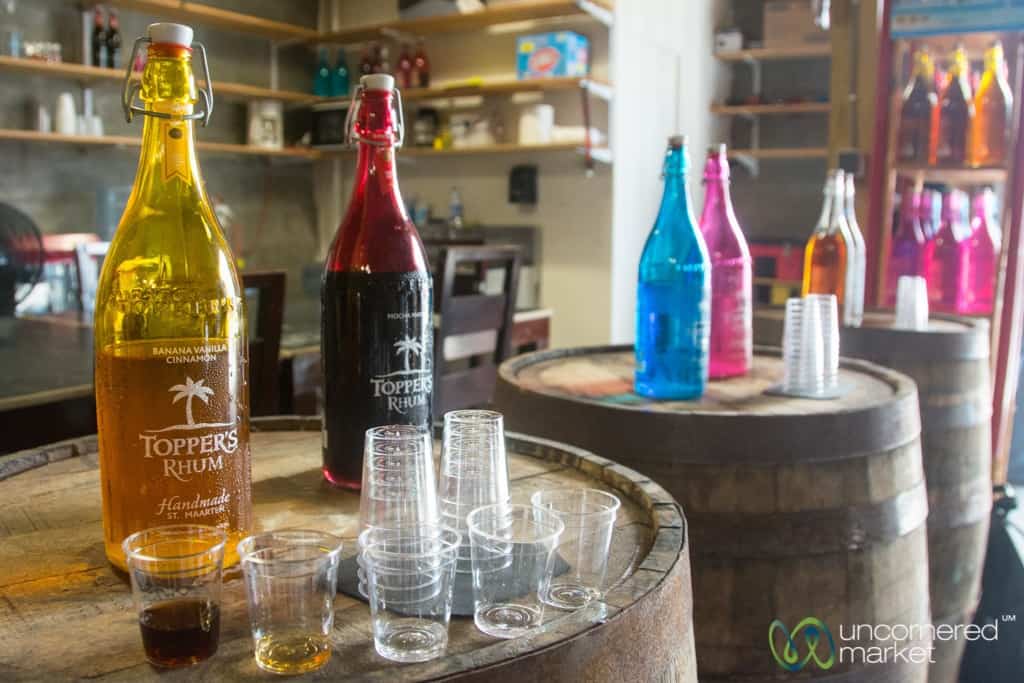 Melanie has been successful with her current lineup of white, spiced, coconut and flavored rums like white chocolate raspberry. Her experiences continue with new flavors in her office-cum-laboratory. The coconut rum was our favorite for drinking straight, but we later sampled the Mocha Mama (think Kahlua without the cream) over vanilla ice cream. Nice!
How to do it: Topper's Rhum now offers distillery tours for the public. Otherwise, you can sample (and buy) any of the rums at one of the two Topper's restaurants.
13. Practice Your Tanning Skills at Orient Bay.
On our first night in St. Maarten we asked our waitress, Samantha, which beach on the island was her favorite. Her quick response: "Orient Bay. I didn't realize how lucky we are to have this beach until I left the island and visited other places. I love it."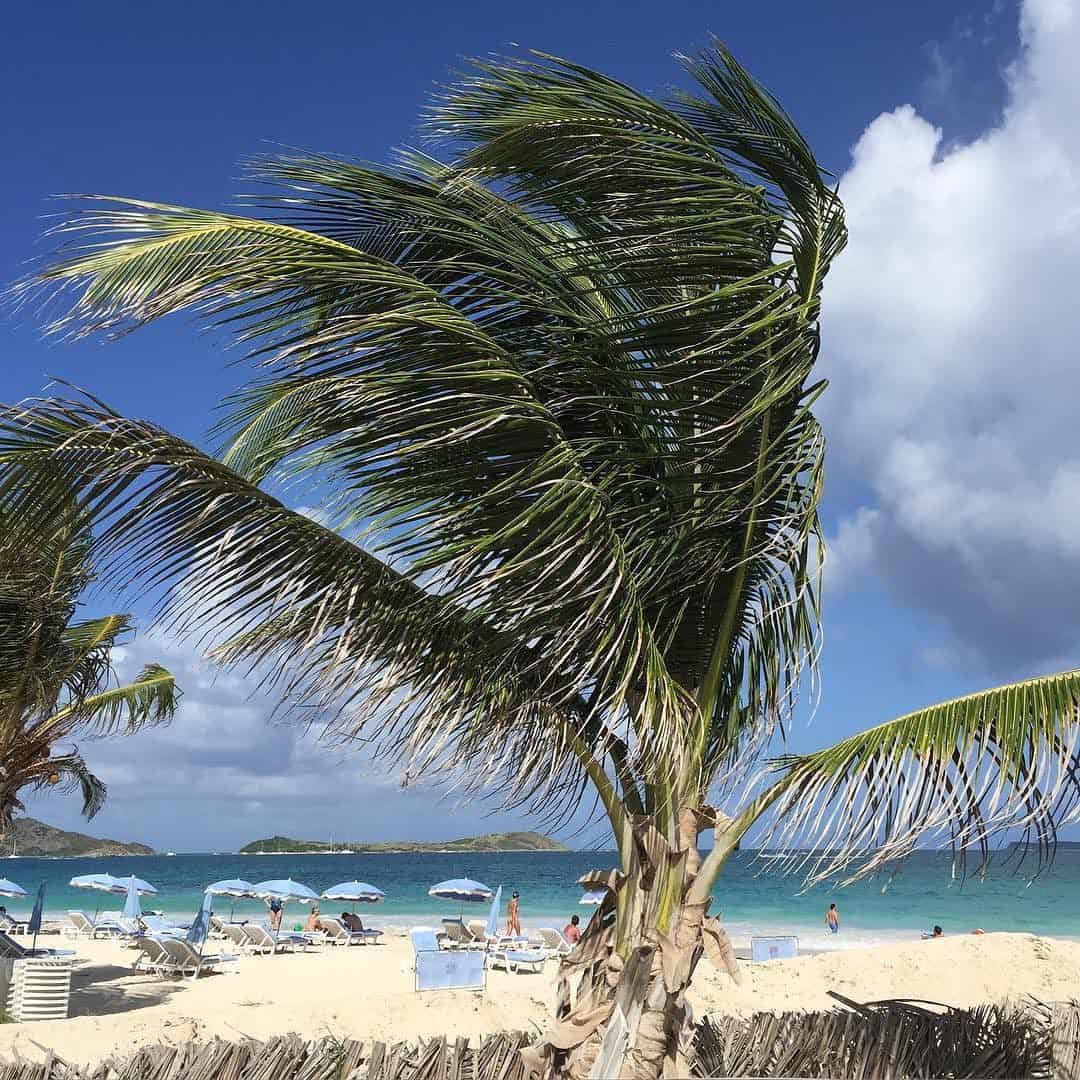 Located on the French side of the island east, the beach at Orient Bay is long, wide and lined with restaurants and cafes that offer beach chairs and umbrellas. It's more of a place to "be seen" than Mullet Bay, but it's not too over-the-top. It also features beach segments that are clothing optional, so if nude bathing is your thing, this is the place to be…or to be seen.
14. Enjoy scenes of local life in Grand Case.
Grand Case is on the French side of the island and has more of a local feel to it than some of the other areas of the island that have been built up for tourism. It's a good place to park your car and wander the streets and pier for these glimpses of local life…like school kids jumping off the pier or playing in the surf along the beach.
There is something so light and innocent about the scene. Listen to the giggles and feel the energy. An inimitable local sight and memory.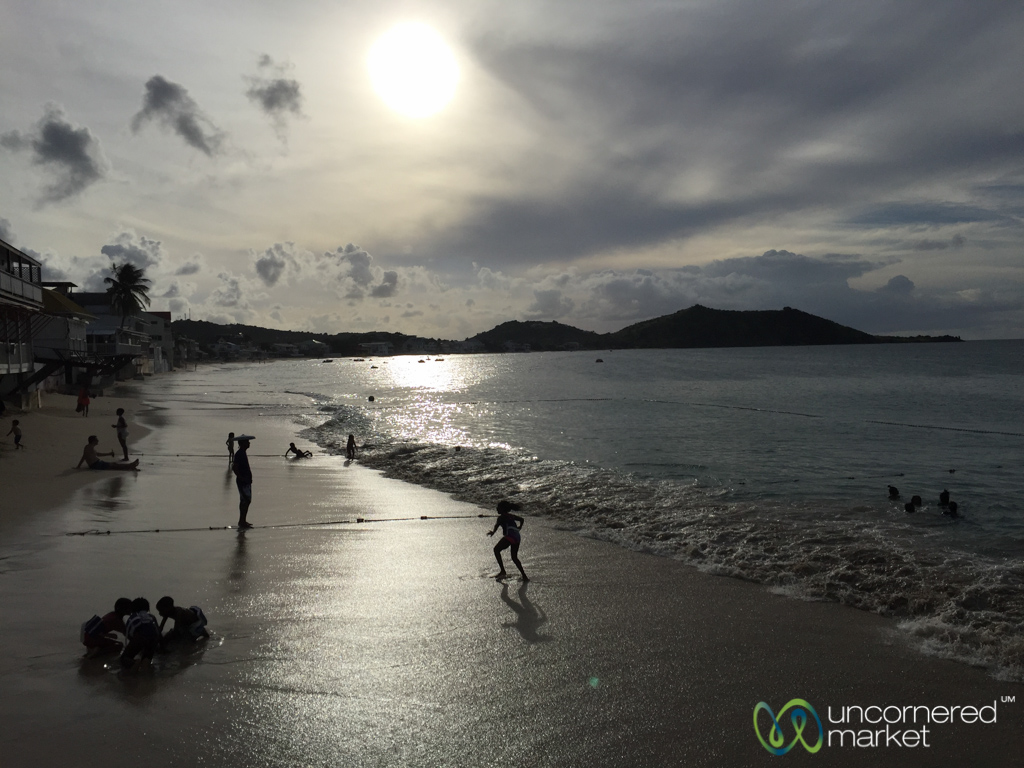 How to do it: Park your car in the public parking lot on the north end of the main street in Grand Case. Walk out by the pier behind the cluster of outdoor grill restaurants. Plenty of food options here, too, from the informal grills at the beach side to more formal French restaurant options along what is known as "Restaurant Row."
15. Kayak through the mega yacht harbor to the mangroves.
St. Maarten is one of THE places in the Caribbean for yachts and boats of the "mega" variety to be docked. So it's a fun juxtaposition – not to mention great perspective — to paddle through the nautical playground of the rich and famous before coming back down to earth with the jellyfish and sea cucumbers in the mangroves.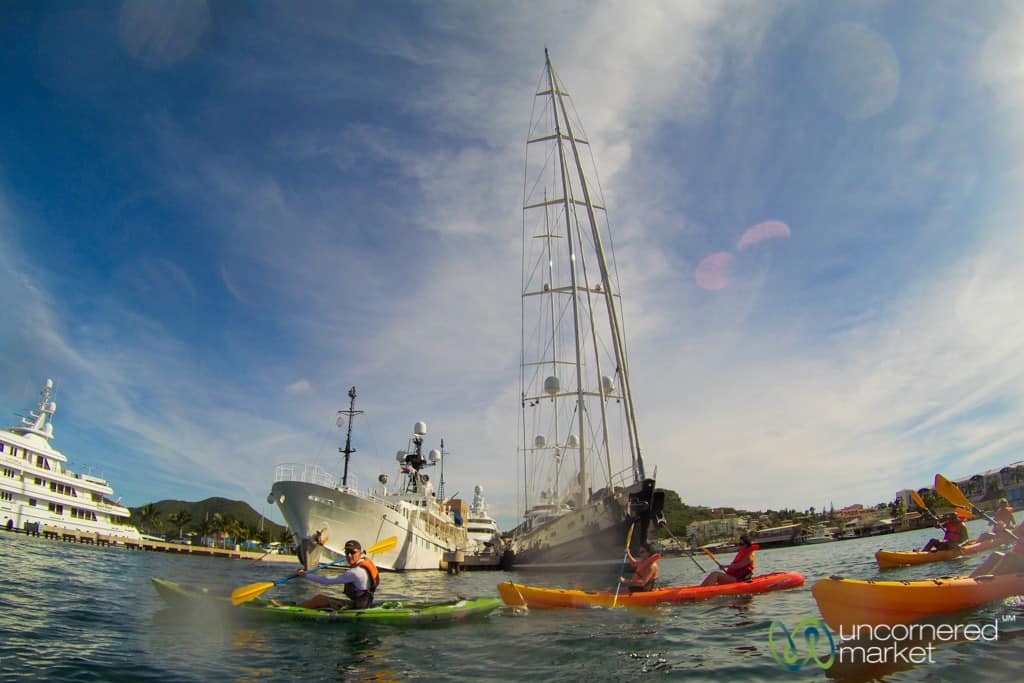 How to do it: Tri-Sport usually offers a lagoon kayak tour a couple of times a day. We recommend choosing either the early morning or late afternoon option to avoid the heat of the midday sun. Chris, one of the guides, is a St. Maarten local so he can advise you on anything you might want to know about the island, including local food. Cost: $-$$ Disclosure: This experience was provided to us as media.
16. Enjoy the sunset and a rum punch on a catamaran.
There's something naturally calming about staring out over the sea at a sunset as the glow of the sun melts into the water. Now, do that same thing with from the webbed deck of a catamaran with a rum punch in your hand and you'll find yourself exhaling – literally and figuratively — even deeper.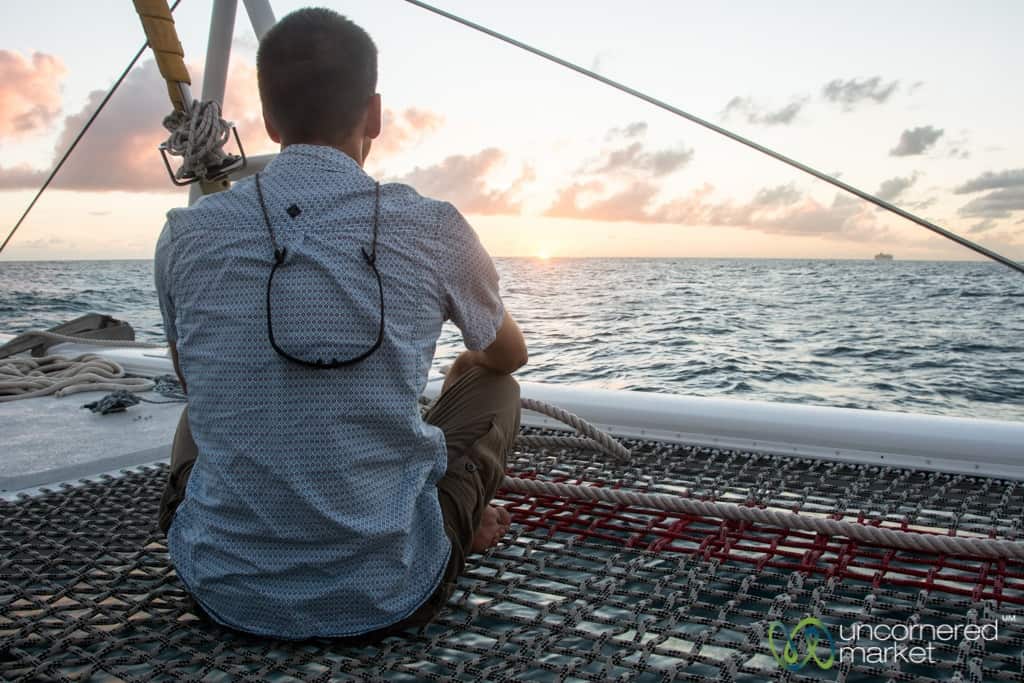 How to do it: Aquamania offers sunset and dinner catamaran trips on Wednesday and Friday evenings, departing from Simpson Bay Resort marina at 5:30 PM and returning at 8:30 PM. Alternatively, you can choose this shorter sunset cruise (1.5 hours) with daily departures that includes drinks and snacks, but not a full dinner. Cost: $$ Disclosure: This experience was provided to us as media.
Grab a Johnny Cake at Hilma's and ask her about Anthony Bourdain and her 40+ years on the island.
Update: Hilma's Windsor Castle was destroyed by Hurricane Irma in 2017. We are keeping the entry below in honor of Hilma, her spirit…and her johnny cakes.
Although a separate section below is devoted to recommended dining and island eats, we include Hilma's (technically, Hilma's Windsor Castle) because eating at one of the four stools is an experience well beyond the food. Hilma has been operating from a converted trailer on the same spot in Simpson Bay for 22 years, and she's lived on the island for more than 40. She purposely keeps operations deliberately small and personal for manageability. She has so many stories to tell, so plan some time for a conversation or two.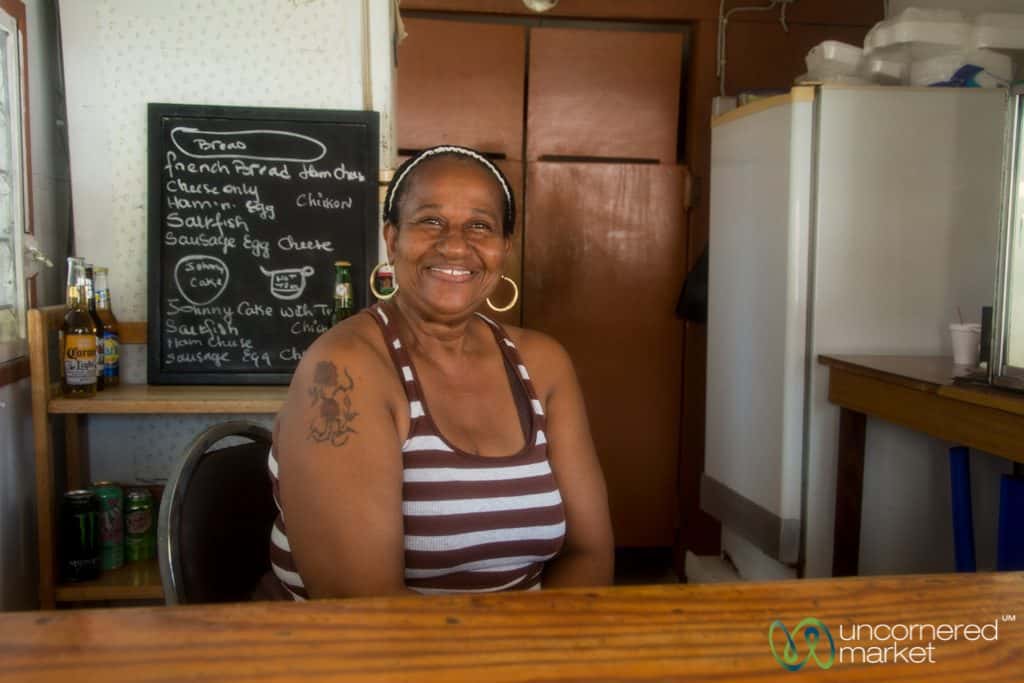 "I was all by myself when I first started here. None of this was here," Hilma told us as she looked out over the road now filled to the brim on both sides with restaurants and shops. When we asked her about Anthony Bourdain, she confirmed, "Yes, he used to come here often. He vacationed here before he became really famous. He's eaten everything here. The advice he gave me was to not change, that I should stay true to my roots."
Sage advice.
How to do it: You can find Hilma's Windsor Castle on the lot between the RBC Bank and Jerusalem / The Palms restaurants on Airport Road in Simpson Bay. Hilma is open Monday to Saturday from 7:30AM – 2:00PM.
17. Hike the northern coastline at Sentier des Froussards.
This hike and the northern coastline of St. Martin falls under the "hidden" and "I had no idea something like this existed on the island" categories. We woke up early to do the trek Sentier de Froussards hike (from Anse Marcel to Eastern Point and back) during our last morning on the island. A rather ideal way to end our travels in St. Maartin / St. Martin.
The hike consists of a surprisingly beautiful and secluded 3-mile footpath out along the northern coast of the island and features a couple of bathing-worthy beaches, rugged coastline and fabulous windswept landscape.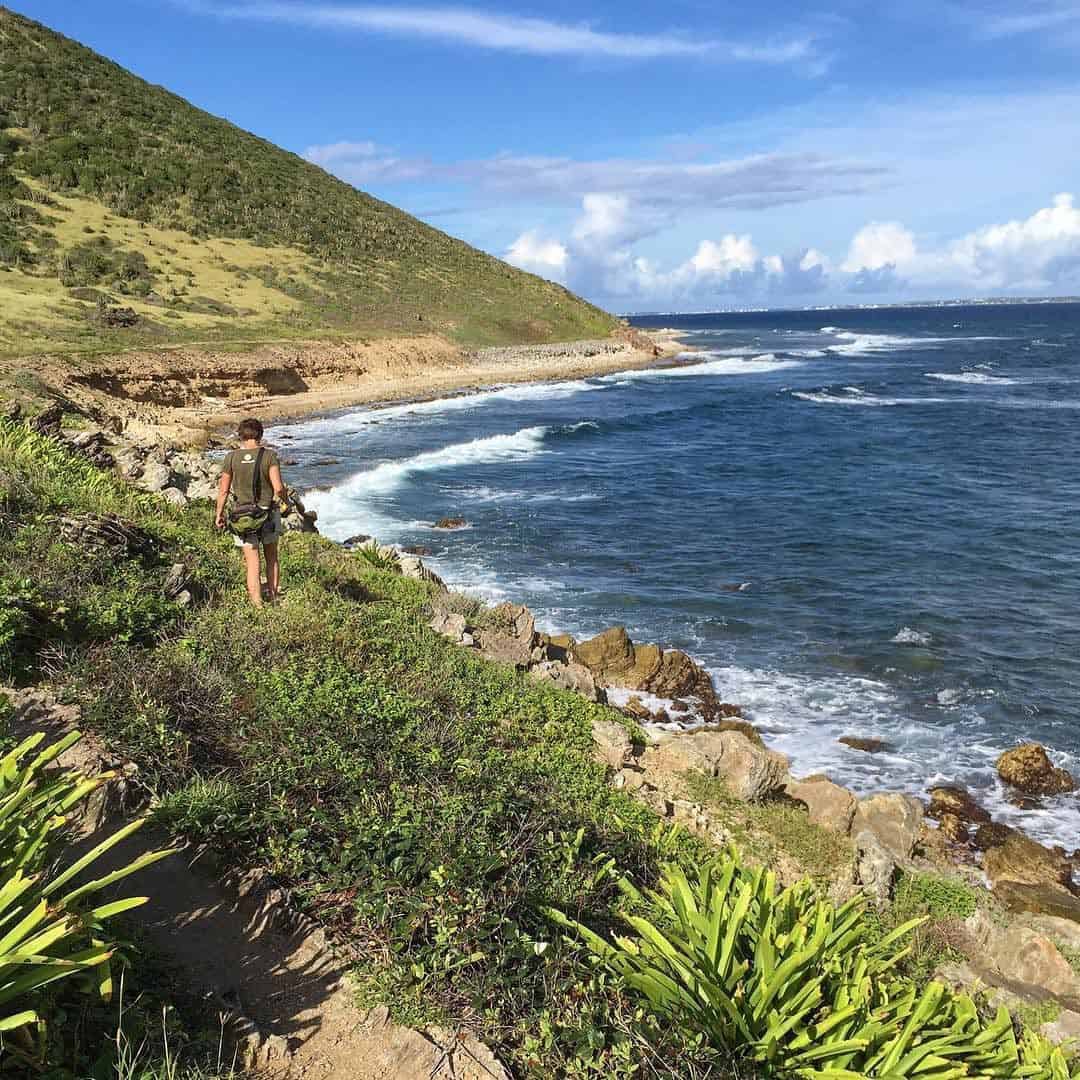 How to do it: Big thanks to Joost from TriSport for recommending this trek to us. Drive towards Anse Marcel and after coming over the big hill (and before entering the marina and resort area) turn to the right where you see a small trekking sign and parking lot.
You'll walk a ways on a dirt road before reaching the trailhead on the right. Go very early (arrive around 7:30AM) to avoid the traffic and heat. En route to Anse Marcel from the south, fetch yourself a pain au chocolat or croissant from the boulangerie on the right side of the N7 main road in Grand Case.
18. Throw open the curtains at sunrise…and realize how fortunate you are.
This began my morning routine. I noticed it most on that final day, perhaps because it marked the final time I would feel it this trip.
It was the combination of the sound of the curtains moving on their track along with the reveal of the morning, the water, the horizon, the sun, a new day. The sensory combination of sight and sound of our morning routine foreshadowed the day to come and offered a moment to reflect on what we have, here and now.
This is a lesson for life. One reaffirmed on the island.
Day Trips and Excursions in St. Maartin / St. Martin
Our partners, Get Your Guide and Viator , offers many St. Maarten tours, day trips and tickets for attractions. They guarantee lowest prices with no booking fees or hidden charges, as well as information on Covid hygeine and safety precautions. In addition to confirming your place and avoiding lines by pre-booking, you can cancel up to 24 hours before in case your plans change.
Although we've made quite a few recommendations above for activities, excursions and tay trips, we also wanted to share some other interesting St. Maarten tours and day trips.
Where to Eat in St. Maarten
As we stayed in St. Maarten, the Dutch side of the island, we took all of our meals there. Much of the food in this part of the island is international, a reflection of both the people who now call this island home and the demographic of the tourists that visit it.
If you are interested in traditional French cuisine, however, then head up to "Restaurant Row" in Grand Case on the northwestern side of the island in St. Martin. We didn't have the opportunity to eat there during this trip as were often there too early for dinner, but the menus posted outside were very similar to what you might see in France.
Long-time European residents confirmed the quality of the restaurants in Grand Case is also top notch and recommended: Auberge Gourmande, Bistro Caribe, Sol e Luna, Ocean 82 and Tastevin. Our quick look at the Auberge Gourmande menu told us this is the place we'd likely visit, but we might be swayed by what is fresh and the plat du jour elsewhere.
Top Carrot, Simpson Bay
Vegetarians and vegans delight. If salads, vegetables, juices and healthy eating are your thing then this is your place. The focus at Top Carrot: fresh ingredients, either grown on the island (when possible) or just off the boat from nearby Dominica. Specials change daily.
After each meal, not only were we truly satisfied, but we also left feeling as though we'd done our bodies a favor. The French co-owner, Lydia, is usually there and has some great stories from living on the island for 20+ years. She's exceedingly kind, too.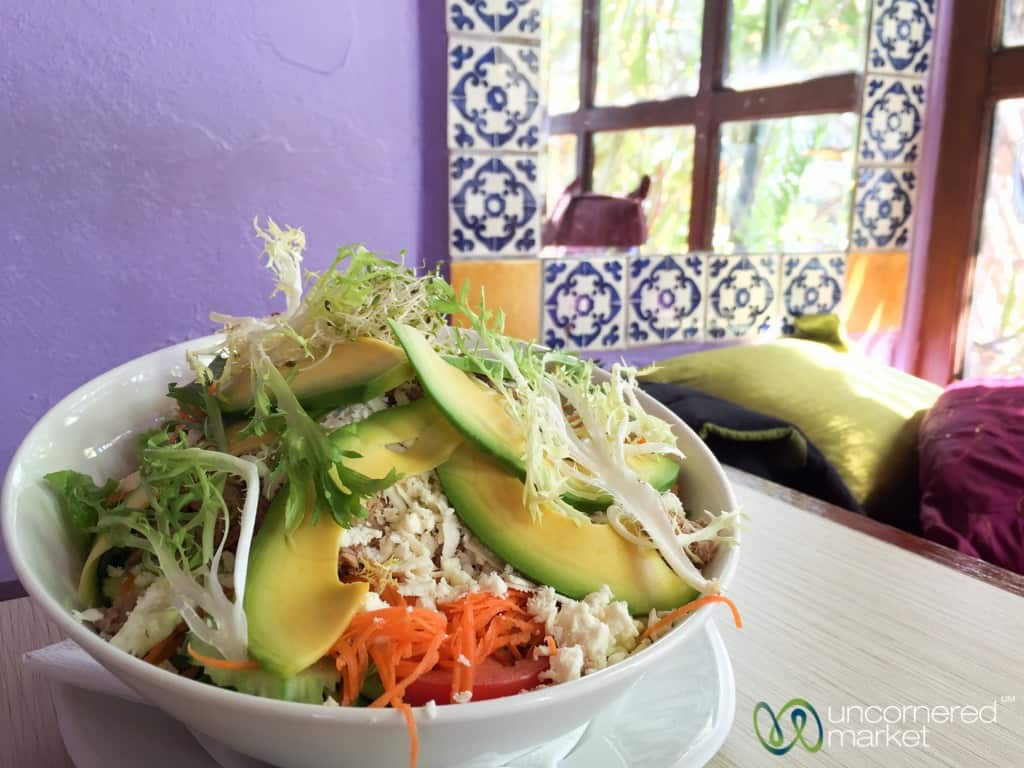 Recommended dishes: Baked goat cheese (St Marcellin) salad, veggie wrap and mahi mahi with passion fruit sauce and caramelized onions (daily special, was terrific). Where to find Top Carrot Restaurant: 3200 W South Airport Rd (near Simpson Bay Marina), Simpson Bay.
The Palms, Simpson Bay
What happens when a Canadian Trinidadian opens restaurant in St Maarten? You get Caribbean favorites like drunken ribs and Trinidadian bites served in a Canadian (and Torontonian) paraphernalia flair. You get The Palms. Greg, the owner, and his mother change the menu daily based on what's fresh. He's also a great resource for other restaurant recommendations and tips for the island.
Recommended dishes: Drunken ribs and pholourie, spiced split pea flour puff fritters with house special cumin-tamarind sauce. Rib portions are large, so consider splitting one between two people or pair with an appetizer instead of a 2nd main dish.
Where to find The Palms restaurant: 25 Airport Road in Simpson Bay (near RBC Bank).
Sunset Bar, Maho Bay
Sunset Bar features a prime location next to Maho Bay beach, making it the viewing lounge of choice for oglers of airplanes landing at SXM airport (see #4 above). It's also good for sunset gazing with a drink in hand.
Recommended dishes: Most people come here to drink rather than eat, but we found the seared tuna atop salad greens to be really abundant, nicely-cooked and fresh. Consider asking for the dressing on the side.
Where to find it: Maho Bay, just behind the runway for the airport. Disclosure: Our first meal here was provided to us.
Driftwood Boat Bar, Maho Bay
If you're looking for a tasty, cheap eats on St. Maarten, we can vouch for the chicken schwarma sandwich at Driftwood Boat Bar. A healthy chunk of grilled, spiced chicken covered with lots of vegetables and dressing.
The location also offers another venue to watch the planes land at the airport in case the Sunset Bar on the other end of Maho Bay is packed. Where to find the Driftwood Boat Bar: Maho Bay, west side, just behind the runway.
Where to Stay in St. Maarten / St. Martin
For the ten days we visited St. Maarten, our home was the Morgan Resort (previously, the Alegria Boutique Hotel) in Maho Bay, just walking distance from the famous beach where airplanes fly overhead to land at the Princess Juliana airport (See #4 above).
When we stayed here as the Alegria Boutique Hotel the rooms were more like small apartments or studios, outfitted to facilitate comfortable longer stays (e.g., full kitchen, washing machine) with a balcony and separate bedroom. This is why, during our visit, we referred to Alegria as our "home base." When we returned to the hotel after a full day of experiences, we unwound in comfort and space to reflect on the day and plot our path for the next. Although, what was very different from home is that we did all this with a balcony view over the Caribbean Sea, often with a sailboat or catamaran tracking across the horizon at sunset. Or, there was always the option to relax in the saltwater pool.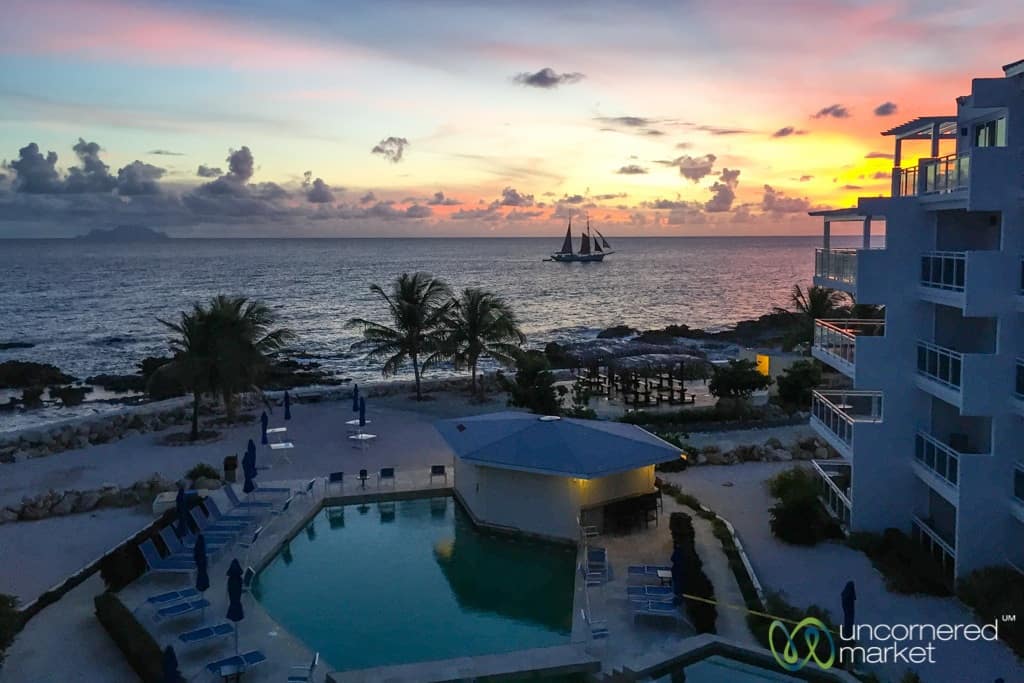 From what we can tell on the Morgan Resort website, the rooms have been renovated and upgraded considerably, into more of a luxury stay. There are still some suites available if you want a bit more room. Book a room at Morgan Resort Spa and Village.
St. Maarten Hotels and Apartments
Whether you are traveling to St. Maarten as a standalone vacation or starting your cruise from there, you may want to stay on the Dutch side of the island for a few days. The St. Maarten hotels and apartments below are conveniently located and in quieter, less developed areas. We think of them as good places to base yourself to explore the island.
Hotels in Maho Bay – Cupecoy Bay – Simpson Bay
These locations are all pretty close to the airport. We enjoyed staying in Maho Bay as it was a bit removed from a lot of the more built up areas and we had easy access to Mullet Bay and Cupecoy Bay beaches. Plus, we could always pop down to one of the nearby bars to see the planes land overhead at the airport. Not many activities start in Maho Bay, so t means that you'll need to add in driving or transfer time at the beginning and end of the day. Some of the activities and tours above start in or near Simpson Bay so it is a bit closer.
Hotels in Philipsburg and Eastern St. Maarten
The little town of Philipsburg might be a fun place to base yourself as it has some historic areas, a beach and nearby restaurants and shops you can walk to. Plus, you're not too far from Guana Bay Beach (see #3 above) and can explore Fort Amsterdam easily. If you're coming to St. Maarten early for a cruise, Philipsburg is conveniently located near the cruise terminal and port.
St. Martin Hotels and Apartments: Staying on the French Side
Next time we visit the island we might stay on the French side for a change of pace as there is less tourism development and fewer big resorts.
Planning a Trip to St. Maarten / St. Martin
One island, two countries, no border.
While the island is divided into two countries, there are no border controls between them. The Dutch side is home to the major international airport (SXM, Princess Juliana) and cruise ship port, so it services most of the visitors coming to the island. However, there is a smaller airport, SFG (L'Esperance Airport Grand-Case) on the French side. To understand one difference, as residents tell us, "The Dutch side takes more influence from the United States. Anything goes here."
The French side is technically part of France, so it adheres to E.U. requirements. This means that building and development is more regulated; you'll often find fewer crowds.
Renting a car in St. Maarten
St. Maarten is a relatively small island (34 square miles), but if you're interested in doing a variety of activities as we did, a rental car is essential. There's plenty of rental car competition on the island, so prices are decent, starting from around $30-$40/day for the economy cars. Gas/petrol prices are currently pretty reasonable, particularly by European standards.
One caveat: traffic on the island can be bad and stressful, and parking can be equally challenging. Ask locals about traffic patterns, timing and rush hours up front so you can plan your route and schedule your outings to minimize irritation.
Disclosure: Our rental car was provided by Empress Rental Car just near the Princess Juliana airport. We had a simple rental car that got us around the island with no problems.
Note: We also find that Expedia offers good rental car prices for St. Maarten / St. Martin.
Public Transportation and Taxis on St. Maarten
If you don't plan to explore the island much (i.e., you're focused on a nearby beach or all of your activities include a pickup or transfer), then consider taking the occasional taxi or flagging down one of the public transport minivans making their way around the island. There are plenty of both.
You can also easily book a shared airport transfer or private airport transfer from Princess Juliana airport (SXM) to your hotel so that you have someone waiting for you at the airport when you arrive.
Money in St. Maarten / St. Martin
The official currency of the French side is the Euro(€) while on the Dutch side it's the Netherlands Antillean Florin (NAF). Don't bother taking out NAF from the ATM as all prices on the Dutch side are posted in $USD and every place accepts dollars. Most places on the French side will also accept $USD (often on a 1:1 basis with the Euro).
SIM card and mobile data on St. Maarten
We purchased a TelCell SIM card on the Dutch side for $15 and bought 500MB of data for an additional $10. However, mobile data does not work when you cross over to the French side. Although we have no experience with the UTS/Chippie, they are another option for SIM cards, calls and mobile data on the island.
When to visit St. Maarten / St. Martin
Our visit to St. Maarten/St. Martin was in mid-December. We found it just about perfect, as our timing was right before high season, which runs from just before Christmas (Dec. 22-ish) to the beginning of April. The weather during our visit was excellent – sunny and warm during the day, beautiful water temperatures, and breezy and temperate at night – and came with the added bonus of fewer crowds and reduced traffic.
We were told that August-October us usually incredibly hot and at the tail end of the hurricane season, so probably best to avoid that period. One long-time resident told us that his favorite season is April to June as it's not too hot and high season crowds have begun to dissipate.
How to Travel to St. Maarten / St. Martin
Visiting St. Maarten / St. Martin on a Cruise
Many people visit the island as a day trip or excursion from a longer Caribbean cruise. This will provide you a taste of the island in a short period of time. In fact, many of the activities and tours recommended above are scheduled for cruise excursions so they pick you up at the port in morning and return you with plenty of time in the afternoon.
Traveling to St. Martin / St. Maarten as a Vacation
As you might have guessed from this article, we suggest visiting for longer than just a day trip as there is quite a lot to do and see in St. Maarten / St. Martin. You could do what we did and visit as a standalone vacation for 5-10 days, with side day trips to Anguilla and Saba islands. Or, you could combine a visit to St. Martin with other nearby Caribbean destinations for a multi-destination vacation.
Flying to St. Maarten
If you are flying to St. Maarten from Europe, there are usually direct connections from KLM and Air France. Coming from the United States there are quite a few airlines that fly into SXM airport like Jet Blue and American Airlines. You can check out flights and prices, including all low-cost airlines, on Skyscanner.
---
Disclosure:
Our trip to St. Maarten and stay at
Morgan Resort
(previously, Alegria Boutique Hotel) were provided by
Choice Hotels
in conjunction with its #ChoiceCaribbean campaign. Any experiences and meals above that were provided to us have been noted inline.
We would also like to thank Karen Hana, General Manager of the Alegria Boutique Hotel, for sharing with us her 20+ years of experience living on the island and for her suggestions on experiences across the island. As always, the thoughts contained herein — the what, the why, and the how — are entirely our own.
The post St. Maarten Travel Guide: 18 Unusual Things to Do appeared first on Uncornered Market.