Nothing compares to relaxing in a beautiful spa center- lounging in an aromatic soak, massages, body treatments, aromatherapy, face masks, hair services, and more. The luxurious and relaxing spa experience present in the thick, comfortable towels and robes, along with the therapeutic scents present in the air, make a spa day genuinely unforgettable. However, the hours of pure pampering can not be available daily, simply because it can not always fit your schedule or budget. We get that! However, there are easy and affordable ways to recreate an indulging and relaxing spa-like experience at home. And here is how.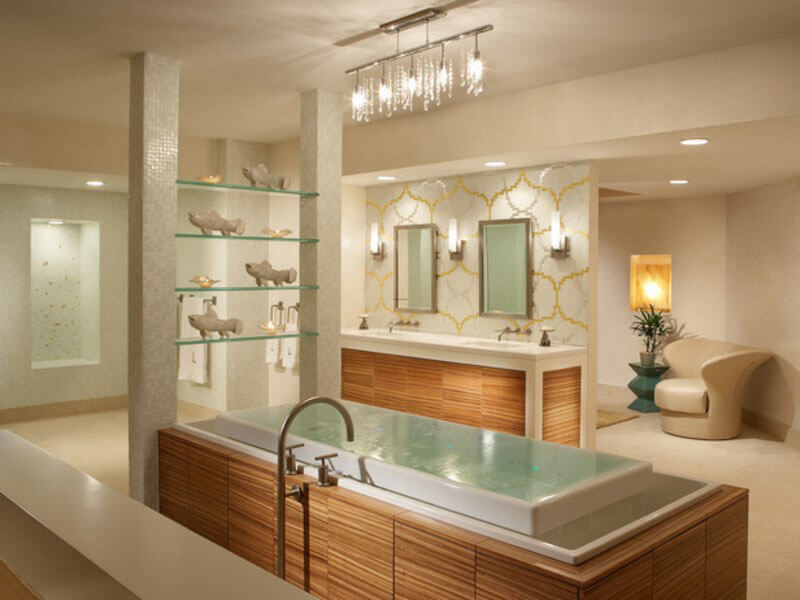 Redecorate Your Bathroom
The best way to create a spa experience in your home is by revamping and updating your bathroom. Before you enter in redecoration, keep in mind that spa-style bathrooms feel light, open and airy, and have clean lines and a modern feel. Importantly, a neutral color palette with natural materials such as honed marble and bleached oak can also help you create a spa-inspired ambiance. Although you might think that spa-style bathrooms can cost quite a lot, updating your bathroom to achieve the desired spa effect can be pulled out even with a conservative budget. Let us see how:
Invest in Fancy Towels
Load up on fancy, but soft cotton towels. Get at least one pair of nice-looking ones, and believe us, they will upgrade your space tenfold. Importantly, ensure they look intentional rather than messy. Instead of a typical towel bar, add some fancy hooks to hang them. To completely recreate the spa experience you desire, soak your soft cotton towels in hot water enriched with a few drops of essential oil. Then, wring them out until they are just slightly damp. Use them to clean your face and wipe off any product, just like the professionals do at the spa. Importantly, as you apply the warm towel on your face, you will be breathing in aroma from the essential oil, thus getting real aromatherapy in the comfort of your bathroom.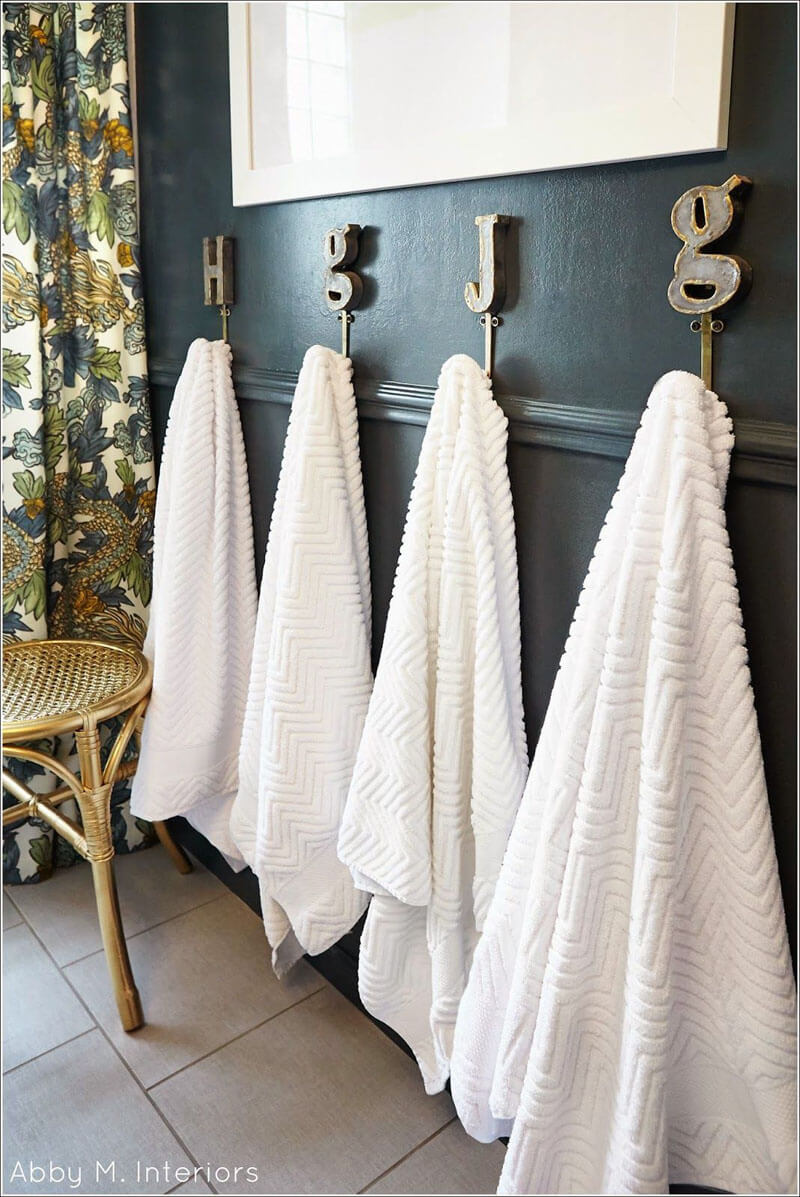 Hang a Chic or Luxurious Shower Curtain
Change your old shower curtains with a new, more modern-looking versions. That is the easiest and cheapest way to refresh your bathroom and achieve the desired luxury-spa effect. Shower curtains are very visual, so changing this one element can dramatically alter the entire look of the room. Opt for a design that is minimal and fresh.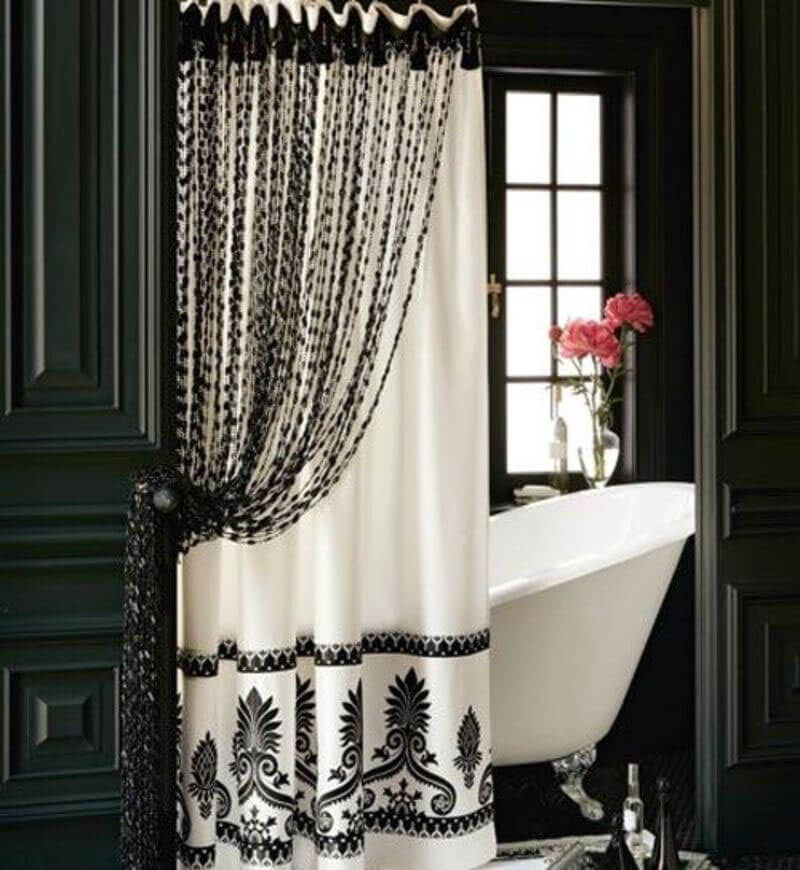 Get a Bathtub Caddy and Bathroom Tray
This simple addition to your bath can make a big impression in creating the desired feeling. The best thing about it is that it comes in a variety of styles, so you will have no trouble finding one to suit your style sensibility.
Add a bathroom tray as a decorative element on your bathroom counter or shelves. Put items like body lotions, essential oils, scented candles, perfumes, and face masks to get a neater and more organized look on your bathroom counter. This decorating essential will also give you the chance to bring your spa-theme to perfection.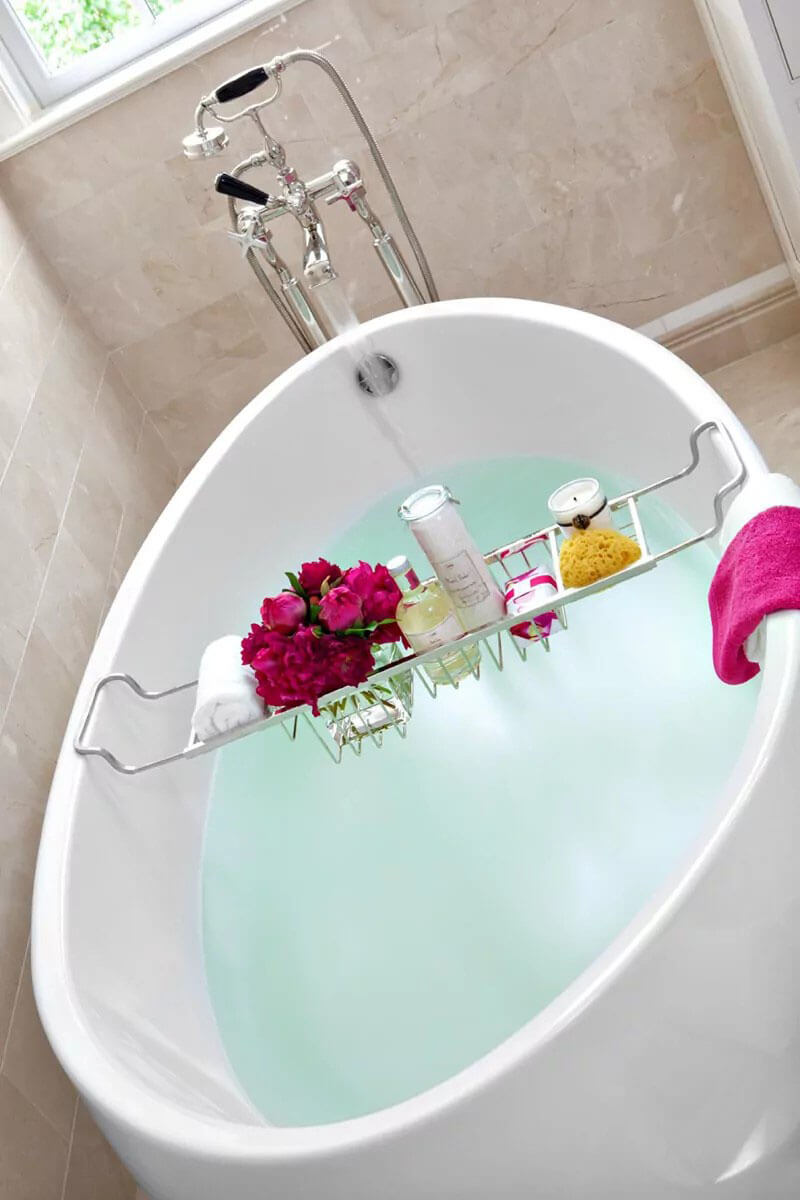 Keeping it Warm
Who enjoys the shock of cold winter floors underfoot? If you do not have the budget for one of the latest luxury bath trends- underfloor heating, use a bath rug to make the place extra warm. But rugs do more than keeping your bare feet comfortable; they bring an additional layer of sophisticated luxury to a design. Try a kilim rug instead of a traditional bath mat for a fresh dose of luxury.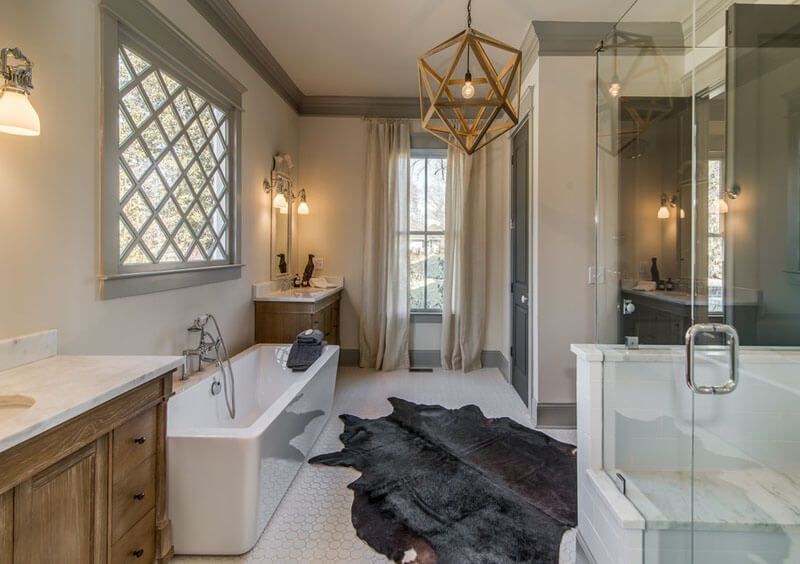 Introduce Some Greenery
Greenery has a unique way of making a room feel more appealing and sophisticated, and the bathroom is no exception. Choose plants that last for a while and are easy-to-care-for. For example, succulents or air plants are easy to maintain, and eucalyptus can give your bathroom a fresh scent.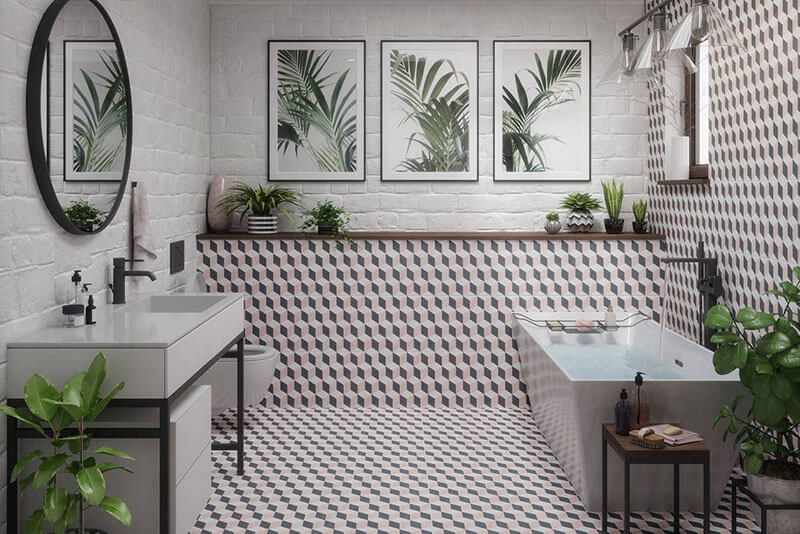 Add Some Art
To give your eyes something to enjoy while you lounge in the tub, or apply a face mask, hang an artwork you love. Choose a relaxing visual theme, such as ocean waves or green paradise, or opt for a more sophisticated mosaics art.
Minimize Clutter
Toiletries accumulate quickly on bathroom counters and in the shower. A few scattered bottles can promptly make an otherwise calming space feel frenetic. To reduce clutter, embrace innovative storage solutions such as floating shelves and shower lockers. They blend perfectly into your bathroom's environment to achieve a sophisticated appearance.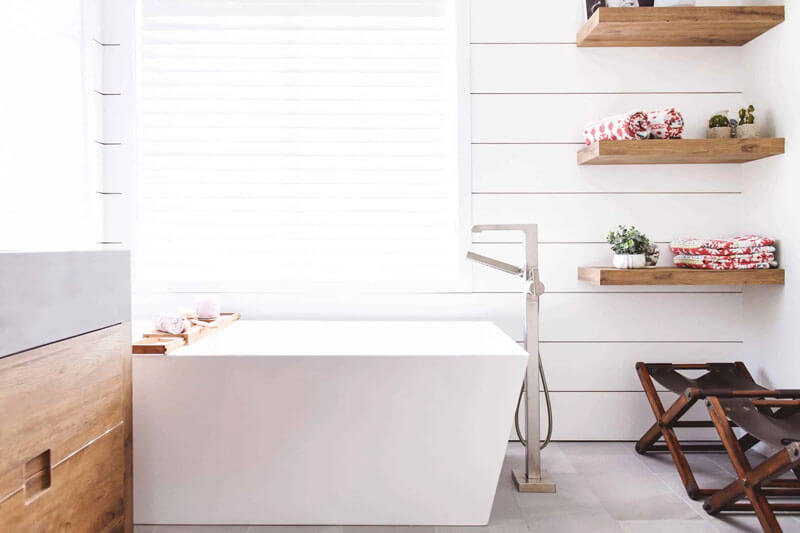 Opt for Bath Accessories
When creating a spa experience in your home, it is of prime importance to choose bath accessories that will help you calm your senses. Start with getting the relaxing quality of a spa with meditation mists that envelopes you as soon as you step foot in your bath. Or, if you love the calming atmosphere that scented candles can offer, go for candles with lavender or camomile notes to help you drift off to sleep right before bed. If you are feeling stressed, opt for centering notes of cedarwood or sandalwood to help restore balance. To renew your energy, use the energy soy candle. And if you want to feel luxurious, always choose a rose-scented one.
Treat yourself with a dry brush and use it at least once a week. Many professional spa body treatments involve dry brushing, since it exfoliates, improves circulation, and can help you make your skin look smoother. The technique is easy for home use since all you need to do is to brush your body in short, circular strokes before you turn on the water in your shower. After this ritual, do not forget to hydrate your body with lotion post-shower.
There is no excellent spa experience without a massage. For this reason, include in your bath spa accessories a massage roller. This essential is perfect for alleviating soreness and increasing flexibility in your muscles after a hard workout. However, massage rollers are also a fantastic way to relax and loosen tight neck and back muscles after sitting at a desk all day.
Ultimately, stock your little spa oasis with natural bath products like soaps, salts bubbles, and bath bombs. They can give you the energy you need for the fresh start of your day or the recharge after a long one.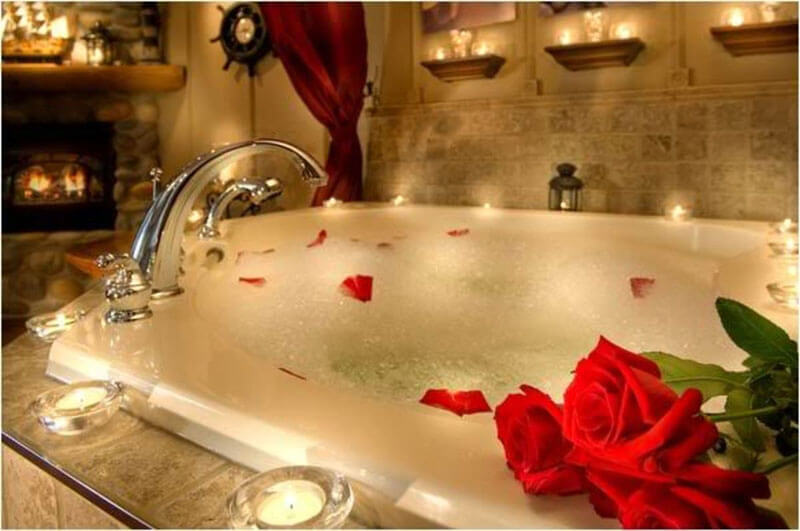 Create an Atmosphere
Last but not least, set the mood in your bathroom with candles, dim lighting, a cozy robe, and, most importantly, soothing music. Music is appreciated for its ability to slow down your mind and relax your body by decreasing your heart rate. Relaxing sounds also help increase serotonin production, increase happy thoughts, and, at the same time, reduce your stress levels. Furthermore, low lighting is soothing, and bathing at night in low light is more effective in relaxing your body and getting ready for bed.
Once you are done transforming your bathroom in beautiful spa oasis, make sure you treat your senses with calm and relaxation every single day!