---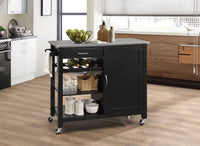 Features:

* Stainless Steel Top
* 1 Door, 1 Drawer
* Wine Bottle Rack: Slatted Shelf
* Open Storage: 2 Shelves
* Caster Wheels
* Towel Rack
* Drawer: Glide Side Metal, Dovetail Not Included, Felt Lined Not Included, Safety Stop Included
Our Ottawa kitchen island covers your need for storage and more. This multifunctional kitchen cabinet is a freestanding island that features four wheels for legs, each with a locking feature so it doesn't slip away while you are chopping fresh herbs and veggies. A towel bar, cabinet with concealed shelf, wine rack shelf, and two open shelves provide plentiful space for cookware, non-perishables, and sundries. The frame is made with black finish, and topping this is a beautiful stainless steel countertop.
Includes
1 Kitchen Cart
Dimensions
Kitchen Cart, 42 x 18 x 34H