---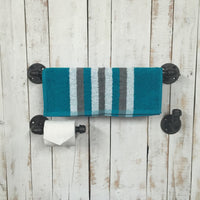 This stunning handcrafted wall mounted industrial iron pipe towel bar, toilet paper holder, and single hook is assembled out of black steel pipe. It will make an eye catching display in your bathroom. The unique design of this item will add character and flare to your bathroom. This bathroom set will be perfect accent to your rustic industrial look.
Handmade item, unused. The item may have slightly color variation that it is in a photo.
 Materials-pipes, fittings, and black or nickel paint
 Made to order
The pipe has been thoroughly cleaned to remove any oil residue from manufacturing and painted black or nickel. This item will ship with mounting hardware.
Dimensions Approx.
TP Holder 9"W X 3"H
Towel Bar 24"w X 5"height X 18" Bar
Hook 4"W X 4"H