---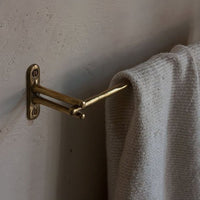 Description
Warm and rustic, these solid brass pieces thoughtfully combine French aesthetics with traditional Indian design techniques. Hand cast in Mumbai, the Libre Forme series is as versatile as it is unique.
Made in India.
10-12 week lead time if not in stock.
Specifications
L 497.8 mm (19.6") X W 76.2 mm (3")  X D
76.2 mm (3")
Mounting screws for wall included.
Material(s)
Standard: Solid cast brass.
Also available in a wide variety of custom finishes. See link below. Please  for more information.
Note: materials are not lacquered and will age and oxidize over time. Refer to our  for best practices.
Product Downloads