---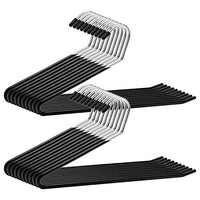 OPENED ENDED Z-SHAPE DESIGN: The open-ended Z-shape design of this Metal Pants Hangers from RoyalHanger makes clothes easy to see and remove, saving your valuable time of your morning routine.
STRONG SOLID CONSTRUCTION: This Heavy Duty Skirt Hangers is made of premium stainless steel, which is proved to be sturdy and won't get deformed like other metal or wire hangers after hanging heavy clothing for a long time.
NON-SLIP RUBBER COATING BAR: The RoyalHanger Easy Slide Coat Hangers comes with a rubber-coating bar which will prevent your pants, slacks and trousers from falling down.
SMOOTH SURFACE AND FINISH: This Open-ended Suit Hangers boasts a smooth finish which keeps creases from leaving on your pants, slacks, trousers or jeans. And it's also suitable for hanging delicate clothing like scarves, ties or towels.
SPACE SAVER: This Trouser Hangers with its slim body measuring 6.1''H*13.8 W'' takes up little space in your closet, so you can fit a lot more clothes in your wardrobe.
RoyalHanger Amazon ASIN B01GDWOL6W Home & Kitchen Storage & Organization, Clothing & Closet Storage, Clothes Hangers, Pants Hangers