---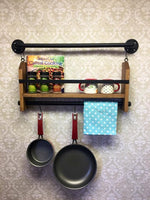 This Wall Spice Rack Shelf makes cooking a breeze. The multi-functional wall shelf comes in several different finishes. The wall shelf holds all your favorite spices, cook books and spices securely. Plus, 4 hooks are included that you can hang pots and pans, coffee mugs, or measuring spoons/cups to the S Hooks for storage and organization.

Handmade item, unused. The item may have slightly color variation that it is in a photo.
► Materials-pipes, fittings, wood, and paint.
► Made to order


The pipe has been thoroughly cleaned to remove any oil residue from manufacturing and painted black or nickel. This item will ship with mounting hardware.

►►►Dimensions Approx. Wood 23" W X 10.5"H X 3.5"D...24"Bar

Overall dimensions: 27.5" W x 15.5" H

►►►Hanging Hardware: We will pre-drill two key holes in the shelf itself for you to screw directly into the wall. We will provide the screws for mounting. Wood has been sanded smooth, stained with a beautiful Special Walnut finish and then coated with a glaze to protect the wood.


*Note: These photographs provide a portrayal of what will be manufactured for you upon your order. Every piece of wood is different & slight diversity is to be expected in the wood grain & the color of the stained wood captured in the photos might vary slightly also. We use high quality wood.